Being a legendary brand that produces good quality athletic shoes, many people expect steel-toe safety boots from Nike.
As a fashionable yet work-oriented person, you may also want to put on Nike's steel toe shoes in your workplace.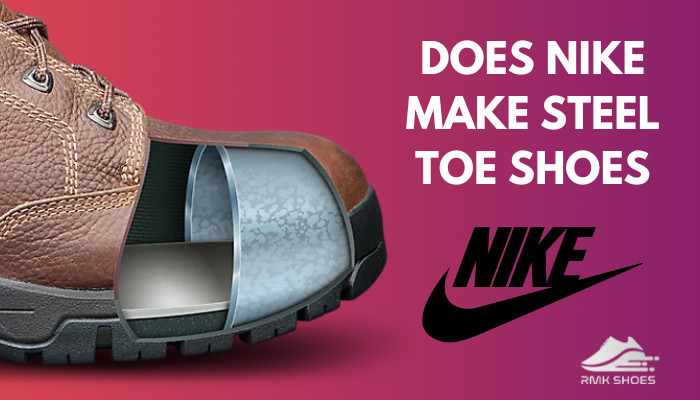 But the question is, does Nike make steel-toe shoes at all, or is it just limited to sportswear?
You're going to know all of this if you read ahead. So, let's get into it!
Does Nike Make Steel Toe Shoes?
No, Nike does not have any steel toe shoes in its footwear collection as of now. But it makes tactical boots for safety.
The toe area is the most delicate part of our feet. So, it needs additional protection during the time of heavy work.
The steel toe shoes offer this extra layer of protection to the forefoot.
As a result, this type of shoe is one of the most demanding for construction workers, carpenters, engineers, and those involved in manual labor.
For the Nike fanbase, it's a matter of sorrow that this brand does not manufacture steel-toe safety shoes.
Though it produces tactical boots like Special Field Boots (SFB) and All Condition's Gears Air Max Goadome Boots to ensure defense, if you're only focused on buying steel-toe shoes, you should move towards other brands than Nike.
Check out our separate post: can you wear steel toe boots on a plane.
3 Best Nike Shoes For Work
As you already know, Nike doesn't produce steel toe boots. But if you're a die-hard fan of this brand and don't want to switch to any other brand, then you have to compromise the steel toe.
However, Nike makes some tactical boots that can be suitable to wear in your workplace and construction sites.
Though you won't get the utmost protection as steel-toes, the composite or carbon-toe design, you still can try any of the following three.
Now, let's explore what type of specialized footwear Nike offers:
1. Nike SFB Gen 2 Boots
The most positive side of this boot is its extreme grip on any surface with the aggressive tread patterned rubber outsole. It holds an internal shank for high stability.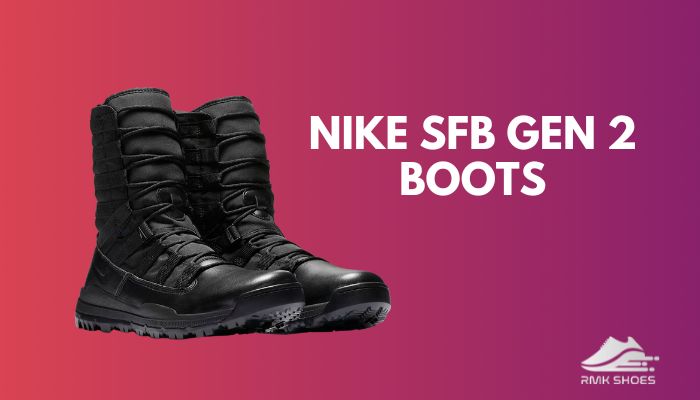 So, there's no scope for slipping and unexpected injuries. And this is the phase where protection lies. As for steel-toe boots, this is not a bad alternative.
When it comes to durability, this set lags slightly behind, though.
But the blend of synthetic leather and nylon canvas made this boot lightweight and breathable.
Can you guess the price range?
Well, it's only 140 US dollars. For Nike tactical boots, that's not much, right?
2. Nike React SFB Carbon Shoes
This shoe features lightweight 'React Technology' and 'Flyplate Technology' in the full-length carbon plate for energy return and optimizing your step. This shoe will demand $165 from your wallet.
But do you know where the safety lies?
Likewise, the previous one it lies in the excellent traction-oriented and slip-resistant rubber outsole, which is a must-have for working conditions.
3. ACG Zoom Gaiadome GORE-TEX
Nike claimed that this boot is ready for whatever you want to do out. So, you can go for heavy-duty putting on this waterproof GORE-TEX fabric made shoe.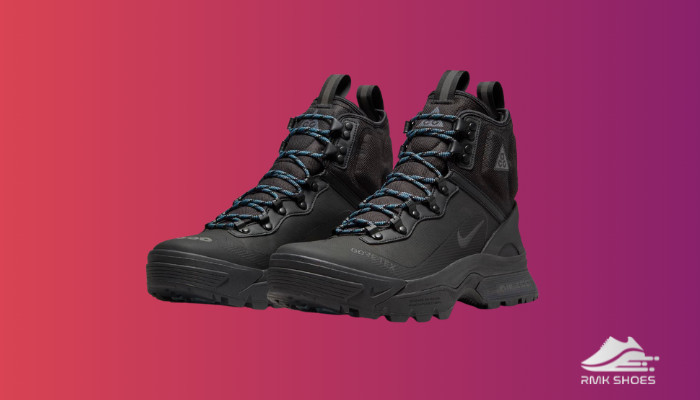 Here, you will achieve comfort with the Zoom Air cushioning and outstanding slip-preventing outsole.
Only you have to spend $230 for this iconic set!
Follow our guide to know do steel toe boots make your feet colder.
Is It Okay To Wear Steel Toe Boots Everyday?
It's OK to wear steel toe shoes regularly only if you find comfort and select the proper size.
To enhance the safety of your feet, the shoe designers built the toe area with steel.
I even saw many parents prefer steel-toe shoes for their school-going children. Because they want to avoid any risk of injuries that result from stumbling, running and any heavy things falling on the feet of their children.
Furthermore, my house construction workers used to wear steel toe boots on a regular basis without any negative impact.
But if you feel that steel-toe boots are heavy for everyday wear, you can turn towards non-metallic, like carbon composite toe or alloy toe designs.
These two are lightweight and softer than steel yet protective.
5 Alternatives To Nike Steel Toe Shoes
Being a Nike fan, you may want to own a pair of steel-toe boots with a Nike logo. We all do when we have a fascination!
But you need to find alternatives when your favorite company doesn't manufacture such functional shoes.
And there are so many options available for Steel-toe shoes specially made for working conditions. Among those vast options, I pulled out the best and made a solid list for you.
Let me present to you my top 5 recommendations for steel toe boots:
1. Men's Rockport Steel Toe Casual Work Shoe
Look what you will get from this pair-
Leather-made upper with 4 eyelets design, closed but adjustable lacing system, nylon mesh lining and perforations on the upper for breathability, comfortable foamy footbed, EVA midsole, padded tongue and collar.
The shoe has a truTECH shock-absorbing heel. Additionally, the rubber outsole prevents abrasion, chemicals, oil and slip – well-suited for factory working conditions!
This pair comes in a matte solid shade.
So, even if you wear it continuously at the workplace, it'll not lose it's shininess cause it hasn't any!
However, the shoes are true to fit. And you will get electrical hazard protection in this shoe.
You'll get these many features from Men's Rockport Steel Toe Casual Work Shoes if you can shift your attention from Nike to other brands!
So why not give it a try? Moreover, you can get this for only $115!
You may also like to read: Composite Toe Vs Steel Toe Boots.
2. Reebok Steel Toe Wedge Sole Work Shoe
This pair is for skaters as well as for workers in industry and construction areas.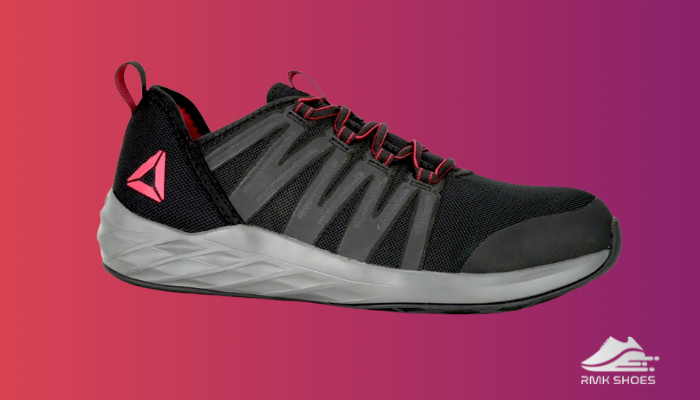 The upper is made with suede, midsole with lightweight EVA, and grooved rubber outsole for improved grip. This shoe is so classy and bold looking.
Moreover, it holds slip-resistant features, electrical hazard protection, and no exposed metal on the upper.
I bought 3 pairs of these shoes for my workers, each pair cost $100. The workers were satisfied with the overall functionalities of the shoes. And my pocket remains stable! Win-win, huh?
3. New Balance Men's 412 V1 Industrial Shoe
The positive sides of this steel toe shoe are comfortable footbed, slip-resistant rubber outsole, 100% leather-made breathable upper, lightweight EVA midsole, and reasonable price. It is available for $100.
But this pair can't act as a barrier against electrical hazards. That can be a drawback!
So, if you're an electrician or engineer who works in the power sector, you better skip this shoe and choose any other pair. I recommend getting the first one instead.
Go through our epic guide to know are military boots steel toe.
4. Women's Puma Steel Toe Work Shoe
Do you have to work under extreme heat regularly?
If so, then this pair is the perfect one for you. The rubber outsole of this shoe provides 572° Heat Resistance.
And you will get non-metallic safety knit upper, a removable cushioned footbed, and TPU protection at the toe and heel.
The manufacturers claimed that this shoe is made with 100% synthetic components and is vegan-friendly.
You will have to invest $115 s for this 6-eyelet black-shaded pair!
5. CAT Women's Invader Steel Toe Work Shoe
This durable and lightweight shoe perfectly combines comfort, style and safety. It ensures a comfortable feeling all day and unbeatable traction with the rubber outsole.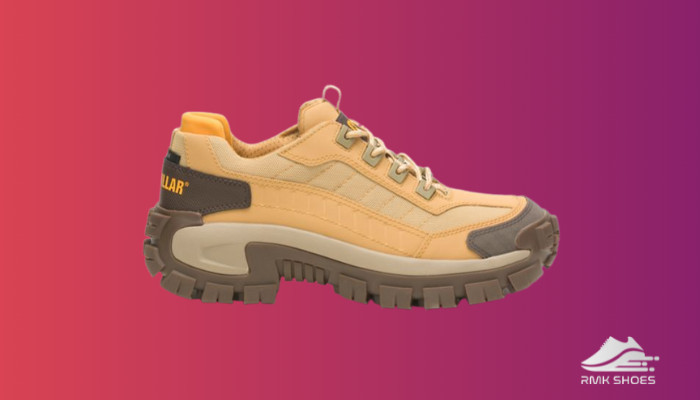 And when it comes to the upper, it consists of PU layered leather.
However, this shoe has a nylon mesh lining and CLEANSPORT NXT coating for enhancing airflow and odor control. Due to the electrical hazards protection of up to 600 volts, it is suitable to wear for electricians.
Half sizes, medium and wide designs are available, which come in only 120 US dollars.
Are you gonna purchase among the varieties that I have mentioned above?
If so, then let me know your choice in the comment section.
Related contents you should read: are Nike air force 1 waterproof, are Nike air force 1 good for walking.
Closing Thoughts!
Wanna wrap your feet with an additional protective layer? Then steel toe shoes are one of the best options.
But you won't get this advantage from Nike. So, you have to switch to other brands. I have mentioned some good functional steel-toe boots as well as Nike's strategic shoes for you.
Hope the information will be handy enough for you to choose your next working run.
And if you have any recommendations and thoughts regarding steel-toe shoes, just leave them in the comment section.