Do you want to purchase a pair of Nike Air Force shoes but concerned about their water-resistant features?
Then you arrived at the right place.
The Nike Air Force 1 series has created a sensation for sneakerheads. After using a couple of the Air Force pairs, I now have a good idea about all the common features of the air force 1 series, including water resistance.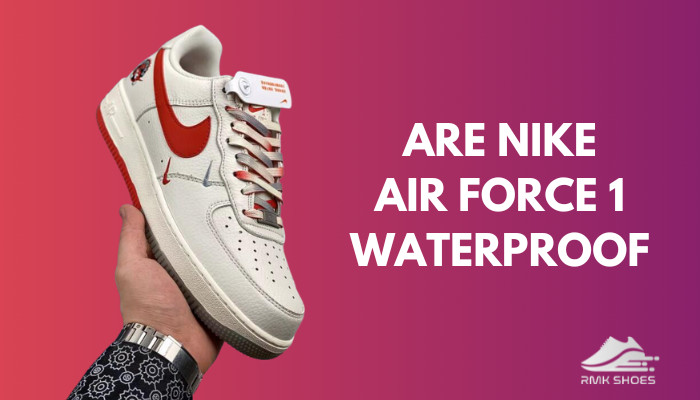 Now I'll help you to choose the right pair and try to resolve all your confusions about the Nike AF1 and whether they are waterproof or not.
Without any further ado, let's get all your questions answered.
Are Nike Air Force 1 Water Resistant?
Actually, Nike Air Force Ones are not water resistant. In recent times, the brand collaborated with Gore-tex and incorporated waterproof features in their new pairs.
Nike has an enormous collection of sneakers, and the Air Force 1 series has been one of their best-selling shoes since 1981.
If you are a dedicated Nike wearer and want to snap up a pair of kicks that goes with all seasons, then I'd suggest the Nike air force 1 for winter. Those shoes give you the ultimate comfort which you may desire.
Nike Air force 1 uses various types of materials for their soles, such as synthetic, genuine leather and sometimes recycled leather.
The classic air force 1 is not good in the rain as the sole submerges all the water, making you feel uncomfortable.
Nike never reveals their sole material directly; that's the reason behind all the confusion about the water-resistant features. In recent times the brand also offers quality stuff in their shoes.
Recently Air Force 1 used Gore-Tex materials to make their shoes waterproof.
In a word, all Air Force 1 are not water resistant. So please check properly before buying if that feature is mandatory for you.
Follow our guide to know Are Nike Air Force 1 Good For Walking.
Are Nike Air Force 1 Gore-Tex Waterproof?
Yes, they are the best waterproof sneakers in the Air Force 1 series.
Nike Air Force 1 and Gore-Tex materials perfectly match each other's combination. Nike AF 1 always offers the latest model with a modern design, but the only drawback is that they are not waterproof.
After all the negative reviews and unfavorable responses, Nike decided to improve their materials and make them water-resistant.
Recently, Nike shared a partnership with the famous brand Gore-Tex and used the gore-tex membrane in the new addition to Air Force 1. In Air Force 1 Gore-Tex, the brand incorporated a waterproof, robust outsole and some new features which are perfect for outdoor wearing.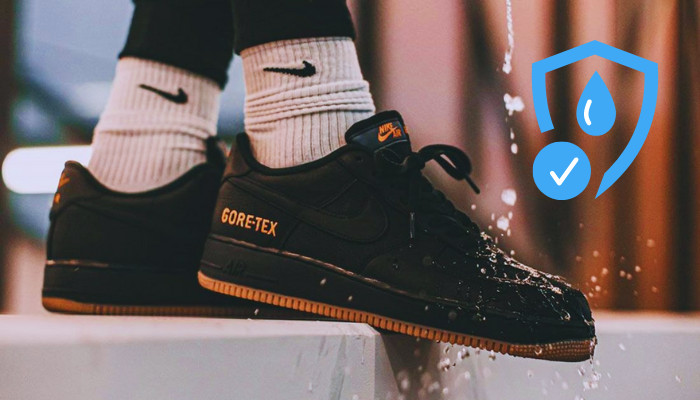 Besides, The sneaker integrated different techniques to keep the moisture out.
Gore-tex sole is totally water resistant but still breathable. Some users claim they have some small holes in their leather, which makes them comfortable to wear.
The sneaker's tongue is also constructed with gore-tex material. Air Force 1 Gore-Tex is a wardrobe staple. If you need a pair of waterproof sneakers, you can pick them up without any hesitation.
In November, the brand launched its new Air Force 1 Gore-Tex high/low model.
Read more on Why Are Nike Dunks So Expensive.
Are Nike SF Air Force 1 Waterproof?
Launched in 2016, the military-inspired kick "Nike special field air force 1" is well known as the SF air force 1.
Along with its fusion outfit, the Special Field Air Force 1 is well-known for the waterproof feature in the AF1 series.
If you are interested in picking any hybrid footwear, then SF Air Force 1 would be perfect for your desired outlook.
The sneaker looks different for its high-top upper with two straps in the neckline, incorporating premium waterproof leather. They are designed with nylon and suede stitching on their sole.
Nike Special Field AF1 offers you a vintage look along with casual wear.
The brand manufactures the model to make them more appropriate for all seasons, like rain and winter. You can wear them in any season with any outfit.
For all the unique features, they are quite different from the other Air Force 1s sneakers, they are also approved by the U.S army for combat.
If you want any all-in-one footwear, I'd suggest you purchase a pair of the SF air force 1.
Check out our separate post: Do Nike Huaraches Run Small.
Are Nike Air Force 1 Good for Rain?
Moderately yes, you can wear the specific air force shoes in the rainy season.
After all the responses and cravings, they launched different designed pairs of kicks with a variety of hues. The sad reality is that Air force 1 sneakers aren't designed for rainy weather, no matter how much you adore them.
Looking back over the last two decades, they aren't applying any waterproof material to make them water resistant.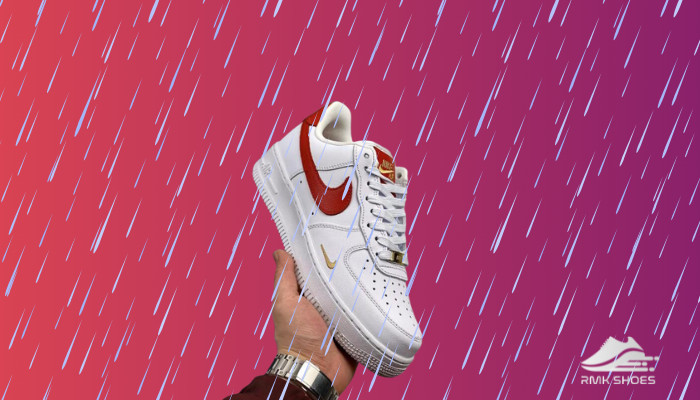 I don't prefer any type of air-tight shoe for the rainy season. I just need a pair of cozy footwear that doesn't get wet along with my socks.
If your desired feature is waterproofing, then you should go with the Air Force 1 gore-tex shoe, which is completely waterproof and designed to sustain in all types of weather, including rain, snow, mud, and sunlight.
How To Make Nike AF 1 Water Resistant?
If you love your Air Force 1 shoes and don't want to leave them behind in any season, then you can try to make your own pair of AF 1 waterproof initially by using a few methods at home.
I love to use my previous shoes more than buying new ones. So much so that I made my air force 1 water-resistant for the upcoming winter.
Here are the most effective methods of waterproofing:
Base Wax
Canvas shoes and some fabric material shoes are appropriate for using wax. Make sure the wax is either colorless or the same shade as your shoe before applying it.
Complete the cleaning before applying any wax.
Try to cover only the upper sole. Before using, be sure the wax won't leave any stains behind.
If all goes well, rub the wax and cover the whole shoe thoroughly.
After wax coating, you have to heat them to complete the waterproofing procedure.
Waterproofing Spray
It's a simple method of waterproofing Air Force 1 in a short duration. These protective sprays are perfect for shoes made of materials like suede and canvas.
You have to buy an authentic shoe spray from the shoe store.
Clean the sneaker properly. For better cleaning, you can wipe them with a piece of cloth.
Apply the spray keeping a minimum 6 inches distance from your eyes.
Use a face shield and hand gloves while applying the spray.
Wipe the extra chemical from your shoes with a microfiber cloth.
After completing any of these methods, your shoes will be shielded from drips and unexpected soaking, then you'll be able to wear your favorite sneakers more frequently.
I hope you get a better result in winter after applying any of them.
You may also like to read: Are Nike Air Force1 Slip Resistant.
Wrap Up
Nike has achieved customer trust by offering their items both fairly priced and of the maximum standard.
Their Gore-Tex Technology and unique sealing techniques set a new level of quality for their sneakers. If your searching feature is water resistant, go with their Air Force 1 Gore-Tex one.
I hope this post has provided the information you were looking for. Don't forget to tell me about your experience with Air Force 1 in the comments.