Nike- a magic in the field of sportswear.
It is the most beloved provider of elegant and versatile footwear worldwide.
Even the people who are careless about the trend and brand of shoes, outfits, bags or any other stuff like this are aware of the name 'Nike'.
Nike launched a basketball sneaker 'Nike Air Force 1' in 1982.
It is one of the legends in the world of sneakers. It has a bunch of features that include a stunning look, utmost support and comfort.
Nike Air Force 1 never went out of style since their inception.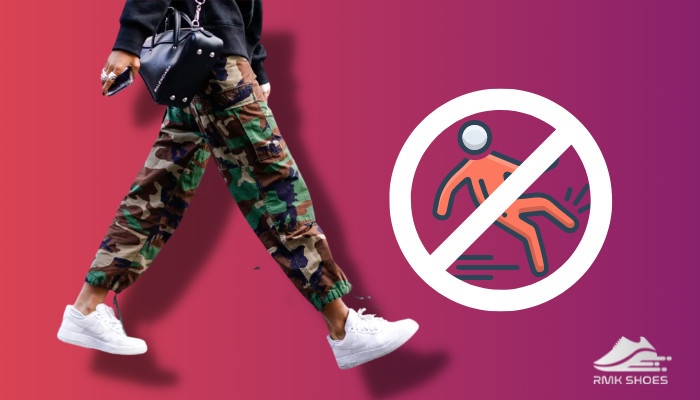 But there's a big question. Does Nike Air Force 1 possess slip-resistant property?
I researched to get the answer and picked the authentic info.
So, continue reading this article till the last words to know whether Nike Air Force 1 is slip resistant or not.
Is Nike Air Force 1 Nonslip?
You'll be glad to know that Nike Air Force1 holds all the characteristics that slip-resistant footwear should have. So, it's an iconic slip-resistant casual wear.
Nike Air Force 1 is anti-slip because of its premium outsole. The outsole is made from EVA, Polyurethane or superior quality rubber. The EVA is also used in building the midsole of the sneaker.
Consequently, Nike Air Force 1 offers peak level comfort.
It contains a large number of grooves at the outsole of the footwear, which ensures a reliable grip on the surface.
Moreover, the round shape outsole is also a remedy for non-slip.
The bottom part of the sneaker isn't flat hence it can easily prevent you from slipping.
The outsole of Nike Air Force 1 introduced smaller size of tread patterns to provide their customer safety and protection so that they won't have to face any kind of injury caused by slipping.
You can easily take part in your basketball tournament with a pair of Nike Air Force 1 and play without any fear of slipping in the courtyard.
Check out our separate post: Nike Lunarglide Substitutes.
Overview of Nike Air Force 1
Nike offers premium style with legendary artisanship.
Bruce Kilgore, a designer of Nike, came up with the idea of air-cushioning technology in sneakers about forty years ago.
He crafted the first basketball sneaker following the air-cushioning technology and named it after the US President's aircraft 'Air Force 1'.
You can find five top designs of this sneaker. Low top, mid-top, high top, super low top and super high top are the available categories.
Two types of straps can be found in Air Force 1. They're the fixed strap and the adjustable velcro strap. You can either keep or remove the velcro strap according to your preference.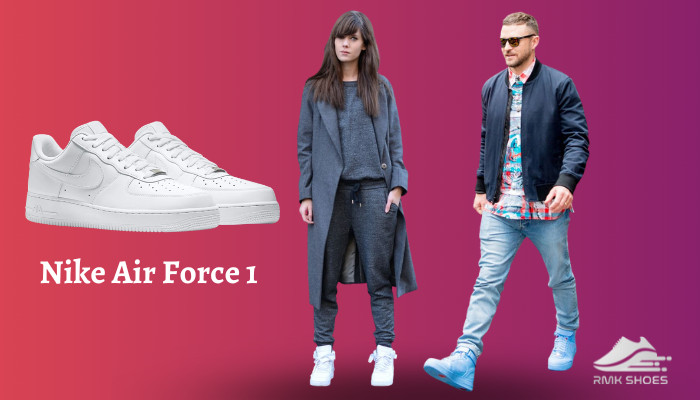 You can find numerous color combinations for this sneaker.
Among them, the 'white on white' Air Force 1 is the most popular. The lightweight feature of this sneaker is mass pleasing.
For any kind of casual activities like street play, musical show, basketball tournament, fishing, or running in a marathon, Nike Air Force1 is the suitable one.
What Are The Features of Slip Resistant Footwear?
I already informed you Nike Air Force 1 is slip-resistant because of its structure and interior materials.
But when it comes to ordinary slip-resistant footwear, there are some worth mentioning features.
Let's go through the signature features of non slip footwear:
Materials of the Outsole
Generally, the midsole and outsole of slip-resistant shoes are made with EVA materials.
EVA midsole is the motivation behind extreme comfort and cushioning underneath your feet.
The outsole either with rubber or EVA, makes the footwear stable in a slippy environment.
The circular shape of the sidesole also prevents you from slipping.
Dense notch
The number and shape of the notch in the outsole is another determiner of whether the shoe is slip resistant or not.
Generally, manufacturers made hexagonal, square or circular shape grooves at the exterior of the outsole.
I found that shoes abundant with rounded grooves are more dedicated to struggle against slip.
The Tread Pattern
Another controller of slip-resistant characteristics is the quality and size of the tread structure.
If you want to avoid any kind of discomfort and embarrassment by frequently slipping in front of your friends or outsiders, you must be attentive to your shoe tread pattern.
Your shoe will be more slip resistant if the tread pattern is smaller in size.
The rubber-made tread pattern will offer more grip and traction on the surface.
I got some additional tips while looking for non-slip footwear in the market.
Here're some pro tips to share with you:
You should scrutinize the outsole by hand. If it seems much smoother, you should leave it.
Because the sleeker outsole won't be able to provide safety against slipping.
Furthermore, renowned footwear brands clearly mention the specifications of shoes on the label of the shoebox.
You will find on the label whether the shoe is slip resistant or not.
If you're the one who bought authentic branded shoes marked with slip-resistant, but actually it's not slip-preventing, then I will recommend you to make a complaint and share your thoughts with me.
You may also like to read: Adidas vs. Nike Sizing.
How To Make Your Nike Shoes Slip Resistant?
If you've already bought a pair of Nike shoes and you're not satisfied because they're unable to prevent slipping. You can change the previous outsole with a new rubber-based outsole.
But altering the outsole might be a hassle and a big budget for you.
Don't be sad, my friend!
Here, I've listed some ways to make your Nike shoes slip-resistant:
Apply traction-friendly liquid spray on the outsole. Doing this will make your shoe feasible.
Use hair spray if you can't afford traction spray. After spritzing, rub it properly on the outsole.
Create numerous notch at the outsole. The notch at the outsole reserves a sustainable grip.
Graze the bottom of the shoe with sandpaper.
Wear on uneven surfaces continuously to make the shoe worthy of staying away from slipping.
Make a thick mixture of equal amounts of rubber glue and salt. Then apply the mixture to the outsole in a thin layer. And lastly, keep the shoes in a shaded and air-circulated place for drying.
If these suggestions seem difficult to you, I will recommend buying a new pair of shoes with your savings.
What Are The Alternatives of Nike Air Force 1?
Nike Air Force 1 is the best-selling versatile sneaker for about forty years. At the same time, it is one of my favorite sneakers because of its fashionable look and slip-resistant property.
Nevertheless, you may not prefer the Nike Air Force 1 personally, but you're in need of a slip-resistant sneaker.
Here, I've mentioned the alternatives you can choose over Nike Air Force 1:
Nike PEGASUS Men's Running Sneaker
This sneaker is a legend in the history of Nike. One of the major advantages of this particular sneaker is its affordability. The strong rubber outsole provides favorable traction and stability. The shoe is popular among athletes for running as it is suitable to run across bumpy as well as slippery streets.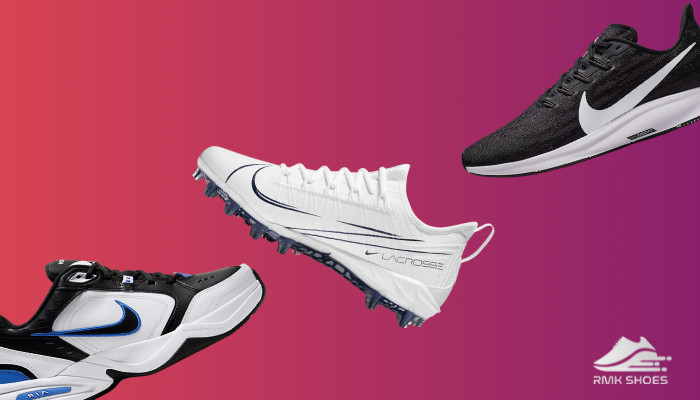 Nike Air Monarch Sneakers
It is a lightweight and elegant sneaker with sufficient air ventilation. The wide range of color combinations with super foamy midsole and slip-resistant outsole could easily attract anyone. For a simple and classy look, you can pick the Nike Air Monarch.
Nike AlPHA HUARACHE Pro-lax 7 Sneakers
The unisex sneaker is perfect for casual wear and hiking. The comfort level due to premium cushioning is top-notch. It provides stability and grip on the slippy street. But this shoe is much more expensive and out of the reach of middle-class people.
Also read, Does AJIO Sell Original Nike Products.
The Last Lines
Nike Air Force 1 is a combination of comfort, cushion, breathability and non-slippery.
The standard rubber outsole of the sneaker will definitely protect you from slipping.
Hence, the possibility of any kind of injury from slipping is the lowest.
So, if you're the one who wants to buy a slip-resistant and elegant sneaker, you can undoubtedly choose Nike Air Force 1. You can wear the Nike Air Force 1 on a dry, wet or rough surface without any worries.
Let me know your experience with Nike Air Force in the comment section!