Thinking of purchasing Nike AF1 but wondering about its comfort?
Look no further! This blog is just for you.
Nike Air Force 1 has been popular in the fashion world as a classic sneaker since the 80s. Still, the question remains, are they comfortable?
Being a user of Nike AF1s for almost 3 years, here I'm gonna answer all your questions regarding their comfort.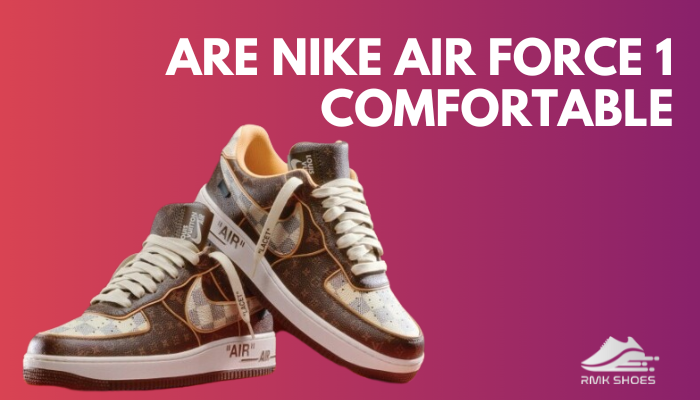 So, read on!
Are Nike Air Force 1 Comfortable?
Yes, The Nike Air Force 1 is comfortable as long as they fit you properly. The air cushioning technology, high-quality materials, and extra support features make it an excellent choice for people who want a comfortable and durable shoe that can withstand daily wear and tear.
Known for their sleek design and iconic style, they have also been praised for their comfort. Since their first release in 1982, from NBA players to celebrities, they have been worn by every sneakerhead.
These iconic kicks got excellent longevity, and I can confirm it myself– as I have worn them for the last three years like everywhere. However, their comfort is a thing to discuss by many, as they claim AF1 may give you foot fatigue if worn for hours long.
As said by most users, including me, they are great in terms of comfort and durability. These comfy pairs get more and more comfortable as you keep wearing them.
But what makes Nike Air Force 1 so comfortable?
Here are the elements that made AF1s comfortable:
One of the most notable features of AF1 is the air cushioning technology of the sole that provides a comfortable and responsive ride. This facet is great for people who spend a lot of time on their feet.
The cushioning helps to absorb shock and reduce the impact of each step, making for a more comfortable walking or running experience.
High-quality leather and synthetic materials in the upper provide a snug fit while allowing for flexibility and movement, adding more comfort to the pairs.
Besides, perforated holes on the toebox make the shoes breathable, helping to keep your feet cool and dry all day long.
Additionally, AF1 features a padded collar and tongue, which provide extra support and comfort around the ankle and instep. The rubber outsole with Nike's unique spiral pattern gives good traction and durability, making it great for casual wear or light athletic activity.
The AF1s are overall a well-made sneaker for casual wear and extensive use as well. Despite not being updated with modern technology, they are still the best comfy, and durable kicks on the market.
Here is our separate post on are Nike Air Force 1 waterproof?
What Size Should I Get In The Air Force 1?
You won't find comfort in sneakers if they don't fit you perfectly, no matter how many features they offer. This goes for Nike AF1s also.
Though some users say AF1 runs big, I found them true to size while wearing.
The right size entirely depends on how narrow or wide your feet are, and also on your fit preference.
Don't even think about going half-size down with wide feet, as they are pretty broad in the toe area. The actual size will fit perfectly to slightly large feet.
Whereas, getting half-size up will make the toe area roomier, resulting in awful foot movement with each step.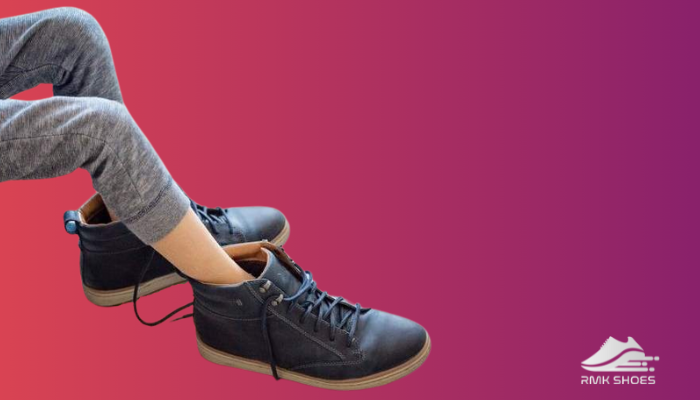 On the other hand, going half-size down with AF1 will give you a perfect fit if you have narrow feet. While because of their wider toebox, true-size will end up in loose-fitting.
With feet of average size, you can go half-size down if you feel comfy with a snug fit. But if you get comfortable with more room around the toe, choosing the actual size will be just fine.
Follow our guide about are Nike Air Force1 slip resistant?
Are Nike Air Force 1 Good For Standing All Day?
As Nike AF1 falls in the group of heavier sneakers, they might not be suitable for standing all day. With their heavy weight, they might give you foot fatigue if you wear them for a long time at a stretch.
Though the leather and synthetic upper make them a little stiff, they hold up well for me as I wore them for a 5-hour-long walk.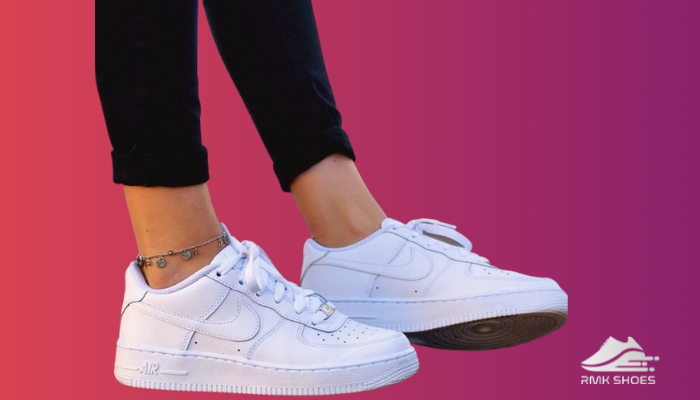 They are pretty heavy as they were originally made for basketball and tennis players in the 80s. The classic shoe design remains the same, though several new lines were introduced throughout the years.
Extra padding in the ankle area and tongue with a comfy sole made these iconic sneakers a good choice for casual wear and light walking around the streets.
If you have problems with your feet, AF1s won't be a good choice for you for extensive use. In that case, you can choose lightweight sneakers with boost technology.
But if you are really into AF1s, you can go for shoes with more comfy materials like Air Force 1 Reacts or Crater Flyknit Next Nature.
Read more on Converse Sizing vs Nike.
How To Break In Air Force 1s?
Nike Air Force 1 might fit you snugly when tried for the first time. But there's nothing to worry about, as the more you wear them, the more they will get comfortable.
After the break-in period, you will get the most comfort out of them.
This might take some time, probably weeks.
But if you wanna break them in as soon as possible, just follow the techniques given below:
Casually wear them around the house for at least an hour each day before going out, wearing them. This will help the leather to stretch out for a bit.
Wear thick socks with sneakers to loosen up the shoes.
You can use a shoe stretcher if you want, or stuff them with socks and leave for overnight.
While trying to break into them, manual stretching might result in creasing. Cozy fitted AF1s usually get creased if you wear them for a long time because of the leather upper.
But you can avoid this by storing them properly with shoe trees or storage bags, and also ignoring cleaning with the washing machine.
You may also like to read about does Nike own Air Jordan?
Conclusion
With elegant designs and good arch support, Nike Air Force 1 is a staple for every footwear enthusiast.
I hope this article will give you all the information you need regarding how comfortable they are.
If you wanna know anything else about Nike AF1s, just drop a comment below.