When it comes to Nike Air Force 1, this versatile sneaker is equally popular among women and men.
If you wanna know whether there is any difference between men's and women's Air Force 1, it's relatable, as from outside, these look exactly the same.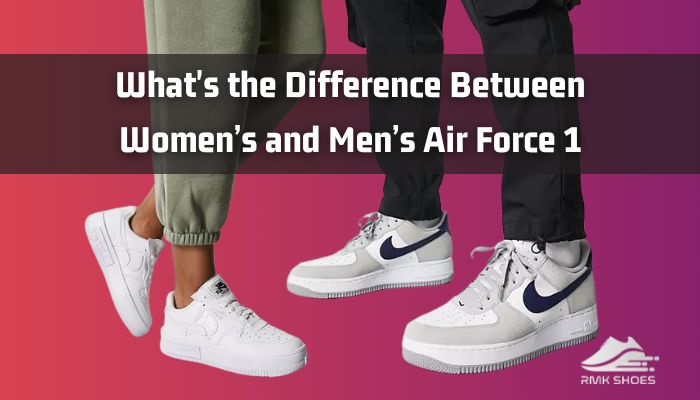 In this write-up, I will clear up your confusion and tell you interesting facts about AF 1.
So, keep pace!
What's the Difference Between Women's and Men's Air Force 1
The popularity of Air Force 1 is still on the rise, and from an outlook, it's pretty hard to tell the variations among women's and men's Air Force sneakers. Yet there are fine differences in the details.
Now Let's Find out the distinction between women's and men's AF1:
Variation in Sizes
Though Nike Made their Air Force sneakers as unisex pairs, the sizes vary because of the differences in male and female's feet anatomy.
Naturally, men have taller and larger feet, compared to women's feet, which are petite. And that shows in your favorite AF1 sneakers.
For men, these versatile shoes run 1.5 sizes bigger. Let me elaborate.
If you are a women's size US 9, to buy a man's Air Force 1, you need to pick US 7.5 for a perfect fit. In short, females' US 9 equals males' US 7.5.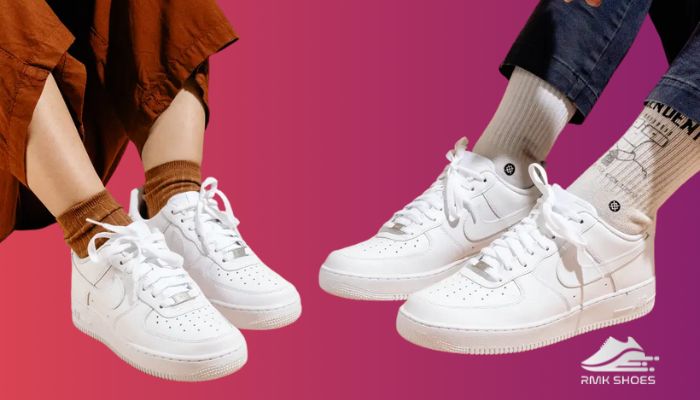 A customer on Reddit stated," no difference, just sizing, same thing happened to me some time ago." So, it's clear that the sizing of these pairs is not the same.
Not only do the sizes vary, but there are also differences between Air Force 1 White and Triple White.
Toe Room in Men's Versions
Another fine dissimilarity between AF 1 Male and female versions is the space of the toe area. From the outlook, it looks the same, but that's not the case.
My brother and I have the same shoe size, so, trying my AF 1 high-top, he gets his own low-top sneaker. And when the box came, I immediately checked for the differences, as mine was the female high-top.
Except for the sizing tag, I felt more toe room was in my brother's shoe.
Also, the front part of his shoe was slightly wider than mine. If you measure the width in a ratio of the toe and heel of these two pairs, in women's shoes it's almost 1:1. On the other hand, in men's shoes, the ratio is 1.75:1.
Not too much, yet different.
There are also a lot of questions about running in Air Force 1. The curiosity of sneakerheads regarding this model is endless.
Appearance
Now let's move on to the looks of these versatile, trendy sneakers.
Like other popular brands, Nike also focused on making gender-neutral shoes; the reflection is seen in Air Force 1 sneaker.
For the white pairs, there is absolutely no difference.
However, if you look thoroughly, you will see that AF 1 follows "Pink for the lady" regarding the color selection process.
The blending of eye-soothing pastel colors is strongly visible in women's shoes. Otherwise, there isn't much to separate these two versions of Air Force 1.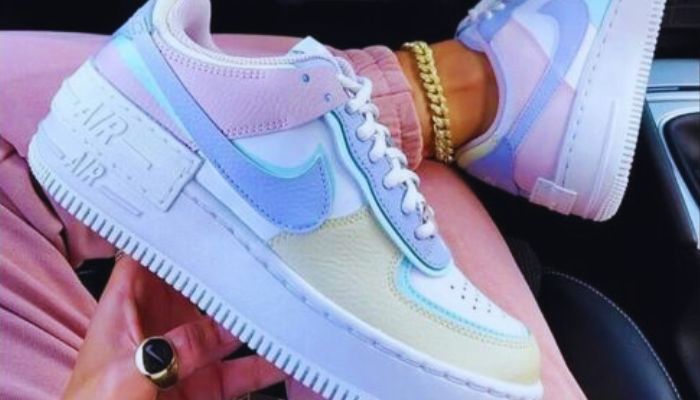 Another thing, before hitting the road in your white AF 1, research whether your Nike Air Force 1 is slip resistant. For me, it's my go-to pair for almost every occasion.
The Sole Difference and Feel
As female foot shapes differ from men's, the middle part of women's feet is slightly higher than the men's. That's why the women's Air Force 1 contains more weight in the front and back part.
That makes the toe and heel part more rigid than men's sneakers. The middle of women's AF 1 also has more padding for support.
The weight is almost equally distributed in men's shoes, and the sole is more on the plain side, with the same rigidity all over.
Moreover, you can't tell the comforting variations of AF 1 sneakers without trying them. So, before getting your unisex pair, try them on.
Is There Any Gender Difference Between Air Force 1 and Air Force 1'07?
Generally, Air Force 1'07 has no gender dissimilarities. From looks to comfort level to performance, these pairs suit both men and women. The same applies to AF1 though there are very slight differences in size, toe room, and colors. In every way, these sneakers serve the purpose of a unisex pair.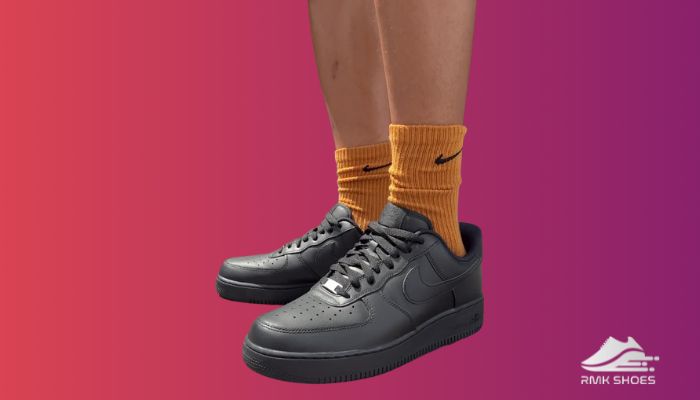 Over time the upgraded addition, the AF 1'07, became well-known among sneakerheads of all gender.
Moreover, this new launch has a modern touch to pair up with your jeans and semi-casual outfits simultaneously. These Nike sneakers are available in stock, whether online or in stores.
The sizing criteria of AF 1'07 it not as fixed as AF 1. And it applies to both men and women. So to get a perfectly fitted Air Force 1'07, it's best to try them on physically.
Depending on your feet's shape, these can fit your actual size, or you may have to go half to a full size down.
However, if your AF squeaks while walking, there are solutions for that, too, for both women's and men's shoes. So don't stress much.
Is Air Force 1 Unisex?
Yes, Nike Air Foece1 is unisex. Nike ensured their most popular AF 1 gets the same appreciation from their male and female customers.
The shoe's design, structure, and building quality are identical in both men's and women's shoes.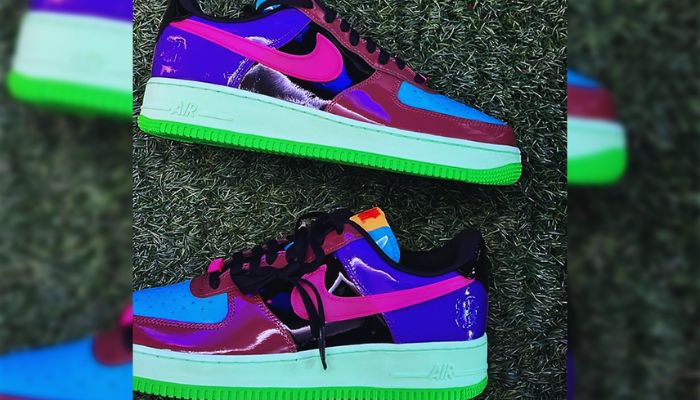 The sneakers have so many colors to choose from. And if you look at the retro models, the color combinations are so versatile that ladies and gents can nail these pairs.
The shoes are identical in white Air Force 1, with the difference in sizing, a bit more toe room in the men's pair, and the sole.
By changing your size, you can wear a men's Nike AF 1 if you go down 1.5 sizes and the opposite If you wanna get a women's pair.
This is the advantage of unisex shoes, as family members with the same shoe size can enjoy one pair.
You need to take care of your pricey shoes in every season, no matter what.  So, if you are getting your Air Force for the first time, make sure to check if Air Force 1 is waterproof.
FAQs
Do Gyes Wear Air Force 1?
Yes, Gyes, wear AF 1, as these sneakers are comfortable and versatile. It makes a good pair for casual wear. A statistic showed men are more into Air Force than women.
Are Women's AF 1 Same As Men's?
From the outlook, women's Air Force is the same as men's except for the sizing, toe box area, and in some cases, the color variations.
Can Men Wear Women's AF 1?
Yes, men can wear women's Air Force 1 as these shoes look identical. All they have to do is to size up to match the length. Even men with narrow feet find women's version comfy.
Do Nike Air Force 1 Run Big For Women?
Yes, Nike AF 1 can run big for women if you buy the same-sized men's shoes. As men's sneakers run 1.5 sizes bigger, women need to go 1.5 sizes smaller to get a snug fit.
Final Words
Despite being unisex, Nike Air Force 1 still has slight distinctions in toe box structure, the feeling of the soles, and, most importantly, in sizing for their women's and men's sneakers.
Though you can't verify these divergences, you must know them to get your perfect pair.
These are all the facts of Air Force 1 for male and female versions. Thanks for keeping up.