Wanna spice up your outfit impression? Then, Nike Air Force 1 is a good choice. But its loud noise can be embarrassing while walking in a calm or crowded environment.
So the wearers often ask – what causes the squeak, and can you fix the squeaky shoes?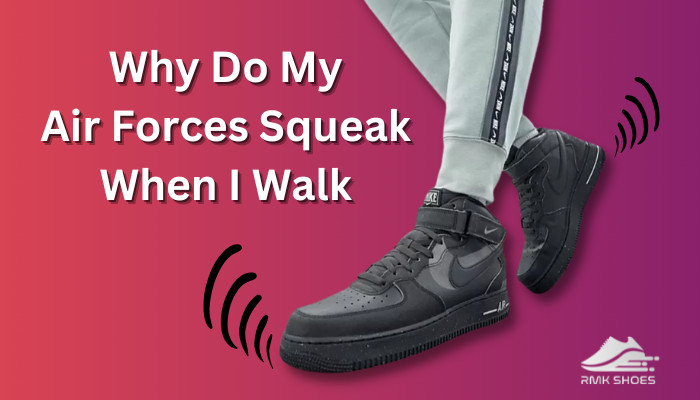 Well, I'm gonna describe the facts and reveal some methods to repair Nike Air Force from squeaking.
So without further due, let's jump in!
Why Do My Air Forces Squeak?
Trapped air or moisture underneath the insole, outsole abrasion, improper lace closure, and ill-fitting causes the new Air Force sneakers to squeak. Moreover, the shoe's age and damaged soles create the squeaking noise in years-worn sneakers.
The retro-looking and staple Air Force 1 is a must-have pair in every sneakerhead's closet.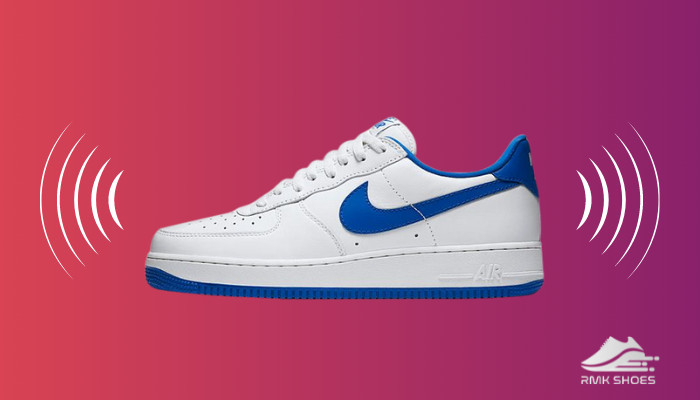 Its swoosh design, premium leather upper, superior traction, and eye-soothing colorways catch the customer's attraction within a few seconds.
Thus, they are curious to grab a pair of Air Force 1 no matter how expensive these Nike gears are.
But when the users notice annoying sounds coming from their hefty price-tagged sneakers, undoubtedly, they become restless to unwrap the reason behind it.
Here are the possible causes of Nike AF1's squeak:
Air & Moisture
Sometimes, the soles are improperly attached to the shoes due to manufacturing defects. And so, tiny holes are created there. Usually, the air and moisture from wet or sweaty feet get trapped in those gaps and lead to continuous high-pitched sounds.
But, when you roam with those AF1 around any watery environment, water won't be confined inside the shoes as Air Force 1 are waterproof.
Ground Abrasion
Generally, Air Force 1's outsole is formed with durable rubber and slip-resistant compounds. The sole has several patterns including pivot circle, rhomboid, and stripes for traction on the basketball court and beyond.
But the problem arises when this exterior sole gets old and fails to adjust to the surface. Thus, the squeaky noise results from the friction between that damaged sole and sturdy ground.
Poorly-fitted Lacing Style
Squeaking depends on the incorrect way of lace tying, especially when the laces are too long. If you don't hide or wrap the remaining portions of the lace near the ankle or under the tongue, that end will squeeze under the shoe and make constant noise while moving.
Moreover, improper adjustment of the tongue turns to squeak. So, make sure to knot the laces conveniently so that they stay tied.
Improper Fit
When you wear large-size Air Force sneakers, they will move back and forward the entire time of your walking. As a result, rubbing, blisters, and unexpected squeaking will occur.
Hence, buy well-fitted shoes at any cost to avoid your beloved sneakers squeaking.
Ruined Soles
Since Nike Air Force is one of the sustainable and luxurious brands, its soles are made of the finest quality materials.
But similar to the other consumer products, it gets damaged with time and regular wear. That means there is a correlation between scratchy soles and shoe age. The soles become ragged and dirty over time, catch the air in those rugged areas, and make a disturbing sound.
Furthermore, Air Force 1 sneaker sounds sticky when excessive sweat absorbs in the rifted insoles and when you wear them with wet feet.
Whatever the cause of the squeaking is, you must get rid of this issue. Otherwise, your appearance in front of your friend circle will turn into a joke just because of that irritating sound.
So, let's read ahead and make your Air Force squeak-free!
How Can I Make My Air Force Stop Squeaking?
Sprinkle talcum powder, wear socks, purchase correctly fit sneakers, replace the worn-out insole, and rub saddle soap – any one approach among these will stop your AF1's squeaking. But it's always wise to walk with the shoes in the store and test whether it sounds squeaky or not before you buy.
Actually, finding the reasons for squeaking isn't a simple task, like making rubber jibbitz for your crocs. Sometimes, it takes a lot of attention to identify which zone the noise is coming from.
So, it's better to proceed with the easiest fixing rather than wasting your time finding the hidden reasons. But if you have already identified the source of Air Force 1's whimpering, it's a plus point!
Because it helps to take the instant and exact initiative for preventing the echo.
For now, let's see the strategies to recover noisy Air Forces!
Make a Layer of Baby Powder
Talcum powder or baby powder is the most familiar ingredient to pause squeaking. And it can be found on all of our dressing tables.
Here's how to apply it to the footwear:
Take out the insoles from your Air Force pair.
Scatter some baby powder inside the shoes and spread it by hand or by moving the shoes. But do not use excessive amounts.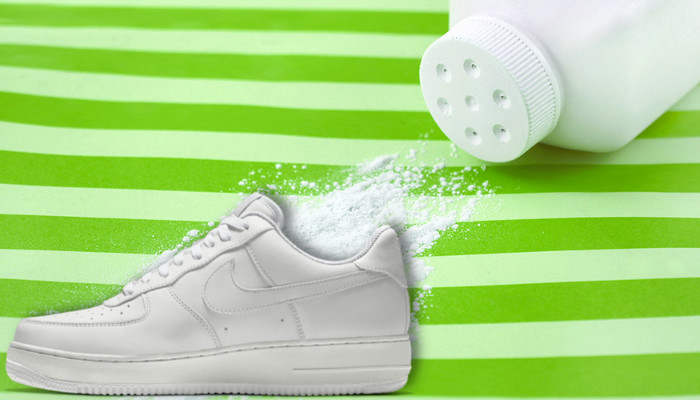 Dab the powdered layer on the shoe surface and make a thin coating of powder.
Follow the same powder-spreading procedure for the other sneaker.
Set the insole beneath the shoe and shake off the spillover ingredient.
Put on a pair of fine-quality socks and then take on the shoes.
Now stride on wearing the Air Force pair. Do they still create the sounds?
If so, it must be coming from the other parts instead of the insole. And you can't fix it by applying powder. Rather, you have to depend on other elements. Right now, let's focus on that issue!
How to Stop Air Forces from Squeaking Without Baby Powder?
Baby powder or cornstarch works well to eliminate the sounds that emerged from the defective sole attachment. But it won't work in all cases. So, you must know some other techniques to repel the sneakers' squeaking.
Here are some ways to repair Nike AF1 from squeaking:
Scrub Saddle Soap
Buy a piece of saddle soap. Now, divide the soap into two parts and rub each of them at the bottom of your sneaker. This task will improve the grip and diminish the friction between the trail and the sole.
Hence, the squeaky noise will vanish, and you will enjoy a calm and decent walk wearing the Air Force 1.
Note: You can use sandpaper as an alternative to saddle soap. In that case, buy two pieces of paper and scrub one of them on each shoe's outsole.
Absorbent Socks or Antiperspirant
Sticky noise and squeaking inherit from wet or sweaty feet. To get rid of this issue, apply antiperspirant on your feet then wear your Air Force pairs.
In a shivering cold, wear absorbent socks after spritzing antiperspirant. This type of sock protects the feet from overheating, malodor and keeps the feet dry. Then put on the sneakers and enjoy noise-free pacing.
Adjust the Laces & Tongue
Always tie the shoelace properly and ensure a secure fit. Check the joining parts of the sneaker's tongue and set it under the laces. For some stylish lacing ideas, follow the forms mentioned in the article on how to lace Doc Martens and try on them.
And soon I'll cover Air Force 1's lacing styles, so keep your eyes on our site.
Repair or Replace the Sole
Air Force 1 has a longer lifespan, and you must be willing to wear your favorite AF1 sneakers for years to come. But you need to repair them to upgrade the ruined condition and remove the squeaking.
Therefore, simply buy new insoles and set them inside the sneakers. Or send them to an experienced cobbler and get a fresh and non-squeaky Air Force set.
Final Words
You must have purchased the legend AF1 for boosting the outlook. So you will definitely get disturbed by its relentless squeaking.
But as you know the effective fixings, just stop this jazz ASAP.
Leave any further questions in the comment section. I'll gladly bring reliable answers to you.