There are not that many fun design options for crocs. But, in recent years, jibbitz made an unbelievable change in the history of crocs.
At the same time, the number of croc lovers is on the rise.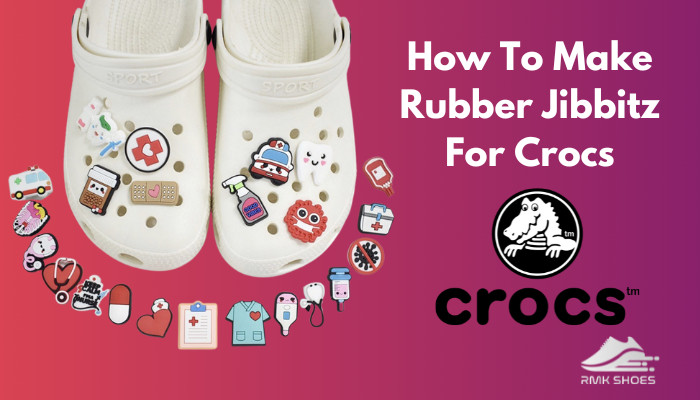 As the demand for crocs rose, the trend of using crocs charms to decorate crocs increased. But, due to their high price, rubber jibbitz became more popular.
In this article, I will discuss the DIY process of making rubber jibbitz in detail and you will be able to learn some tricks along the way.
So, keep scrolling till the end to know how to make rubber jibbitz.
What Materials Do You Need To Make Jibbitz?
When you are looking for a specific design of jibbitz, it can be pretty expensive. And there is a chance that you may not even find something that suits your taste.
To make anything on your own, you need materials. I love DIY projects and have some materials that are necessary to make any crafts.
For making jibbitz, these are the necessary materials you will need:
Shrinky dinks
Strong glue
Mod podge
Paper cutter
Colored pencil
Resin
Gold chain
Wire
Wire cutter
Polymer clay
Beads, Buttons, Gems
Magnetic clasp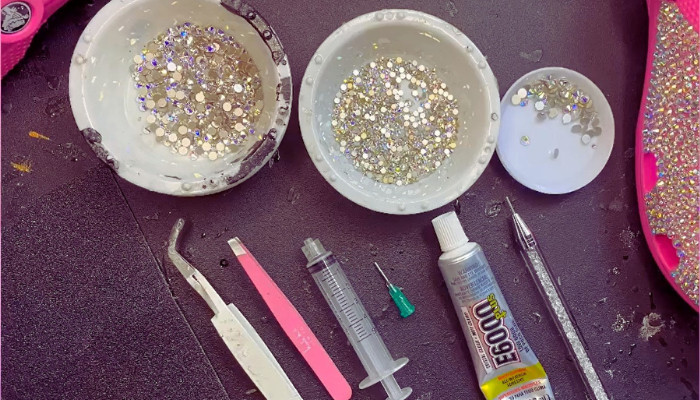 These are supplies you can use to make your own jibbitz.
It's not like you must have these. If you can manage with fewer materials, that's totally up to you.
But I suggest you have all of these just in case.
Follow our guide to know what color crocs go with everything.
5 Ways To Make The Perfect Rubber Jibbitz
My best friend loves crocs and has a collection, though I don't get what's so great about them. However, one day she saw some videos of croc charm making and went nuts.
She found several ways to make jibbitz but ended up trying only one. But you need to know all of them to make them quickly.
Here are the most effective ways to make rubber jibbitz:
Using Epoxy Dots
Epoxy dots come on a sticker sheet, and the backing of the sheet is very tacky to hold the grip.
Format the charm design. I usually do it on Microsoft word processing software.
Make the image precisely the same as the dots to march ideally.
Print your design and cut them properly.
Then peel off the backing of the dot and press your picture to match.
Take a rubber surface and glue the dot on top of it.
Put jibbitz backing on the opposite side of your image and glue them.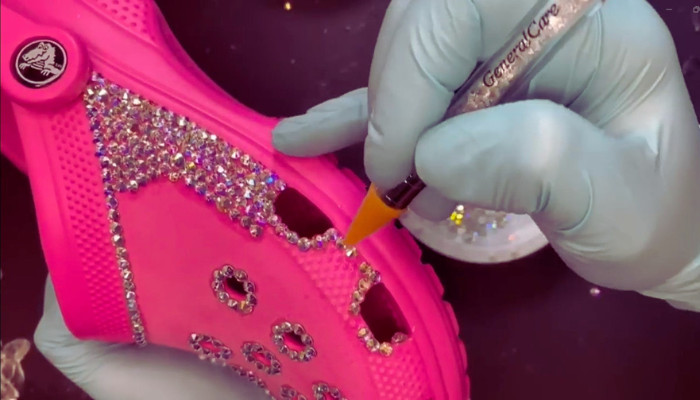 Your DIY jibbitz is ready to use.
By Polymer Clay
Polymer clay is used to make several things. I used clay to make key rings and charms for my friends; and let me tell you, they were a hit.
Recently, my cousin made jibbitz using polymer clay and told me before anyone as I have worked with clay.
She followed these steps to get her desired result:
Step 1:
Mold your clay to any shape you want. Place the shape on a backing sheet lined with parchment paper.
Make sure the back of your clay structure is flat enough to put the jibbitz backing.
Bake your charms at the right temperature. Approximately 300 to 325°C. Use more than one colored clay to make it more attractive.
Step 2:
She used liquid polymer and a silicone mold to give her charm a unique shape.
You can choose any shape you want. My cousin chose a kitten shape as she is a cat lover.
Warming up the mold for ten minutes prior is necessary. Then she put the clay into the molding, tapped on a flat surface and again baked for 15 minutes at 135 °C.
She finished it with a sprinkle of glitter.
Please ensure the silicon mold is ovenproof because my cousin didn't, and the result was ugly at first.
With Shrinky Dinks
The most popular way of making any kind of charms at home is using shrinky drinks. This shrinks and makes the cutest mini version of the drawing.
Here's how you can make your croc charms with shrinky dinks:
Print out any image or design you like and draw them on the shrinkable sheet.
Use clear shrinky dinks to draw your customized design.
Cut the outline carefully.
Bake the pieces on a baking sheet at 149 °C for 3 to 5 minutes.
If your shrinky dinks are curled, use the back of a glass to make them flat.
Use glossy mod podge to coat the image for a long-lasting effect
You can also use UV resin to seal the shrinky dinks
Follow this video for more visual instructions:
By Jewelry, Buttons And Glass Stones
Decorating crocs with accessories is a new trend among teenagers. My niece is obsessed with these. And to be honest, I am starting to like them.
Jewelry
Any jewelry with a flat back can be a crocs charm. If not, use pillars to snap the eye from the back. Use a strong glue like E6000 to attach the jibbitz backing.
You can add them to a rubber surface to make them more durable. And then attach jibbitz backing to make a rubber jibbitz.
Buttons
Who said buttons are only for dresses? If you want, you can add the same buttons on your crocs to match.
Choose any shaped and colored button to add on top of the jibbitz backing, and you are done.
This was the easiest way so far to make croc charm.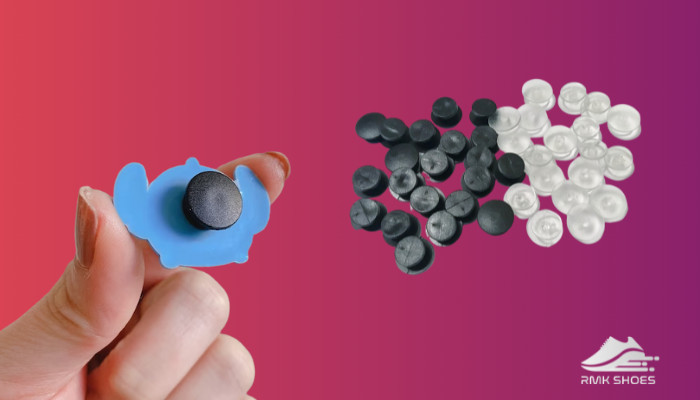 Glass Stones
Print and cut any design and glue the glass stone on top of it. Be careful when applying glue. It can damage the color of the image.
The charm with glass can be attached to a rubber surface to make it more challenging.
Using Beads
Beads are the newest edition to decorate a boring croc. These come with so many variations and color options.
Follow this process to make charms with beads:
Choose beads of your preference with letters.
Take a wire and cut it to your desired length.
Make any design you want with your wire and beads.
Take a metal chain and cut as long as the wire.
Attach the chain with the wire and close them together.
Set it on your crocs using a magnetic clasp.
With beads, your crocs look entirely different than they used to be. And you can choose any color to match your outfit.
Go through our epic guide to know can you wear crocs at amazon.
How To Make Rubber Jibbitz With 3D Printer?
If you are into tech and love crocs, you might have thought of a 3D print machine to make jibbitz.
Good news! you actually can do that now.
The 3D printing machine uses resin to make the structure. And if you want a rubbery charm to decorate, there is a typical type of resin that seems like rubber when hardened.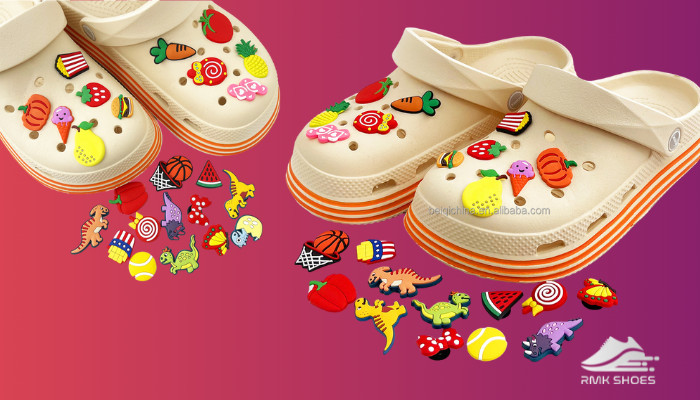 Use that kind of resin and print your crocs charm, and these will be waterproof and so unique that everyone will ask you where you got them.
3D printers can print any image when instructed. Just be careful of UV rays when using the machine.
And lastly, do use safety glasses while making it.
How To Make Jibbitz With Cricut?
Cricut is for someone who wants something new and different for their jibbitz. As it can engrave, you can customize any design.
You can make a jibbitz with a circuit. The use of circuits is versatile. There are several things that you can do with a Cricut machine.
To make jibbitz, shrink plastic is the most common method, and the Cricut machine cuts your charms just as the picture you selected.
It's not like you need to use it. But if you are a perfectionist like me, you can give it a try.
Here's how you can use the Cricut machine to make jibbitz:
Select your desired design or picture
Place the shrink plastic on the Cricut cutting mat and press well to stick them together.
Put the cutting mat in the machine and select the cutting settings
Cut twice if your plastic is too thick
Bake the cutting pieces to shrink properly
Cut the colorful vinyl sheets and place them carefully on the plastic structure.
Take a jibbitz backing and glue it on the back of your charm.
Voila, your Cricut jibbitz is ready to use!
You may also like to read: do you wear your crocs without socks.
How To Put Jibbitz On Baby Crocs?
Everything related to babies is the cutest in the world to me. I can't get enough of baby dresses, socks and shoes.
Let me tell you; there are crocs for babies. For a crocs lover, matching crocs with their baby is like a bolt from the blue. And it is more fun to put cute colorful jibbitz in baby crocs to make cute things even cuter.
It's very easy to put jibbitz on any baby shoes. With a little bit of stretching, you will be able to fit them in. For crocs, there are existing holes to fit the jibbitz charm.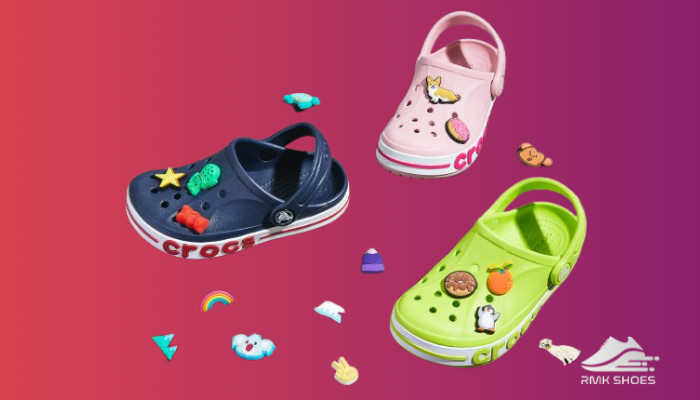 To apply jibbitz, you need to put the wedge of the back of the charm through the holes. Slide the back in there and be careful not to rip off the top of the shoe.
The most exciting thing about putting jibbitz on baby shoes is that you can match them with your child's personality.
How To Make Jibbitz Stay On?
Crocs don't come with jibbitz. It is an extension to lift the looks of your crocs. With extra added ones, the main concern is to keep them in place.
So, when buying or making your own jibbitz, you need to consider whether these will stay put.
If the jibbitz backing is too small compared to the hole of your crocs, it may fall out.
Usually, jibbitz charms fit all crocs; even in baby crocs, they fit perfectly. You can also put jibbitz on non-croc shoes if it has the place to put these on.
Make sure that the jibbitz backing is in the proper size to fit your shoe. I like the bigger ones; they fit too tightly to fall off.
There are three different types of sizes available. Choose the one that will fit tightly and stay for an extended period.
Check out our separate post to know can you wear crocs in the winter.
What Type Of Glue To Use To Make Jibbitz
In my opinion, making any kind of jibbitz glue is the essential part. Because without strong adhesive, it is not possible to join any charm with jibbitz backing.
I tried to glue rubber shoe charms to one of my sandals. And it worked smoothly. So, finding a strong adhesive is crucial.
Using E6000 glue on crocs is suggested by experts, and I agree. I have used this glue in various projects, which never disappointed me.
At first, it can be a bit difficult to use E6000 as it takes time to dry. But when you get the hang of it, it becomes very easy to use them on your crocs. So, be patient.
How Many Jibbitz To Fit On A Crocs?
Crocs are known for being comfy and provide air circulation when used.
Most crocs have holes in the front, but the number is not the same for all models. Typically 13 holes are the most common.
Recently a new model has been launched, which looks similar to Birkenstocks and has 3 to 7 holes in them for airflow.
For typical crocs, you need 26 jibbitz. If you want more, you can always make some extra holes. With the new versions, you will have 14 charms in total.
How To Start A Crocs Charm Business?
You don't need to be a crocs lover to be in the business. This trend of putting crocs charm has gone viral, like videos or songs. So, to earn some extra cash, why not try it?
Using charms to extend the look of any footwear is very popular nowadays.
Here're the steps to start a crocs charm business:
Do Some Research
To start a business researching the sector is essential. How can you think about managing a business if you don't have the proper knowledge?
Charms are finding their way back to being in style.
So, you need to find out what type of crocs are popular on the market and what type of jibbitz to use with them.
Follow The Recent Trend
The easiest way to boost any business is to follow the trends. People are competing with each other to level up their game.
When you know what is selling overnight, you can focus on that to elevate your sales.
Target Certain Customers
Targeting customers is a crucial factor for any business.
Specific buyers are responsible for product purchases. Teenagers are more drawn to colorful charms. So if you focus on them, your sales are sure to increase.
Create A Website
Since the time of the Corona pandemic, online business has been booming till now. You can see the product, order them, and try them on from your house.
What more luxury can one ask for?
For smaller objects like shoe charms, online purchasing can be more enjoyable as most customers are young and might not get the chance to shop outside without adult supervision.
Related content you should read: are crocs closed toe shoes.
Verdict
Making rubber jibbitz is fun and another unique way to put a different spin on the style of your footwear.
Jibbitz is becoming more trendy every month and any shoes, especially crocs, look extraordinary with jibbitz attached to them.
I hope this article was informative enough to clear all your questions and you got to know everything about the making of rubber jibbitz along with the decoration process.
If you ever made your own version of jibbitz for your crocs, feel free to share your experience and tips in the comment section below.