Crocs are comfy, light, airy and colorful. This brand became popular because of its casual and simple go on uses.
Nowadays, some famous rappers, fashion enthusiasts and actors style their crocs with socks. This pattern became more popular for those public figure's airport look.
Now,  here's where you might get confused with thoughts like 'should you wear your crocs without socks?'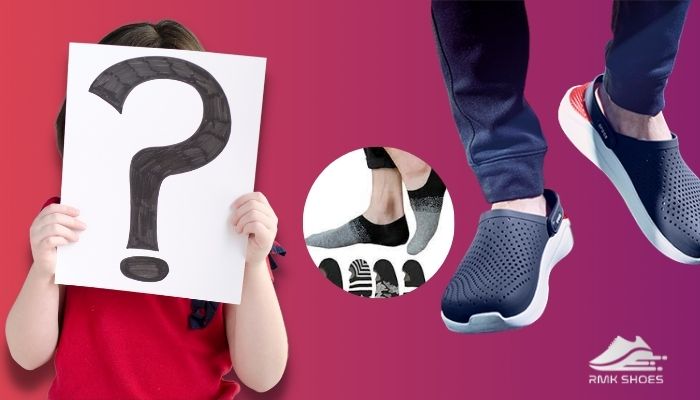 Some people find more comfort with socks and some think Birkenstocks are meant to be worn without socks. Which group should you support? How are your crocs?
After a couple of hour's long research, I am answering those questions for you.
Keep reading till the end to know more about it.
Should you wear Crocs Without socks?
As crocs are made for a deck sandals with waterproof and non slippery technique. Wearing crocs with socks may oppose the purpose of crocs. But literally it depends on personal choice of individuals. Many people feel more safe in their crocks with socks. Besides Many are not liking it.
As for me, there is no wrong answer to this question, should you wear crocs without socks?'
Many of fashionist think socks add more comfort with crocs. As well as it gives more grip in slippery area with socks.
Check out our epic guide on how to Make Crocs Shiny Again
If your feet get sweaty, socks are the solution. You can adopt the fashion of crocs with socks. But in this case it might give you more warmth. If you want this warmth you will go for it.
On the other hand, your crocs without socks can be the perfect voice for a watery place. The holes of cocks can provide air conditioning when you wear them without socks.
The style of crocs are for bare feet and it has a specious toe box which will fit well with socks. Even fluffy woolen socks is also suitable for the wide toe box of crocks.
In fashion the young people hardly like the style of crocs with socks. They think the 'with socks' fashion is for the aged people who need more support for their feet. Along with some special work people like nurse, and kitchen workers like Crocs with sock as they need comfort and safety in there workplace.
For me crocks are an easy to wear slip on. I can wear them in a hurry without any fashion accessories. Because crocks are already fashionable. In this case you might find the crocs more effective without socks.
But in incase you can carry a pair of socks in your bag when you are wearing crocs. Sometimes this can add some extra advantages to your travel.
Follow our guide to know Are Crocs Unisex
How to wear Crocs Fashionably with Socks?
Crocs with socks are now in fashion thanks to some famous influencers. If you are confused about how to wear crocs with socks, I will answer this question as your fashion guide.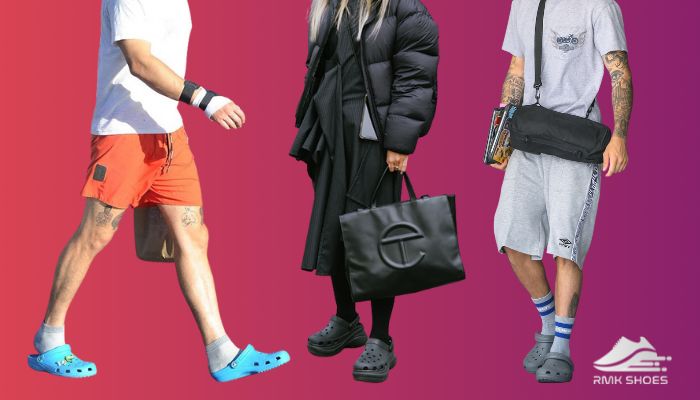 Let's discuss some ways of how to wear your crocs fashionably with sock:
When you are in comfort as well as in fashion, the no show socks will be your best option for your crocs. No one can see your no show socks over your crocs. And this fashion will make you more professional while wearing crocs with socks.
Half socks are for a good grip on your feet. This kind of socks only cover your toe. So it will not see through your crocs. And it will be fashionable also.
Half length socks might also be an option with your crocs. As you know, half length socks are known as standard length socks. You can consider a full pant or a long dress with you half length sock and your crocs.
In summer, full length socks with stylish crocs will add a fashion complement. You might pick this style with your short skirt or dangry.
If you plan for a fishing or poolside party or anything, you need to go with waterproof socks. A pair of waterproof socks with your crocs will give your feet full protection in rainy seasons.
After this discussion I can say that choosing any kind of socks with your crocks is only your call. You might pick according to your preferences.
You can choose some colorful socks for basic colored crocks on the other hand some standard color socks for colorful crocs. A patterned pair socks also can be your selection.
For me, standard length socks with some fun lining and soothing colored crocks will smile like anything together.
Follow our epic guide to know about Crocs LiteRide Vs Classic Crocs
Are You Supposed To Wear Socks With Fuzzy Crocs?
Fuzzy crocs is a special type of crocs with fur lining into the outsole. this type of crocs is also called as fur lined crocs.
Fuzzy or fur lined whatever you want to call them, they provide you the same comfort and extra warmth to your feet. I think Fur lined crocs are mainly for winter.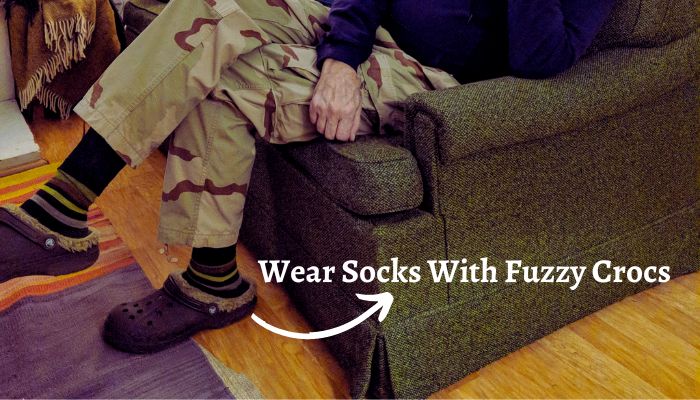 In my research, I saw Many people are supposed to wear socks only with fuzzy crocs. On the contrary many for many people fuzzy crocs are already appropriate for winter go on slippers.
However there are some who say socks with fur lined crocs add grips as they are not grippy enough without socks.
So, there is no rule for fuzzy crocs with or without socks. You can wear a fur lined crocs as your night slipper.
Check out to know about Crocs Classic Vs. Crocs All Terrain: Ultimate Comparison Guide
Are you supposed to wear Socks with Crocs literide?
Literide crocs is a new stream of Crocs clog. The old traditional bulky funky look of crocs is missing in this literide fashion. The literide crocs offers a more formal look as well as comfort.
In literide there are some full covered models like shoes even some belted models like fancy sandals.
Talking about socks with Literide, there are no rules about it. You might use your literide crocs as a daily wear. You can use them in both ways with socks and without socks.
But in some instances your literide might be quite squeaky, then wearing them with socks can be a solution to it.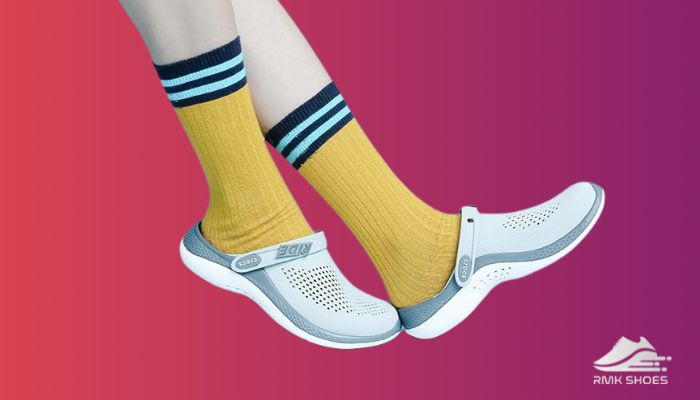 Moreover for a formal look you can go for the 'with socks' option.
Follow our guide to know Can You Wear Crocs On A Treadmill
Are You Supposed To Wear Socks With Crocs in Summer?
Crocs are airy and perfect for hot summer days. Crocs are planned as summer shoes. So,this might not be recommended to wear crocs with socks in summer.
However if you have thin feet then socks will give you a better fit. Besides for some workers who have ugly feet they might wear socks with their crocs even in hot summer.
In my opinion, it's again your call to choose how you wear your crocs in summer.
Check out our separate post: Can You Wear Socks With Skechers GO-Walk
Differentiate Crocs with Socks or without Socks
Crocs without socks are quite comfortable. Not but what people are rage about is the style of crocs with socks. After a long query I was able to find some reason behind this variety of tests and preferences.
So, now I will tell about those thought below:
Socks are absorbent. If you have sweating problem socks will give you a proper sweat absorbance while walking with your crocs for a long. Even socks can resist bad odor of your footbed.
Socks give more grip. Wearing a pair of socks with your crocs might give you more grippy fit. A proper pair of socks will grant you anti-slip advantages.
Socks will offer you extra warmth in winter. If you are thinking about wrapping up your crocs in cold weather, socks will be your solution.
A colorful and stylish pair of socks will add more fashion statement to your favorite pairs of crocs. Sometimes socks add formal touch in some pairs of crocs.
Socks can keep away pollutant particles and dust from your feet. Your skin will get rid of rashes or any kind of reaction, if you wear a pair of socks. You might hide anything you want from your feet by wearing socks.
Why should you avoid crocs with socks?
There is only one reason here. Socks destroy the purpose of crocs.
Crocs are mainly structured for air conditioning to the feet as well as for rainy season. So,if you wear socks with crocs, it will violate the airy effect.
Read more on Do You Wear Socks with Rain Boots
Are Crocs with Socks Formal?
Crocs are a casual fashionable slip on. You might wear it for a normal night walk, go around or any outing.
Sometimes crocs can be used in a formal way. The literide collection of crocs are for formal use. You must like them with socks for any professional area.
Literide crocs have similar shoes when you wear them with socks.
You also wear crocs in your workplace with socks. It looks quite normal and functional.
So, you can select any kind of crocs which don't squeak and you can pair them with socks.
Can you wear crocs in school and Hospital?
Crocs are not allowed in school. Expert thinks that crocs are not good for kids as it has a wide toe box and it is more appropriate for bare feet. So it might hamper baby's feet muscles structure.
Schools are suggesting sneakers for kids instead of crocs in school.
As for hospitals, some of the crocs squeak when it gets wet or anytime, so they don't generally allow crocs.
In that case you can wear your crocs with socks to avoid squeaky effects, if you are a hospital staff member.
Because the rule is different for visitors and staff. Staff can wear crocs in their duty. the reason is crocs are anti slip. So hospital staff can use crocs in their control room.
Check out our separate post on Does Wearing Two Pair of Socks Make You Taller
Verdict
To sum up, you might understand that there is no fixed rule for crocs style. Its totally upon individuals choice.
Crocs are for a versatile fashion. So you can wear it in many ways. If you find socks suitable for your feet and work you can wear them. Besides if you are comfortable without socks, you can only wear crocs.
Comment below and let me know if you wear your crocs with socks or not.