Crocs have a plethora of clogs in different designs, colors, and sizes. So, it is natural to get confused when buying one for yourself.
One question that people ask a lot is whether crocs are unisex or not.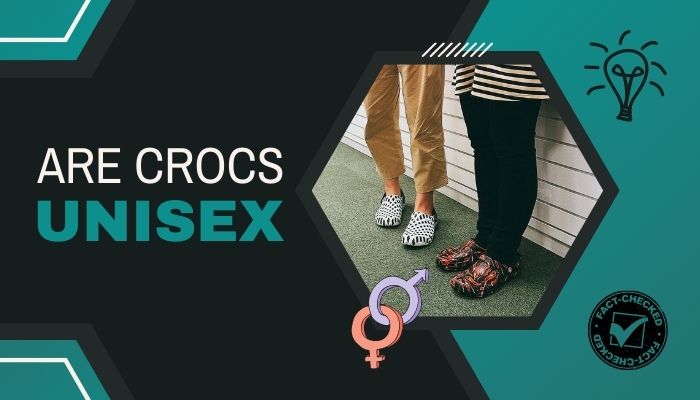 Well, yes, Crocs are unisex. Standard Crocs have no unique features for men and women, their footwear is unisex. Even though there are some specific crocs that are Men's and Women's, there is no significant difference between them, and they can be worn by both interchangeably.
So, why do people sometimes claim that crocs are feminine or masculine? How are they unisex?
Well, no need to worry because I have answered all these questions for you in this article.
What Makes Crocs Unisex?
You will hear many people say that crocs are only for women since they are so colorful and have cute Jibbitz on them.
But, you'll also hear some people say that Crocs are for men only since they are clogs and are not pretty like other women's shoes.
But are any of these claims rational, given that Crocs are simple clogs that are very convenient and comfortable to wear?
Most, if not all, features of Crocs scream unisex!
I mean, let's face it, if a pair of footwear is designed specifically for men or women, it is bound to have most features aligned to femininity or masculinity and that is not the case for Crocs.
In fact, it's the exact opposite. Most of its features are perfect for both men, women, and all other genders, so it can be worn by literally anyone.
What are these features? I have mentioned them below.
Also, follow our epic guide to know Can You Put Crocs In The Washing Machine.
The Design
The design of the Crocs, their clogs, is very gender neutral.
The classic design of Crocs clogs is they have an upper covering the front of the feet with vent holes all over them, a comfortable foot base, and a strap at the back that keeps your feet inside the clogs.
Now, none of these features is gender specific. Not in design and not in style.
The strap was made to secure your feet inside the clogs and that applies to both men and women.
You would not see regular men's or women's footwear have straps like this on them, and hence, it is not indicative of any specific gender.
In a hurry? Check out my new post: Do Crocs Come In Half Sizes.
Next, people often say that the chunkiness or bulkiness of Crocs makes them look more masculine.
However, it is not necessarily true, as women also wear (and rock) chunky footwear such as platform heels, boots, chunky sneakers, and whatnot.
Moreover, Crocs are simply clogs – and clogs, like shower shoes, or rubber rain boots, are completely gender neutral and worn by everyone.
So, likewise, it can be said that the design of crocs is unisex.
The Material
Next comes the material used to manufacture Crocs.
Crocs are made using their patented closed cell foam called Croslite, which is made using a unique combination of EVA foam and cork dust. Croslite is known to provide optimum comfort, flexibility, and durability.
As you wear these crocs for a while, the foam starts to mold around your feet, providing improved comfort.
The way the material molds and provides support, it is not and cannot be dedicated to any single gender, because it is made to provide top-notch comfort to both men and women.
Check out our epic guide to know Do Crocs Shrink In The Sun.
The Convenience
Crocs are infamous for their convenience. You can slip one on and go to work, get groceries, or just chill at home.
They are not made to be worn in any specific area or setting – in fact, they can be worn almost everywhere!
They are so convenient because all you have to do is slip them on, their light weight and comfort make you feel like you are not wearing any footwear at all.
Since they can be worn almost everywhere, there's no doubt that they can be worn by both men and women in all those places.
Follow our guide on Crocs Vs Clogs: Know The Differences.
How To Choose The Perfect Size For Crocs
Yes, Crocs have their men's and women's collections, but they also have gender-neutral collections.
The gender-neutral crocs have both the men's and women's sizes stamped at the base of the shoes, so you can easily check for your size and get one.
If you need to see the size charts, you can find them on their website, for both men and women.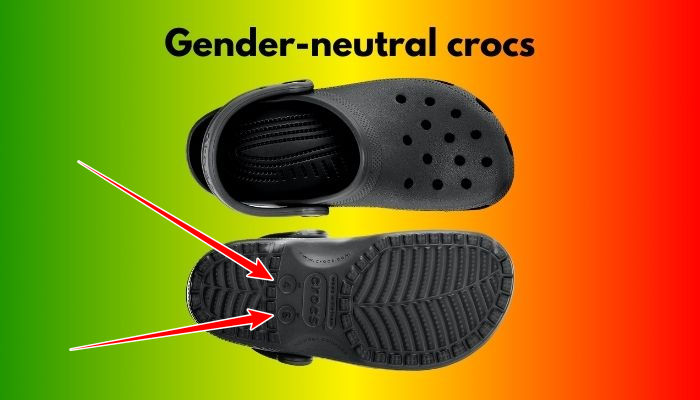 Cros usually run big in size. So, if you fall in between the sizes, then I would suggest that you size down to get a better fit.
Now, what happens if you love a pair from the women's collection but you are a man?
Well, there is absolutely nothing to worry about, you can simply get them for yourself, as their design, fitting, comfort, and shape will all cater to you the same as men's crocs would.
However, you will have to compare the sizes and get the size that corresponds to your male size.
It's the same if you're a woman and you come across a men's crocs that you really like, you can simply get it in a size that fits you, and you'll notice no difference or discomfort.
FAQs
How Should Your Crocs Fit?
Crocs are meant to be worn by people with a variety of different foot types. If you have feet that are narrow or of normal width, you can expect that your Crocs will fit you in a manner that is similar to that of formal shoes. Crocs may feel rather constricting at first if you have broad feet, but they will eventually stretch out to accommodate a larger foot shape.
Do Crocs Run Big?
Yes, Crocs run big. This means that their shoes are bigger than the actual size. So, it is recommended that you buy one size smaller than your regular shoe size in order to achieve the best possible fit for yourself. If you fall between two sizes, then you should size down and get the smaller size.
Conclusion
Crocs are so widely loved and worn by people all over the world. People of all ages, gender, and race wear them and love wearing them.
This is only possible because of their versatility. The fact that they are unisex and can be worn by men and women without worrying about anything makes it even better.
I hope this article has been helpful for you.
What's your favorite part of wearing crocs? Let me know in the comments below.