Rain or shine Crocs are by your side all the time. Crocs have become the most popular footwear among all age groups, whether they are five or fifty.
On the other hand, Clogs are also well-known and well-liked by all.
However, most people are still confused if crocs and clogs are the same or not.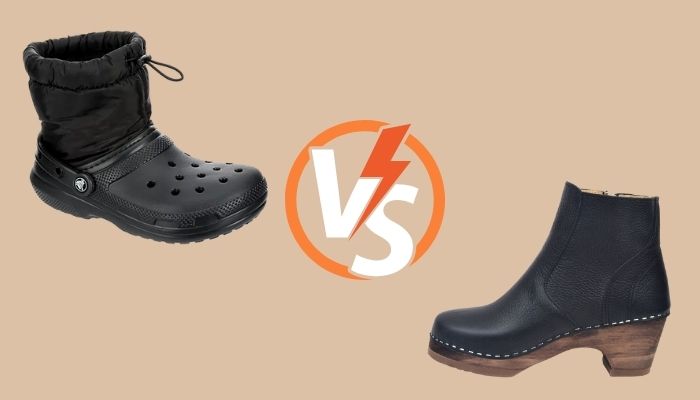 So I thought, why not write an in-depth article explaining the differences between crocs and clogs so you can pick the appropriate one for you.
Let's not waste any more time and dive straight into the writing.
What Are Crocs?
Crocs is an American footwear company that has been producing classic clogs since 2001. Crocs are designed to keep both comfort and safety in mind. The not so beautiful but very, very comfortable Crocs are liked by all.
Crocs shot to fame in 2004 when they purchased Foam Creations and incorporated their Croslite (injection-molded EVA foam) into the Crocs.
Crocs' sales increased due to this new feature, and the company has since sold over 300 million pairs of shoes.
The Croslite foam construction not only makes the Crocs exceptionally comfortable but also provides numerous foot benefits.
Doctors recommend crocs for diabetic people because they decrease foot pain and keep the feet comfy.
Follow our guide to know Are Crocs Unisex.
What Are Clogs?
Clogs are croc-like shoes, manufactured partially or entirely of wood. The beginnings of wooden clogs are unknown because they were created long ago.
Traditional clogs are still well-known over the world and are utilized as protective footwear in both agricultural and industrial areas.
The traditional clog is available in three styles: wooden upper, wooden sole, and overshoes. These three designs may have diverse characteristics, but one thing they all have in common is protection.
Check out our other post to know the top 6 Crocs Butter Alternatives: Cheaper Ways To Shiny Crocs
Clogs with a wooden upper are ideal for safety footwear since they protect the entire foot, preventing injury from falling objects.
Clogs with wooden soles come in a choice of attractive uppers and a steel toe cap to keep your feet safe.
Overshoes include a wooden sole and straps to keep the feet secure and protected.
However, as we progressed into the modern era, the design and functions of traditional wooden clogs altered as well.
Clogs are now created from a variety of materials, including leather and synthetics. You won't hear the clicking sound of wooden clogs anymore, but modern leather clogs are hard to top.
Crocs Vs Clogs: Key Differences
| Features | Crocs | Clogs |
| --- | --- | --- |
| Lightweight | ✔ | ❌ |
| Waterproof | ✔ | ✔ (Not all) |
| Straps | ✔ | ❌ |
| Durable | ✔ | ✔ |
| Flexible | ✔ | ❌ |
| Slip-Resistant | ✔ | ✔ (Not all) |
| Removable Footbed | ❌ | ✔ |
| Breathable | ✔ | ❌ |
Material
Crocs are made of Croslite foam, which molds to the shape of your foot and provides all-day comfort.
Croslite, a closed-cell resin, acts as a shock absorber, minimizing foot stress. Croslite foam is also odor-resistant, so you won't have to worry about your feet stinking in the summer.
Clogs used to be constructed of wood, but now, the majority of clogs are made of leather or synthetics.
Leather is a durable material in and of itself, so using it for the clog's upper and footbed strengthens the entire shoe.
On the other hand, synthetic materials make the clogs somewhat water-resistant and lightweight.
Also, check out our separate post on Oofos Vs Crocs: An Epic Comparison Guide.
Waterproof
Crocs are 100% waterproof. No matter how much you bounce in the rain, it will not damage your crocs.
Although crocs are waterproof, this does not guarantee that your feet will be as well. Water will readily pass through the 13 holes on your crocs, drenching your feet.
Not all of the clogs are waterproof, but the majority of them are. Clogs' uppers are composed of leather, and leather has water-resistance qualities, thus the clogs are partially water-resistant.
Similarly, synthetic clogs are also waterproof, so there's no need to worry about ruining your clogs in the rain.
Follow our guide to know Can You Wear Crocs On A Treadmill.
Straps
Crocs come with straps that you can wear both in the front and at the back. The straps ensure the crocs don't fall off your feet; instead, keep them secured while you walk or run.
These straps are also removable, so you can replace them with a new one if the straps get damaged.
Clogs don't have any straps, which is a downside. Because your feet won't be secured, and the chances of slipping your feet from the clogs increase.
Durable
Crocs are incredibly robust, lasting up to 3-4 years or more depending on usage. Croslite foam construction not only makes the crocs comfy, but it also makes the crocs strong enough to endure road hazards.
Clogs are also long-lasting. Shanks are built into the clogs, providing rigidity and durability. Clogs can survive for more than three years if properly cared for and maintained.
Flexible
Crocs are very flexible. Crocs have flexible shanks that relieve pressure on the shoes and the feet. Your toes will not crumple in the toe box, but you will be able to bend them easily in the crocs.
Clogs, in contrast to crocs, are less flexible. The upper of the clogs is composed of leather, which is firm. So staying in your clogs for an extended period is not a good idea.
Slip-Resistant
Crocs have proven to be slip-resistant in industrial workplaces. Crocs' outsole features anti-slip treads that provide firm traction on a variety of surfaces, minimizing the likelihood of slipping.
However, not all crocs meet the industry standard of being slip-resistant.  So, if you want a pair of anti-slip crocs, check the internet and see whether they specify "slip-resistant."
Whereas not all clogs are slip-resistant. Clogs are mostly stiff and are not secured at the heel. Clogs have a weak footing, which makes it easy to slip.
Breathable
Because the crocs whack a mole upper surface, they are incredibly breathable. The 13 holes help to dissipate heat in warmer weather, keeping your feet cool.
Crocs' Croslite foam is also exceptionally breathable, making them a perfect summer shoe.
The upper clogs are completely covered, which does not allow for adequate ventilation of the feet. However, because the back of the clogs is open, they do not overheat and make the feet uncomfortable.
Conclusion
Crocs and clogs are both packed with features, but get this straight: wearing crocs or clogs for an extended period causes a variety of foot ailments such as toe deformities, nail problems, bunions, calluses, and many more.
Crocs and clogs are both OK if worn for a limited time; nevertheless, they should not be overworn.
Now that you've learned about the differences between crocs and clogs, decide which one is best for your work.
Please share your opinions in the comments section if you found this article useful.
Have a good walk.