Do you know which is the best between Oofos and Crocs?
If not, you will find out in this article.
The features and functions are what distinguish the two different shoe brands.
That is why I have focused on the qualities of Oofos and Crocs and also put a light on their differences so that you can come to a conclusion quickly.
So, what are you waiting for? To learn more about Oofos and Crocs, keep reading.
Oofos Vs Crocs: Comparison
Both Oofos and Crocs are fantastic, yet they each have their own distinct traits that set them apart. And these qualities are the ones that make the footwear function properly.
Because Oofos and Crocs have a variety of features, you may select the one that best meets your needs.
So, here are the features that will help you choose which brand is the best:
Material
The materials used to construct shoes or sandals are important since the quality of the materials determines how well the shoe functions.
Fortunately, both Oofos and Crocs do not skimp on material quality, which is why their flip-flops work excellently in all conditions.
Oofos are created of unique, closed cell foam, which gives a number of advantages to the shoes.
Closed cell foam is non-toxic, waterproof, and has a high level of durability, making them one of the best flip flops available.
On the other hand, Crocs are composed of Croslite, a closed-cell resin.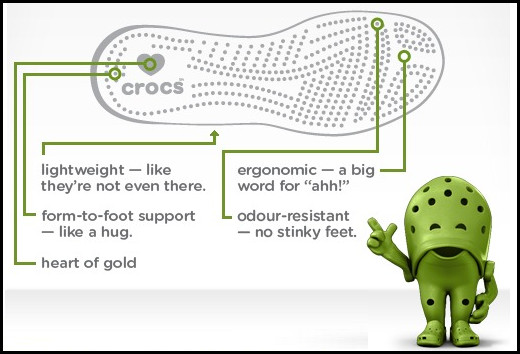 Crocs benefit from Croslite foam in a few ways. Crocs have great shock absorbing properties, reducing strain on the feet while walking or running.
Croslite foam also contains anti-odor technology, so your feet will smell great throughout the day.
In conclusion, Oofos and Crocs both use the best-grade materials to create high-performance flip flops.
Check out our other post to know the top 6 Crocs Butter Alternatives: Cheaper Ways To Shiny Crocs
Comfortability
Oofos are incredibly comfy and offer your feet a pillow-like feel while standing on them. So, what exactly makes Oofos so comfortable?
The OOfoam technology takes the comfort of Oofos to the next level.
OOfoam has the potential to absorb 37 percent more stress with each step, reducing strain on the foot.
This high shock absorption feature provides several benefits to the feet, including the fact that your feet will not be sore even after standing all day in the shoes.
At the same time, the superb arch support avoids knee, joint, or lower back issues.
Furthermore, the toe region is fairly soft and does not chafe your feet.
Crocs are comfortable too. The Croslite technology makes the shoes super soft and eligible to wear all day long without any soreness.
Crocs with back straps are more roomy, giving your feet plenty of opportunities to move while still being secured.
Croslite, the material used in Crocs, absorbs more than 40% of the impact, reducing foot discomfort and injury.
Durability
Oofos are designed to endure a long time. Their flip flops are highly durable and do not readily wear out, even when used on uneven routes.
A pair of Oofos may last over a year if properly cleaned and maintained.
Crocs are also quite durable. Crocs even claim that most of their shoes are indestructible and endure forever.
Crocs are more durable than standard flip flops; when other flip flops last only a year, Crocs may last up to three years.
However, the durability of a pair of Crocs is also determined by how frequently and on what grounds they are worn.
Weight
Flip flops are preferred for daily use because of their lightweight; Oofos and Crocs are no exception.
Both Oofos and Crocs are super lightweight because of their soft rubber material.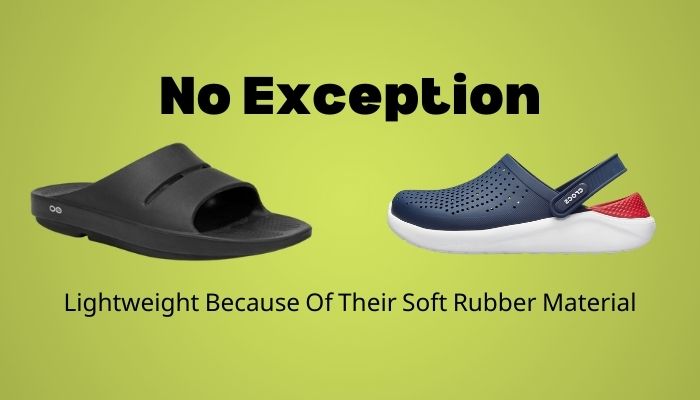 Oofos and Crocs may seem big, but you won't feel extra bulk on your feet; as a result, the duration of standing on the shoes is not affected.
Follow our guide to know Can You Wear Crocs On A Treadmill
Waterproofing
Crocs and Oofos are both waterproof.
You may wear the Oofos to the beach or pool without fear of ruining your shoes.
The OOfoam will not lose its integrity and function perfectly no matter how long the Oofos are submerged in water.
Crocs are waterproof, thanks to Croslite, so no matter how long you're out in the rain or snow, the quality of your Crocs will be maintained.
However, the Crocs will not keep your feet dry since water may easily penetrate the top holes.
Flexibility
Who wants to put on a pair of shoes that are hard and stiff? Nobody, right?
Your shoes must flex with each step for a comfortable stroll. Keeping this in mind, both Oofos and Crocs include a flexible footbed and outsole that makes walking more comfortable.
The spongy foam in the Oofos midsoles absorbs more shock as you walk.
On the other hand, Crocs have a large enough toe box and an extremely flexible shank. As a result, the Crocs allow you to flex and move your feet freely.
Oofos Vs Crocs| What Are The Differences?
Oofos and Crocs may have various characteristics that cause them to function similarly. However, they are not composed of the same materials; they have differences too.
Here are the differences between Oofos and Crocs:
Crocs' outsoles are slip-resistant and even when wet, they provide an excellent grip to keep your feet from slipping.
However, Oofos are not slip-resistant. The footbed becomes wet, and the outsole becomes overly slick when they become wet.
The lack of holes on the top of Oofos makes the feet sweaty and less breathable.
On the other hand, Crocs have holes that enable air flow within the shoes and keep your feet sweat-free.
Podiatrists recommend Oofos to those who have aching joints in their legs because they absorb stress and relieve strain on the foot.
However, Crocs should not be worn for long periods of time since they induce muscular and foot difficulties.
Oofos are softer and more bouncy, but Crocs are stiffer due to their strong material.
Follow our guide on Nothinz Vs Crocs: Which One Should You Get
Oofs Vs Crocs: An Overview
Now that you know many interesting details and differences between these two brands, I thought why not give you an overview of this much loved footwear?
Here's an overview between Oofs and Crocs:
Overview of Oofos
Oofos are perfect for people whose feet become sore easily or who experience ankle or foot pain after standing for lengthy periods of time in their shoes.
Most podiatrists and physicians recommend wearing Oofos because they are soft and give excellent arch support.
Without a doubt, Oofos will keep your feet comfy and secure on most surfaces, but they are not recommended for use on wet surfaces due to the lack of traction.
Oofos come in a limited number of colors and aren't particularly stylish to wear, which is a disadvantage for those looking for brightly colored flip-flops.
Overview of Crocs
Crocs are the most popular flip flops, with a devoted following that considers Crocs to be their all-time favorite shoes.
Crocs are famous for their maximum comfort, high grip on all surfaces, and sweatproof and waterproof qualities.
Crocs come in a range of designs and nearly every color to coordinate with everyday clothes.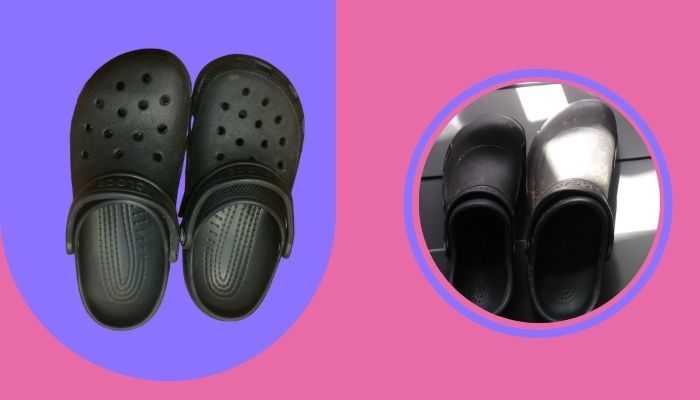 Crocs, on the other hand, should not be worn for lengthy periods of time since they can create toe deformities, corns, calluses, and pain.
Check out our separate guide to know Crocs Vs Yeezy Slides.
Oofos Vs Crocs| Which Is Better?
If you've read this far, I'm assuming you're well-versed on the benefits and drawbacks of Oofos and Crocs.
Which is preferable between Oofos and Crocs depends on where, how long, and for what reason you intend to wear them.
If you choose comfort above fashion, consider Oofos and Crocs for protection, durability, and, of course, fashion.
That's a wrap for this topic. If you find this article helpful, then don't forget to leave a thumbs up in the comment box.