When it comes to rubber clogs, it's pretty safe to say that they are in season when it comes to the fashion game.
So, if you want to get yourself a pair, you'll need proper research to get your hands on the best ones.
However, in the case of these shoes, there are two brands that stand out – NothinZ and Crocs!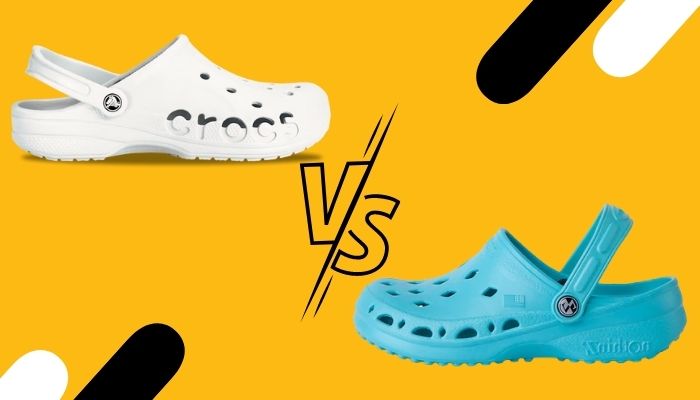 But which one should you get? Which provides the best comfort, fit, and durability?
There's no need for you to worry because I have carried out thorough market research and gathered all the information you need to know to make a decision – the right decision.
Similarities And Differences Between Nothinz And Crocs
Before diving into which one is the better choice, let me tell you all the similarities and differences between Nothinz and Crocs, so that it's easier for you to grasp how these brands differ.
Here are the differences and similarities between Nothinz and Crocs:
What Are The Similarities Between Nothinz and Crocs
They are both clogs: Both Nothinz and Crocs are clogs, they have the same shape and look very similar.
Also, follow our epic guide to know Can You Put Crocs In The Washing Machine.
They are both made of foam: Nothinz and Crocs are both made of foam, which gives them a light, airy, and weightless feel. Since they are made of foam, your feet settle on the shoes easily – making them much more comfortable than plastic shoes.
They are both shock-absorbing shoes: These shoes act as shock absorbers, as a result, you feel much less pressure upon impact to the ground.
They are both waterproof: One of the best things about Nothinz and Crocs is that they are waterproof. So, you can wear them in wet conditions without worrying about damaging them, whether it's at the beach or the pool.
What Are The Differences Between Nothinz And Crocs
They have different designs: Even though they look very similar, their designs are a bit different. While Crocs have circular holes around the top and sides, Nothinz has diamond-shaped holes all over the body.
Apart from this difference, Crocs have much more variety and designs available.
You can also buy charms to add to your Crocs from a large variety available just to decorate them. These charms are not available for Nothinz which are plainer and come in fewer color variations.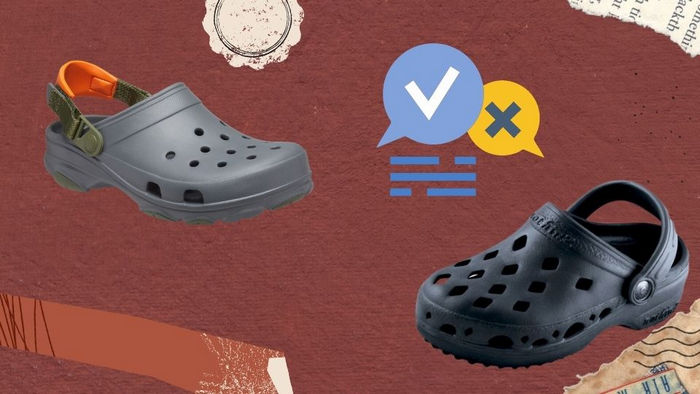 They have different heights: Generally Nothinz are much taller in height than Crocs. However, you can find some Crocs which are a bit elevated, but most of them are not.
They are made of different type of foam: Despite being made of foam, the type of foam used for Nothinz and Crocs are different.
While Nothinz are made of EVA, Crocs are made of Croslite.
While both are excellent, the foam used to make Nothinz is much softer than that of Crocs. As a result, Nothinz is much more comfortable than Crocs.
Check out our epic guide to know Do Crocs Shrink In The Sun.
Which One Is The Better Choice Between NothinZ and Crocs?
After extensive research, I believe I have reached the endpoint and I can safely say which one is most people's favorite.
According to customer reviews, NothinZ is better than Crocs. Almost every person who has tried both the brands of clogs for an extended period agrees that despite Crocs being much more popular than NothinZ, the latter is a better choice between the two.
However, shoes by both the brands are very similar, to the point that they look identical at first sight. So, what's the difference? And how is one better than the other?
Keep reading to find out.
NothinZ Vs Crocs: Why NothinZ Is Better
When it comes to Nothinz and Crocs, at first sight, the resemblance is uncanny.
However, the shoes are not as similar as you might think they are. So, how do they differ?
The primary difference between the two shoes is that while Crocs have circular holes all over the front exterior, Nothinz have diamond-shaped holes instead.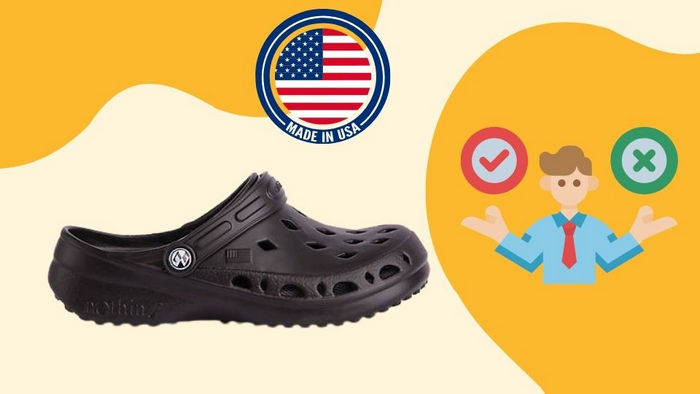 The next prominent difference is the height of the shoes, wherein Nothinz appears to be more raised than Crocs.
However, these differences are not enough to state that one is better than the other.
So, what are the differences that make Nothinz a better choice as opposed to Crocs?
The following are the top reasons why Nothinz is better than Crocs:
Nothinz Are More Rigid Than Crocs
When it comes to rigidity and firmness, Nothinz tops Crocs.
Without being uncomfortably solid, Nothinz has the perfect firmness to spread out your weight throughout the base of the shoe and carry it without any trouble.
They leave your feet feeling much more relaxed and, unlike Crocs, they do not press against your feet. Due to being more on the solid side, Crocs do not withhold the pressure of hitting solid surfaces as effortlessly as Nothinz. Deeming Nothinz as the better choice.
Follow our guide on how to Spot Fake Vs. Real Crocs
Nothinz Are Lighter In Weight Than Crocs
One of the top features that make Nothinz a better choice is the fact that they are much lighter than Crocs.
As a result, you can wear them for longer periods without feeling weary. Even though Crocs are also quite lightweight, when you compare them, Nothinz are much less heavy.
With Nothinz, you get the airy lightweight feel that makes it so much easier to don them for hours on end without the weight of the shoes pulling you down.
Nothinz Fit Better Than Crocs
After going through countless reviews and comparisons between Nothinz and Crocs, it is safe to say that Nothinz fits much better than Crocs.
Most people who bought both have reported that their pair of Nothinz fit much better than Crocs, even though they purchased the same size.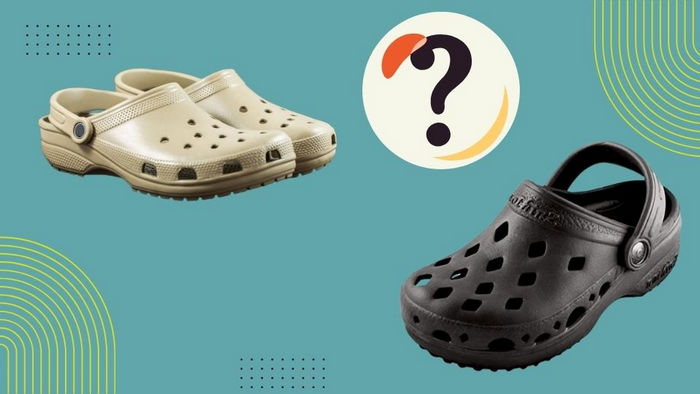 So, it is common to see that the brand new pair of Crocs you just bought are too small or too big for your feet, while Nothinz runs true to size and gives you a comfortable fit and grip on the shoes. You can even wear them with a pair of socks without compromising the comfort of the fit.
Nothinz Are More Comfortable Than Crocs
Despite both of them being made of foam, Nothinz are made with much softer material as compared to Crocs, which are much harder.
So, when you were Nothinz, you don't get blisters unlike with Crocs, the weight is evenly distributed throughout the base of the shoes.
The lightweight and softer material together create a synergistic effect and as a result, most people say that they are more comfortable than Crocs, giving you a light, airy, and bouncy feel.
Moreover, Nothinz shoes have a special feature wherein it improvises your walking posture by aligning your feet, providing better comfort and style when walking.
Follow our guide to know Are Crocs Unisex
Nothinz Are Cheaper Than Crocs
These foam clogs are best for camping, walking around, or running errands. And let's face it, how much you pay for a regular pair of shoes plays a big role in making the choice.
And even in this case, Nothinz takes the lead – being much cheaper than a pair of Crocs.
The average price for a pair of Crocs is around 45 to 50 dollars, on the other hand, the average price of a pair of Nothinz is 30 to 40 dollars.
Even while providing all the better features, Nothinz is still cheaper than Crocs – which to me feels like the cherry on top!
Check out our other post to know the top 6 Crocs Butter Alternatives: Cheaper Ways To Shiny Crocs
Conclusion
There's no denying that both Nothinz and Crocs are excellent shoes for wearing regularly, whether its for camping or walking around. However, when the specs are compared, it is evident that Nothinz are the better choice.
So, if you are looking to buy a pair of foam clogs, I hope this article has helped you make a perfect choice and get the best shoes for yourself!
If you have any feedback or queries, do leave them in the comments below – and don't forget to share your experience with us if you own a pair of Nothinz or Crocs.