Crocs and Yeezy slides were made keeping one particular aspect in mind; and, that's comfort! But, one has to stand out from the other. So, which one?
That's exactly what we're going to find out. I've worn both footwear for an extended period of time. Now, I'm going to deliver my unbiased verdict on both of these popular slip-on.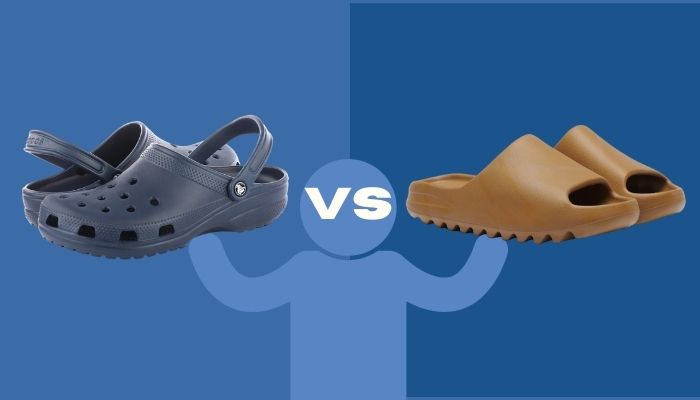 So, buckle up, take your time and read each line carefully; because, it's going to be one hell of a ride.
Follow our guide to know Can You Wear Crocs On A Treadmill
Crocs Vs Yeezy Slides| Head To Head
Crocs have set an unprecedented standard for comfortable footwear. But Yeezy, lead by Kanye, is no pushover. The Yeezy line of shoes has gained massive popularity in a relatively shorter time. And, the slides have been a blockbuster in that regard.
But, can they trump the Crocs for the number one spot? Let's find out.
Here are key differences between Crocs and Yeezy slides:
Material
Let's start with the building block of both this footwear first, which is the material. The materials used in the construction of both these shoes are very durable and give you a good experience.
Crocs have used Croslite to construct their much-adored classic clogs. The material is neither plastic nor rubber, it's a high-impact absorbing resin material that gives the Crocs their signature cushioning.
On the other hand, Yeezy has used EVA-injected foam to make their slippers. EVA is a type of closed-cell foam that has an excellent cell structure and possesses a high level of cross cell linkings, making them perfect for injection molding.
In a hurry? Check out my new post: Do Crocs Make Your Feet Stink
Nonetheless, both the materials are of excellent quality. It's up to you to decide which of the two materials suits you more.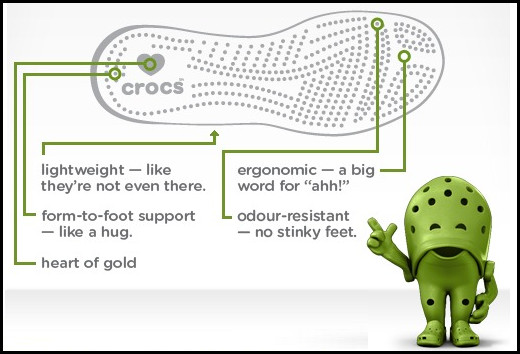 Construction
Construction plays a key role in footwear's dynamics. And, both the Yeezy slides and Crocs are different in disregard.
Crocs come with a two piece construction. One being the articulating strap, and the other being the entire shoe. The articulating strap allows you to have a better closure system, overall.
In Contrast, the Yeezy slides come with a single piece construction. There are no straps, you just slide in and out of them when and where ever you want.
Check out my separate post to know Are Men's Crocs Wider Than Women's
Comfort
Why do I have a feeling, you were waiting for this one! Weren't you? Trust me you aren't the only one.
When it comes to comfortable footwear at work or anywhere, Crocs have set the standard so high that it's quite impossible to match their level.
Then, entered the Yeezy slides! Released in December of 2019, these bad boys took the market by storm. So much so that it's the most popular pair of Yeezys as of now; trumping the Yeezy 350 version two! Speaks volumes, doesn't it?
Personally, I found the Yeezy slides to be more bouncy and plush. But, that's my observation. I've seen people going for the Crocs over the slides.
If you're having a hard time choosing one, I'd suggest; you go to a store and try both of the footwear and decide for yourself.
Follow our guide on Nothinz Vs Crocs: Which One Should You Get
Price
Price is a huge factor when it comes to buying a pair of footwear. And, a difference of a few dollars can easily change a prior decision.
You can easily find a pair of classic clogs at a retail price starting from $49.99. The price will vary depending on the model and color pattern.
The Adidas Yeezy slides come with a retail price of $60. But, I don't think you'll get a pair at that price easily. Thanks to the crazy hype surrounding the slides, getting them at the right price can be quite tough.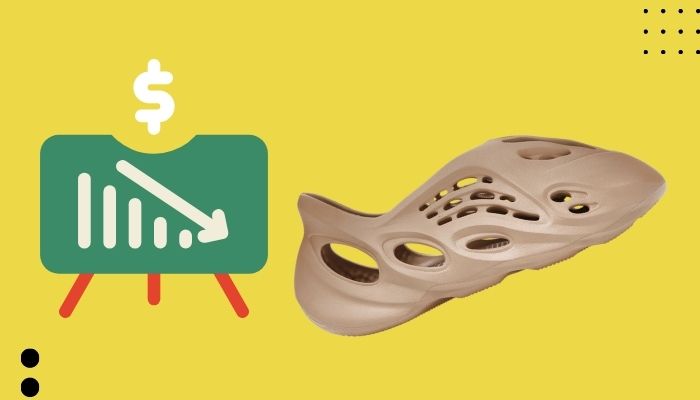 Also, follow our guide to know Do Crocs Melt
Breathability
The breathability isn't an issue when it comes to either of these two products. You get them in abundance from both the Crocs and the Yeezy slides.
Insole
I mean you can have a laugh at me for writing about this parameter; but trust me, I wouldn't do that if I were you.
Crocs come with messaging dimples at the insole area, which provides you with an added bit of comfort.
Meanwhile, the Yeezy slides come with this interesting texture that looks a bit like sandpaper. And yes, your feet will feel that and trigger a kind of stress relieving sensation.
So yeah, the attention to detail in both these footwear is quite amazing. I have to admit.
But before that, check out Why Do Your Crocs Smell So Bad
Traction
Another vital component when it comes to buying a pair of footwear. And, both the manufacturers did their best to provide you with a firm footing on the ground.
Crocs come with different intricate tread patterns that make them great for different working conditions, especially on wet floors. They give you excellent traction and a sense of safety.
But, for me; the slides edges this one. They have a deep lugged kind of tread pattern that allows the base to come in less contact with the ground, resulting in an overall better grip with the ground. Wet floor? That won't be of any issue!
Also, follow our epic guide to know Can You Put Crocs In The Washing Machine
Packaging
It's all about attention to detail, I tell you. And, surprisingly the Crocs are defeated by a heavy margin I tell you.
If you buy a pair of crocs, you'll get them in a plastic bag! I expected more from a brand like Crocs. I mean you can at least expect a cardboard box or something. It may be a way of cutting the cost; but, I certainly didn't like it.
The Yeezy slides do not provide you with a premium shoes box, but they do provide you with a simple yet elegant cardboard box packaging with all the necessary details attached to it. Thank you Adidas!
In a hurry? Check out my new post: Do Crocs Come In Half Sizes
Are Yezzy Slides The Most Popular Yeezys?
Yes, the Adidas Yeezy slides are the most popular pair of Yeezy's. While it may come as a surprise to many, it's actually the fact! The Yeezy slides have trumped the Yeezy 350 version. Two as the most popular Yeezys. The elegant colorways and the superior comfort make them stand out.
Shocked? Trust me, I had a similar feeling when I came across this interesting fact. I thought it has to be the Kanye effect and strategic marketing. I was not ready to accept this fact.
Also, check out my separate post to know Do Crocs Stretch
Then I started going across various reviews and ratings. Still, I wasn't satisfied! I had to try them for myself!
And, when I finally got a pair of these simplistic slides, I got blown away immediately. The one piece construction really got to me and so did the colorways. There were no fancy patterns, designs, or logos.
And, the comfort they provided was truly amazing. I really wouldn't have believed it, if I didn't give them a go.
So, if you're still in denial; I'd suggest you try them yourselves and come to terms with the reality.
Check out our epic guide to know Do Crocs Shrink In The Sun
Do Yeezy Foam Runners Feel Like Crocs?
We all know about crocs, they're comfortable, super easy to put on, have excellent ventilation and whatnot? I mean, they're great in every way possible.
When the Foam Runner was released, it divided the casual footwear community into two parts. One section of the community thought they were outright ugly, while the other thought they were unique!
Crocs are considered the old guard when it comes to comfortable casual footwear, but the Foam Runners had quite the impact (after their debut), which led people to compare the two.
So, do the Foam Runners actually feel like the Crocs? Let's have a look.
Follow our guide on Crocs Vs Clogs: Know The Differences
Comfort   
So, how does the new kid in the block fare against the old guard? You'll be surprised, I tell you.
Crocs with their messaging dimples are quite comfortable. They also come with articulating straps, which back you up when you need them. The Croslite™ material does give you shock absorption and good cushioning.
The Foam Runners on the other hand, is made up of sustainable algae-based foam. So, how good is this material? It's damn good, I tell you! The Croslite™ material feels kind of rigid when you compare it to the algae-based foam.
Which ultimately makes the foam runners more cushiony than the Crocs. A bolt from the blue? Trust me, I had a similar feeling.
Also, follow our guide to know Dansko Vs Crocs: Who Is The Winner
Ventilation 
I mean, the Crocs are a slip-on with plenty of ventilating holes. But, the Foam Runner is also full of ventilating holes!
Crocs have a slip-on silhouette and there are lots of ventilating holes throughout the upper, which makes them the perfect summer footwear. And, if you apply the strap you won't have a significant impact on the breathability.
Conversely, the Foam Runners have a sneaker-like silhouette. Which, does affect the rate of breathibilty; especially if you take into consideration the back part of the footwear. It does restrict a some portion of the airflow.
Follow our guide on how to Spot Fake Vs. Real Crocs
Easy To Put-On
The ease of putting on a pair of footwear depends on the silhouette.
Crocs are super easy to put-on thanks to their slip-on silhouette. The strap? Trust me, you won't feel any thing significant when you put them on by applying the straps.
As mentioned before, the Foam Runners have a sneaker-like silhouette. But, they're slip-on in nature. But, if you must compare them to the Crocs; they're a tad bit difficult to put on.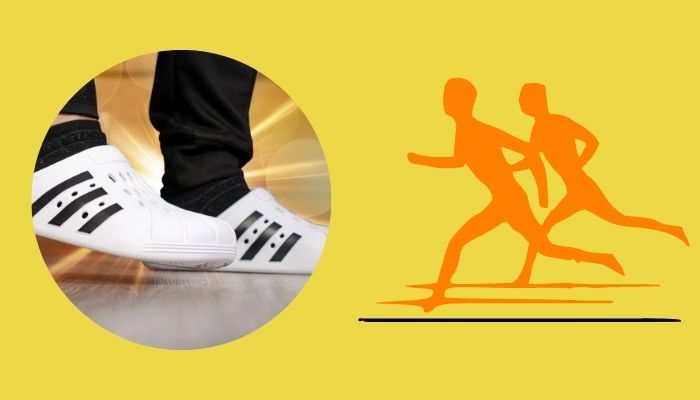 Final Verdict: Do the Foam Runners feel like the Crocs? Not really! In some aspects, they feel better and in some aspects, they feel worse. Now, it's upto you to decide which one you'd prefer.
Check out our epic guide on how to Make Crocs Shiny Again
Are Foam Runners More Comfortable Than Yeezy Slides?
It's subjective! While the slides are more comfortable to some, it's the Foam Runners for others. But, if you take the numbers into account, the Yeezy slides are more comfortable than their Foam Runner counterparts. I found the slides more comfortable. So yeah, the numbers do make sense.
Before you say something, let me remind you that both these footwear were made to give you unmatched comfort and a distinct look. And, the comfort aspect is always considered first.
I'm sure people aren't just buying the slides based on hype only. After their debut, the Yeezy slides took the summer footwear market by storm.
The Yeezy slides come with a minimalistic one piece construction and eye-soothing colorways. And, the plush cushioning on them is unreal.
Once you get your hands on a pair of this footwear, you'll immediately realize they are the real deal! You'll just fall in love with them.
In a hurry? Check out to know about Crocs Vs. Skechers: Which One Is The Better Option?
Final Thoughts
When you compare two footwear, finding a clear winner is often difficult. Such is the case between Crocs classic clogs and the Adidas Yeezy slides. If you've read the comparison carefully then you'll how neck-and-neck they are!
The differences are quite marginal, which shows how hard both the manufacturers have worked to provide you with a comfy experience.
Now, it's up to you to decide which one you like more! That's all for today. I sincerely hope you had a good read. Do let me know down in the comment section below about your reaction. Until then, goodbye.