There's no doubt that crocs are popular and comfy. Their hole arrangement on the upper layer makes it unique in the footwear industry.
But, people often get confused at the question of whether crocs are open or closed-toed.
As I always try to know about all the unknown and puzzling phenomenon regarding footwear, I decided to put an end to this confusing matter.
I investigated crocs available design and features to find the accurate answer with proper explanations and summed them up in this article.
If you want to learn more about the crocs toe pattern, you should keep reading till the end of this article.
So, let's start without further delay!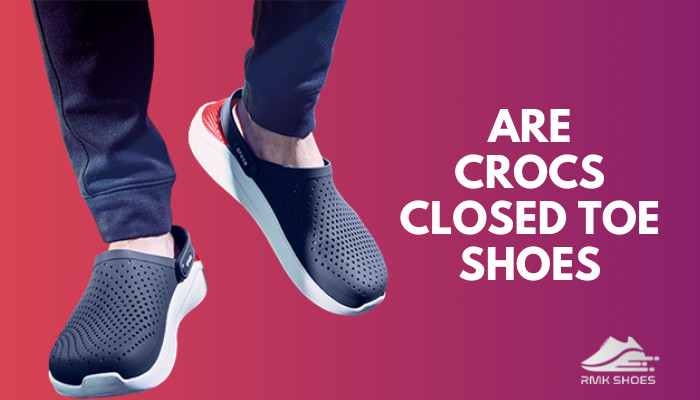 Are Crocs Closed Toe Shoes?
You must've noticed the holes on crocs. The sequence and shape of those holes vary from one shoe to another.
If you're familiar with the classic crocs design, maybe you guessed that crocs are close-toed.
Your guess isn't completely right.
All of the crocs aren't closed-toe. Most of the designs are closed-toe, and some are open. Medical advisors suggest that closed-toe shoes offer more security on the feet.
You'll find open, closed and semi-closed-toe shoes in crocs collection.
Crocs hold a specific number of perforations on the upper and front sides.
Due to these, several footwear-conscious people consider them open-toed. The circular-shaped holes on the above area and square shape holes on the front side will offer superior breathability to the wearer.
The toe structure of a few crocs is open. I'll let you know about those models in the upcoming segment.
Follow our guide to know Are Crocs Non Slip Shoes
What Are The Differences Between Closed & Open Toe Shoes?
I'll focus on the features of covered-toe shoes first. Then I'll discuss open-toe shoes.
Then, you'll be able to easily differentiate between these two.
The closed-toe shoes will cover your entire toe. They'll ensure safety and warmth for your toe. You won't find sufficient air ventilation in closed crocs.
The shoes that are close to the toe and heel area are a little bit of a hassle to put on and off.
Simply, closed-toe shoes have a hooded toe box that may or may not contain breathable holes. If it contains holes, then there arises confusion about whether they're open or closed to the toe. You can simply call it a semi-closed or semi-open-toe design.
On the other hand, open-toe shoes feature uncovered toe boxes. You'll be able to see your feet while walking in those shoes.
They'll confirm sufficient airflow and enough toe room.  There's no chance of sweating your feet with open-toe shoes. That's why they are quite suitable to use in the summertime.
Moreover, these shoes are easy to wear and take off.
Are Clogs Closed Toe Shoes?
The majority of people assume that crocs and clogs are the same. But that's not totally true.
There's a bit of difference between clogs and crocs.
Crocs is a renowned brand; most of its footwear, including slip-on, shoes, and platforms, is known as crocs. Whereas, Clogs are a special addition to Crocs.
If you compare this concept with the solar system, then you should imagine that the whole solar system is the Crocs and clogs is a particular planet.
The clogs are an inevitable part of Crocs. The only difference between them lies in their interior material. The footbed of clogs is made with wood. Then it is wrapped with elastic EVA material.
Manufacturers use wood in a small part or the whole of clogs footbed.
Just like crocs, clog also offer an open or closed-toe layout. Both of them are similar in the case of comfort. But to me, clogs are more supportive and useful for proper blood circulation since they're made with wood.
If you want to review their weight, I'll say that crocs are more lightweight than clogs.
Check out our separate post: Can You Wear Crocs To School
What Are The Benefits Of Closed-Toe Shoes?
A comfortable and shut-toe shoe will ensure more protection than open-toe shoes in some cases.
If you wanna go for an adventure in a hilly and forest area, then closed toe is the best option. It'll keep your feet safe from minor injuries and harmful insects.
Planning to go near a honeycomb to extract honey?
Then you should definitely choose a close-toe shoe. In this case, it'll be more advantageous if you wear work boots or cowboy boots. If you do so, you won't have to fear the bee stings and acute irritation.
Closed-toe shoes are more friendly for attending sports or traveling. Let me share one incident regarding this issue.
In the final cricket tournament of the university, I went there wearing closed-toe crocs. My toes survived a serious injury only because of the closed toe box.
Along with the advantages, closed-toe shoes have some limitations.
If your feet sweat a lot and the material of the shoe isn't quite well-ventilated, then a closed-toe shoe won't be the right choice for you.
You'll have to undergo pain in your toes if you can't purchase the actual fitted closed-toe shoe.
Which Crocs Are Closed Toe?
You'll notice numerous closed-toe crocs if you search on the official website or in the nearby crocs outlet.
I'll talk about some worth-buying closed-toe crocs based on the trial.
You'll be amazed to see the stylish outlook of the whitish Bistro Pro LiteRide Clog. I found them more suitable as casual wear. Much secured with covered toe box and adjustable strap.
You can style with this shoe either in beast or relax mode.
It provides a typical sports vibe. So, if you're a sportsman and passionate about crocs, you should buy a pair of bistro pro literide. You'll have to spend $59.99 on this pair.
If you don't prefer the strap on your shoe, you can choose Crocs On-The-Clock Work Slip-On. It comes for $44.99.
Another option for you is the Women's Neria Pro Graphic Clog.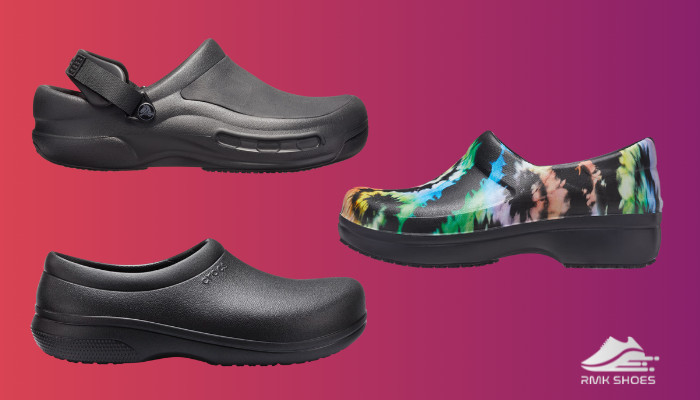 Both of them are comfortable for all day wear with their Croslite footbed. You can also use it for going to the office because of its formal look.
If you're looking for an open-toe and open ankle crocs, you should opt for Crocs Unisex Classic Slide Open Toe Sandal. It doesn't carry any straps. It was my favorite pair while going regular shopping in the grocery store.
The Athens Flip is another open-toe slip-on of crocs. You can choose any bright or simple shade of this pair based on your preference.
I was completely satisfied with this pair's comfort level and trendy appearance.
You may also like to read: Do Crocs Shrink In The Sun
Are Crocs Comfortable?
According to my experience, crocs are comfy. Whenever I put my feet on crocs, I felt an instant bouncy vibe.
You won't have to compromise with comfort while dealing with crocs.
All of the crocs, sandals, flip-flops, slip-on and shoes will serve you with utmost comfort and unique fashion.
They're made with excellent quality rubber soles, so they're lightweight. With the particular size and its anti-slip feature, they're secured too. You'll experience enough arch support by its soft and cushioned EVA footbed. These shoes will offer you a good grip with a rubber outsole.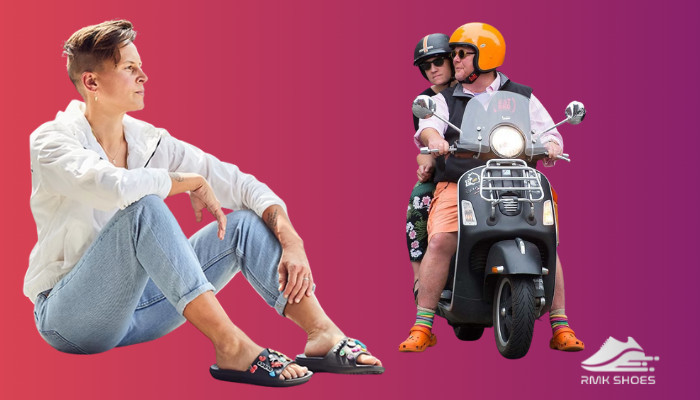 Crocs are on the front list of healthcare heroes because they're comfortable to wear for a long time.
Moreover, their contoured arch support, snug fit and the non-slip feature will help doctors and nurses to move confidently in the hospital. At the end of the day, your feet will be relaxed even if you stood on the crocs the whole day.
You may find discomfort for the first few days with crocs. Gradually, it'll cope with the shape of your feet and will remove the uneasiness.
If you wear closed-toe crocs in your workplace or the lab, your feet will be protected from any types of liquid or harmful things.
Related content you should read: Do Crocs Stretch
Conclusion
Are you still confused about the crocs toe pattern?
I'm sure you're not because I've explained about its available toe design and attached the regarding info with details.
So, don't delay in adding trendy crocs to your closet. Also, you can share your thoughts on Crocs in the comment section.