Shoes play a vital role in your daily use. If your shoes offer you the ultimate comfort then you accomplish your daily task and walk all day long freely.
People should wear what they like and keep their feet safe. You have to choose one which fulfills all your requirements.
When I was thinking about getting a pair of non slip comfortable shoes, Crocs was the most suggested one.
Crocs is one of the famous brands for their looks and features with affordable price.
After countless research and using personal experiences I'll help you to choose one which goes with your necessity.
Keep reading in depth to know all the important answers about crocs shoes.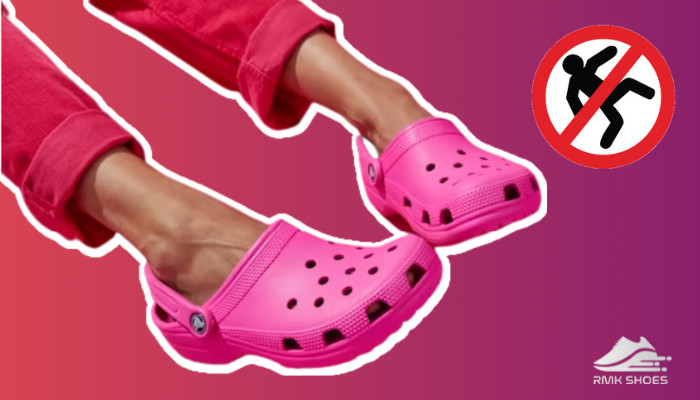 Are Crocs Slip Resistant Shoes?
Crocs are innovative and comfy shoes, they are renowned for their slip resistant features. Crocs are best for all purpose shoes.
Slippery shoes are uncomfortable for your daily working environment and it gives you various types of injuries also.
In 2000 when crocs launched their few pairs of shoes they were concerned about their looks and comfy features. All crocs are not slip resistant, they slip on damp and smooth surfaces like tiles and linoleum.
After various research they add slip resistant features for medical, kitchen and affability purposes. That non-slip criteria is getting a huge response from consumers.
That slip resistant iconic component gives them extra advantage to ensure safety during work life. Crocs meet the ASTM F2913-11 safety standard. This test determines a shoe's slip resistance.
Many different forms of slip-resistant footwear utilize this ASTM identifying number in their product details. Safety footwear may also be subject to additional certifications and safety requirements.
If you use some pair of crocs shoes,you can use them on slippery surfaces like, tiled floor, kitchen and wet areas also.
The bottom of slip-resistant crocs is thicker than that of regular ones. The feature that sets Crocs apart from other footwear is their thick sole, which offers exceptional traction and resistance to slipping.
Check out our separate post: Do Crocs Come In Half Sizes
Are Classic Crocs Slip Resistant?
Classic Crocs are best for daily use, it's very easy to wear and comfortable for those reasons many users choose crocs for work.
When working all day on a slippery floor, they offer shoes that are the greatest alternative.
If you want to know, is it slip resistant or not? The answer is Classic Crocs offer you great slip resistant features, but not 100% non-slip assurance.  They do not provide slip resistant outsole in Classic Croc shoes.
Crocs launched various types of work shoes which provide non-slip criteria with their certified slip resistant outsole.
Classic Crocs are easy to put on and take off, comfy, breathable, and waterproof. Almost all adore Crocs for their comfortable ease of wear.
Are Crocs Comfortable?
The first pair of Crocs Clogs were presented in 2001, it's a famous boat shoe. Since then, hundreds of millions of pairs of clogs have been sold.
If you ask me which one is the most comfortable shoes I ever use, my answer is croc shoes. After using various kinds of croc shoes i blindly suggest you for their comfort.
Crocs are famous for their comfort and color contrast. You can use them everyday, every purpose, every season. Because they are made of a soft plastic material.
Crocs are more comfortable than any other footwear because they ease your movements and help to keep your feet ventilated. So that you may go through your busy schedule.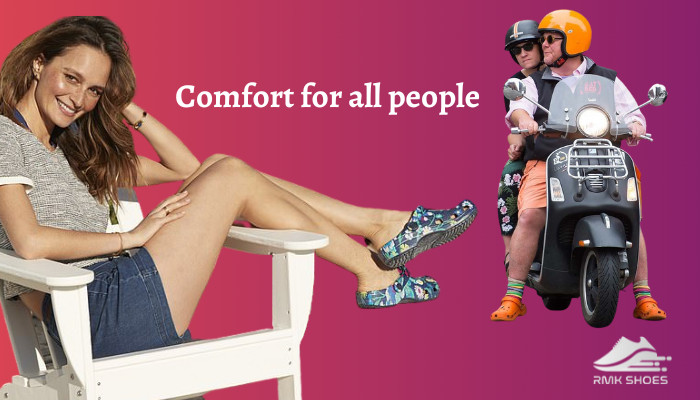 Moreover crocs are easy to clean, waterproof and slip resistant. Although it may not be suitable for all occasions, it's perfect for your casual days. They are lightweight and good arch support.
Crocs continue to be quite supportive even though they provide pressure relief and some give due to their rubbery composition.
Many Crocs even have insoles that are carefully made, making them a good alternative for diabetics.
Non-slip Crocs are incredibly comfy and will keep you from slipping on surfaces.
Follow our guide to know Can You Put Crocs In The Washing Machine
Are all Crocs Non Slip Shoes?
I'll also quickly go over everything else you need to know about slip-resistant Crocs so that you can make an informed decision when buying a pair for the workplace.
Depending on the sort of work, crocks can be beneficial. Crocs shoes are the ideal footwear because they are flexible, adjustable, and well-liked in every situation.
During their working hours, doctors wear these shoes. They enjoy wearing a pair of anti-slip crocs, especially when working on a smooth, slick surface.
Although your brand-new stilettos may look more trendy, Crocs still have an attractive appearance.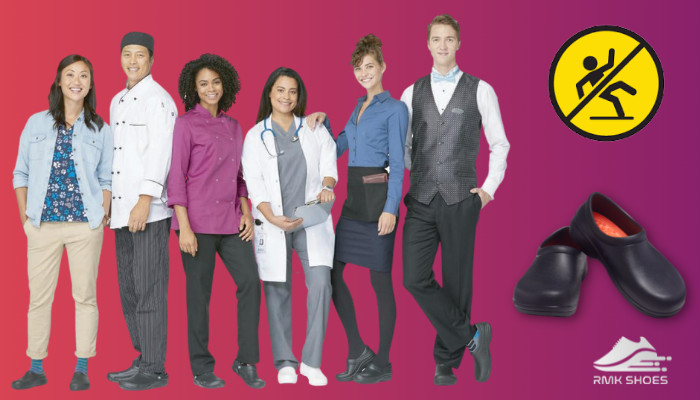 Crocs footwear is a fantastic pair of non-slip shoes. More importantly, wearing crocs does not require a break-in period before feeling comfortable. Because not all Crocs are slip-resistant, you need to apply some caution.
However, not all Crocs are slip-resistant, so you should exercise caution while buying a pair.
Only the "slip-resistant" subcategory of the "Crocs for work" category offers Crocs that are slip-resistant.
What Types of Crocs Are Slip-Resistant?
There are various styles, just as in the other categories, so you can choose the one that best suits you.
Several styles of Crocs are available that are non-slip. You can pick the design that perfectly fits your requirements. There are diverse kinds of Crocs that are non-slip.
The primary styles seen in the slip-resistant category are:
Clogs: One of the most well-known and enduring styles of Crocs is the clog. They are comfortable and lightweight. Many employees are familiar with clogs.
Flats: Flats are the female crocs. They are quite comfy and lightweight, however they differ from clogs in that they are a little bit thinner.
Mary Janes: They have a design that is quite similar to flats but provides a bit of extra support, which is perfect for long work periods.
What Makes Crocs Shoes Non Slip?
Regular Crocs and slip-resistant Crocs contrast in their patterns.  Even regular Crocs aren't exactly composed of a material that will cause you to slip about a lot.
A non-slip pair of Crocs will have various soles, bottoms, treads, and grooves that are made to drive any moisture away rather than hold it inside, which increases the chance of slipping.
Shoes with lower tread counts are less likely to be slip-resistant.
Non-slip shoes are identified by their tread patterns, which are primarily hexagonal and circular.
The flat soles are effective in trapping fluids and oil inside, which ultimately leads to a slip.
Shoes with tractor tire-like grooves are more likely to firmly grip the ground.
The bottom of a shoe becomes more slip-resistant the more flexible it is.
The Crocs-lock mechanism as the non-slip feature in the treads.
The resin used in Crocs provides more comfort for the user's feet.
The manufacturers are aware of the needs of the workers and produce Crocs appropriately.
You may also like to read: Crocs Vs Yeezy Slides
Are Crocs Non Slip Work Shoes?
Since the external soles of the designs in the collection include Crocs Lock slip-resistant tread, Crocs are non-slip.
The non-slip qualities of  Work Croc shoes make them the favorite footwear of personnel in the healthcare and hospitality industries.
Because it is incredibly simple to clean, slip-resistant, and incredibly comfortable for long shifts, the Crocs Bistro Clog is a great option for footwear for workers.
Think about buying and wearing slip-resistant Crocs if you work in a restaurant, a hospital, or any other setting with slippery surfaces.
The original Crocs weren't made specifically to be slip-resistant shoes.
Later, Crocs received a patent for its "Crocs Lock" slip-resistant sole, which is used in shoes made for workers such as nurses, and restaurant staff.
Which Crocs Varieties Are Slip-Resistant?
Although the Classic Crocs are not slip-resistant, some of these slip-resistant Crocs match them.
Crocs Bistro: The Crocs Bistro Slip Resistant is an unique modification to the traditional service shoe that will keep you from falling and let your feet breathe. In addition, the Crocs Bistro boasts a closed-toe construction. More metatarsal support than the Crocs Classics.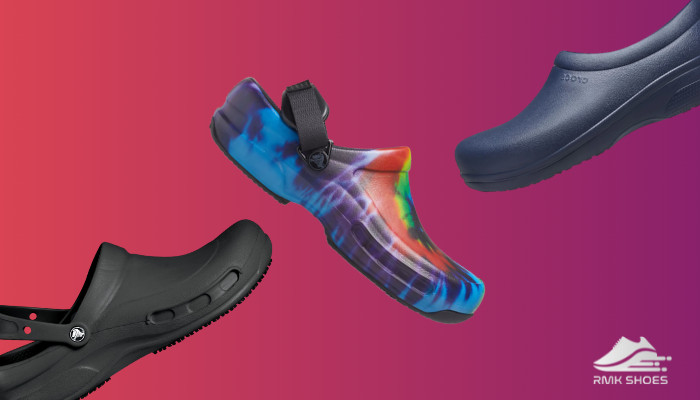 Crocs Bistro Pro: The Crocs Bistro Pro Lite Ride sports a closed-toe style. Heel cup that is taller than the Crocs Classic and additional metatarsal support.
Crocs On The Clock: The slip-resistant tread, comfortable design for long shifts on your feet, and closed toe and heel design for safety. Make the On the Clock Clog ideal for healthcare workers.
What is So Special About Crocs?
One of the most well-known and original clothing brands in the world is Crocs. Everyone is familiar with the recognizable Croc name and design.
After that, In 2000 they manufactured their First Boat Shoe.
To enhance ventilation and airflow, Crocs clogs have precisely thirteen holes in the top and sides of the shoe.
Crocs were created to be as comfortable and functional as their design.
Since 2002, Crocs has sold more than 720 million pairs of clogs, outpacing several other shoe manufacturers.
The Crosilite injection-molded Eva foam, which is only utilized in Crocs footwear, is used to make Crocs.
Crocs are known for their stability, comfort, and non-slip properties.
The business has recently achieved record-breaking revenue levels.
As a result, Crocs is one of the top ten non-athletic brands globally.
How to Make Crocs Slip Resistant?
Don't worry at all if you purchased regular Crocs and want them to be non-slip. They may be made non-slip using a few simple techniques.
The easiest approach to make Crocs non-slip is to wear them in by scuffing the exterior soles on rough surfaces like gravel or sandpaper.
To make your Crocs non-slip, you must scuff the outsoles.
Take your Crocs outside and scratch the bottoms of them on rocky or hard surfaces.
Make small scratches on the bottom of your Crocs by rubbing sandpaper against them.
Ice grips are excellent for making ordinary shoes non-slip during the winter.
Increase the grip on the bottom of your Crocs, just apply a very little layer of the sticky.
In the market there are many varieties of grip-enhancing materials that can be put on the bottom of shoes.
Also read, Do Crocs Stretch
Closure
Slip-resistance is a feature of Crocs with the Crocs Lock Thread technology. The sole, tread, and groove must only be examined to determine the non-slip characteristic.
The Crocs' ability to hold the foot in place at work will also help you improve your posture. You can walk on stones and scratch the sole of your shoe with sandpaper.
Crocs are made from high-quality materials, specifically for the sole, which provide excellent resistance to wet or oily surfaces. However, not all Crocs are slip-resistant.
Even if they are not slip-resistant, you can make them so by simply using the above-mentioned helpful tips.
What do you think of my article?  Please let us know in the comment section.