Air Force 1 is the most sensational line of the Nike brand for 4 decades. After its immense growth, they released AF1 triple white as an anniversary edition.
But it's created a huge confusion between their die-hard fans for their identical looks.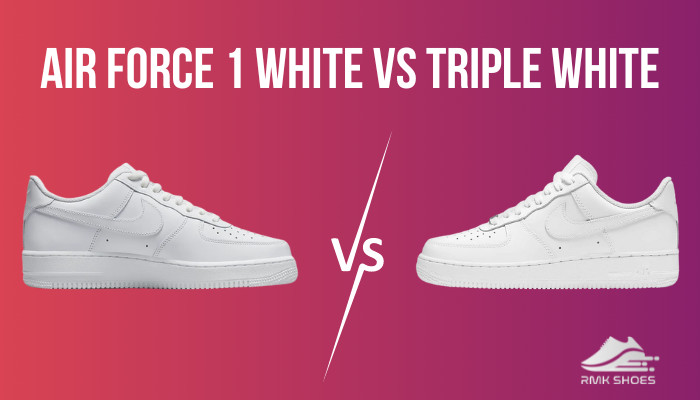 So, if you wonder whether they are actually different or just a brand strategy for high pricing, this article is for you.
I'll clear up your confusion about the differences between all-white and triple-white in this piece. You'll also find the factors they offer along with the user feedback, compiled with my own experience.
Differences Between Air Force 1 White & Triple White
The Air Force 1 is the renowned range of Nike, and it creates a craze among sneakerheads. Nike launched almost 1700 colors in their AF1 line. So, it's become the ideal pair for everyone. It blends amazingly with every outfit for its vast amount of color variation.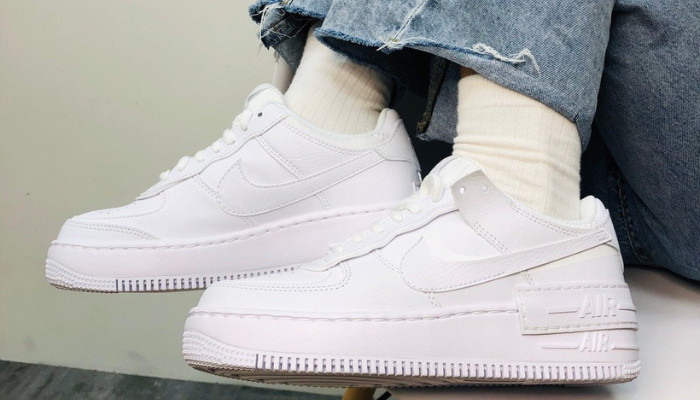 On top of that, air force 1 white is the most popular pair of this vast line for its eye soothing appearance. In 2022, the brand released AF1 triple white, which looks the same as the classic white pair.
I pointed out some key differences between the twins after wearing both sneakers.
Here are the differences between AF1 White & Triple White:
Upper
The overall material of both shoes is quite similar, and they have microscopic slide differences.  If you check thoroughly, you find a little divergence in their materials. In the All-white AF1, the brand uses the original leather, contrary, the triple white is constructed with synthetic leather.
We all know that real leather is stiffer than synthetic one. For this reason, Air Force 1 has some creasing tendency too. And removing those creases from your leather shoes or boots can make your footwear whole again.
On the same note, you will find, triple white has a little puffier upper.
Insole
Comfort-wise, there is no comparison between them, both offer the ultimate level of comfort. But when you compare the material thoroughly, you will find the variation clearly.
In the traditional AF1, you notice the mesh fabric on the inner sole which is famous for its ultimate breathable feature.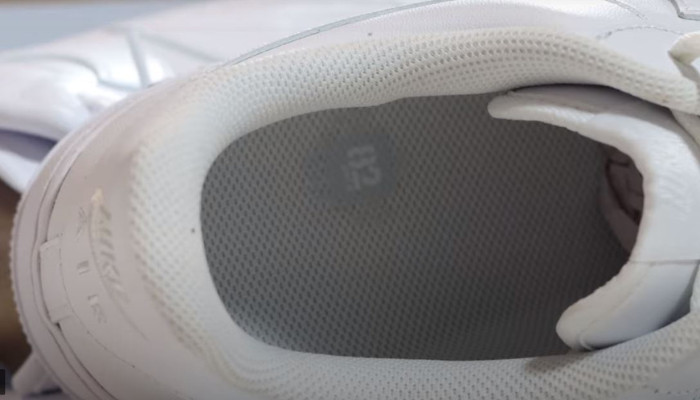 On the other hand, the triple white provides an extra replaceable insole.
But for this replaceable insole, sometimes you will feel a little slippery step. And if you want to know how's the Air Force 1 anti-slip feature, whether they are slip resistant or not, check the article for an authentic answer.
Price
There is a distinctive price variation between the classic air force 1 and AF triple white. The new edition charge quite a high price compared to the 90s old one. Nike's official website asks $140-$150 for each fresh pair.
Meanwhile, the Air force 1 white charge $90 to $100 dollar per pair based on their mid, low, and high design.
You can say both shoes contain a high budget because Nike charges a little higher than the other available sneaker in the market for their top-notch feature and outlook.
According to my perspective, the triple white is a little high in price.
Weight
You can find a slight difference between them, the AF1 '07' is a little heavier than the fresh (triple white). The all-white AF1 contains 528 gm of each shoe, whereas, the triple white hold 505 gm.
So, if you want to jazz up with lightweight shoes, just pick the triple white sneaker.
Design
There are various kinds of differences in the design and looks. Triple white is the cleanest and simple version of the air force 1 range. Moreover, it offers nylon lace and a couple of extra lace in its shoebox.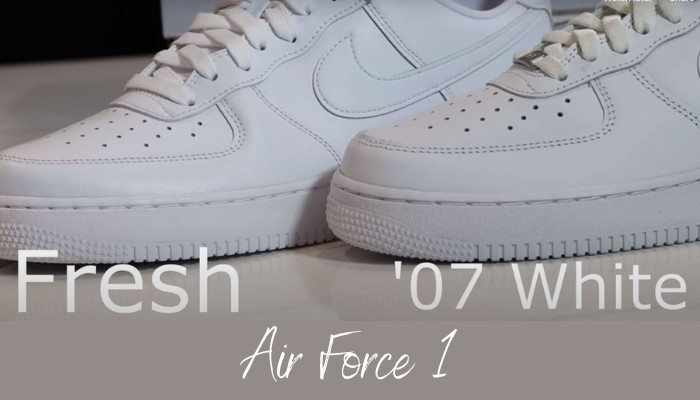 Triple white has a printed tongue whereas, the classic white has an extra white woven logo attached to its tongue.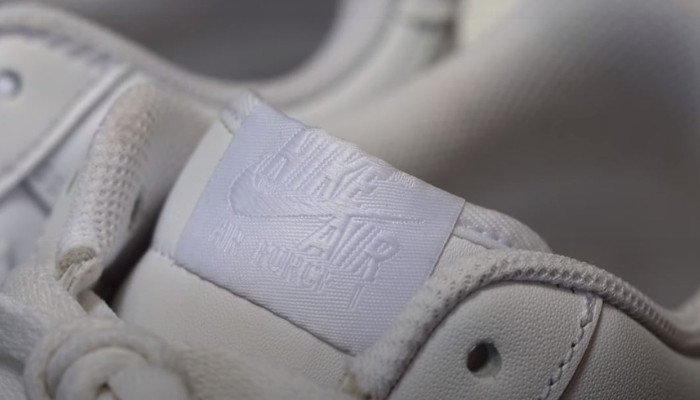 You will find a silver lace dubrae in the traditional pair.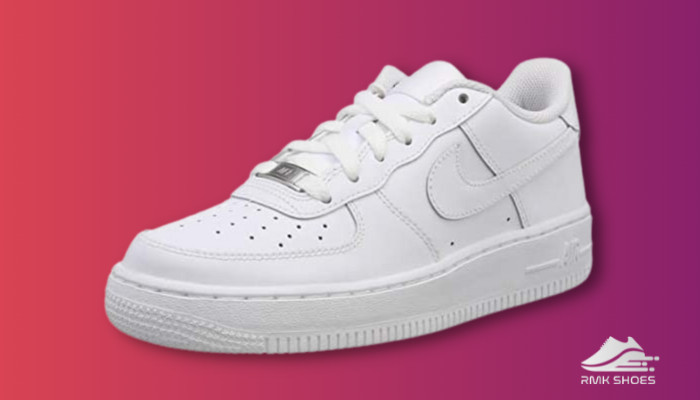 In my pair, I can notice some variation between their insole too. AF1 white has a circle and there is a printed number, that is 82 and triple white has a printed logo on their replaceable insole.
I don't know if this variation or number same in every pair, share with me which mark you find in your pair.
These are the key differences in both sneakers that I found in my shoes. Actually, the shoes are like twins yet have some distinctive variations which is essential for you. If you wanna buy a pair and are confused about their features.
Pros and Cons
In every seed of good, there is always a piece of bad. And this quote exactly matches the AF1 sneaker line. You can find some disadvantages in both shoes along with their noticeable advantages.
Here are the most remarkable pros & cons of both shoes:
Air Force 1 White
Pros
»

It's the budget-friendly option of the Nike Air Force line.

»

AF1 easily blends with every attire for its eye-soothing appearance.

»

The outsole of classic white provides an anti-slip step for your day-long activity.

»

Offer a mesh fabric breathable insole.
Cons
»

Traditional air force 1 is not water-resistant, but recently they produce some with waterproof features.

»

It has a crease tendency for its leather upper.
Triple White
Pros
»

It's the most white version of the Nike AF range.

»

Triple white comes with a puffy and soft outsole that has not any crease propensity.

»

The fresh pair provide a changeable insole, you can customize them if you want.
Cons
»

It charges a little higher than the other shoes of the AF1 line.

»

You feel a little slippery, for its replaceable insole pad.
These are the most noticeable pros and cons of triple-white and all-white shoes. Both sneakers have an uncountable number of advantages compared to their drawbacks.
I hope after this part you can choose your desired pair according to your requirements.
Which One Should You Get?
As I have already said, there are a lot of similarities between them. If your pocket supports you, grab both sneakers, as they play outstanding in the sneaker field. However, if you want to buy just one pair, then I suggest you pick the triple white one.
It offers the best-featured sneaker, and every part of this shoe works amazingly.
The nylon lace provides an elegant look, and the soft upper offers the comfiest step for your regular activities.
On the other hand, if your salary doesn't allow you to spend 150 bucks for one single pair, just pick the all-white AF1. Moreover, in the classic air force 1, you will find a full leather pair at a modest price.
Some also consider classic white pairs as walking shoes for their marvelous stability and other features.
Never forget, these classic pairs create a vast craze among sneakerheads.
FAQs
What is the most popular type of Air Force 1?
If you want one name for Air Force 1 there is always a clear winner and that is all-white AF1. This classic pair, gain huge popularity for its attractive look and marvelous attributes.
Why is Air Force 1 white so popular?
The all-white sneaker is popular for its versatile appearance. Besides, this pair covers the casual outfit with a vintage image. AF1 white is the top-selling sneaker in the air force line and is still available in the sneaker field like a king.
Are Air Force Ones good for your feet?
Yes, the Air Force One is good for your feet when you suffer from an actual foot and back issue.  A pair of AF1 won't harm your feet when you casually wear them, it also offers more adequate comfort for you.
Final Thoughts
Nike triple white and the air force 1 all-white are the most popular shoes for their bright aspect and superior attributes. The classic all-white pair is a little cheaper than the new one.
I hope, the given information will help you to pick the right pair by clearing all confusion.
Let me know in the comment section, which one you pick and how they support you in your regular life.
Happy shopping!