Air Force 1 and Court Vision are similar looking masterpieces from Nike.
Both of them are hugely popular for their design, comfort, build, and other useful features.
But if you need to choose one between Nike Air Force 1 and Court Vision, what will you do?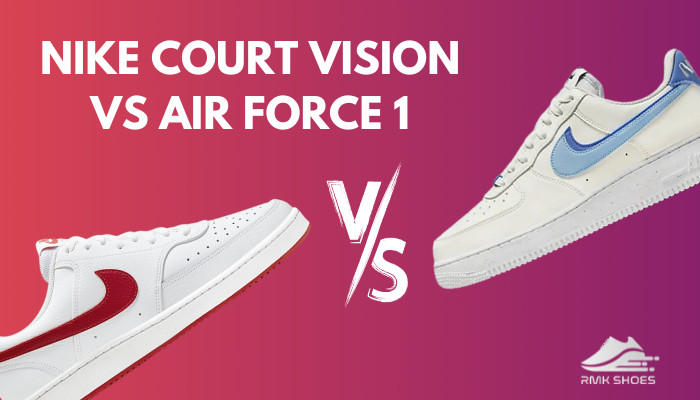 Obviously, you will dive into confusion because apart from being Nike's signature product, both have almost identical appearances.
To relieve you from this messy situation, I prepared this side-by-side comparison and the similarities between Court Vision and Air Force 1.
So, read ahead!
Nike Court Vision Vs AF1: Differences
Suppose you have to pick up a particular consumer product from a renowned brand. What will you do then?
You will definitely go through the specifications of those products. Then you'll be able to differentiate and choose the right one for you between them.
That's why I'll highlight the differences in light of the features of Nike AF1 and Court Vision.
After scanning through this section, it'll be easier for you to make a perfect buy. So, let's dig deeper!
Follow our guide to know are Nike Air Force 1 waterproof.
Differences between Air Force 1 and Court Vision:
1.  AF1 Is More Comfortable Than Court Vision
Air Force 1 is ahead of Court Vision in terms of comfort with the 'Air Technology,' thicker and ultra-cushioned sole. The combination of a genuine leather-made insole and knit upper will provide every wearer with a feeling of comfort.
On the contrary, the midsole of Court Vision is comparatively thinner. And air cushion technology is absent in some shoes.
Though Court Vision has enough padding, just because of having a relatively flat midsole and the absence of air cushion technology, it is lagging behind in terms of comfort.
So, it's better to stick with Air Force 1 if you prefer supreme comfort.
2. Price Range
In terms of price, Court vision shoes are more affordable than Air Force 1!
A pair of Court Vision will cost you $65 to $70. For somebody, this range may seem costly!
But Nike Air Force 1 demands even more than this, costing a pair $90-$180!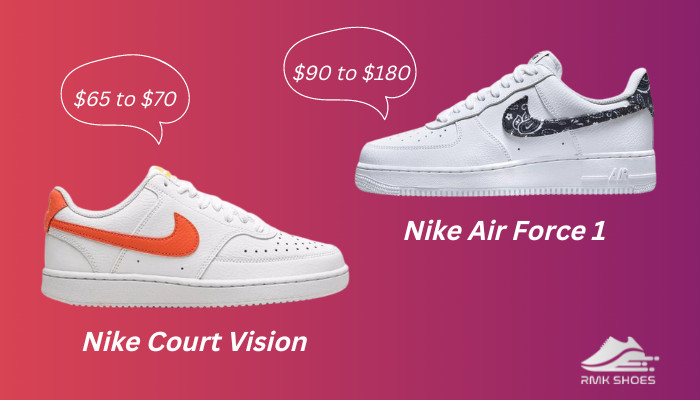 Since AF1 sneakers are manufactured in huge quantities, offer multiple color options and feature upgraded air technology in the sole, the higher range is understandable.
However, famous branded shoes usually demand a mid to high-range budget.
Nike is no exception to this. You better keep your pocket heavy whenever you want to buy anything from Nike!
3.  Size Variation
When it comes to size variation, Air Force 1 stays well ahead of Court Vision as they provide a lot of options!
If you search on the official website of Nike, you'll see that 6 to 18 men's sizes and 5 to 16 women's sizes are available for AF1.
Whereas Court Vision offers 6 to 15 US sizes for men and 7.5 to 16.5 for women.
Undoubtedly, AF1 is the clear winner here!
However, Nike won't offer you wide, extra wide or customization of sizes. You'll only get the regular sizes in their collection. So, if you have wide feet, it's better to look into other branded sneakers instead of these two.
Though half sizes are available for both of the shoe models, unfortunately, you might not get all of them available at the same time!
Go through our epic guide to know are Nike Air Force 1 good for walking.
4.  Design Variants
Nike offers variations of top designs to fulfill its users' requirements.
Low-top, mid-top, high-top, and extra low-top designs are available In Air Force 1.
In contrast, you will get only low and mid-top configurations in Court Vision sneakers. So, in terms of design options, Court Vision is slightly behind Air Force 1.
5. Color Options
There are more color options in AF1. Almost 100 color variants are available here.
So it might be tough for you to choose some pairs from these huge variants.
On the other hand, Court Vision has fewer variations. It comes in only 9 shades, and only low to mid-top designs are available. So, picking up only one design is easier when there are fewer options.
6.  AF1 offers relatively good traction
The level of traction depends on the exterior sole materials and structure.
I took both of the sneakers to the basketball court to check their stability and grip and found that AF1 gives excellent grip with its grooved rubber outsole.
However, Court Vision also comes with a patterned rubber outsole. But it slightly lacks to maintain stability and traction for the different layouts of outsole grooves.
So, in terms of traction, I'll keep Air Force 1 forward.
7. Origin
The associated individuals of Nike introduced the basketball sneaker, Air Force 1, in 1982.
Gradually, the popularity rose up when NBA stars arrived at the campaign wearing this sneaker.
However, the production of Air Force was paused in 1984, but people's attraction to this shoe brought it to the market again.
On the other hand, Court Vision arrived in the sneakers industry as a tennis shoe. It was invented much later, in 2004. This sneaker is able to provide a classic look of 80's basketball shoes.
You may also like to read: is Nike suing StockX.
Nike Court Vision vs Air Force 1: Similarities
As Air Force 1 and Court Vision are from the same brand, they hold some similar features.
Here're the similarities between AF1 and Court Vision:
Upper & Sole Materials
The sole and upper of both AF1 and Court Vision are built with a combination of synthetic and genuine leather. Canvas is also used in some shoes.
The manufacturers make use of vulcanized rubber and EVA to make the outsole and midsole, respectively. There is no doubt about the quality of Nike shoe materials.
Though there's the option of changing the materials of the shoes, this option is limited to only a few materials.
To know more about customization, check the official website of Nike.
Rifts On Toe and Sides
You might have noticed the perforations on the upper of the shoes.
Can you guess the surprising benefit of these perforations?
It ensures extra airflow to the wearer. The layout and number of rifts differ in AF1 and Court Vision.
Apart from the advantage, the perforations also have a negative side. It allows water inside your shoes.
To overcome this negative issue, I'll recommend you skip wearing these shoes in the rainy season.
Both Offer Classic Look
The blend of simple upper, canvas-made lacing, rounded toe area, top and tongue design of these sneakers offer a modest look to the wearer.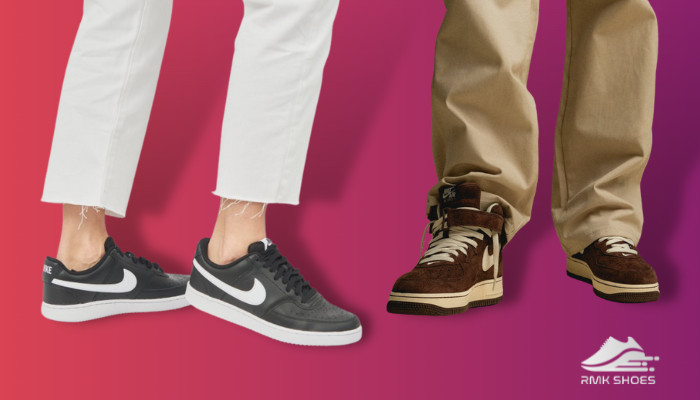 Furthermore, the logo and stitch pattern enhances the outlook.
Both of them are suitable to wear on the basketball court, tennis court or casually.
You can style those sneakers for events where you prefer a classic look.
Both Shoes Run Slightly Bigger
Running bigger doesn't denote loose fitting. Only the toe area is slightly spread.
Consequently, you'll be able to wiggle your toes freely inside the shoes. You can adjust the fit with the open lacing system according to your priority.
If you still face problems with the fitting, I'll suggest you visit the outlet, try different sizes and buy the right pair.
Check out our separate post: are Nike Air Max good for running.
FAQ
Is Air Force 1 better than Court Vision?
In terms of design, availability, and comfort, AF1 is more forward than Court Vision.
Is Nike court vision real leather?
Yes, this sneaker consists of genuine and synthetic leather.
How can you tell if Nike Court visions are real?
You should check the SKU number of the shoe and the shoebox. If the number matches, then the shoes are real.
Verdict
Nike's topmost determination is to produce user-friendly shoes for its consumers and make a profit.
As a part of their determination, this brand released Air Force 1 and Court Vision, almost similar-looking sneakers.
Both shoes are good in terms of quality and comfort.
However, if you prefer top-notch comfort, chunky midsoles, air cushion technology and are able to invest a big budget, then you should go for Air Force 1. It offers a huge variety of color options for you.
On the other hand, you should pick a pair of Court Vision if you're not willing to pay more and can cope with moderate comfort, traction and limited color options.
Now, it's up to you which one you will choose. Do let me know your choice in the comment section.
Wanna Know Which One I Purchased?
As a budget-conscious person, I preferred Court Vision Low. Thus, I brought a pair last month.
I was satisfied with its comfort, and it was much easier for me to choose one among nine available color variants.
Anyway, if you have any further queries regarding Nike Air Force 1 and Court Vision or any other footgear, just ask me in the comment section. I'll reach out to you with reliable answers.
Thanks for reading!