Nike is the sensational name for all sneakerheads for its splendid running feature and fittings.
But the problem starts when you are trying your first Nike pair, and it offers a narrow fit. Maybe you are also confused about whether are they actually narrow or it is just your difficulty.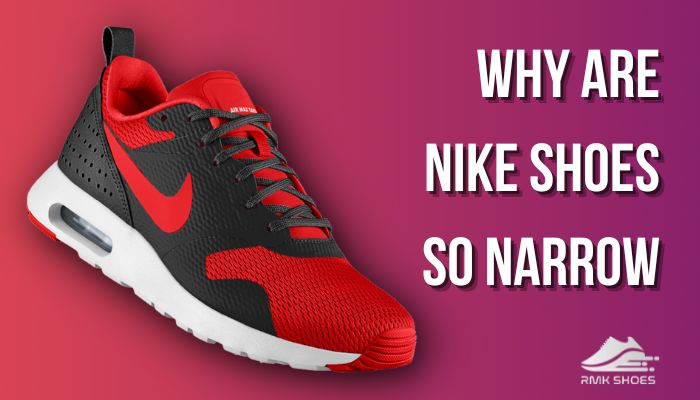 Fortunately, In this article, you'll find each factor of Nike shoes' narrow fit along with their justification which I gathered from users and compiled with my Nike experience.
Read along!
Why Do You Find Nike Shoes to Be So Narrow?
Nike brand mainly produces athletic shoes which need to fit perfectly. For this reason, Nike always designed shoes that offer a narrow toe box, yet the actual size in length. The congested toe box provides you with a secure step during your tournament.
If you belong to a sports community, you know, athletes always choose a shoe that offers a snug or narrow fit.
Luckily, Nike incorporated all the components that make close-fitted shoes, without compromising breathability. We all know Nike shoes are renowned for their sports lines.
For instance, if you talk about their specially designed shoes, Nike Air Max is a reliable name for good running shoes.
An ideal athletic shoe should be close-fitted, while the other shoes offer wiggle room. If you take experts' opinions, they always suggest you buy a size bigger running shoes conforming to your foot structure.
Are Nike Shoes Getting Smaller?
No, Nike shoes never change their size. According to my 7-year Nike journey, I wear the same size and that size offers a perfect fit. Since 1964 they use the same size chart for their shoes. However, Nike usually produces snug-fitted running shoes.
Some people are confused about their offered sizes and ask are their shoe sizes getting small day by day or not. But I never feel that Nike shoes getting shorter as they feel.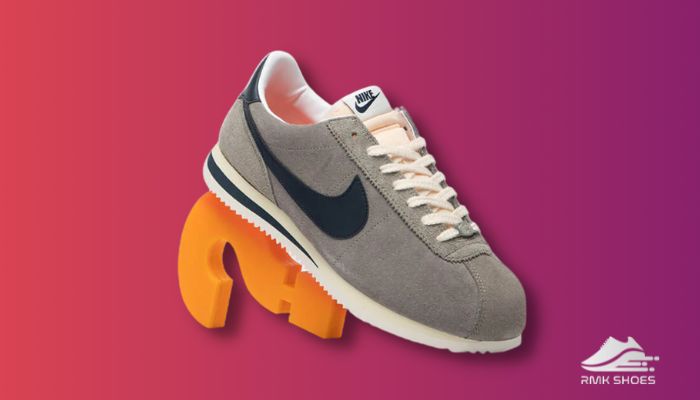 Luckily, my sprinting journey started by wearing Nike shoes, and still, I'm wearing the same brand.
Most importantly, every pair I wore, offer the same fittings as my very first Nike pair.
Nevertheless, the brand has a vast collection which distributes in different categories, you may find little variation depending on the category. Also, the changes are very minimum, and that happens for their manufacturing procedure and staffed materials.
Otherwise, the Nike shoes never get smaller.
Why Are Running Shoes Tends To Be Narrow?
Running shoes manufacture with more cushioning fabrics. For those types of materials, you may find a narrow toe box area for your forefoot. Moreover, the packed shoebox keeps your feet in one fixed seat, which is a crucial indicator for your running program.
The Nike brand is renowned for its running and sports shoe collections.
Mostly, marathoners and sprinters love to use narrow-shaped shoes. Because they think the less their feet move, the chance of injuries will be lessened.
Experts suggest running shoes should fit like a glove, and offer a body-hugging feel with a maximum level of comfort.
So, before heading out to the market to get a new running pair, you should decide what type of fit you want from your running gear. If you need expanded space, you should buy a size bigger shoe.
Do Nike Shoes Break-in?
In most cases, Nike changes their natural narrow or stiff tendency after completing the break-in period properly. To complete the whole break-in period, Nike takes 2 to 4 weeks, depending on use. Simply, you can say the tightest Nike loosens up over time.
Not only Nike shoes, but the other athletic pair also soften after a few wears. But the breaking time might be different in accordance with their materials.
For example, usually, the Nike blazer does offer true to size but due to my wide foot shape, the blazer fits snugly with my feet. But after wearing them regularly now, they offer a limited yet enough space for me.
Now I'm sharing some simple tricks that will help you to shorten the break-in procedure.
Take a look to know the tricks to break in your stiff Nike pair:
Wearing thick woolen socks will offer secure feet from sturdy shoe materials. Additionally, a thick sock needs more space, which frequently works for stretching your shoes easily.
So, you can try this socks method with your Nike pair to achieve smooth shoes as soon as possible.
A shoe stretcher works to stretch stiff shoes. It's the most used method in the cobbler community. If your Nike feels stiffer, then you should apply the stretcher to get instant fittings.
Sometimes, our Nike feels narrower after tying the laces. For easy break-in, it's best to loosen up the shoelaces from the first 3 pairs of eyelets. And adjust the tongue, conforming to your desired comfort.
Because that laces might offer you some unbreathable situation with your expensive Nike pair.
These are the most used formula to easily break in your Nike shoes. You can also apply these procedures with other shoes to get early comfort.
Does Nike Have Any Wide Options?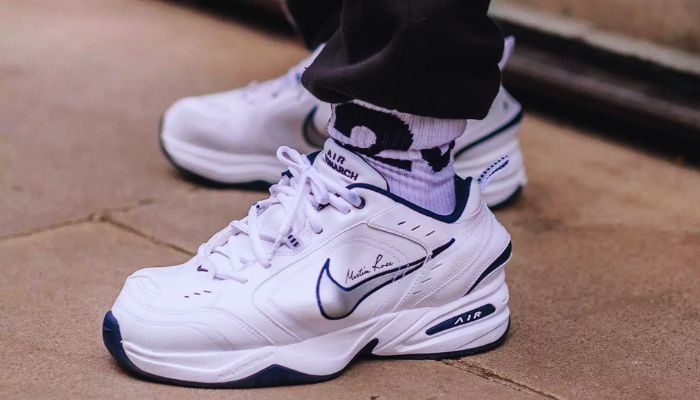 Yes, after receiving many complaints from their wide-feet customer, Nike launched a width line for them. Nike never releases new models in their wide line, but they embrace their famous models in width range. Yet, the width lines are not suitable for extra wide feet people.
Naturally, Nike designed narrow-fitted kicks. For this reason, their width line only covers the medium-wide feet.
If you have extra spacious feet, you should pick one size-up Nike pair for getting the ultimate fittings. But one disadvantage is that you have to pay a little more to purchase your wide-line shoes compared to their regular size.
Fortunately, you will find all types of sports shoes in their width and extra-width shoe ranges.
So, you can pick your perfect-sized Nike shoes from their huge, wide collections.
Final Thoughts
Nike shoes offer narrow fittings because their focused athletic customers prefer the snug fit most.
I hope you already found your answers, after the in-depth discussion about Nike's narrow fitting and its advantages. So, without hesitation, run with your Nike pair.
If you still have any queries about Nike fittings, share them with me through the below box.
And most importantly, take care of your feet!