Just like any other leather shoes, Air Force 1 also feels stiff and uncomfortable at the beginning. That's why you need to break into them for gaining the utmost comfort.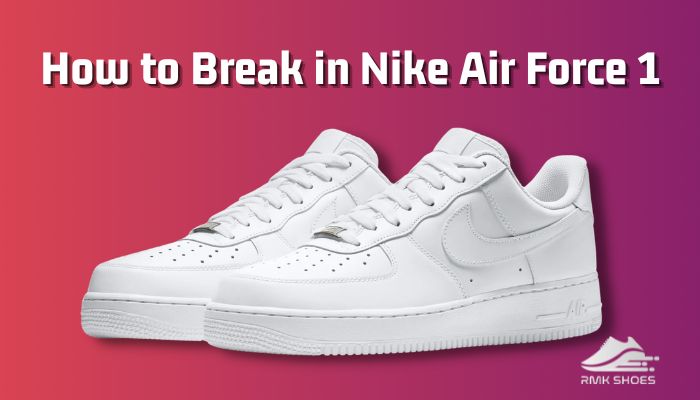 Spontaneous break-in of this casual sneaker takes up to 4 weeks of time.
But this long duration can be minimized by following some tricks. Here I'm gonna show you some of the ways for the early break-in of AF1.
Tag along!
How to Break in Nike Air Force 1?
It's not rocket science to break in AF1 only if you properly follow the approaches. But don't expect shoes 1/2 size smaller than your feet to fit after the break-in. Because break-in denotes that a slightly uneasy yet regular-size shoe will conform to your feet and offer a relaxed experience.
For now, let's see how to break in your Nike Air Force 1 and achieve that easy-going feel:
Method 1: Insert Shoe Stretcher
Can you afford a shoe stretcher?
If so, the process of break-in will become easier and cost minimal effort. After adjusting the stretcher's heel block closer to the toe block, set the tool into your sneaker. Then slightly rotate the wheel and handle clockwise. And leave it in this position for at least 6 hours. You can also keep it for a whole night.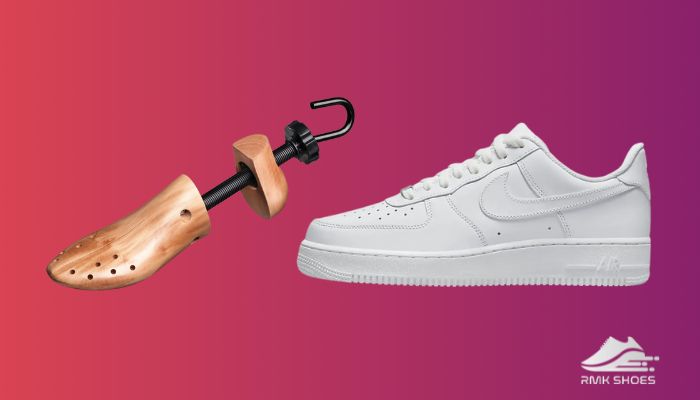 By spinning the handle and wheel in the counter-clockwise direction, remove the stretcher in the morning. And now you can enjoy the cozy fit of AF1. If necessary repeat the complete procedure for the next 2-3 days.
You may be wondering if using this tool excessively stretch your Air Force 1 beyond break-in.
Nothing like this will happen. Because in this method you're lightly turning the wheel and haft. So, the stretcher gets a snug position in your sneaker and stimulates the break-in.
Method 2. Walk in Your Air Force 1
Wearing socks and walking is the most traditional way to break in the newly bought shoes.
Put on a thick blister-proof sock to avoid awful toe and heel bruises. If you have only thin socks, wear 2-3 pairs to create a thick layer.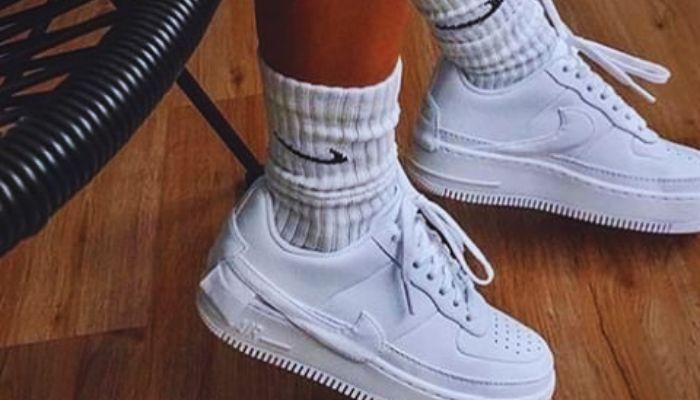 Take 15-30 minutes of walking with your AF1 on. Continue this activity for 3 to 4 weeks. Meanwhile, the break-in will take place.
By the way, you may face a little bit of pain and perspiration due to multiple pairs of socks and sturdy leather. So, I'll recommend using antiperspirants before wearing the socks. To prevent pain, try to massage some pain relief ointment on your feet.
Method 3. Toe Inserts & Heel Pad
If you don't prefer wrapping your feet with dense socks coating, rely on soft toe filler and cushioned pads.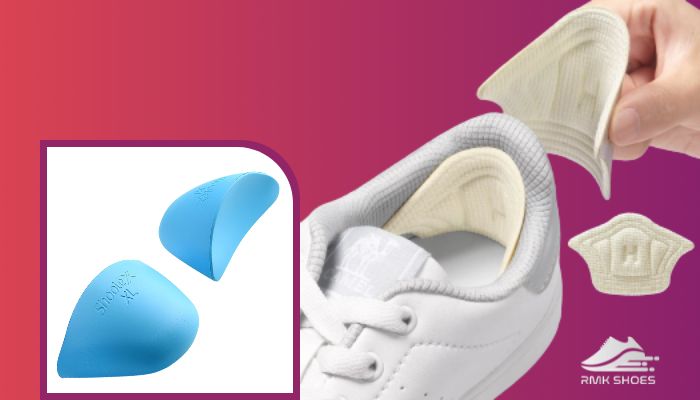 These things are available online and in super shops. Plus, they come in a cheap price range (within $15 US).
Let's see how to position these things into your sneaker:
Place the filler at the edge of your Air Force 1's toe box.
Detach the sticky label from the heel liners.
Attach it to the inner side of the ankle collar.
Put on the sneakers and walk with them (daily 15 minutes minimum) for break-in.
Within 28 days, you will get a pretty comfortable Air Force 1.
Instead of a heel pad, you can also use heel protectors as shown in the picture. This covers more foot area including the metatarsal portion and alleviates pain from plantar fasciitis, Achilles Tendonitis, swelling, bone spur, and damaged tendon.
Method 4. Stuffing Socks
Is a shoe stretcher missing from your collection and you still don't wanna follow the second or third method?
No worries! Fill your AF1 with a bunch of socks and make them comfy footwear.
If you can use a leather conditioner on your sneakers, this process will be quicker and more fruitful. So, try to buy this affordable ingredient and apply this throughout the sneaker.
Now, just like you overcrowd dresses in your wardrobe, stuff several balled-up socks or stretchy clothes in your shoe. The entire inside should be tightly occupied by the socks same as your foot occupies the shoe. At last, tie the shoelaces only.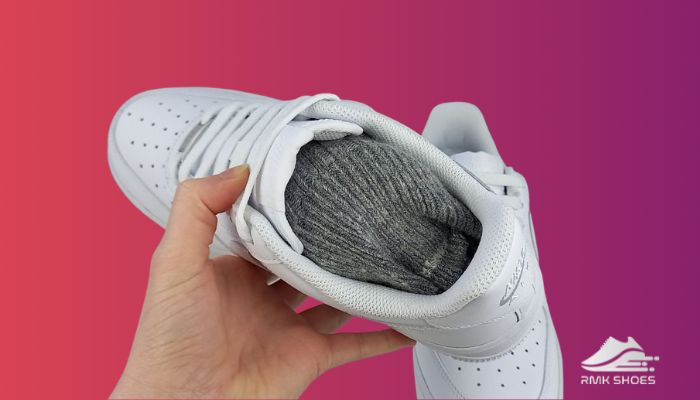 Do this every day for three weeks. After that, go for a walk with your ideal-fitted beloved sneaker.
Method 5. Blow Dry
As using baby powder is common to fix squeaky Nike shoes, a blow dryer is for breaking in leather shoes.
All you need to do is gently heat the sneaker with the dryer and then walk in the pairs with thicker socks on. Follow the back-and-forth motion while heating and maintain 2-3 inches of distance from the sneakers.
Applying heat for 10 minutes softens the shoe material. And walking with socks helps to decrease the break-in period.
Following this strategy, you can get a relaxed Air Force 1 within 10 days.
However, there are some precautions when you break into the classic silhouette. Let's talk about them right now –
Don't press the shoe stretcher so tightly in your footwear. Otherwise, the leather will damage and sometimes crease. Then you will have to use a shoe tree to get creases out of the leather.
Some people suggest walking with your new sneaker continuously for two to three hours so that it breaks in as fast as possible. But it's not a productive idea.
Podiatrists advise not to jump immediately on new shoes for long periods of time. Rather, take gentle steps to cope with the shoe and avoid your feet hurting.
How Long Does It Take for AF1 to Break in?
AF1's break-in varies according to which method you follow. Generally, the shoe stretcher takes highest 72 hours while the blow-drying method requires 10 days. If you regularly stroll with the sneaker or stuff socks inside the duration will last up to 3 to 4 weeks.
For a faster break-in, use a shoe stretcher and stretching spray together.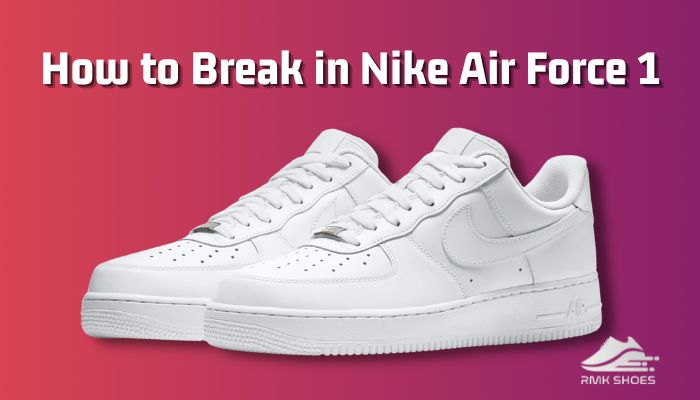 First, apply spray all over your shoe. Do not forget to spritz it on the shoe interior, especially in the toe box and heel area. Then, take your stretcher and place it inside your brand-new Air Force 1.
Spray makes the leather pliable, so the stretching tool's function becomes simpler. In this case, 48 hours is enough to break in your sneakers.
But the time duration can be extended depending on your preference level and foot shape.
FAQs
Are Air Force Ones tight at first?
The high and mid-top style is kinda tight compared to the low-top. However, the snug fit doesn't cause any problems in case of narrow and ideal feet. Because this issue gets solved after the break-in, but wide feet owners should opt for the roomier width of the Nike AF1.
Do Air Force 1s Hurt Feet?
This classical design hurts feet when individuals purchase the wrong size for their feet. Sometimes the right fit also causes aches. However, it ensures comfort when you decently break in.
Can I wear Air Force 1 every day?
Its cushion and support level are inadequate for regular long periods of usage. So it's better to consider AF1 as a fashion statement only and wear them casually.
Final Thoughts
Though Air Force 1 is not a pair loaded with tons of upgraded technologies and mind-blowing features, sneakerheads hold a unique sensation for this '90s style.
Air Force 1 tends to be rigid at first so breaking them in is essential. Instead of following the lame break-in hacks on Tiktok like dipping your sneakers in hot coffee follow the methods described in this write-up.
When you're done with the break-in, pair with AF1 to gain a pretty stylish appearance.
Peace Out!