What's the reason for wearing poorly fitting shoes, any guess?
Well, I think people are unfamiliar with the proper way of measuring shoe size or they're really unconcerned about the right size of footwear.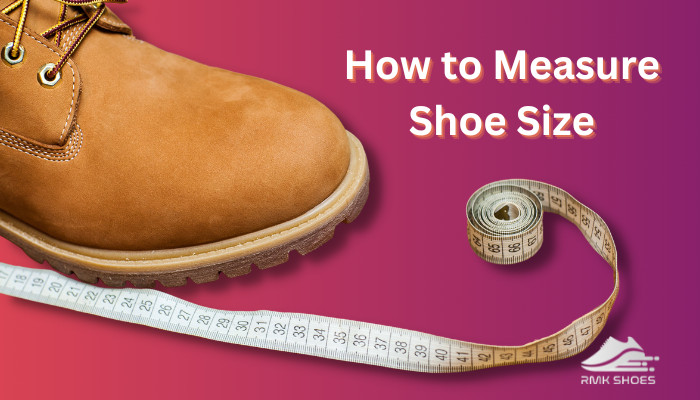 So, I have decided to share the concept of shoe size evaluation with you. This will assist you in buying well-fitted footwear in the future.
Without further ado, let's get started!
How to Measure Foot Size?
According to the researchers, 72% of people wear incorrectly fitting shoes and so struggle with foot disorders like calluses, corns, toe deformity, and foot pain. Quite alarming, right?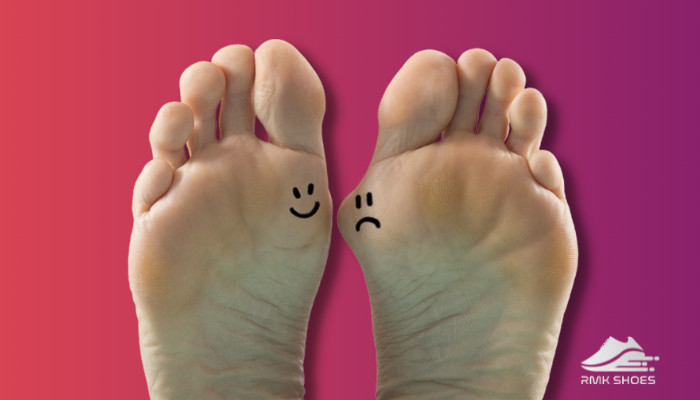 To avoid foot disease, everyone must know his/her exact shoe size. And measuring the foot size is the first step in determining the shoe size. So let's focus on that for now!
But before starting the foot measurement procedure, one must be aware of some factors to prevent mistakes.
Precautions for measuring foot size:
Do not move your legs even a bit while measuring the size.
Take help from your nearby ones while marking the shape of your feet. Because doing it on your own may disrupt your standard position and hamper the measurement.
Measure the length and width in the same unit i.e. if you note the length in centimeter scale, make sure to trace the width also in the centimeter unit.
Now, let's enter into the process of measuring foot size:
Step 1: Arrange the necessary equipment i.e. measuring tape or scale, a piece of 60 cm* 60 cm art paper, a marker, and a pair of well-fitted socks.
Step 2: Place that art paper on a hard and plain surface.
Step 3: Attach the paper to that surface with scotch tape. And properly set the tape around the surface so that it doesn't slip while measuring.
Step 4: Wear socks on your feet and place the left or right leg on that paper.
Step 5: Sit on a chair by slightly bending your legs. Mark the shape of your foot with that marker.
Step 6: Draw the shape of the other foot similarly. When you're done with the foot outline tracing, shift your legs from that paper.
Step 7: Now it's your turn to measure the length of your feet. Sit near the foot outline carrying art paper. And hold the measuring tape or ruler from the tip of the big toe to the foot end. See the rating and note down the length.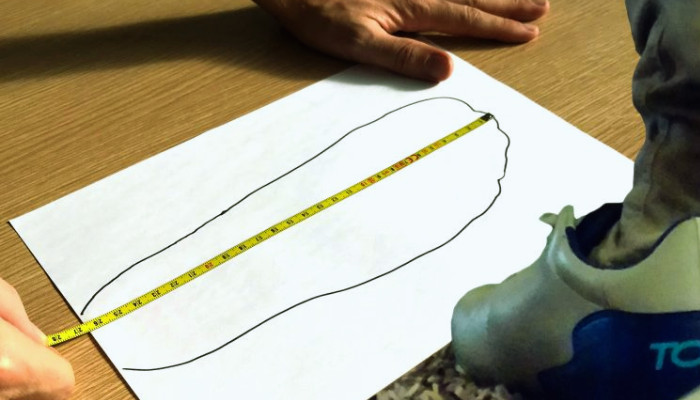 Step 8: Measure the maximum width of your forefoot by placing the tape or ruler horizontally on that foot shape.
Now, you have got to know the length and width of your feet. In most cases, one foot's size differs from the other. To avoid disturbance, always take the largest foot size into consideration.
Drawing of feet structure may seem difficult.
But no worries! There is another simple way to do the measurement. Jump to the next phase to know details about it.
Alternative Method of Measuring Your Feet
In this method, you don't need to draw the full shape of your feet. So, art paper and markers are unnecessary here.
Here's a simple way to measure your feet at home:
Attach the measuring scale or band on the floor with tape. But make sure the tape doesn't cover the numbers. Otherwise, you will fail to note down the rating.
Put on appropriate size socks.
Now, place your feet in accordance with the length of the scale. Stand as close to the scale as you can.
Adjust your foot position so that the tip of the big toe or heel end remains straight to the scale's starting point.
Tell your helping hand to note down the length. If you are alone at home, bend a little towards the leg and see the rating.
Measure the other foot's length similarly. Now it's time to focus on the width measurement.
Alter your standing position so that your feet breadth is in accordance with the band's scaling.
Estimate the breadth of each foot and you're all set now.
Many footwear industries provide the size chart along with consumers' foot size. There you can simply select the shoe size based on foot length and width.
But you won't get this advantage in all cases. So, it's better to have the proper concept of your shoe size.
How to Know Your Shoe Size?
You can find out your shoe size with the help of an ideal size chart. It represents the size according to the foot length and width. Moreover, most footwear industries follow that standard size guide while manufacturing shoes.
Here is the typical chart to evaluate Men's shoe sizes: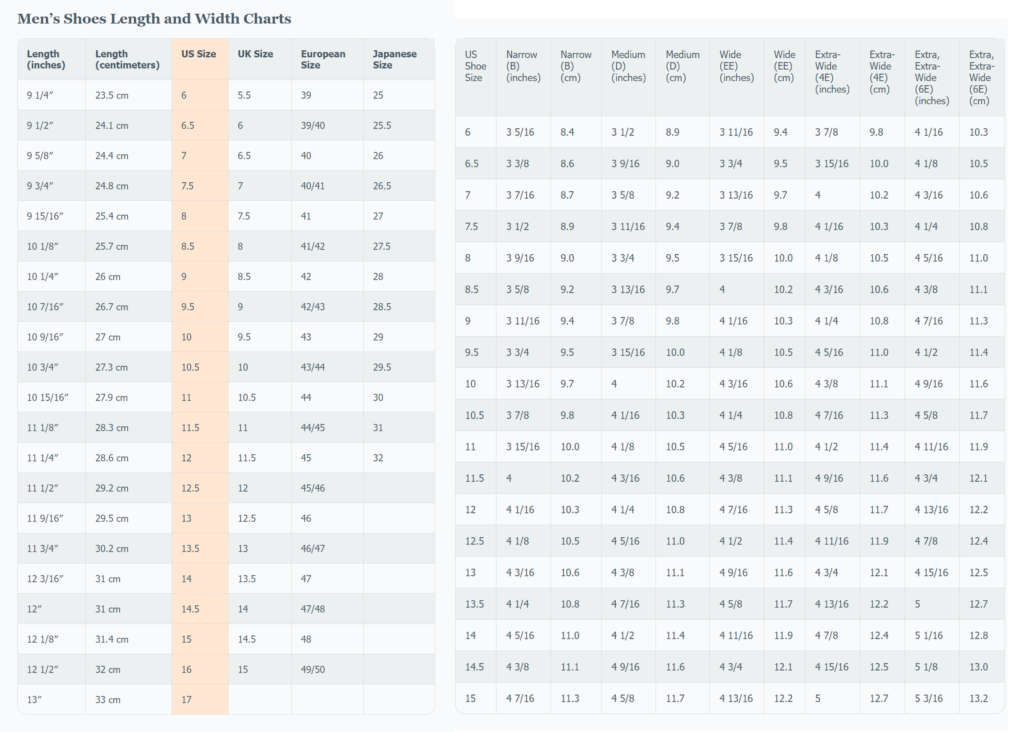 Here is the typical chart to evaluate Women's shoe sizes: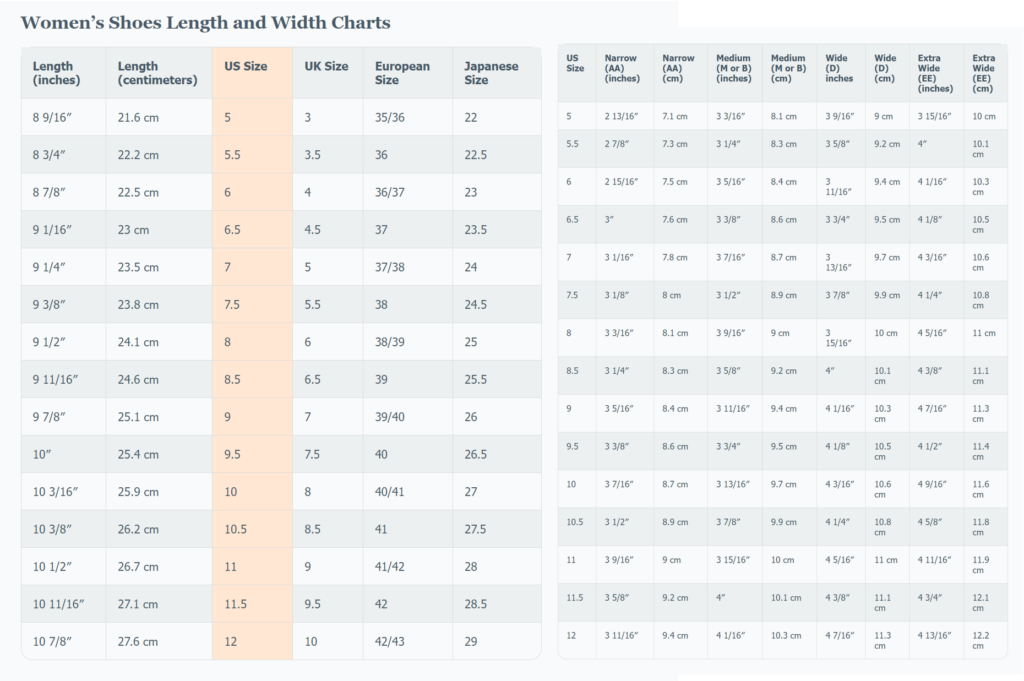 Look at the chart and find out in which row your length and width are. Then follow that row and reach the size column. The number in that column is your shoe size.
For instance, if you're a woman and your foot length and width are 23 cm and 8.6 cm respectively, your shoe size in the US standard is 6.5
Many people buy shoes with a smaller or larger fitting based on the type of work, even though they know the correct shoe size.
For example, some runners prefer slightly bigger shoes for running. To know more about running shoe size, check out the separate piece on Running Shoe Size Comparison Between Brands.
How to Measure Kids' Shoe Size?
Measuring kids' shoe size is a bit tricky because most of the time they are restless. So it's a good idea to take measurements of their feet when they are asleep.
Take a measurement tape and hold it along the largest length and width of your baby's feet. Record the rating, and find out the shoe size from the chart below:
Here is the typical chart for kids' shoe sizes:

If your kid's foot length is 11.4 cm, buy shoes of US 4 size for him.
You must know that baby and toddler foot size changes rapidly. Their feet grow half a size or more every 2 to 5 months. So, abstain from purchasing the wrong size shoes for your beloved kid by measuring their feet every 2 months.
Does Shoe Size Actually Matter?
Yes, size matters to avoid foot disorders including severe nerve inflammation, and tissue damage. Perfectly-fitted shoes help to attain a good walking experience without causing any negative issues on your foot. And knowing your proper shoe size assists to buy well-fitted footwear.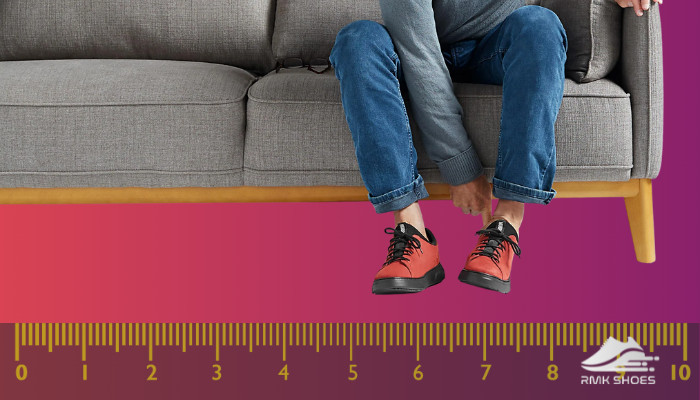 When you wear poorly fitted smaller shoes, they restrict the natural performance of the muscles. Toes are cramped and won't get roomy space to wiggle inside those shoes. Moreover, those pairs leave chafing, blisters, and calluses on your feet.
On the other hand, with bigger size footwear heel lifts out of the shoe and interrupts the movement.
So, before buying shoes online, measure your shoe size and check the manufacturer's website for guidance.
Shoe size measurement is not so essential while purchasing from the store. There you can put on different pairs and do a test walk. Thus, finding the right pair is so easy, like sipping a cup of coffee.
FAQs
What size shoe is 10 inches?
The length of 10 inches refers to a 9.5 US shoe size for women.
Can adults wear big kid shoe sizes?
Yes, adults with smaller feet can easily wear big kid shoe sizes when they select a 1.5 size smaller than their regular shoe size.
Parting Thoughts
Finding the right size pair seems bothersome when you don't know the actual shoe size.
However, measuring the shoe size is quite simple as buttering the bread. You only need to show some patience and sincerity while doing this assessment.
By this time, you have already learned the easiest ways of shoe size measurement. So it's not difficult for you yet.
Any more confusion? If so, feel free to ask me in the comment below.