Are you having an aching heart to discard your old cowboy boots?
What if I say you don't need to toss out your favorite cowboy boots and repurpose them into a mind-blowing centerpiece.
Sounds interesting, right?
I have disclosed all the awesome DIYs you can do with your old cowboy boots in this very article.
Continue reading to discover the ideas in detail.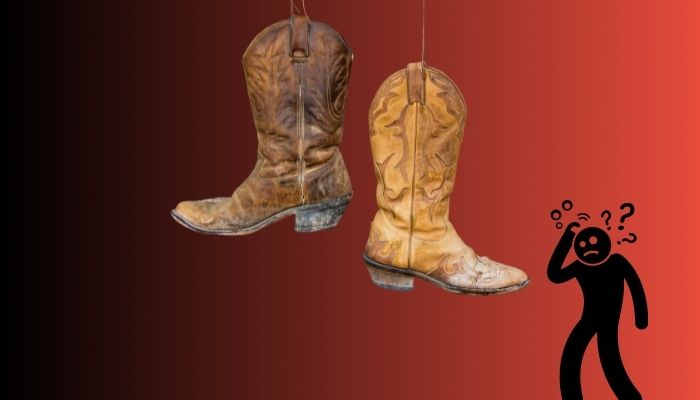 What Can You Do With Old Cowboy Boots?
A few holes in your cowboy boot's sole may make them unwearable, but does this mean you will discard the boots?
No way!
Cowboy boots are pretty expensive, and discarding them means throwing away your hard-earned money.
As it is said, cowboy boots are a lifetime investment. Even though you cannot wear the torn cowboy boots, you can surely upcycle them. With an old cowboy boot, you can make planters, showpieces, holiday decor, birdhouses, purses, mirrors, and many more things.
So why not show some creativity and make use of the old cowboy boots.
Before you make any decorative piece with your old cowboy boots, you must clean them thoroughly first.
Decorating a filthy cowboy boot is a big thumbs down.
Looking to get a pair of cowboy boots but don't know whether they are comfortable or not?
Also read, Are Cowboy Boots Comfortable
Let's see what the things are you can do with old cowboy boots: 
Vase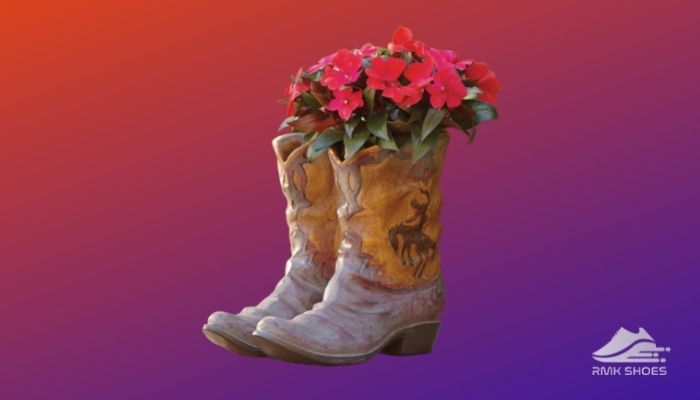 I know flowers are something that instantly can lift up the mood. And flowers and cowboy boots are a great combination.
How?
Flowers themselves are very beautiful, but when you fill the cowboy boots with flowers, I swear nothing looks more stunning than this.
Display the cowboy boots overflowing with orchids, roses, or tulips in your living room and see how the ambiance changes.
Don't believe me cowboy boots look great as a vase?
Just give it a try and thank me then.
Follow our guide on how to Wear A Boot Knife With Cowboy Boot
Planter
Do your clay planters break often?
Why not use a cowboy boot as a planter instead?
Cowboy boots planter adds a rustic charm to any garden or yard. Just put in a little soil and fill them with your choice plants.
You can also plant succulents in your cowboy boots; it looks fantastic.
Cowboy boots with a long shaft and no shoelaces is a great advantage for planting as there is no risk of water or soil spilling.
Add some holes in the boots for drainage.
Also, follow our guide on how to Waterproof Cowboy Boots
Holiday Decor
Want to make some unique door hangers for Christmas?
No worries, cowboy boots have got your back.
Decorate your cowboy boots with garland, tinsel, lights, and ornament, and hang them on your door.
You can even put some dry flowers in the cowboy boots.
The rusticness of cowboy boots and the sentimental value of dried flowers are indeed a perfect combination.
Check out our guide on how to Break-In Cowboy Boots
Bags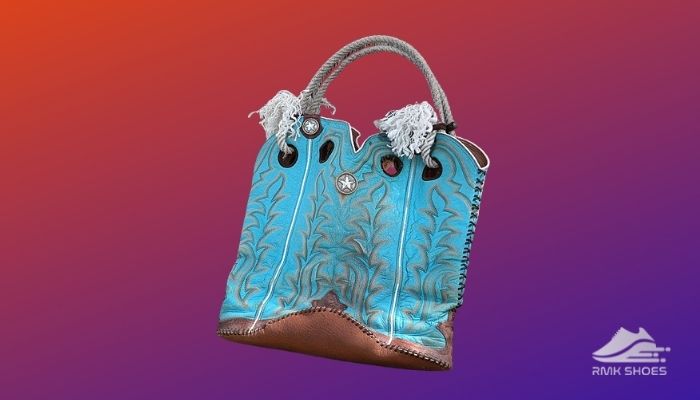 Leather bags are very costly, so why not make leather handbags with your old cowboy boots.
Leather cowboy boots are crafted with very unique designs, and making bags with them will surely be an outstanding product.
Bags made from cowboy boots may not look that glamorous, but you will get an aged and distressed look that many expensive bags lack.
Also, check out our epic guide on how to Restore Cowboy Boots
Centerpiece
If you want to decorate your house entrance or living room with a unique and eye-catching centerpiece, then cowboy boots can be the choice.
Fill the cowboy boots with flowers, feathers, lights. You can also paint them for an extra charm. Either way, the cowboy boots as a showpiece will be the highlight of the house.
Birdhouse
Let's make a cute house for your birdies.
Take the cowboy boots that you consider rejected.
Cut a hole through the middle of the boots, add a tin roof and decorate them the way you want.
Just be sure while making the hole as you cannot wear the boots anymore.
But once you make the house bird, trust me, it will be the most extraordinary and adorable home for birds.
You may also like to read: Wear Cowboy Boots Without Looking Country
Mirror
Let's make a mirror with cowboy boots. It may sound weird, but the outcome will astonish you.
Cut the leather of cowboy boots and attach it as the frame of your mirror.
If you like to add a touch of vintage look to your room, then definitely try this awesome hack.
Utensil Holder
Surprised again?
No need to. Because cowboy boots can be repurposed in many things. Cowboy boot as a utensil holder looks very exceptional.
Pick a cowboy boot that has a small shaft and store all your kitchen utensils.
Make sure to clean the boots properly before you put the utensils.
Give this idea a try and add a country vibe to your kitchen.
Follow our guide on how to Walk In Cowboy Boots: Like A Pro
How To Restore Old Cowboy Boots
Nothing is permanent so are the cowboy boots. No matter how durable or good quality your cowboy boots are, the boots will wear and tear with time.
However, proper maintenance and restoration can make the boot's disintegration process slower.
Below are the steps to restore cowboy boots:
Clean, Condition, and Polish
The restoration process of cowboy boots is very easy to do. All you need to do is properly clean, condition, and polish the cowboy boots.
Apart from restoration, cleaning is something that your boots need the most.
You may restore the boots only when they look dull, but you should clean the cowboy boots every now and then to extend the boot's lifecycle.
Also, follow our guide on how to Fix Heel Slippage In Cowboy Boots: Simplest Solution
Step 1: Cleaning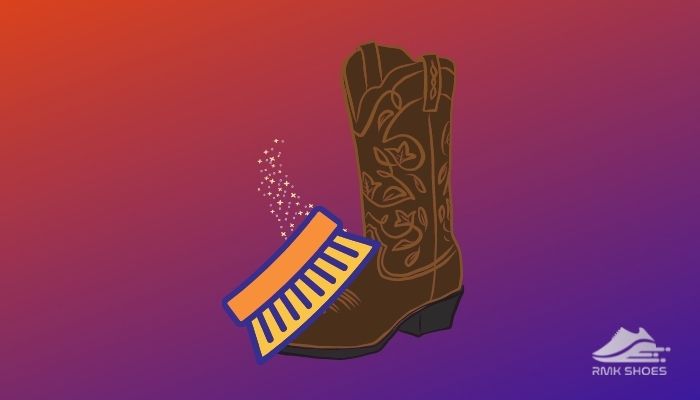 Start the cleaning process by brushing off the boots with a horsehair brush. You can use an old toothbrush also.
Brush the boots thoroughly to remove all the chunks of dirt.
If your boots have stubborn stains, damp the boots with warm water and give them a good brush.
Focus on the heel area more. This section picks the dirt most.
Once you are satisfied with the cleaning, let the boots dry entirely.
Check out our guide on how to Fit Cowboy Boots: Find Your Accurate Size
Clean Suede Cowboy Boots
Suede is different from leather. Suede is more delicate and thinner, so the cleaning method also differs from leather.
Water is the worst enemy of suede, so try to use little or no water on suede.
Suede boots have a specialized brush named suede brush. Use this brush to remove the dirt and filth from the boots. To remove obstinate discoloration, you can use a suede eraser on your boots.
Clean the suede boots with a suede cleaner and scrub them properly with the suede brush.
Step 2: Conditioning
Frequently wearing cowboy boots makes the leather very dry. Conditioning can help them rejuvenate their moisture.
Leather and suede boots have different conditioners, so choose the perfect conditioner according to your boot type. Take a pea size of conditioner on a cloth and rub it to the surface of your cowboy boots.
Let the conditioner sit on the boots for a few minutes or wait until the boots absorb the conditioner.
Don't apply excess conditioner. This can change the color of the boots.
Read more on how to Care For Cowboy Boots: The Best Way
Saddle soap also works like magic for conditioning cowboy boots. However, too much use of saddle soap can ruin the finishing of leather.
Now buff out your boots.
After conditioning, your cowboy boots will become very soft and moisturized. And to an extent, conditioning will make the boots waterproof.
Step 3: Polishing
Polishing is a must for leather cowboy boots, but you can skip this part if you own suede cowboy boots.
For the final touch, polish your cowboy boots with shoe polish to add a nice sheen.
Always choose shoe polish according to your boot color.
And here you go!
You are all done restoring your cowboy boots.
Also related to this guide Pack Cowboy Boots In A Suitcase: Easiest Ways
Conclusion
If you were thinking of throwing away your old worn-out cowboy boots, then terminate this idea right away.
Cowboy boots are not something to say goodbye to. Instead, with all the crazy and innovative ideas, upcycle your cowboy boots into a masterpiece.
I hope this article was helpful to you. If you have any creative ideas for repurposing cowboy boots, please share them with us in the comment box.
Good luck!