Are you hesitating to wear your new pair of cowboy boots out in the rain, fearing the water might ruin your boots?
Don't you worry; your boot expert friend is here to ease out all your problems.
Cowboy boots are very robust, and they are designed for challenging trails, but when the boots come in contact with water, it reduces their life span.
But then comes the waterproofing techniques, which can protect your cowboy boots from the ruthless enemy, which is water in this context.
And I am here to unveil all the convenient yet effective methods of waterproofing cowboy boots.
So without wasting any more time, let's jump into the writing.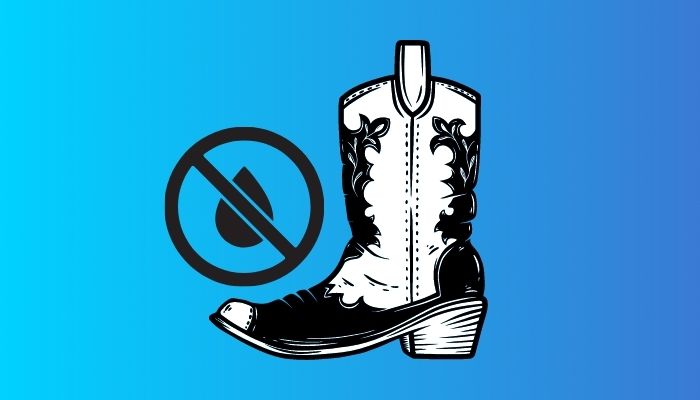 How To Waterproof Cowboy Boots?
Waterproofing cowboy boots is a pretty straightforward process. All you need to do is follow the correct technique. But before you proceed to the waterproofing method, you need to prepare the boots first.
You need to clean your cowboy boots thoroughly before moving to the waterproofing process.
Here are the steps to follow to clean your Cowboy Boots:
Before applying any spray or conditioner, make sure your cowboy boots are free of dirt and debris.
First, clean the boots; remove the boot laces; if they are dirty, you can wash them separately with detergent powder.
Take a brush and, in a circular motion, brush on the dirty areas.
If your boots are heavily dirty, then you can clean them with a leather cleaner. But make sure not to saturate the boots in water. Instead, use a damp cloth with the cleaner in it and gently wipe the dirt.
Note that, before you apply any sort of conditioner, oil or waterproof spray on your boots, make sure to read the product's description and check if the manufacturer suggests any specific protectant for their boots and then use that protectant.
Read more on how to Care For Cowboy Boots: The Best Way.
Now let's discuss how you can easily waterproof your cowboy boots:
Method 1: Use Mink Oil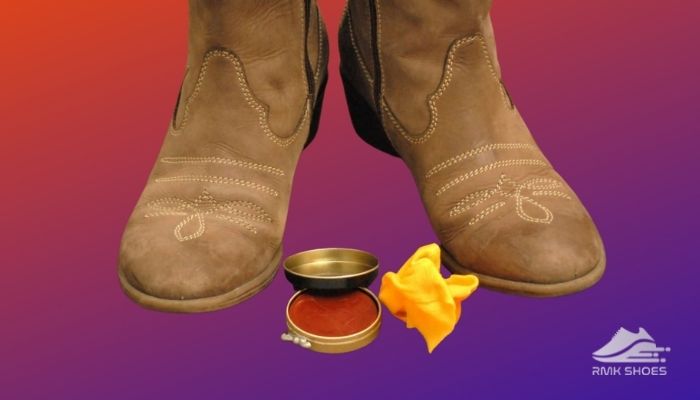 Mink oil is one of the most effective and widely used for waterproofing cowboy boots as mink oil is more healthy for the boot's life, so this method is very popular.
However, this method is a bit time-consuming; you have to invest ample time to get good results.
Take mink oil of a well-known brand, pour a few drops of oil on a clean cloth, and massage it on your boots. Focus on the welts and seams of your boots while applying oil.
To let the oil soak into the leather, keep the boots overnight for drying or let them sit outside in the sun.
Mink oil is a fantastic ingredient for waterproofing, the fatty acid in the oil makes the leather very soft yet durable, and it creates an extra layer on the boots, which makes them water-resistant.
Method 2: Use Waterproof Spray
Doesn't have enough time to waterproof your cowboy boots? Worry not!
Waterproofing sprays are to the rescue!
Waterproofing sprays are the most time-saving and easy method to waterproof cowboy boots. With any good quality waterproof spray, you can make your cowboy boots water-resistant in just 30 minutes!
Suede or leather, the waterproof spray works great on all types of material.
But you have to make sure the spray you are using is free of silicone because silicone is the main criminal for drying out the leather.
Unlike oils, the waterproof spray doesn't cause any discoloration to the boots. Just spray a thin layer of any branded waterproofing spray and let it sit for 20-30 minutes for drying.
Voila! You are done waterproofing your cowboy boots.
Follow our guide on how to Clean Cowboy Boots: The Step by Step Guide.
Method 3: Use Conditioner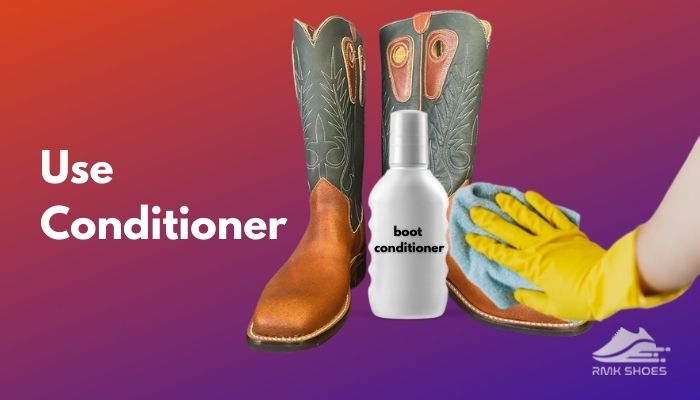 Conditioners work like magic for leather cowboy boots. Not only does it prevent the entry of water into the boots, but also it also keeps the boots nourished and flexible.
When purchasing a boot conditioner, make sure to buy the conditioner according to the boot's material. If you own a suede cowboy boot, then go for a suede conditioner and a leather conditioner for leather boots.
Before you work the conditioner on your boots, clean them first.
Take a soft cloth, apply a dime size of conditioner on your boots, gently rub the conditioner on your boots in a circular motion.
The amount of conditioner you apply varies on the dryness of the boots; if your boots are extremely dry, you may need more conditioner to make the leather supple.
After applying the conditioner, let your boots sit overnight so that the boots can absorb all the goodness of the conditioner.
Note that, when you first apply the conditioner, your boots may look a bit dark but don't worry, as the boots soak all the oils into them, they will get back to their original color.
Related guide: how to Shrink Cowboy Boots.
Method 4: Use Wax
Along with waterproofing, if you want to bring back the mirror-like shine of your cowboy boots, then using wax is the best option. Waxes are very good friends of your boots. But how?
It nourishes the boots
Works as a polisher
Make the boots waterproof
Just apply a thin coat of wax to your cowboy boots, and you are good to rock the rainy season in your cowboy boots.
Why You Should Waterproof Cowboy Boots?
Water is the biggest enemy of cowboy boots. When the boots are frequently exposed to moisture, they gradually become wrinkled, cracked, the leather stretches, and ultimately you can't wear the boots anymore.
Nowadays, most of the brands claim their cowboy boots are waterproof, but the truth is if your cowboy boots come in contact with water more often and if you don't take proper aftercare of the wet boots, then they will wear out in no time.
Waterproofing is a must to maintain the shape, texture, and quality of cowboy boots. Waterproofing not only protects your boots from water but also keeps the boots well conditioned and moisturized.
Cowboy boots are made with top-notch quality leather. To keep the boot's quality intact, along with waterproofing, taking care of them is also necessary.
Only then you can enjoy wearing your classy cowboy boots for more than a decade.
You may also like Are Cowboy Boots Supposed To Be Loose.
How To Maintain Cowboy Boots?
For an increased life span of your cowboy boots, you must take proper care of them. Let's see what the things you should do to maintain cowboy boots are:
After every wear, make sure to clean your cowboy boots. You can use a rag or a brush for cleaning. Lack of cleaning usually makes the dirt or mud embed on your boots which directly affects the longevity of your boots.
Always keep your boots conditioned. Usually, boots become too dry due to lack of conditioning which results in wrinkled or cracked boots.
Try to polish your boots once a month. Polishing not only adds shine and makes the boot look new, but it also moisturizes the leather adding extra years to the boot's life.
What Are The Things To Avoid While Waterproofing Cowboy Boots?
Even though waterproofing cowboy boots are pretty simple, sometimes, silly mistakes can ruin the boots.
So let's see what the things to avoid while waterproofing cowboy boots are:
Never store your boots when it is wet. Dry them first and then keep them in that place where the ventilation is sufficient enough.
Do not use any heating source like a hairdryer or iron to dry the boots fast. Excessive heat can melt the adhesive that attaches to the multiple layers of the boots. Overheating the boots can make them too dry and eventually crack.
Do not apply too much conditioner to your boots. Over conditioning, the boots block the pores of the leather and make the boot wear quickly.
While using conditioner or waterproof spray, always test on a small area of your boot first. If you don't notice any discoloration, then use the products on your entire boots.
Also, check out our separate guide to know Can Snakes Bite Through Cowboy Boots.
Frequently Asked Question
Should I waterproof my cowboy boots?
Yes, you should waterproof your cowboy boots. To protect your boots from the cruelty of rain or snow, waterproofing is a must.
What is the best waterproofing for boots?
There are different types of waterproofing spray or conditioner available in the market. You should choose according to your boot type and make sure the sprays are silicon-free.
Here are the best five waterproofing sprays and conditioners:
Kiwi Rain and Stain Protector
Rust-Oleum NeverWet Boot and Shoe Spray
Bickmore Leather Conditioner
Kiwi Boot Protector
Scotchgard Suede and Nubuck Protector
Conclusion
Cowboy boots are praised for their elegant look, so why let the water ruin its beauty.
Now that you know all the incredible techniques of waterproofing cowboy boots, then without wasting any more time, use any of the methods and make your cowboy boots resistant to water.
Lastly, don't forget to take proper care of your cowboy boots; after all, boots are like babies for boot freaks like us!