Be it for collecting or rocking a chic Western attire; handmade leather boots have a different demand. And Tony Lama and Lucchese are two of the icons in this industry.
But who makes it (western boots) better?
If you know, then congratulations! And, if you're here for answers, then you've come to the right place.
In this article, I'll be discussing the key differences between the two and everything else related.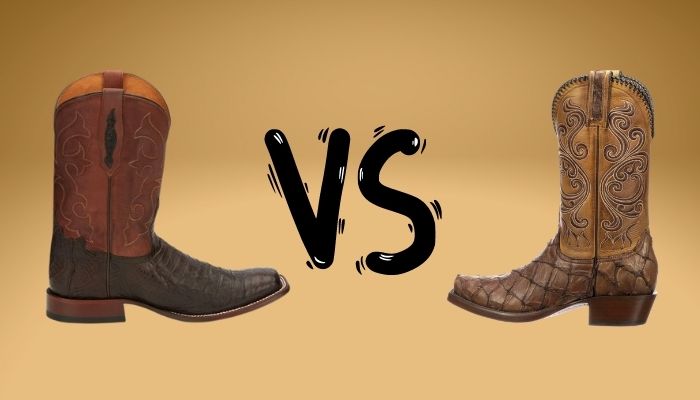 So, keep on reading to know it all. I can assure you; it'll be well worth it.
The Legend of Tony Lama
It all began in 1887 when a certain Tony Lama was to Italian migrants who came to the US for a better living. Unfortunately, he became an orphan at a very early age. Things truly began when has was an 11-year-old kid; his uncle took him to a shoemaker in Syracuse, New York.
He started as an apprentice and quickly learned the crafts of boot making and the leather industry.
At the age of 16, he joined the US Cavalry stationed in Fort Bliss. From there on, he didn't look back. His reputation for crafting custom boots became well known all across the southwest.
Tony settled down on the Mexican border of El Paso after completing his duty with the cavalry. Due to the ever-growing demand for his unmatched craftsmanship, he decided to open his own company in 1911.
In 1917, he married Esther Hernandez and had six children. All of them learned the craft of boot-making as they grew, becoming active company members.
Business blossomed from 1933, producing 40 pairs of boots each day.  And, in 1946 Tony officially decided to turn the family business into a corporation.
Read more on Why Are Lucchese Boots So Expensive
Thanks to his exploits, we get quality leather boots today. They're one of the best in terms of quality and craftsmanship. Almost every Western enthusiast wants to own a pair of Tony Lama boots.
Some popular Tony Lama Boots:
Lucchese- Two Brothers With A Plan
What happens when two Italians migrate to the United States whose father happens to be a shoemaker? Answer: You get quality leather boots.
That's right! I'm talking about Salvatore Lucchese and his brother Joseph. Shortly after their migration in 1882, they quickly made a name for themselves as first-class bootmakers.
They arrived in Galveston, Texas. But, things truly started to happen when they decided to move to San Antonio.
Salvatore and Joseph opened a small boot-making shop, where they predominantly sold boots to the US Cavalry. Ring a bell?
From there on, it's history! As they say. Lucchese primarily focus on fit, comfort, and style.
Lucchese refuse to compromise on quality or take a shortcut to success. All the success to down to their hard work and skilled artisans.
They make boots of all kinds and qualities, even exotic ones too. Speaks volumes doesn't it? This is the hunger you need to be the very best!
Go through our epic guide: Are Work Boots Business Casual
Lucchese Boots that are in high demand:
Tony Lama VS Lucchese- Main Differences
After close inspection and analysis, I made some categories upon which the two of them will be judged. It'll help you to get a better understanding.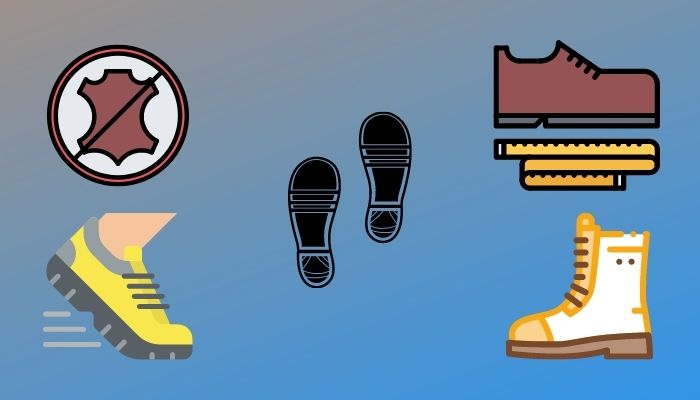 Here are the main differences between Tony Lama and Lucchese:
Material
Tony Lama 
All Tony Lama boots are made primarily of leather. The leathers are of a different kind depending on the model of the boots. Most of their regular boots consist of full-grain leather.
Lucchese
Similar to that of Tony Lama, leather is the base material of Lucchese. They too vary depending on the models. However, some believe Lucchese has a very slight edge over Tony Lama in terms of quality.
Check out our separate post on how to Clean Timberland Boots
Size
Tony Lama
 By size; I meant the opening of the boots. We all know how foot size works, so not going there. Tony Lama boots usually come with an opening of 15 inches, which I think is good enough to accommodate any kind of legs.
Lucchese
Compared to Tony Lama, Lucchese boots have a very small difference. Lucchese boots usually come with 14-inch openings. It'll accommodate almost everyone, apart from a few. I guess people with thinner legs may have the upper hand, here.
Fit
Tony Lama
Because of the way these boots are designed, they need to fit you just right. However, Tony Lama boots are designed for a slightly larger and wider fitting. That's of no issue to be very honest. They won't feel baggy, so no worries there.
Lucchese
I mentioned at the very beginning; Lucchese primarily focus on fit, comfort, and style, remember? This manufacturer pays special attention when it comes to fit. There's a widespread belief that Lucchese boots fit true to size, almost perfect. Many even said they used their boots right out of the box.
How to ensure a perfect fit? If you see the ball of your feet sit right on top of the ball of your boots, then my friend you have the perfect fit.
Follow our other guide to know Are Timberland Boots Good For Winter
Sole
Tony Lama 
Tony Lama primarily use leather soles for their outstanding boots, it's better than rubber. It greatly complements the leather upper, too. And, the heel height is of 1.5 inches from the ground. It gives you an added height without overwhelming you.
Lucchese
Apart from few of their models, all of Lucchese boots' sole consist of leather. The others? Most probably rubber. As for the heel height? 1.5 inches, which should be great if you're into horseback riding.
Exotic Boots
Tony Lama
When it comes to exotic boots Tony Lama wants to be numero uno! Hence, they have a wide range of exotic materials to make them. The company uses materials such as Hornback Caiman Leather, Quill Ostrich, Smooth Ostrich, Lizard, Elephant, Rattlesnake, and Shark skins to make exotic boots. 
Lucchese 
Lucchese is no less in this segment, you can argue they've a better collection of materials to make exotic boots. This manufacturer uses Ostrich, Pirarucu, Nile Crocodile, Hippo, Baby Buffalo, Goat, Snapping Turtle, and finally Caiman leather. 
To tell you the truth, I had a really hard time differentiating between these heavyweights. They are on par with each other in almost all segments. It really came down to the wire.
The difference between the two is of the slightest of margins.   
You may also like to read: Are Duck Boots Supposed To Be Loose
What Are The Most Popular Western Boots?
Texas chic is very trendy thses days, and it's showing no sign of stopping. One of the fundamentals is nice pair of western boots.
To complement your truly magnificent western attire, you must have a pair that's both, stylish and trendy.
I'd be really disappointed if you somehow fall behind your friends or colleagues in a theme party or get togethers. It will worsen if the reason for your lackings isthe footwear.
I've made this list of the most popular and trendy Western boots so you stay right there at the top.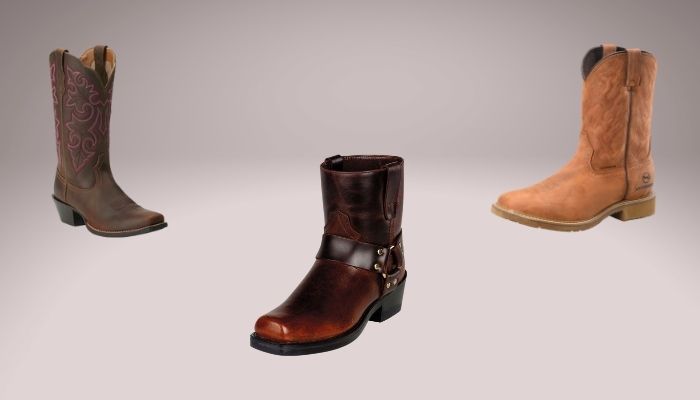 Here are the most popular Westren Boots:
Traditional Western Boots
You can call them the father of all Western Boots. Pair anything with them and it'll be a hit. They have a heel height of 1-1.5 inches, which I think is just right. They come with intricate designs too.
Western Work Boots
If you want to flaunt your western persona at your workplace, then this is the boot for you. They've low heels and rubber soles, which is perfect. Since you'll need to walk on all sorts of surfaces, and rubber is the perfect material to provide that traction.
Western Riding Boots
It's everything Traditional Western Boots except the heel height and the toe shape. These guys usually have heel heights of 2 inches or above, mainly for riding horses. And, they have pointy and snip toes.
Roper Boots
One of my personal favorites. They have short shafts, usually upto an ankle's length. They are more suited as dress boots. The design and some of the detailings are just too cute. I love a woman in a pair of roper boots!
Stockman Boots
If you combine a Traditional Western Boot and a Western Work Boot, you get yourself a Stockman Boot. If you love travelling, that too in Western getups, then my frind this is the boot for you. They have flat and rubber soles combined with lower heels; just the right combination for your endeavours.
Also, check out our separate post: Are UGG Boots Anti Slip
Tony Lama VS Lucchese Similarities
Apart form their differences the two companies share some similarities, too. I've noted them down so that you won't have to do the hard work.
Here are the similarities between Tony Lama and Lucchese:
Both of them have easy to pull on construction/slip on design.
No shoe laces
5 inch heels
Leather soles
Identical price range
Super Comfortable
Follow our guide on how to Break In Red Wing Boots
Parting Thoughts
Lucchese might have the marginal overall superiority but Tony Lama is no less. If you invest in either of the two, you won't regret it. That's for sure.
Nonetheless, both comes with a century of boot making heritage and there's no doubt. Which one to buy is completely upto you.
So, there you have it. I've explained everything in details, do let me know if I've missed anything important. I'd love to hear from you too.