Lucchese is one of the top luxurious boot brands. A pair of Lucchese boots will set you back an arm and a leg.
But do you know why Lucchese boots are so expensive and are they really worth it?
Keep your curiosity alive a bit longer because I'm about to reveal all the reasons why Lucchese boots are so pricey.
Let's not beat around the bush and dig straight into the writing.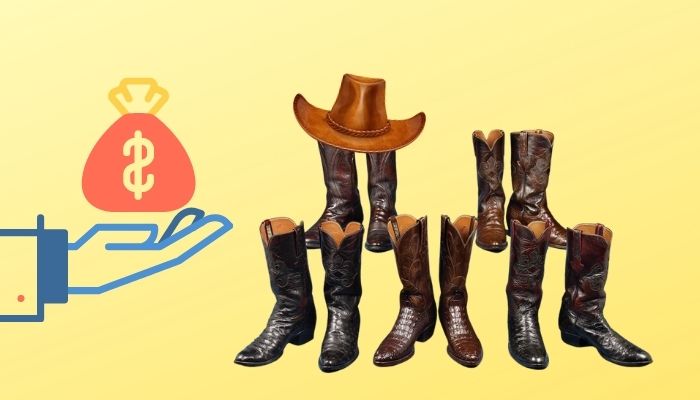 Why Are Lucchese Boots Expensive?
If you think Lucchese is overpriced for its brand value, you're mistaken!
You are actually paying for every minor detail of the Lucchese footwear.
Lucchese boots cost twice as much as any other inexpensive boot brand.
So, before you spend a lot of money on a pair of boots, you should know where you're putting your money and whether they're really worth it.
So, let's find out why Lucchese boot's price is so sky-high:
Lucchese boots are made from premium quality leather.
The affordable range of Lucchese is made from the best quality cowhide leather. At the same time, the expensive ones are made with animal skins like ostrich, elephant, and crocodile.
Check out our separate post: Tony Lama VS Lucchese
These exotic animal skins, unlike cowhide leather, are not widely available and cost a huge amount of bucks.
It takes anywhere from 2 to 30 different skins to construct a pair of Lucchese boots. It's also important to match the skin tones because they can't be dyed. As a result, it takes days and days to make a single pair of boots, only to find the correct skin.
On the other hand, Lemonwood pegs are beaten by hand into the leather of Lucchese boots. Lemonwood nails are more pliable than metal nails, expanding and shrinking with moisture.
I've appreciated the art for a long time, but now it's time to acknowledge the artist.
The best of the best artisans create all of the beautiful Lucchese boots. Workers that are very skilled and knowledgeable about cowboy boots.
Hand-crafting a pair of Lucchese boots can take anything from 24 to 48 hours. When a single pair takes so much time and effort, it's clear that the labor cost will be higher.
Yes, Lucchese boots are incredibly overpriced, but then you're paying for quality, time, beauty, and craftsmanship.
Also, check out our separate post on Do Rain Boots Stretch
History Of Lucchese Boots
The history of a brand tells a lot about its current success. So let's look at the memory lane of the Lucchese boots.
Lucchese began their journey in 1883 in San Antonio, Texas when Salvatore Sam Lucchese and his brothers created the company.
Initially, Lucchese's only customers were the United States Army's military.
Later, Salvatore Lucchese's goal of improving boot quality by combining developed technology and hiring the best workers boosted Lucchese boot manufacturing.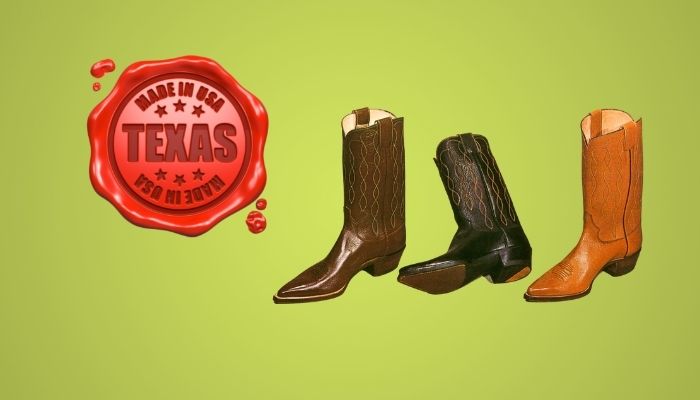 From celebrities to politicians, everyone tried on the Lucchese boots and fell in love with them.
To this day, Lucchese proudly reigns first in the market of high-end cowboy boot brands.
Follow our guide to know Can You Wash Work Boots.
Are Lucchese Boots Made In The USA?
Lucchese boots are manufactured in El Paso, Texas, in their factory. However, America is not their final destination. Due to the high demand for Lucchese boots, the company manufactures them in a number of other nations, including China, Brazil, Italy, and Mexico.
Mexico is the only country that manufactures a large quantity of Lucchese cowboy boots after America.
Lucchese is still the iconic brand against which no other brand dares to compete.
Many boot companies moved their factories to Asian countries in order to reduce labor costs. On the other hand, Lucchese is still proudly producing the best cowboy boots in the United States, with no competition.
Also read, What Work Boots Are Made In The USA.
Are Lucchese Boots Handmade?
The specialty of the Lucchese boots is they are entirely handmade. It all starts with a sketch of the boots, passed through an assembly line where almost 150 expert hands touch them.
After selecting the leather from varieties of animal skin, it goes through the machine that makes the detailed topstitching.
The leather heel counter was then added, and another worker added the steel shank.
Last but not least, lemonwood nails are hammered into the leather to connect the insole and outsole.
Each stage has a touch of expert artisans, which contributes to the Lucchese boots' high quality and price.
You may also like Are Work Boots Tax-Deductible.
Are Lucchese Boots Good?
Of course, Lucchese boots are good. The materials used in Lucchese boots and the high-quality leather and unique design make them the best of all. People adore Lucchese boots because they contain the handiwork of hundreds of skilled and experienced artisans.
Lucchese has been a successful brand making handmade boots for almost 150 years. Even in the twenty-first century, Lucchese has maintained their handcrafted boot legacy when everything is done by machine.
Are Lucchese Boots Comfortable?
Lucchese boots are really comfortable to wear. Because of its padded footbed, they take comfort to the next level. The Lucchese boots are lined with leather on the inside to minimize pinching and give them a skin-like feel. Also, the pull tabs make the boots easier to put on and off.
Lucchese boots' heel and shaft heights are just right, causing minimal discomfort while walking or riding.
However, Lucchese boots can be a little stiff at first. However, if you walk in the boots frequently, the leather will mold to the contour of your foot and become quite comfortable.
To get the most out of your Lucchese boots, they must fit you precisely. So, when deciding on the size of the boots, seek the advice of a professional.
Follow our other guide to know what is a Steel Shank In A Work Boot
How Long Do Lucchese Boots Last?
Long-lasting durability is a feature of Lucchese boots. Genuine leather uppers, steel shanks, and a leather outsole not only provide strength to the Lucchese boots but also extend their lifespan. A good pair of Lucchese boots can last you for more than 10-15 years or more.
The longevity of Lucchese boots depends upon how frequently you wear them and how well you take care of them.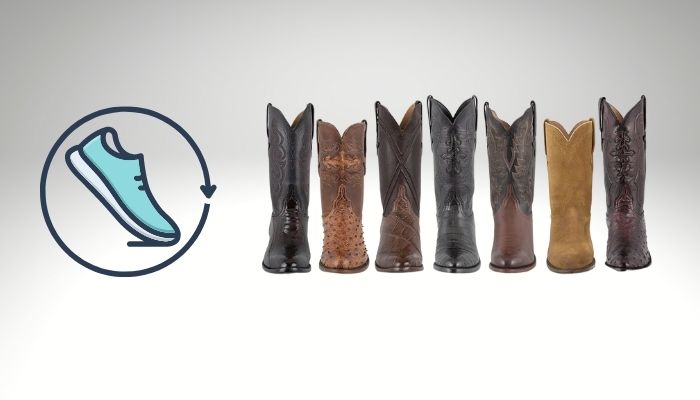 Therefore, always clean your Lucchese boots after each use if you want them to last a long time because the buildup of dirt causes the boots to deteriorate the most.
And you don't want to spend thousands of dollars on your lovely Lucchese boots only to have them fall apart after a few months.
So, watch out for the Lucchese.
Go through our epic guide Are Work Boots Good For Hiking.
What Is The Most Expensive Pair Of Lucchese Boots?
Lucchese are by far one of the most high-end brands among boots. You can get varieties of Lucchese boots whose price starts from $250. 
And the most expensive pair of Lucchese boots?
The most expensive pair of Lucchese is the Baron cowboy boots which cost $13,000 without customization.
The luxurious Baron cowboy boots are made from American alligator leather with a rich black cherry color. If you want to customize the Baron cowboy boots, you need to add extra dollars for that.
Are Lucchese Boots Worth The Money?
Without a doubt, Lucchese boots are well worth the money.
Those who have worn Lucchese boots even once can't get enough of them.
As a boot lover, I hear a lot of complaints about high-end cowboy boots. However, I have yet to receive any complaints or read any negative reviews regarding Lucchese boots.
Perhaps because Lucchese produces the highest quality boots and has never been questioned about their quality.
Check out my new post on What is A Soft-Toe Work Boot.
Final Thought
Lucchese boots are pricey because of their features, designs, creativity, materials, and, most importantly, their timeless beauty.
If you're a true cowboy boot lover, give the Lucchese boots a try; I'm sure you'll fall in love with them.
I made every effort to make this article as informative as possible. If you have any questions.