When you purchase a new pair of red wing boots, the first question that comes to your mind is how to make them comfortable. Because red wing boots don't adjust to your feet easily.
So, you have to follow or maintain certain steps to Break In your Red Wings for your desired comfort.
Before I bought Red Wings, I didn't know how to break in these boots. And my first experience was not so good with them. After that, I researched and found some steps and tried them with my pairs.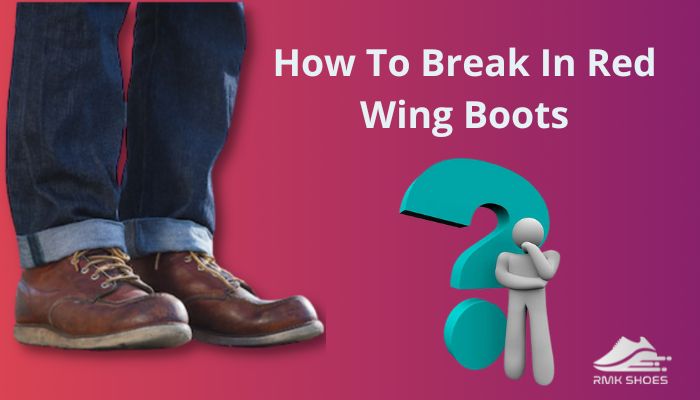 It worked better than I expected!
I'm sure you are also facing such unbearable issues with your Red Wings, and you arrived at the right place.
So, keep reading till the end to know the full guide.
Why Are Red Wings Hard to Break In?
The Red Wing brand uses the best and most expensive tanning leather for their boots which are known as S.B tanning leather.
This leather is featured with long-lasting and heritage looks. Mainly this company manufactures their boots upper and insole with the same materials.
It might take a long time to adjust to your feet and support you all day long. But break-in is the only way to make them perfect, and no one can help you in this because you have to prepare your red wing for your foot and comfort.
You may wonder why they take a longer time to break in than others, then there are some reasons behind all this.
Other leather boots are produced with PU leather on their inner side, and it's softer than the original leather. It is quite easy to fit your foot and gives you instant comfort.
On the other hand, Red Wing provides you with the best leather, which is more durable. And the leather is the main reason for being hard to break in.
After break-in, Red Wing boots will mold according to your footbed. I know it takes time, but if you pass the tough time, you will feel a different level of comfort.
There is a myth with Red Wing that is " wear them till they feel uncomfortable then repeat till they are the most comfy wearings."
So, I suggest not to give up; keep wearing them for break-ins properly. You shouldn't wear them for a long outing before completing the whole break-in period. It may cause your feet to swallow.
How to Break In Red Wing Boots? In 5 Easy Steps
Red Wings give you the ultimate comfort, but there is no promise; they give you that comfort from the beginning.
When you purchase a Red Wing, think about buying some assets. I compare them with an asset because if you buy a pair of original Red Wing leather boots, they will serve you a lifetime.
Some of my friends use their father's Red Wing, and trust me, it looks like the new one.
They are famous for their work boots and hiking boots, so if you go with the Red Wing in your desired location or job, make sure they already completely break in. Build a good relationship with your boots, then the boots also support you as a friend.
If you follow the steps properly, you may find the desired result.
Here are the steps for break-in your Red Wing boots:
Step 1: Wear at Home
My first opinion is to try your new pair of Red Wing boots at home. You might be confused with my words, but I don't say you always wear them at home. Just wear them until they do not prepare your feet well.
Why at home? The answer is these boots are actually hard enough for your soft skin. So, you should try them at home during the break-in period.
After 2 to 3 weeks, your boots actually adjust for your foot shape.
Step 2: Wear Double Socks
For break-in fast, you can wear Red Wing boots with the thickest woolen socks or double pair of socks.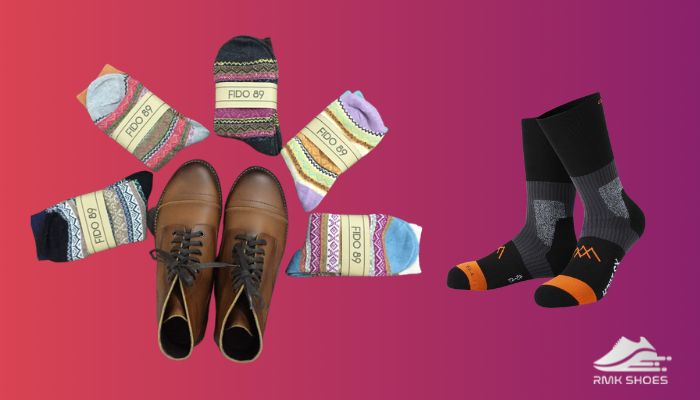 It gives instant comfort and helps you handle the pressure of that hard leather. Socks added some pressure from the inside, which might help for gradual expansion.
You can try them in winter or catch a cold from excessive sweating.
Step 3: Try to Break In The Sole
Don't try to stretch the outsole because it causes hard cracks in your boots; just work for the insoles. Mainly you have to prepare your toe box area; if possible, you can try squatting for as long as possible.
The squatting position gives some extra pressure on the inner side of the boots.
Sometimes you can use your Red Wing boots without insoles. It left some additional space for your footbed. If you want to wear them before completing the break-in phase, then this option might be helpful for you.
Also read, Red Wing Boots Sizing Guide.
Step 4: Use Mink Oil or Leather Conditioner
If you want your leather boots to serve your life long, then you should care for them properly.
You can use mink or oil any of them for conditioning your leather boots. You can order from any website according to their rating. Red Wing boots are pure leather boots; please never try the cheap ones.
After any type of stretching or break-in, make sure you complete your conditioning process. It helps to keep your boots moisturized as long as possible.
Step 5: Try to Purchase The Correct Size
Lastly, make sure you purchase the correct size of your red wing. You already know after reading these methods how difficult it is to break in those boots.
Don't ever try to experiment with sizing; if you have any type of foot problem, you can buy one or half size larger than your feet.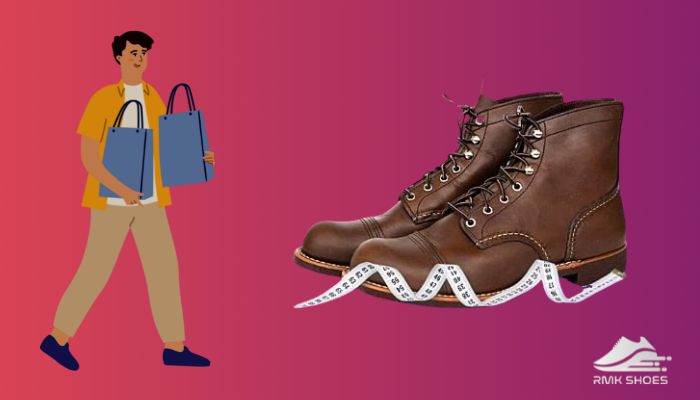 These methods also help you to shorten your break-in period. Ensure your sizing before buying these expensive boots.
You may also like to read: Red Wing vs Thursday Boots.
Do Red Wing Boots Stretch Out?
The first time you try the boots, you might feel a little bit snug but don't worry. After the break-in phase, the leather will be a little stretched out. Red Wing boots leather is the most strong leather, and the unchangeable tendency is quite visible in their nature.
After all those difficulties, it doesn't mean that you don't have any hope; you can stretch the boots by following some traditional methods with extra care.
Many of us suggest you buy a size smaller than your actual one; after stretching out, the leather boots are more comfortable than the rubber shoes. If you take my opinion, it's not that much loose after stretching.
So, you should get the perfect pair which you prefer for regular wear.
Moreover, you can try the double socks method, steam method and all those methods which I describe thoroughly in How to Stretch Caiman Boots?
How to Break In Red Wing 875 Boots?
When I think about the red wing solid leather boots, the first name in my mind is the Red Wing 875 Classic Moc.
These boots offer you an iconic look with visible stitching. Most importantly, the 875 offers you lightweight with all those vintage criteria. You can wear those pairs with casual or formal attire.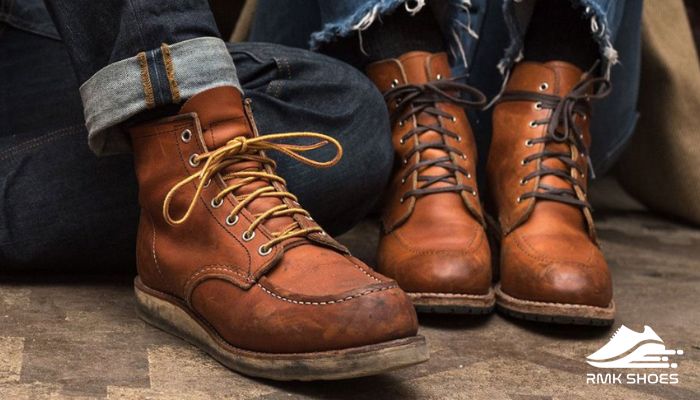 Along with all the quality features, their price is also higher than the other American boot manufacturer constructed moc toe boots. The brand charges $299.99 for a single pair of 875.
Personally, I can't afford the price, but after many reviews and research, I can say the price is worth it for their exclusive attribute.
But for all these facilities there are some difficulties also, and the major one is they are really hard to break in. They do not compromise during the break-in period. Sometimes Red Wing 875 boots take 2 or 3 weeks to complete the whole break-in process.
If you purchase a pair of Red Wing 875 boots for any special occasion or program, I suggest you prepare them before that special day. Otherwise, you will feel some cramps in your feet.
After wearing 2 or 3 weeks consistently, you will get the reward for your compromise. The insole will be molded according to your foot shape and size.
Follow our guide on Red Wing vs Irish Setter.
How do You Make Red Wings Comfortable?
If you purchase the correct size of your Red Wing boots, then you complete your most difficult part.
There are some surefire things if you follow them, then maybe you will get instant comfort from your leather boots.
Here are the techniques: 
Use an extra pair of insoles made by Red Wing for instant support, you have to hit them before inserting them into the boots.
You may continue your walking, running and jogging with them.
Try some exercise after wearing these boots, like jumping jacks, squat jumps, etcetera.
Use thick woolen soft socks for foot cushioning.
These are the common and simple ways you can try with your Red Wing boots.
Final Look
All in all, breaking in your Red Wings may take more patience or hard work. You might be clear about do's or don'ts while you are in the Break in phase.
The suggestion is, please complete the procedure carefully or else the boots might crack.
I hope this guide helps you to get your desired outcome. Share with me in the comment section which part is most interesting and effective for you.