When it comes to work boots, comfort matters. Red wing and Irish setter manufacturers know the workers' choice and give them a heritage look as well.
When you're planning to buy a new pair of shoes for daily work purposes, Maybe you are confused between them.
Red Wing and Irish Setter are both renowned brands belonging to the same parent company.
According to the rich features they provide, you can easily pick one of them for your daily use. After using both shoe brands, I have found various similarities and differences which help you in choosing the perfect one.
I am aware of the questions and inquiries you may be trying to think about. Don't worry, and I will help you to choose the best one for you which is suitable for your working environment.
Keep reading for the in-depth comparison.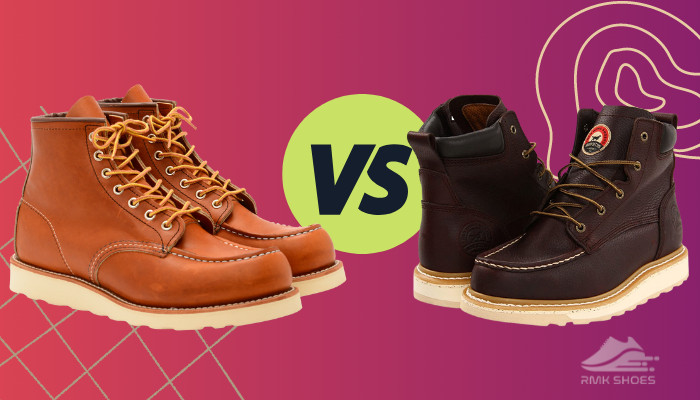 History of Red Wing
Red Wing was founded by an American shoe merchant called Charles Beckman. In 1905 he crafted comfortable and durable shoes for American workers.
The original Red Wing production is built on the corner of Main Street and Potter in Minnesota, where the brand designs and crafts its boots by hand.
The first boots and shoes featured "pegged and nailed construction" according to their company norms. Red Wing first produced their famous Moc Toe boots, which is a signature model.
They are famous for their leather working boots which are fully covered by S.S. leather. Red wing boots are known for their quality and craftsmanship, which is the main benchmark of their shoes.
You may also like to read: Red Wing vs Thursday Boots.
During the second world war in 1917, the brand produced model no. 1088 for the US army. Which was tough, long-lasting, and protected their feet.
President, J.R. Sweasy, Irish Setter, and many are the infant companies of the renowned Red Wing brand.
When we chatter about ancient boots brands, Red Wing is the first name. It was founded in 1905.
That brand launched a new boot – model 854, in 1950 and debuted a brand called Irish Setter.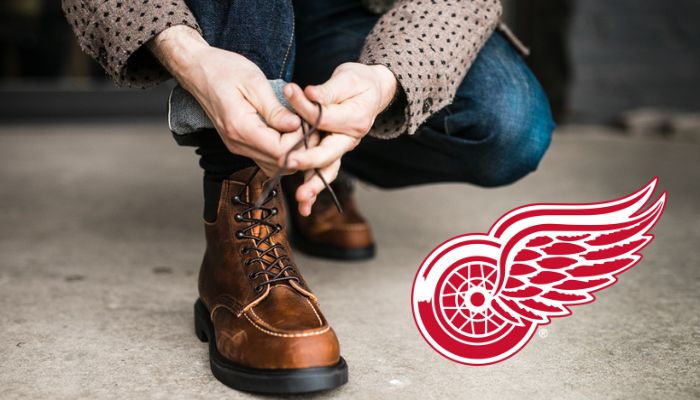 However, Irish setters are popular for their new technology, modern looks and fair price.
They launched different types of shoes according to their tough profession like farmers, soldiers, hunters, postmen, etcetera.
In 1986, The first waterproof double-layered leather boot was made by the Red Wing company.
Red Wing vs Irish Setter: 7 key Differences
Red Wing and Irish Setter brands know about their target customer and  they are concerned about their choices.
When you think of picking a good pair of work boots, you sincerely choose one of them.
While Red Wing maintains their heritage look with its comfort materials, Irish Setter chooses worker's and hunter's comfort first. Cause of their mother company, there are some similarities, but their differences are remarkable.
Let's start the Comparison by looking at the leading aspects:
Materials
According to their experience, they choose the S.S. foot training leather for the upper portion. S.S. is the best quality, and high grain leather is known for its durability. The question is, if both brands are using the same leather, then why did red wing take the double price?
Irish Setter uses P.U. leather for their shoe footbed, which is made of organic polymer material. On the other hand, Red Wing retains their features with the true leather footbed.
Because of this difference, Irish Setter weighs half of the Red Wings shoe.
Some people love the rich antique look, which is the genuine quality of red wings, while others prefer Irish setter for their fashionable look, like new anti-slip rubbers.
Red Wings shoes are the most famous brand for their American Work Boots. This brand has held its quality for 110+ years and is still renowned for its American manufacturers.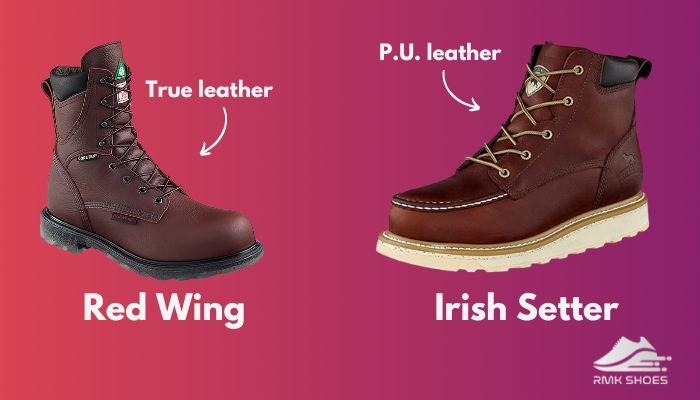 Red Wings launched Irish setter in 1950 for the American hunters. After that, they manufacture some budget-friendly and fashionable work boots.
Boot Construction
Both Red Wings and Irish setter use their Goodyear Welt construction for their Moc Toe Boots, but there is some small difference in their manufacturing process.
Red Wings boots have some simple leather paneling and thick, robust stitching, which is commonly seen in heritage shoes.
Another hand, the Irish setter has more thinner paneling and stitching in the upper part of the shoes.
Red wing uses the traditional constructive technique, and Irish Setter uses the latest constructive strategy. Irish Setter recently implemented some UltraDry and Moisture Management techniques. For those technologies that boot keeps your feet cool and dehydrated.
Outsole Construction
Irish Setter and Red Wing both brands use the Christy wedge rubber sole for their classic toe boots. The outsoles have sallow lugs to deter mud and debris.
The outsole of Irish Setter offers 475-degree heat resistance; these soles are oil, slip, and comparison resistant. The Ashby model of Irish setter has Electric Hazard ASTM F2413-11 safety standards.
The heritage Moc Toe shoes of Red Wings outsole have all the safety features with minimum safety standards.
Red Wing has some boots which have all those safety features, but they weren't made in the USA. Red wing shoes are made in the USA, so they don't need any safety features.
Break in Period
The Break in Period of both boots is different from each other. Irish setter uses the padded and removable PU leather footbed, which offers instant comfort for workers.
It adjusts more easily with your foot than heavy leather. But the lower part of their footbed is not repairable once it gets damaged.
Red wing uses the same luxury leather for this reason. It takes some time to adjust, but when it adjusts to your footbed, you will feel a different level of comfort. It molds according to your feet, and the good news is it's repairable if it gets slightly damaged.
Comfort & Fit
Irish Setter boots give wearers instant comfort for their padded footbed and their light weight. The comfort and fitness still depend on which model you choose and if it goes with your foot style.
Irish Setter suggests you buy the exact size of your feet or a half size smaller. There are various types of work boots in Irish Setter, and they also have different features.
For the ultimate comfort of the leather footbed shoes, Red Wings suggest you get a half size smaller than your other shoes. Their silky and synthetic sole gives you the best comfort after the break-in periods.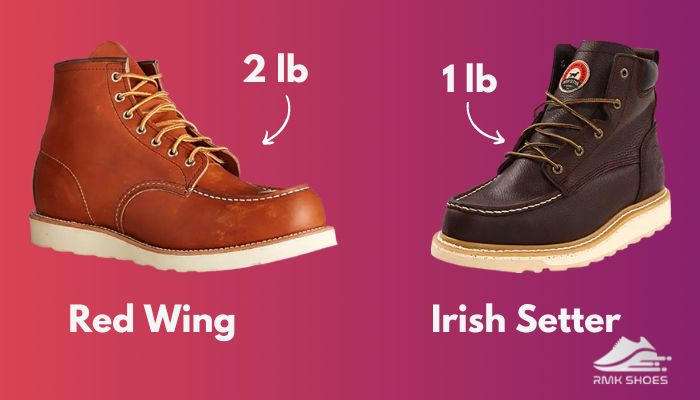 Some people prefer light work boots for their tight working schedule, so Irish Setter is a blessing for them. The Irish Setter Ashby weighs about 1 lb, while the famous Red Wings Moc Toe weighs approximately 2 lb.
Check out our separate post: Red Wing Boots Sizing Guide.
Functionality
The main difference between Red Wing and Irish Setter is their craftsmanship. Red Wings boots are crafted and designed with a vision of rich heritage leather boots. They focus on manufacturing traditional, long-lasting work boots.
While the Irish Setter functions as an innovative and modern technology for making boots. They introduce the different features for a rough and safe work situation.
Price
You all know the huge differences between both Red Wing and Irish Setter shoes; the craftsmanship is the main reason behind this variation.
Red Wing designed their handmade leather boots quality with a heritage look; for this reason, their boot price is higher than others. Red wing boots for men cost approximately $220- $370, and the women's boot charges $280- $400 per piece.
Irish Setter offers the same features at a cheaper rate. Their starting price of work boots is $89 only. They also offer high-priced boots like $299-$315.
The Irish Setter is special for its high-quality hunting and hiking boots at a reasonable price.
Red Wing vs Irish Setter: Which one should you get?
This is the question for all those people who are looking for better work boots for their regular use for working purposes. The answer is straight and simple.
These two are the most popular brands for their longevity and their fashionable outlook. Irish Setter gives more attention to boots for working and hunting, while Red Wing is concerned about their looks and outcome.
If you are looking for long-lasting pure leather work boots, Red Wing is the best option for them. Red Wings offer you a heritage boot that is classic and made by an American manufacturer. This is the most expensive work boot on the market. 
But these particular work boots are recraftable, and the unique option is repairable, making them different from other work boots.
Also, follow our epic guide to know Red Wing Boots vs. Georgia Boots: Which Is The Best For You?
Red wing boots are customizable, so if you want a particular look for your boot, you can do that.
Moreover, the unique feature of these boots is that they are repairable. You won't find this option in other work boots.
The basic leather paneling and simple look enhance their look; it looks more ancient and unique.
The basic leather paneling of Red Wing boots enhances their simple look. It also makes these boots look ancient and unique.
Irish Setter boot is perfect for those who are looking for comfort first.
It is a great comparison with a lower price than Red Wings.
If you compare the price of these boots, you would see that Irish setter is priced lower than Red wing.
Irish Setter boots are crafted for risky and rough working conditions. The latest technology with safety measures gives them a great advantage over other similar brands.
If you work in a rigorous working environment, these boots will make your day safer.
Moreover, If you're looking for a budget option, Irish setter would be the best because they are cheaper than Red wing.
However, Irish Setter boots are not repairable like Red wing. As a result, you might replace them sooner than red wing boots.
Above all, red wing and Irish Setter are not the only options when you buy a new pair of work boots. Various types of boots are crafted and designed with similar features and safety measures.
FAQ
Who makes Irish Setter work boots?
Red wing shoe brand manufactures full-line hunting boots with the best safety features.
Is Red Wing made in America?
Yes, the Red wing shoes are primarily handmade in the USA.
How long does it take to break in Irish Setter boots?
Irish Setter boots take 1-2 weeks to adjust to your footbed.
Are Irish Setters good hiking boots?
Yes, The Irish Setter is an effective hunting and off-trail hiking boot.
Conclusion
When it comes to the question, which one should you get? The answer lies in the other question, what's your main purpose in getting a new pair of leather boots?
A good pair of work boots are a blessing for them because it keeps your feet safe and healthy. This protective footwear will save you from injuries and a rigorous environment.
Red Wing and Irish Setter are the most recognized brands in the market for their vintage look and durability. These brands share the same parent company; for this reason, you can find many similarities between these shoes.
Both Red Wing and Irish Setter maintain their leather working boots quality with a different manufacturing system.
Between both of them Red Wing and Irish Setter offer the best work boots in the market. Both brands incorporate the best features like durability, comfortable, pure leather boots.
However, according to your working situation you have to choose the desired one.
Follow our Exclusive Guide On Chelsea Boots.
Where Red Wing provides you life-long longevity , Irish Setter offers you the best safety features on their work boots.
After choosing one of them, don't forget to comment below.