You can only take advantage of any footwear only when you get your perfect size.
So, if you plan to buy a Red Wing boot, acquire proper knowledge about their sizing first. After all, you don't want to waste your money on the wrong-sizing boots, right?
In this article, I will provide an in-depth sizing guide of Red Wing boots that will help you achieve your perfect size. So, read ahead!
This article includes:
Sizing chart of Red Wing boots
How they fit
Guidelines for precise fitting
Tips To Follow While Buying Red Wing Boots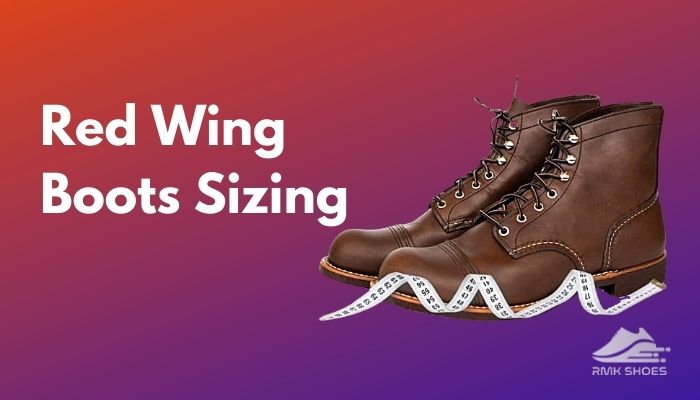 Are Red Wings boots true to size?
No, Red Wing boots usually run half a size larger than your true size. So, if your true feet size is 8, order the 7.5 size of Red Wing to have a proper boots fitting. Though sometimes, some models of this brand fit TTS like RW 606 style work boots, majority of the models fit broad.
However, the official statement suggest that you should get a full size down when to buy a RW pair as the leather boots will stretch a bit after passing the break-in period.
I recommend going a full size down only if you have narrow feet. Otherwise, half size down should be enough to have a secure fit.
Besides, know more about RW sizing and the measurement of your feet to avoid the risk of ending up in a too tight boot. Don't worry, to solve your sizing problem, I'm guiding you towards the right path. Continue reading.
Sizing Chart Of Red Wing Boots
It is always ideal to buy boots from a physical store in person. There you can correctly measure your feet by the fitting experts, and they will give you your exact boot size.
However, if you order online, you can still get your exact boot size. In that case, you have to measure your feet yourself.
All you have to do is, measure your feet length and width in centimeters and match your feet size with the sizing chart of Red Wing. If you need arch support or if you have wider feet, or if you want to know any other information, you can take help from their experts.
Here's the Red Wing Boot Size Chart: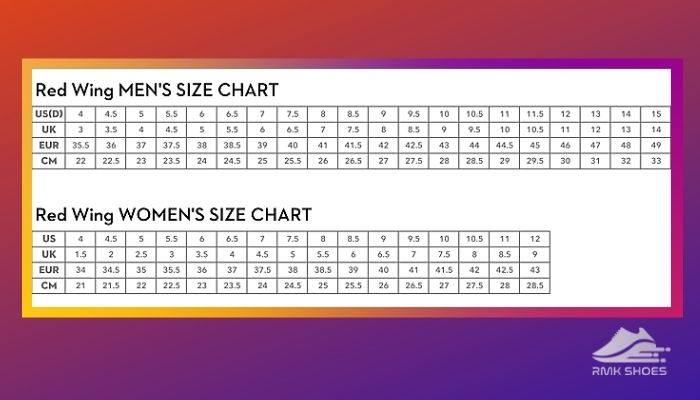 You may also like to read: Red Wing vs Thursday Boots.
Proper Sizing Guide of Red Wing Boots
Red Wing has a standard sizing of boots for both men and women. For men, most of the Red Wing boots come in a D fitting, and for women, a B fitting. Few designs are sold in an EE width, like the men's 6 inches safety work boots, with other widths varying from A to 3E.
Having being able to get the half size shoes is very important when it comes to buy boots. We all know the difference a half-shoe size can make, right?
Red Wing left no stones unturned to provide the size variation so that you can perfectly fit yours. Likewise, the sizes start at a range from a size 5 to a size 11, with half sizes in some women's designs.
Depending on the boot type, for men, there are sizes from a 7 through to a 16. Few styles of men's boots provide in half sizes between 6.5 and 11.5.
Red Wing Size D vs EE
Red wing boots are available in 3 types of width options – D, E and EE. however, there are a big difference between the size D and the size EE. in terms of RW sizing, D sized boots are typically narrowed version of the shoes.
While most of the normal width boots fit the D size, Red Wing's size D fit a little narrower than others. For them, the size E is the neutral and widely used line.
On the other hand, EE width is for the extra wide feet people which is built wider. EE size is usually ¼" wider than the standard E size. And D is ¼" narrower than the E size.
Red Wing Iron Ranger Sizing Guide
Being built on no. 8 last, Red Wing Iron Ranger boots have plenty of space around toe. That bump toe feature allows a looser fit giving you the freedom to move more naturally.
The Iron Ranger boots fit broader than the size of your regular sneakers.
So, order half a size down than your real feet measurement. But if you're a narrow-footed fella, then you must down a whole size. Otherwise, your feet will get some extra room to slide around and end up getting blisters.
Put on some good quality wool socks while wearing your favourite Iron Ranger. That will help you avoiding soreness and hurtful blisters. Besides, socks like Merino Wool Socks are good for your feet. They can be your feet's best friend during the break-in period. Specially on the boots like RW Iron Ranger.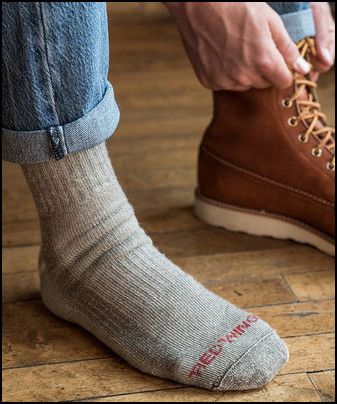 Anyways, the Blacksmith – another famous line of RW fit almost as same as the Iron Ranger. So if you wanna try a pair of Blacksmith, apply the guide I've mentioned for the IR.
Both of these boots are highly hyped and popular among youngstars. If you wanna buy your next boot and have a eye on the RW brand, I recommend checking the comparison between Red Wind Iron Ranger and Blacksmith.
Red Wing Moc Toe Sizing Guide
Just like the Iron Ranger, Red Wind Moc Toes are also fit a little larger than your regular sneakers. They come in 3 different versions of width – D, E & EE.
Order D and E width if you have a regular shape. And get EE when your feet are wider than average. However, if you're not sure about your width, order E and grab a half size smaller boot.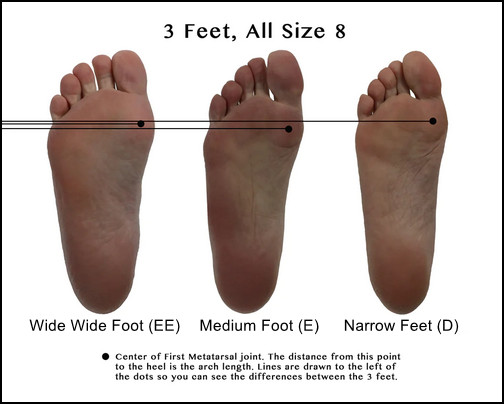 However, when it comes to fitting Moc Toes, ensure you have a snug fitting in the sides when you wear them for the first time. As RW's boots are made out of their own tanning company, the leather are tend to stretch out and break in after some wears.
So, going down only half a size will ensure a snug fit that will blend with your true size after some wears.
Proper Fitting Guide For Red wing boots
Red Wing comes in two different styles- the pull-on and the lace-up boots. Both the fitting are different from each other. You have to know certain things that will help you slide in the shoes smoothly and have a perfect fitting.
Let us begin with the guidelines for proper fitting.
7 Simple Ways To Get Perfect Fitting Of Pull-On Boots
Follow the steps below to ensure a perfect pull-on boots fitting:
Insert Insoles- Wear insoles inside the boots; this will improve the shoes' fit. Besides, if you have a problem with your feet, the insoles work excellently. It holds the feet in its place in the boots, holds up the arches, and gives relief from foot pain. Wearing insoles also occupy extra space if you feel your boot is a bit loose.
Wear Socks- Make it a habit to wear socks with any type of boots or shoes. What socks do is that if the boot is large, it takes up extra room to give you a proper fit. When the boot is new, it is rather hard, wearing socks will protect your skin from rubbing with the shoes.
Measure your Feet Properly- Always measure your feet' length in the afternoon. At daylight, our feet swell due to walking, and at the end of the day, our feet are largest. So, it's not a good idea to buy boots in the morning.
A little force to slide in the boots- Pull-on boots need a small force to push the feet down the heel. However, when putting the shoes on, don't expect your boots will glide on smoothly. But don't force it so hard that eventually, you will ruin the shape of your shoes. Also, when taking off the boots, you need to apply a little pressure to take off the shoes.
Ensure a Snug Fitting- You should feel snug and firm fit once you put on the pull-on Red Wing boots. Rather than too tight-fitting. If you think the fitting is too tight and you can't move your toes, you will have the wrong size.
A Little Heel Slippage- When the pull-on boots are new, you will feel a slight heel slippage. But over time, once you break in the shoes, the heel slippage will go away as the sole becomes flexible.
Proper fit- Your heels should not slip in and out of the boots; instead, they should hold the heel comfortably in its place.
Remember and follow the tips I've given above to ensure a perfect fitting of your pull-on boots.
4 Easy Ways to Get Perfect Fitting of Lace-Up Boots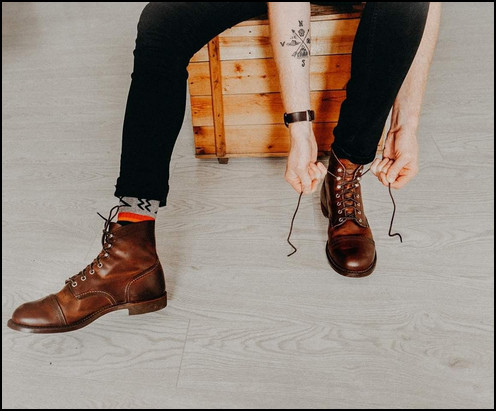 Wearing socks and insoles inside the boots and measuring your feet in the afternoon also implies lace-up boots.
Here are the ways to fit your lace-up boots perfectly:
Lace-up the Boots– Lacing the boots ensures your foot is secured; hold your foot in its place. Moreover, lacing-up will decrease the chances of heel slippage because you can control the fitting laces' level. Also, to reduce the pressure on the toes, ankles, or insteps, you can miss out on the boots' eyelet. But keep in mind, don't lace up the boots too tight that end up having swelling feet.
Avoid Tight-fitting Boots– If the boot is too tight, corn or bursitis can form on your feet. Your boots should be comfortable to wear rather than too fitting.
Enough Space Around Toes– Your boots should be snug fit rather than a too-tight fit. Ensure the area around the toes is not very tight-fitted or compressed in the forepart of the shoes. There should be space around the toes for movement..
Removable Insole-If the boot has detachable insoles, take it out. Your foot should not flow over the side of the shoes when you stand on them.
Red Wing boots are iconic footwear for both work and casual use either it's lace-up or pull-on styles. These beasts are too functional as work boots that they can compete neck and neck with Caterpillar.
So, buy them now by following our guideline to get perfect sizing. This footwear will serve you the whole day at work and then rock you at the after-work party.
Things to Follow While Buying Red Wing Boots
Whenever you buy a new pair of Red Wing boots, keep in mind, always take a new measurement of your feet. Don't use the previous feet measurement because, over time, our feet size changes.
A new pair of boots will be a tad bit of tight around the toes, but as you wear the shoes regularly over time, they will stretch out slightly. However, when it comes to RW boots, only a slight stretch will occur. So don't try to buy too-tight shoes on that note.
Red Wing boots fit larger than any other boots. Mostly you will not drop half to full size in their shoes. But this entirely depends upon your feet's shape, whether you have a more comprehensive or tapered fitting.
FAQs
How Should a New Red Wing boots Fit?
Your boots should feel a little tight from the sides; you will feel tighter if used to wearing fashion boots or trainers. Get the smallest size of boots but make sure your toes have enough space for movement. You need to test to see if the boot flexes in the correct place.
Are Red Wing boots in style?
Yes, undoubtedly. Though at first, Red Wing made only work boots, but they came up with their fashion boots after much appreciation. A particular style of Red Wings has the right features to match a more formal outfit.
How should red wing boots fit?
Red Wing boots should not feel tight; rather, they should be snug, with little or no heel slippage, and enough space should be in the forepart of your boots to move your toes.
Conclusion
Red Wing boots have a vast collection ranging from work boots to casual boots with a lace-up or pull-on style. Just keep all the techniques in mind mentioned above, and you will be able to get your preferred Red wing boots in the perfect sizing.
I tried to give you all the information that might help you. Don't forget to share your opinion on how this article helped you. I would love to hear that.