If you are looking to buy work boots, then two of the brands bound to pop up in your head are Red Wings Boots and Georgia Boots.
So, which brand should you opt for? How sustainable are the boots? Which one provides the best quality? How does the price compare? And most importantly, which one is the best option for you?
If you are confused between these two brands – there's no need to worry; I have got it all covered.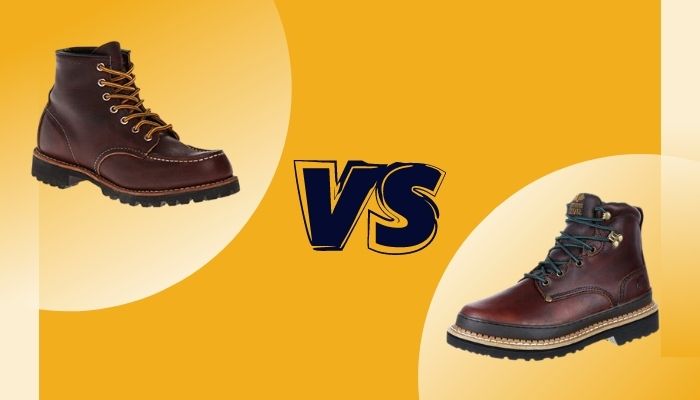 Keep reading as I cover everything you need to know to make up your mind and choose what suits you best.
Red Wing Boots
Red Wing Boots have been one of the leading brands for making work boots that can hold up and give you the optimum grip for working in areas that may be slippery or unconventional.
So, what is so special about Red Wing work boots? Let's find out.
How Are They Made?
Believe it or not, to date, many of the Red Wing shoes are stitched by hand. The reason for the manual stitching is that the technology available does not match the high standards of the Red Wing boots.
Thus, for the best results and ultimate customer satisfaction, they are hand-stitched.
As a result, manufacturing a high-quality boot from start to finish, it requires a large group of workers that are committed and have a keen eye for detail.
The leather used to manufacture their boots are tanned, stretched, and rolled in their very own tannery to produce the most durable leather for high-quality boots.
You may also like to read: Red Wing vs Thursday Boots.
The Soles Of Red Wing Boots
The soles of Red Wing boots are undoubtedly one of its most appealing features.
Their soles are known as the lug soles, which were invented by Vibram. So, what's so special about these soles?
The lug soles used in Red Wing boots have holes lining their edge. These holes give a significant amount of traction, responsible for the excellent grip that these boots provide.
On the other hand, Their non-marking outsole, Traction Tred, is one of the most recognizable features of their boots – setting them apart from the rest.
Red Wing's Longevity
When you're buying a pair of boots and paying quite the price for it, you expect the boots to last for a decent time.
If it's the Red Wing boots that you are buying, then you are in luck.
There are people who bought their boots, and they have lasted them for more than ten years, with resoling the boots only once or twice (max). So, this must give you an idea of how well these boots perform.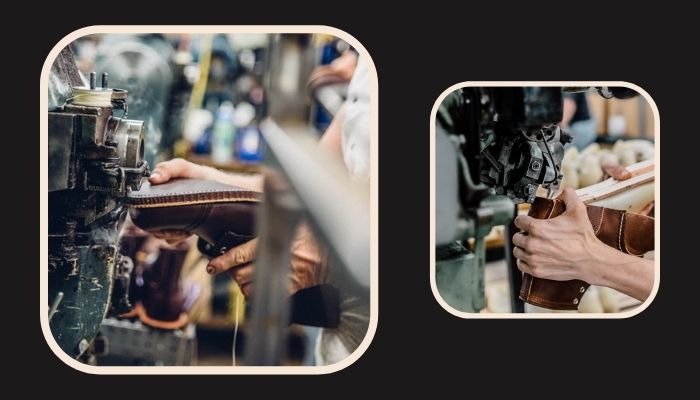 However, in recent times, I have heard quite a few people complain about their performance and longevity.
The primary reason behind this is that the country of manufacture plays a role in this issue.
Red Wing boots are manufactured in China, sadly, so not perform or last as long as those manufactured in America.
So, I would strongly suggest you check the country of origin.
For the ones made in America, even if you have to pay much more than for those made in China, they will last you significantly longer with better performance and durability.
Red Wing's Price
The pricing of the boots plays a huge role in making your choice between two brands.
Red Wing Boots range between a hundred to four hundred dollars, whereas their boots for women range between two hundred to four hundred dollars.
So, comparatively, the Red Wing boots are a bit on the expensive side. But you have to realize that it's the high-quality performance, day-long comfort, and premium craftsmanship that you are paying for.
Follow our guide to know Red Wing VS Caterpillar: Who Makes The Best Boots.
Georgia Boots
Georgia Boots are a really popular brand in America, known extensively for its dependable, long-lasting, and comfortable boots.
Their high quality boots have all the features in demand for anyone who needs work boots.
So, what makes them special? How are they different from RedWing boots? Keep reading to find out.
How Are They Made?
Since its launch in the 1930s, the company has seen quite a shift. Their boots are produced in Puerto Rico and the Dominican Republic.
Their infamous lightweight work boots are machine manufactured, which gives them a much more affordable price range.
However, they are much loved by people who wear work boots because of their comfortable and dependable boots.
What's Special About Georgia Boots?
Georgia boots are famous for their safety and durability all while maintaining the comfort and light-weight feel to the boots. However, some of them can get a bit too warm or heavy at times.
Their boots are developed and produced by the company utilizing the most up-to-date technology available. The boots have impressive longevity, protection, and comfort, both on and off the job.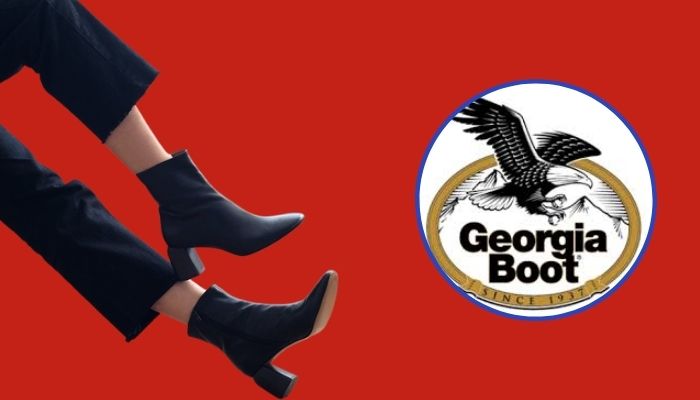 Like the Red Wing Boots, they also provide Vibram soles, in addition to a waterproof system and anti-impact technology.
They have excellent slip resistance, along with other features that provide additional protection to the feet and the worker alike.
Georgia's Price
When buying work boots, price is always something that deserves to be somewhere on the top of the priority list.
Since they are mostly costly, getting work boots that serve the purpose at a reasonable price can be a real challenge. But Georgia Boots make things easier in this case.
The price range for Georgia Boots ranges from a hundred to 300 dollars. They provide excellent quality boots with some of the most desirable features at prices much lower than other brands.
Without compromising on the quality and performance of the boots, you can even get them at even lower prices when they have different sales and promotions going on.
All you have to do is keep an eye out for what's going on on their website.
So, if you have a budget crunch, you can definitely opt for the Georgia boots without worrying about the quality of the boots not being good.
Which One Should You Opt For?
Weighing in all the factors, both the brands provide excellent quality boots.
With features such as waterproofing, Vibram soles, steel-toe, overall protection, and comfort, their boots check all the boxes.
However, when it comes to durability and longevity, Red Wing takes the cake. People who have been using their boots for decades will be able to tell you just how reliable and comfortable their boots are.
So, when it comes to Red Wing boots – even if they are a bit pricey, in my opinion, they are worth it.
On the other hand, if you are shopping with a budget, there is no need for you to worry.
If you want to save some cash without worrying about the quality of the boots dropping, you can definitely opt for Georgia Boots.
Their reviews and performance profile are excellent with remarkable consistency. So, they are the perfect choice for you if you want to buy your work boots at a reasonable price.
Check out our separate post: Red Wing Boots Sizing Guide.
Conclusion
In conclusion, I would like to say that no one likes buying work boots again and again.
It's best to think of them as an investment were getting a pair that will provide you with top-notch safety, comfort, and durability should be the one that you opt for.
So, make your decision wisely, and let us know which one you have picked and why!
I hope this article was helpful for you, don't forget to share your experience with these brands if you have ever tried them.