Do you have trouble deciding between Red Wing and Caterpillar boots?
Chill! It's time to put an end to your dilemma.
After many hours of research and analyzing every miniature aspect, I am here with a complete guide on Red Wing and Caterpillar boots that will assist you in finding your ideal boots.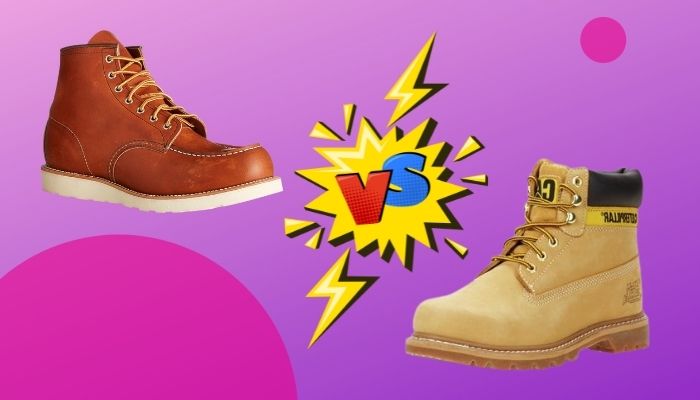 So let's go straight into the writing to learn everything there is to know.
Red Wing vs Caterpillar: An In-Depth Analysis
Caterpillar and Red Wing are two of the most well-known boot manufacturers. Both brands have excellent and distinct traits that set them apart from one another.
However, Red Wing and Caterpillar boots have advantages and disadvantages, making it easy to pick between them.
Here are 10 features of Red Wing and Caterpillar boots that will help you to determine which brand is better:
1. Material
Both Red Wing and Caterpillar use high-quality full-grain leather, in their boots. The full-grain leather is durable enough to withstand abrasion.
The use of leather as a boot upper makes them very soft, as leather is breathable, it keeps the feet cool in hot weather.
The only difference between the leathers of the two boots is that Red Wing's is oil-tanned, and Caterpillar's isn't.
The leather has been oil-tanned to make it more sturdy and gives a touch of waterproofing.
Apart from high-quality leather, Red Wing and Caterpillar are also known for their suede and nubuck boots.
Which is better: Red Wing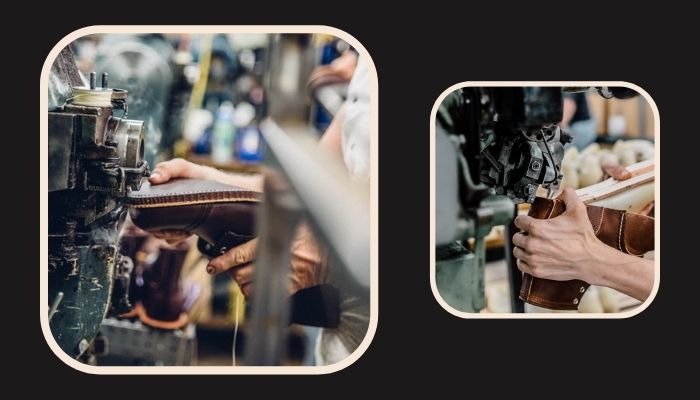 You may also like to read: Red Wing vs Thursday Boots.
2. Insole
The insole of the Red Wing is made in the old-fashioned style, with a cork layer glued beneath the leather insole.
The combination of cork and leather allows the insole to mold to the shape of your foot, increasing comfort.
Not to mention that the leather insole of Red Wing Boots does not sweat excessively, leaving the feet smelling fresh.
Caterpillar, on the other hand, uses ultra-lightweight and highly flexible dual-density foam in its insole. The insole is also detachable. You may simply remove and wash them if they become soiled.
Which is better: Draw
3. Outsole
The outsoles of both Red Wing and Caterpillar are made of strong rubber.
Despite the fact that both companies use rubber outsoles, they serve different purposes. How?
The outsole of the Red Wing is flatter and has less tread, which reduces traction on uneven and rough roadways.
Furthermore, the Red Wing outsole wears out quickly. But that's not a problem because the top and sole aren't stitched together; instead, they're joined by a welt so you can resole them.
Caterpillar has a thick rubber outsole with aggressive grooves that give excellent traction on all kinds of surfaces.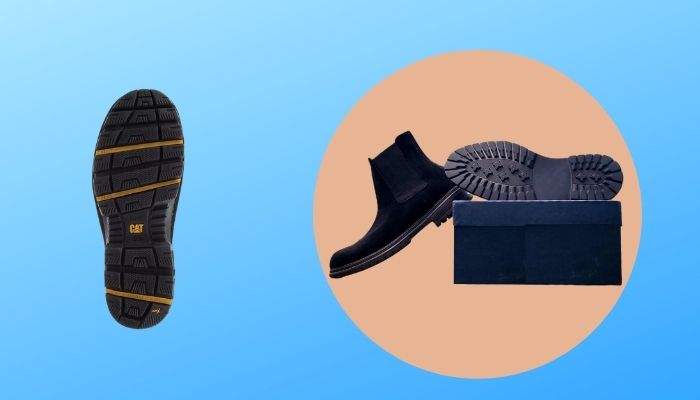 Which is better: Caterpillar
4. Waterproof
Because Red Wing boots are constructed of oil-tanned leather, they are water-resistant to some extent. However, they are not entirely waterproof.
When the Red Wing is submerged in water for an extended time, moisture seeps through the leather, drenching the feet. However, I believe your feet will remain dry if you merely walk on water.
On the other side, Caterpillar includes waterproof lining in their boots, preventing water from entering and keeping your feet fresh.
Both waterproof and non-waterproof boots are available from Red Wing and Caterpillar. It is entirely up to you which one you choose.
Which is better: Caterpillar 
5. Durability
Both Red Wing and Caterpillar boots are quite durable, but Red Wing takes the cake.
Red Wing boots are high-performance thanks to their thick rubber outsole, leather footbed, and leather upper.
A pair of Red Wing boots can survive for more than a decade or two. If properly cared for, a Red Wing with up to 5 resoles can be your good companion.
Caterpillar boots are strong but not strong enough to survive more than 900 miles. If you want to extend the life of your shoes, you should clean them after each use.
Which is better: Red Wing
Check out our separate post: Red Wing Boots Sizing Guide.
6. Break-In Period
The use of leather is prevalent throughout Red Wing, making the boots stiff and necessitating break-in time.
Red Wing boots aren't going to break-in in just two to three days. Break-in is a natural process that takes time.
All you have to do is walk in the boots to allow them to form to the pattern of your foot. But believe me when I say that after Red Wing has broken in, the level of comfort just rises and rises.
Caterpillar boots, on the other hand, are comfortable right out of the box and do not require any break-in time.
Which is better: Caterpillar
7. Gusseted Tongue
The tongue of the Red Wing boots is stiff at first and must be broken in.
The gusseted tongue softens after the boots have been broken in. Furthermore, the tongue of the Red Wing boot is sufficiently high to prevent dirt or insects from entering the boots.
Caterpillar's tongue, on the other hand, is padded and does not rub or pinch the foot. Moreover, the padded tongue protects the feet from the pressure of the laces.
The ankles are also padded, which adds to the feet' comfort and support.
Which is better: Draw
8. Stitching
Red Wing still uses the traditional method of sewing their boots. On the areas where their feet move the most, the boots are triple sewn with a Puritan stitch machine.
They're extremely durable, thanks to the Puritan stitch.
The construction of both Red Wing and Caterpillar boots is 360 degrees welted. The welt is a leather thread that runs between the upper and the outsole of the shoe.
The advantage of welt construction is that it secures the boots and keeps water out of the heel.
But, thanks to the Puritan stitch; Red Wing edges this one.
Which is better: Red Wing 
9. Comfort
The comfort of Red Wing boots improves with each passing day. Because of the full-grain leather, the boots get comfier the longer you wear them.
Similarly, Caterpillar boots have a padded footbed that cushions the feet, allowing you to walk for a long time without tiring your feet.
Which is better: Draw
10. Low-Price
The boots sold by Red Wing are quite expensive. Red Wing boots cost between $250 and $600, which is a lot of money for just a pair of boots.
On the other hand, Caterpillar boots are quite affordable as work boots. Caterpillar boots are only $65-$140.
Caterpillar boots may be inexpensive, but that does not mean they are of poor quality.
Which is better: Caterpillar.
Which Brand Is Better? (Expert Opinion)
If you've made it this far, I'm guessing you've evaluated the benefits and drawbacks of Red Wing and Caterpillar boots. So, which brand met your expectations?
Following extensive research, I discovered that the majority of individuals picked Red Wing as the top boot brand. And, in reality, Red Wing is one of the world's top five most recognizable boot brands.
But that doesn't make Caterpillar boots any less. Caterpillar boots are worth it at such a low price.
Both brands are excellent in their respective fields, in my opinion. The final decision on what style of footwear you desire is yours.
Don't forget to tell us which brand you've chosen. We enjoy hearing from our readers.