Do you know who makes the best boots among Red Wing and Thursday?
If not, this article will help you.
I get a lot of questions about the performances of these two boots.
So I thought I'd share the differences and similarities between the two brands so you can decide which brand's boots would be the best for you.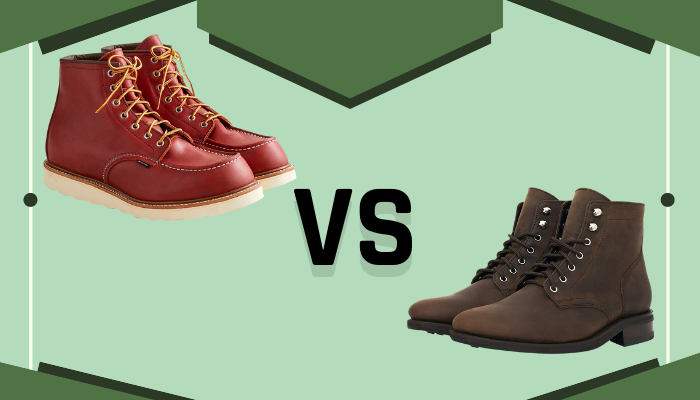 So let's not waste any more time and dive straight into the writing to figure out the answer.
Differences Between Red Wing And Thursday Boots
Thursday launched its boots in 2014, while Red Wing has been in the boot industry for over a century.
Despite being a newbie, Thursday boots have some excellent functionality that allows them to compete against one of the top boot manufacturers, Red Wing.
Red Wing and Thursday boots compete head-to-head, making it tough to pick between them at times.
That is why I have highlighted the differences between Red Wing and Thursday boots so that you can decide which is better.
Here are the main differences between Red Wing and Thursday boots:
Leather
The overall construction of the Red Wing boots is made of full-grain leather, which makes them sturdy and heavy-duty footwear.
The leather on Red Wing boots is oil-tanned in their own tannery. They still use the traditional tanning process, which involves soaking the leather in wood drums with tree oils and tanning ingredients.
Red Wing boots have a thicker leather than regular boots, with 2.3-2.5 millimeters. The thick leather upper is resistant to tearing and wear.
Because the leather is thick, they are stiff when new. That's why Red Wings boots take a long time to break-in. They may be a bit painful to wear at first, but once they have broken in, they are unbelievably comfortable.
On the other hand, Thursday boots are also made of leather but their tanning process is different.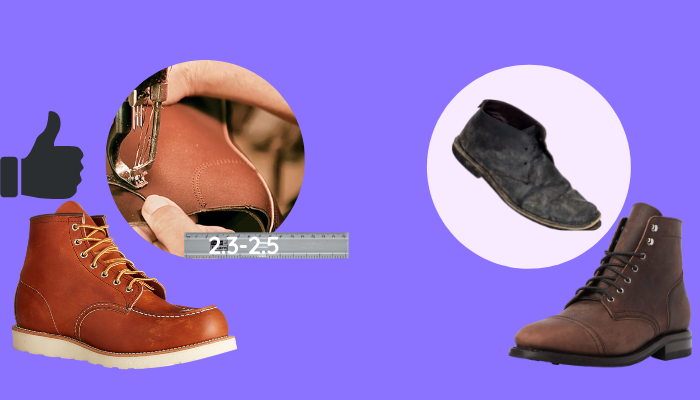 Thursday boots are made from a mix of vegetable and chrome tanned leather. Vegetable tanning includes natural tanning ingredients that improve the leather with age.
Thursday boots' leather is very soft and not as thick as Red Wing boots, so they don't need to be broken in.
Because the leather is so soft, it stretches excessively over time, causing the boot to lose its shape.
Follow our guide to know Red Wing VS Caterpillar: Who Makes The Best Boots.
Appearance
Red Wing boots are more informal, with a less beefy appearance. Due to the oil-tanned leather, Red Wing boots have a matte finishing that makes them wearable anywhere.
Additionally, Red Wings' glossy nickel eyelets are a wonderful match for the matte leather.
Thursday boots have a gleaming finish that appears more masculine and appropriate for formal occasions.
However, you can even wear them to a casual party. You'll definitely look dapper!
Because the Thursday boots have a beautiful shine to them, the eyelets aren't as prominent.
In terms of appearance, both Red Wing and Thursday boots are stunning.
Insole
The Red Wing's insole is constructed in the traditional manner, with a cork layer glued beneath the leather insole.
The combo of cork and leather allows the insole to adapt to your foot's shape, boosting comfort.
However, the Red Wing insole is not good at shock absorption, which means it can't absorb the huge energy that enters the body with each stride.
The insoles of Thursday boots are also made of cork and leather, but they also incorporate EVA foam for added comfort.
As a result, the insoles of Thursday boots work as a superb shock absorber, dissipating the tremendous energy that your feet experience when walking.
Check out our separate post: Red Wing Boots Sizing Guide.
Durability
The combination of thick rubber outsole, leather footbed, and leather upper make the Red Wing a high-performance boot.
A pair of Red Wing boots will last for at least a decade. However, in order for Red Wing to survive as long as possible, they must be cleaned and cared for on a regular basis.
Red Wing boots that are well-maintained can last up to two decades.
Thursday boots are also long-lasting, but not as much as Red Wing boots. For a longer lifespan, Thursday boots require adequate attention and upkeep. A pair of Thursday boots last about 2-3 years on average.
Toe-Box
Red Wing boots have a round toe, which may not appear stylish, but it is beneficial to the feet.
The toe box of the rounded toe is larger, allowing your toes to wiggle.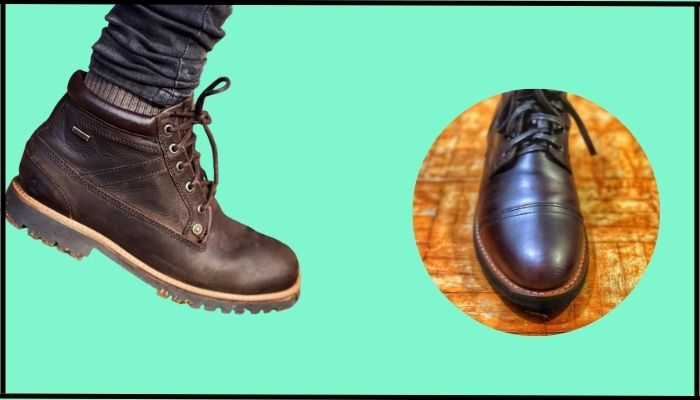 Thursday boots have a slightly pointed round toe, which looks smart but narrows the toe box.
Boots with a narrow toe crush the toes and cause a variety of foot problems.
Price
Red Wing boots are quite expensive, but their qualities and top-notch making justify the high price.
In this modern era, Red Wing still sews their boots in the traditional manner. They triple-stitch the regions where the feet move the most with the Puritan sewing machine.
The Puritan stitching makes the boots extremely durable.
Not to mention, the outsoles are meticulously connected to the midsoles by the best craftsman to assure perfection.
Red Wings has a wide collection of boots ranging from $250-$600.
On the flip side, Thursday boot's pricing is affordable. Because they do not use any particular stitching and everything is done by machine, their production is more, reducing the cost of the boots.
Thursday boots cost around $160-$200.
Similarities Between Red Wing And Thursday Boots
There are many differences between Red Wing and Thursday boots, but there share some similarities that allow them to be classified as "Sturdy boots."
Here are the similarities between Red Wing and Thursday boots:
The outsoles of both brands are built with a Vibram lug, which provides a great grip and traction on slick and uneven surfaces. The Vibram lug sole is said to be the world's strongest shoe sole.
Both Red Wing and Thursday boots are welted all the way around. The welt is a leather string that runs between the boot's upper and outsole. The benefit of welt construction is that it secures the boots while keeping water out of the heels.
Thursday and Red Wing boots provide long-lasting comfort without tiring the feet, thanks to their cushioned midsole.
Also, follow our epic guide to know Red Wing Boots vs. Georgia Boots: Which Is The Best For You?
Which Brand Is The Best?
So, what's your take on this topic? Which brand do you believe is the best?
Both Red Wing and Thursday boots have benefits and drawbacks that make them experts in their respective fields.
Red Wing and Thursday provide many boot styles, each of which may have unique qualities that affect how the boots perform.
I just put together a list of common features seen in both Red Wing and Thursday boots, so you get a thorough understanding of them.
Red Wing and Thursday boots are very different in terms of price and functionality. It's up to you to decide which brand to go with.
Adios, time to wrap up. Do let us know in the comment box if this article helped you, and don't forget to share this article with your friends and family.