Fashion or function ─ Red Wing is that trusted name whenever you're in need of a boot.
Iron Ranger and Blacksmith are two of Red Wing's flagship boots. Both of them are packed with the finest quality building materials that make them ultra durable.
As boots are highly functional, choosing the perfect pair can be quite difficult. There are many things you should inspect and factors you should consider while choosing a pair of boots.
And when it comes to choosing between two flagships, things can get pretty rough on your mind!
That's where this content comes in. I've researched for 7 long hours and gone through every public review out there to prepare a rock-solid comparison between Iron Ranger and Blacksmith.
After reading this, you'll never have to question any further about any of these two Red Wing's Heritage!
So, let's stick together till the very end to find out all the major differences.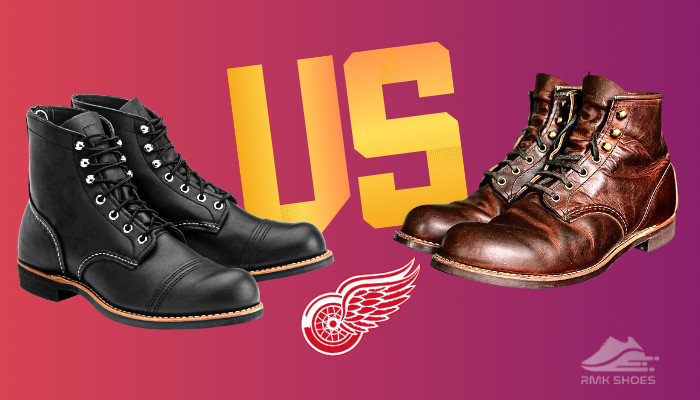 What is the Red Wing Heritage Line?
Heritage boots are those old-school designs boots that were iconic in the past and companies started reproducing the lines because of their inherent values.
It's basically the continuation of older models with a retouch of modernism that goes with the current trendy fashion.
Red Wings Heritage is one of Red Wing's bestselling boots lines. The well-curated handmade Red Wing Heritage was inspired by its very own history of serving the nation.
It all began with fixing the ill-fitting boots to give workers the utmost comfort and utility during their active hours. Back in 1905, the Red Wings boots company emerged when there was no one to provide these functionalities.
During World War 1, Red Wing made their signature Pershing boots for soldiers to assist them in wartime.
In respect of their legacy, Red Wings launched their Heritage line and brought back the old fashion alive with such iconic boots as Iron Ranger and Blacksmith.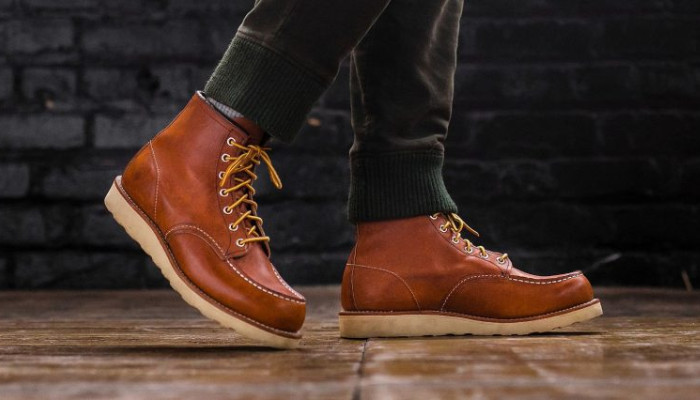 Red Wings served the nation back then and still, they're serving the nation with pride and honor by their Heritage line now.
As time passes, fashion changes. Red Wing has been so efficient in keeping this flow in mind while designing the Heritage line.
Iron Ranger and Blacksmith are two of their signature heritage boots. Both of them are well suited for the working environment while maintaining fashion.
Follow our epic guide on Red Wing vs Irish Setter
What are the differences between a Blacksmith and an Iron Ranger?
Though both Blacksmith and Iron Ranger were born in the same Heritage family you'll find many differences between these two.
Apparently, I noticed some similarities among these two flagships in terms of shoe construction and such. But when I dug deeper, I found more significant dissimilarities between Blacksmith and Iron Ranger than I thought there might be.
Let's go through the key differences between Blacksmith and Iron Ranger by their individual features:
Let's go through the key differences between Blacksmith and Iron Ranger and compare them head-to-head:
The Toecap
So the first identical difference you'll find at your first glance is the toecap. The blacksmith didn't come up with a toe cap, while the Iron Ranger has an authentic one.
Red Wings Iron Ranger left a solid layer of extra leather on the front, which is perfectly stitched with the upper. As a result, it gives the boots an elegant look yet the support your toe needs during your regular walk around.
So if you're someone who is a fan of the famous clown toe, then the Iron Ranger is for you. But you should consider the Blacksmith if you don't like that extra room inside of your toe.
Leather
The special thing about Red Wing is they provide genuine leather to all of their boots. And when it comes to its Heritage line, they use leather everywhere.
From upper to outsole, insole to toe-cap- there's full of leather coverage.
Iron Ranger was made of full grain oil-tanned leather while Blacksmith was originally chrome tanned. Both of these boots' leather came from Red Wing's very own SB foot tanning factory.
Oil-tanned leather is self-conditioning so you don't have to condition Iron Ranger more often whereas things aren't the same for the Blacksmith. So it needs a little more care than the Iron Ranger
The craftsmen of Iron Ranger and Blacksmith made them with multiple layers of leather which are as thick as 2.25mm.
And both of them are made out of a vegetable tanning process that gives a soft yet durable leather quality.
In terms of leather quality, Iron Ranger was made out of suede-like roughout leather whereas there's no suede or roughout leather in Blacksmith.
So in the race of leather differentiation, Iron Ranger is slightly ahead of Blacksmith!
You may also like to read: Red Wing vs Thursday Boots
Sole
When it comes to sole, there are more similarities than differences within the updated models. Only a minor difference you may find is shock absorption. I found Iron Ranger with more shock absorption than Blacksmith.
Both Iron Ranger and Blacksmith were packed with the optimum building materials.
Vibram 430 mini lugs, Goodyear welt, Cork Midsole, Celastic layer, Sock liner, Steel shank ─ what isn't there in the sole of a brand new Heritage?
The shoemaker of Red Wings packed both of their updated Iron Ranger and Blacksmith's soles with all of these high-quality building materials.
Previously, both boots had slipping issues with the sole as they were just flat. As a result, this big update in the sole has to emerge.
Now let's see what's inside the layers of these boots' soles:
Outsole
While dismantling these booths we found the addition of Vibram 430 mini lugs in both of their outsoles.
The lugs are not so thick and also not so thin. It's just decent and perfect to give you maximum grip and traction.
Moreover, there's a Goodyear welt rubber outsole with a wide steel shank that will add extra control.
Both Iron Ranger and Blacksmith are perfect for those who want traction but don't like thicker lugs to match up with their fashion.
Midsole
You'll find a cork midsole in both Iron Ranger and Blacksmith. Because of the addition of a cork midsole, these boots won't make a hard and plastic kinda feel.
These boots will provide a nice contoured edge and a footprint that'll bring comfort. And the cork midsole will make your weight evenly distributed on your feet.
Insole
Red Wing left leather everywhere in both Iron Ranger and Blacksmith boots. Consequently, you'll find fine thick leather inside the insole.
When we compare the insole with some of the top players, we find it very thicker yet more comfortable.
The insole of the Iron Ranger and Blacksmith is even thicker than $500 RM Williams!
And the advantage of having more leather is that leather is antibacterial and saves you from embarrassing stinking!
However, it's a good thing that they didn't use the fiberboard in the insole! That would have made these boots feel cheaper as per sole quality.
Durability
As we already discussed in the previous section, Red Wings make their boots out of pure leather directly from their own tannery.
However, you'll find a fine touch of leather everywhere whether it's within the entire sole, upper, heels, toe, vamp, or the counter.
Leather filling made both Iron Ranger and Blacksmith ultra-durable and long-lasting boots.  In addition, they used clinched nails to make the heels intact which made the heels of these boots very durable.
Moreover, the use of the triple ribbed shank inside the midsole made these Red Wings Heritages perfectly structured boots.
So in the question of durability, both Iron Ranger and Blacksmith are pretty good to go.
But if you wanna differentiate them in the durability matter, you can consider the stitching type.
Iron Ranger got triple stitching while Blacksmith got double. That's the only thing one of them is behind the other! Otherwise, you can choose any of them when it's the matter of long-lasting build quality.
Also read, Red Wing Boots Sizing Guide
Outlook
When talking about the outlook, Blacksmith is a little bit dressier than Iron Ranger.
The Laces
The laces they used in Blacksmith are flat waxed cotton whereas Iron Ranger used rounded, parachute cord, and nylon laces.
The Eyelets
Eyelets of Iron Ranger are the shiny nickel while Blacksmith left dull guilt on their boots. And to give you maximum ease both of the boots left 3 pairs of speed hooks on their eyelets.
The Stitches
Stitches are the place where designers can show their creativity. Red Wings' boots were so good at grabbing this opportunity very well as they properly used both chain stitching and puritan stitching.
Now, when comparing Iron Ranger and Blacksmith, Iron Ranger used the famous triple stitch on the backstay and the counter cap.
But Blacksmith used double stitching that made them a little bit weaker in front of a solid pair of Iron Ranger.
Above all, Blacksmith seems the clear winner here in terms of dressy casual outlook. But when it comes to functionality, Iron Ranger could be more functional as they used more efficient materials.
Color Options
Red Wing always uses 100% authentic leather to design their boots. For that reason, you'll find some natural-looking color on both Iron Ranger and Blacksmith boots.
Though the leather used in both of the boots is matte-looking, Iron Ranger has more color options than the Blacksmith.
Iron Ranger offers the following color options:
Hawthorne Muleskinner
Copper Rough and Tough
Amber Harness
Black Harness
Oxblood Mesa
Previously Blacksmith offered multiple color options. But at present time, they're officially offering only the Briar Oil Slick on their website. But you can still purchase the Copper rough and tough from Zappos and Amazon
So, if you're looking for a wide range of color options then go with the Iron Ranger!
However, there's another thing that should be taken into consideration while choosing between Iron Ranger and Blacksmith.
While Iron Ranger offers solid quality leather with vast color options, Blacksmith painted the colors on the leather instead of dying. As a result, Blacksmith was left with a show-through tendency.
So, if you don't like your boots to fade out and start revealing the leather color, then you should avoid buying the Blacksmith and go for the Iron Ranger instead.
But if you're like my brother and love the natural and raw look on your boots, then undoubtedly Blacksmith is for you!
Follow our guide to know Red Wing Boots vs. Georgia Boots: Which Is The Best For You?
Price
Red Wing's Heritage lines are pretty premium quality American boots. You're gonna need to spend some bucks to get those vintage-looking heavy-duty boots as both Iron Ranger and Blacksmith cost more than $300!
Blacksmith costs a little less than the Iron Ranger which is $319 for a pair. On the other hand, Iron Rangers cost $349 a pair for men. And if you're a female reader, it'll cost $339 for the women's version.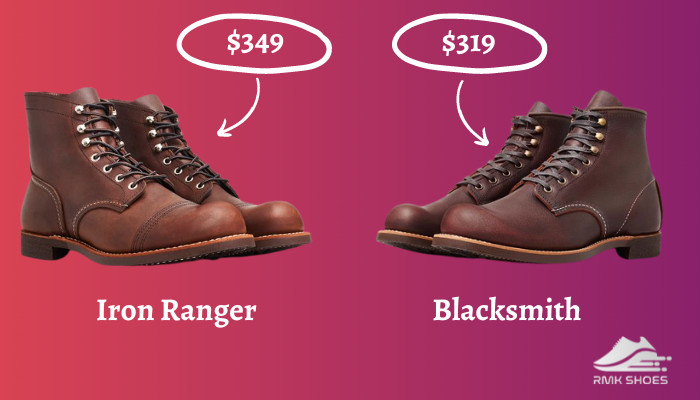 So if the extra $30 seems a burden to you, then you can comfortably pick the Blacksmith.
But if the price doesn't matter, then Iron Ranger would be a really good investment to adorn your wardrobe!
Fits and Sizing
Both Iron Ranger and Blacksmith come with the same number of last, which is 8. It will fit perfectly on your feet whatever size you have.
But there's one thing you should know before making the final verdict which is the available room in the toe area.
Though Iron Ranger has the additional toecap, it has comparably less space in the toe than the Blacksmith.
You'll find Blacksmith with extra quarter-inch space in the toe area. So if you're a narrow-footed person, I recommend you to use that extra room and grab a pair of Blacksmith.
The Break in Period
You'll have to spend at least two rough weeks until you can feel at home with an Iron Ranger. In terms of the break-in, Iron Ranger has this huge drawback on their boots.
On the contrary, Blacksmith provides a smooth break-in. Thus you'll get used to these boots in no time.
However, there is a slight drawback in the heels of a Blacksmith. But after giving it a full-night rest, you shouldn't feel any trouble walking into these.
So to sum it up, we can clearly see the winner here, right?
Iron Ranger vs. Blacksmith: The Pros and Cons
Flagships like Red Wings Iron Ranger and Blacksmith are very premium boots. Over the years, they got so much popularity.
Iron Ranger was even considered America's number one work boots! And Blacksmith is the iconic work boots that are very well-suited for the dress-up purpose.
But the moon has its own scars in spite of spreading soothing lights, and so have flagships!
So, let's now see through those shining lights as well as the scars of both Iron Ranger and Blacksmith:
Iron Ranger
Pros
»

100% pure leather and American-made.

»

Famous clown toe-cap.

»

Oil-tanned leather made it self-conditioning.

»

More leather and color options.

»

Vibram 430 mini lugs and Goodyear welt rubber outsole will give optimum traction.

»

Triple ribbed shank inside the midsole.

»

Best for resoling.
Cons
»

Less space in the toe area.

»

Longer break-in time.

»

Less dressy look than Blacksmith.

»

Using nails to intact the heels may bother some users.
Blacksmith
Pros
»

It's also American-made with 100% genuine leather.

»

More suitable for dress-up.

»

Shorter break-in period.

»

More space in the area.

»

Vibram 430 mini lugs and Goodyear welt rubber outsole.

»

The price is less than Iron Ranger.

»

Triple ribbed shank.
Cons
»

Lesser leather options.

»

Painted color on leather caused a see-through tendency.

»

Less color option.

»

Less shock absorption.

»

Double stitching.

»

No steel toe
What are the Similarities Between Red Wing Iron Ranger and Blacksmith Boots?
Iron Ranger and Blacksmith ─ the two finest Red Wings belong to the same heritage family. Consequently, you'll find more similarities than differences.
I've already mentioned both of their features in detail to point out the differences and there were similarities in those features as well.
So there's nothing much to say about them thoroughly again.
Here I'm gonna list all of those identical similarities in short so that you can find them easier to scan through once again.
Similarities between Red Wing Iron Ranger and Blacksmith boots:
Leather from their same tannery company called SB foot.
Vegetable tanning leather.
100% authentic leather with a handmade American touch.
Multi-layered sole with 2.25mm thick leather.
Use of Cork Midsole.
Vibram 430 mini lugs and Goodyear welt rubber outsole.
Triple Rib steel shank.
Same 8 size last.
Iron Ranger or Blacksmith? Which one Should you Pick?
While comparing the same family boots, it gets quite hard to decide which one should someone buy.
To make your life easier, I pulled down some points you should consider during making your purchase decision.
Let's go through these:
Iron Ranger is for Rugged Occasion and Blacksmith is for Casual Fashion
It depends on the occasion on which you're planning to wear boots. Iron Rangers are very good in rugged and heavy-duty environments.
But you should consider buying a pair of Blacksmith if you wanna wear them to a party with a classy dress to look cool.
Iron Ranger is more Expensive than Blacksmith
Iron Ranger is priced at $30 more than Blacksmith. So if you wanna save that $30 for some other things, then Blacksmith would be a perfect choice.
However, at a little lower price, getting versatile boots like Blacksmith will definitely be worth saving that extra bucks!
But if the price isn't an issue, then my first preference would be to go for the Iron Ranger!
Style Rough & Tough with Iron Ranger and Go Sleek & Cool with Blacksmith
If you're someone who needs a masculinity boost and likes rugged and rough & tough style, then Iron Ranger is definitely for you. This iconic beast will elevate your confidence as well as your functionality in no time.
On the other hand, Blacksmith is more suitable for those who want a plain, smooth, and sleek style to keep things minimal yet attractive.
Moreover, Iron Ranger is best for those who are passionate about classic clown toe-cap whereas Blacksmith is for those who love plain toe boots.
Related content you should read: Red Wing VS Caterpillar
FAQ
What is Red Wings Heritage?
Heritage is a line of shoes made by Red Wings. Both Iron Ranger and Blacksmith belong to Red Wing's Heritage family.
Does the Red Wing Blacksmith have a shank?
Yes, Blacksmiths have a triple ribbed shank inside the midsole. Also they put the same super wide steel shank inside of Iron Ranger boots.
Can you wear Iron Rangers in the rain?
Yes, the leather used to build Iron Ranger is waterproof, stain proof, and perspiration resistant. You'll find the same qualities in the Blacksmith as well.
Do Iron Rangers have steel toes?
No, there aren't steel toes with Iron Rangers. But they used pure leather to build the toe cap which looks really nice and fashionable yet well functioned.
Are Red Wings Heritages Durable?
Yes, the use of pure leather and durable building materials confirms their long-lasting quality.
Final Thoughts
Vintage looks, crafty designs, American-made, durable build quality- what isn't there?
Both Red Wings Iron Ranger and Blacksmith is the all-in-one package for boots enthusiasts. Whether for maintaining fashion or loading it with heavy work hours, both of them are more than good to go!
Though you should consider some factors based on your specific preferences, choosing either of them to adorn your wardrobe would be a wise decision.
Anyway, whenever you sort it out and make a decision between Red Wings Iron Ranger and Blacksmith, let me know in the comment section.
Besides, if you wanna know more about other Heritage boots, feel free to surf through our website. We've plenty of well-researched content about different kinds of boots!