People often fail to differentiate between the Classic Western Cowboy boots and its other iterations, particularly the Stockman, since they look quite similar.
But, no worries! I've got you covered, and I'm gonna explain to you in greater details all about this fantastic footwear.
So, what exactly are Stockman Boots?
Stockman boots are a type of cowboy boots that  are mainly used for work. The main difference lies in the construction, they have deeper top scallops with shorter and wider heels compared to traditional ones. You can say, they're a cross between ropers and traditional cowboy boots.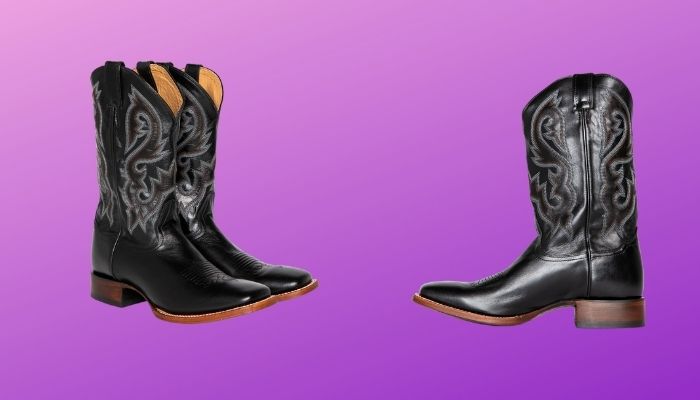 Want to know more? Better keep on scrolling. You can rest assured, it'll be worth it.
What Are Stockman Boots?-Answered
Cowboy boots came into prominence during the later stages of the 17th century and became widely popular in the 18th century. From there, like they say; it's history.
Initially worn by cowboys, now it's more of a fashion statement. With time different forms of Western boots appeared and one of them is the Stockman boot. While they look quite similar to the traditional cowboy boots, they actually aren't!
Stockman boots have been around since the last couple of decades, which makes them relatively new compared to their Classic Western cousins.
One thing you'll get in abundance from them is comfort. This is a reason they're so popular in workplaces or casual events. They're also popular among people who love to travel in a Western flair.
Check out our separate post: Mink Oil Ruined My Boots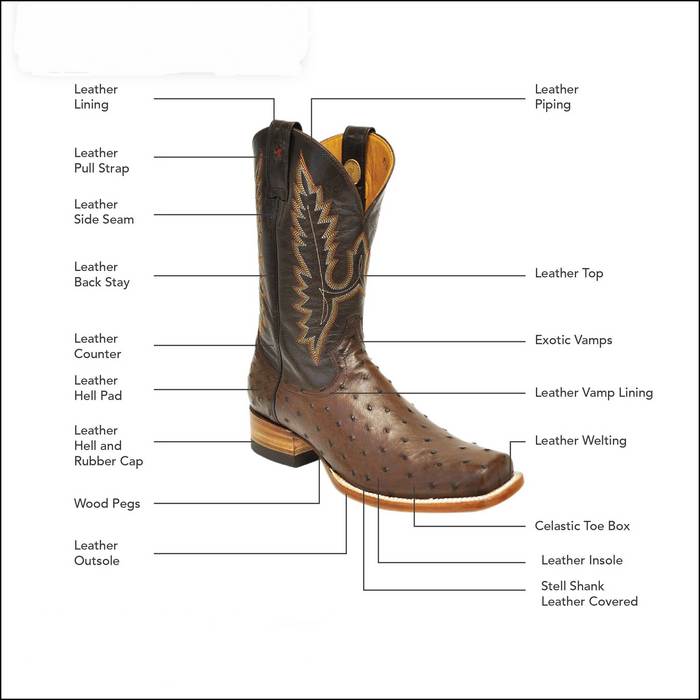 In the naked eye, you won't be able to differentiate between them and their classic cousins. You need to have a bit of a hawk eye to do so.
If I talk about their construction, they're usually made of leather. Then you'll see they've wider and roomier toe boxes (usually square). If you've wide toe, then there's a very good chance you'll love them as they have plenty of room
They've shorter and wider heels making them perfect for standing jobs or ranch work. The heel is usually 1-1.5 inches, not so great if you're into horse riding. You'll need higher heels for that.
As for the shaft, they resemble the traditional cowboy boots. They've intricate details with wild cowboy style patterns.
One thing that really sets them apart is their deep scallops, and the rubber outsoles add an extra dynamic to the comfort factor.
In short, if you're a person who loves to work and travel in a Western style then my friend these are the footwear for you. I've a cousin who owns 5 pairs of these fabulous boots. And yes, he mainly uses them for work.
Check out our separate post on Are Work Boots Considered PPE
Stockman Boots VS Traditional Cowboy Boots [Key Difference]
As I said, distinguishing between the Classics and the Stockman can be a real headache; unless you know your boots well.
But, if you're one of those who's a bit confused then this segment of the article is just for you. I've scrutinized both of them at every angle possible and made a list of the main differences so that you can have a clear idea.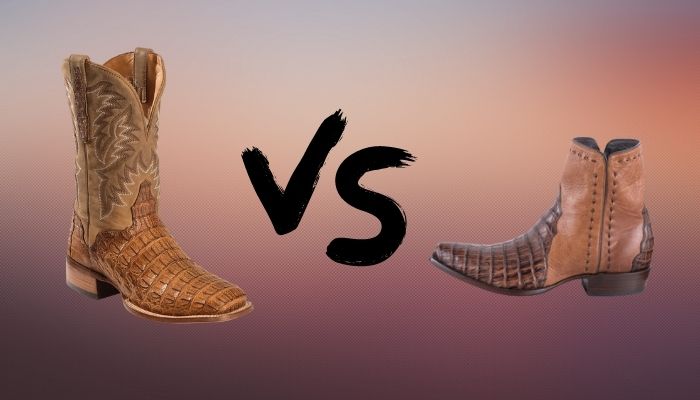 Here are the key differences between traditional cowboy and stockman boots:
Heels
Stockman Boots
Stockman boots have short and wide heels, which measures less than that of the traditional ones.
Traditional Cowboy Boots
Traditional cowboy boots have angled heels which are higher than the Stockman, making them perfect for the saddle.
Go through our epic guide Can I Wear Work Boots to Ride Motorcycles
Outsoles
Sockman Boots
Stockman boots have outsoles mostly made of rubber. I assume it has to do with the fact that they were made keeping the "Western Work Boot" criteria in mind.
Traditional Cowboy Boots
People who are aware of cowboy boots, know traditional cowboy boots are embedded with leather outsoles. They're more breathable and are more resistant to roughness, which is exactly hardcore cowboys need.
Follow our guide to know Will Rubber Boots Protect You From Electric Shock
Toebox
Sockman Boots
This is one major difference between the two. Stockman boots usually have large square toe box with plenty of wiggle room.
Traditional Cowboy Boots
Traditional Cowboy Boots usually have pointy or round toe which allows them to fit into the stirrup effortlessly for horseback riding. 
Scallop
Sockman Boots
The biggest and the most obvious difference of them all! Stockman boots have deer scallops that traditional cowboy boots. It allows you to slide into the boots more easily while giving you that cozy, work environment fit.
Traditional Cowboy Boots
Traditional cowboy boots on the other hand, have scallops that are less deep than that of stockman boots. It gives you a more custom and closed fit, just what horse riders need.
Do check our latest post on the Why Do Ironworkers Wear Wedge Boots
Where Are Stockman Boots Best Suited?
Now this is one question, which I think needs a proper answer. Stockmans are quite versatile boots and can be worn almost anywhere. For your convenience I've listed down the best places where they're suited.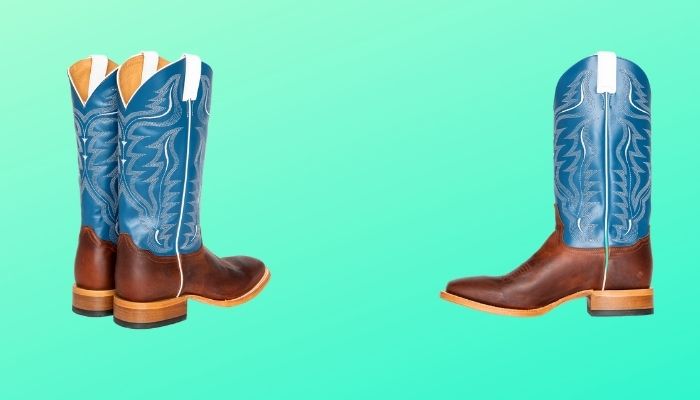 Here are places where stockman boots suits the best:
Office
You'll be glad to know, stockman boots are also known as work cowboy boots. If you ever feel like going into the office with Western boots that give you proper comfort and style then you can easily choose a pair of these with your eyes shut.
Construction Sites
Now this is one place where wearing a pair of boots is paramount. If feel like skipping your regular work boots and visit the site with some flair then Stockmans are your best friend. You can rest assured you won't face any discomfort as they pretty much have all the features of that of work boots.
The Ranch
Let's be honest here, when you're doing all sorts of ranch work for long hours; comfort is of paramount importance. You don't want sore feet, do you now? Therefore, a pair of stockman boots are just right; be it riding the quads or the tractors or any kind of gator altering vehicles.
Camping 
Camping outside requires footwear that can provide you with a certain degree of comfort and protection, you know what I mean. Therefore, stockman boots are an excellent candidate. You get the best of both worlds.
Follow our other guide to know Can Work Boots Be Resoled
What Are Stockman Boots?- Pros And Cons 
There's a saying; everything has its positives and negatives. Stockman boots are no exception. Along with their strengths, they have their flaws as well.
Here are the pros and cons of stockman boots:
Pros
»

Versatile

»

Super comfortable

»

Easy to wear

»

Stylish
Cons
»

Not suitable for people with narrow feet

»

Not suitable for horseback riding
What Is A Stockman Heel?
These are basically walking heels with a standard height. They ensure no discomfort while you're on motion, even after long hours. These heels are widely appreciated because they're suitable for a whole variety of work. Stockman boots are equipped with such heels, hence the name. They're predominant in Western work boots as well.
Boots with stockman heels are widely used on farms and office environments. Your feet will feel at ease throughout your daily hessle. With them covering you up, "sore feet" is well and out of the equation.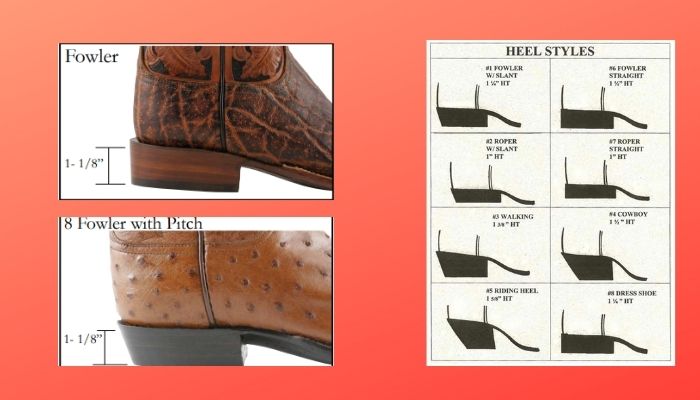 They're designed for people who have long shifts at their work place. The wide and flat bottoms ensures flexibility and comfort for the wearer. 
Unfortunately, they won't be of any use in horseback riding.
Read more on How To Lighten Leather Boots
Parting Thoughts
Stockman boots, also known as working cowboy boots are an asset if you want to show your western mania in the office or while travelling. They're comfortable and as stylish as traditional cowboy boots. Just the right combination if you're into the things I just mentioned.
Personally, I love them for their versatility. And,as a boot collector; they'reat the very top of my list. Where else would I get cowboy boots that are so comfortable? Also, they provide great balance, too.
This is all I had on Stockman Boots, do let me know if I've missed anything noteworthy or super important. It's a wrap for today. Take care