Have your leather boots lost their exquisite look and texture after rubbing them in a lot of mink oil?
Chill! I've come to save your boots.
Although mink oil has benefits, using it in large amounts and without adequate application instructions would almost certainly ruin your boots.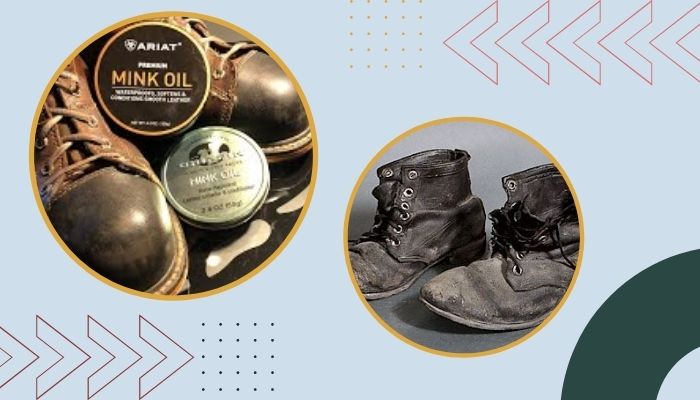 To help you, I carried out extensive research and came up with simple techniques to repair a ruined boot from mink oil, as well as detailed how to use it properly.
So, let's not beat around the bush anymore and jump straight into the writing.
Do Mink Oil Ruin Leather Boots?
No, mink oil doesn't ruin leather boots. In fact, mink oil benefits leather boots by reducing excess dryness and protecting them from water, filth, and dust. However, if a large amount of mink oil is put into leather boots, it might darken and discolor them.
There is no such thing as too much. The same can be said about mink oil; a tiny amount of mink oil will shower leather boots with benefits.
However, if too much mink oil is used, the leather will become too soft, and too much moisture will accumulate, resulting in crumbled leather boots.
If your leather boots are saturated in mink oil, treating them right away won't cause any harm to the boots. Because mink oil itself is full of good ingredients that are beneficial for leather boots.
The oil just leaves a stain and may darken the boots, but this is easily removed.
The problem arises when you often coat your leather boots in mink oil and do not clean them.
Go through our epic guide Sno-Seal vs. Mink Oil.
In conclusion, if applied sparingly and correctly, mink oil will not damage your leather boots.
How To Remove Mink Oil Off Leather Boots?
Applying much too much mink oil to leather, whether intentionally or unintentionally, may leave oil marks and discolor the leather.
Fortunately, there are methods for treating the stains and removing the oil from the boots.
But you must act quickly since the longer the mink oil is on the leather, the oil penetrates the leather deeper and makes the stain permanent.
Here are the methods to remove mink oil off leather boots:
Method 1: Use Dish Soap or Saddle Soap
You may use dish soap or saddle soap for this method; both produce satisfactory results.
If you pick dish soap, combine it with water to make soapy water. If you're using saddle soap, sprinkle it with water and lather it up with a brush.
Apply the soap using a brush (brass-bristled) to the regions of the boots that have been discolored with mink oil.
Rather than rubbing vigorously, apply the soap on the boots lightly in short strokes.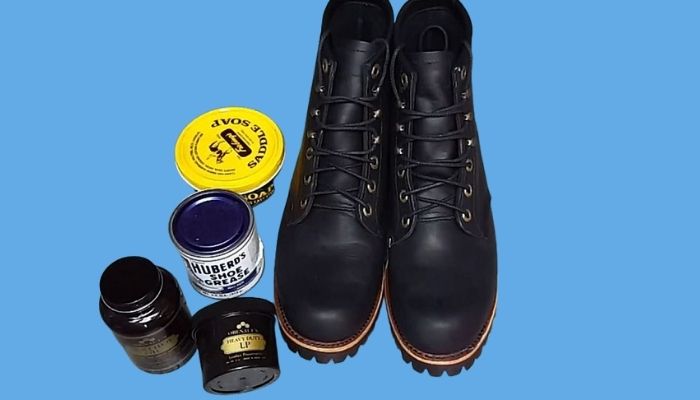 Wipe away the soap residue with a dry towel once the stains have been removed.
Allow the boots to dry in a well-ventilated area.
If the stain did not totally go, then follow this step. Rub a suede eraser to the affected area.
At this time, all stains will be gone. It is now time to condition the boots. To restore moisture, apply leather conditioner all over the boots.
Method 2: Use Talcum Powder
Does talcum powder absorb oil from your skin? It certainly does, my buddy.
Similarly, talcum powder works wonders for removing mink oil off leather boots.
Cover the stained area entirely with talcum powder.
Let the powder sit on the boots overnight.
Brush the talcum powder off the boots the following day using a horsehair shoe brush. Brushing with pressure may be necessary if the powder clings to the boots.
Apply a thick coat of hairspray to remove the residue of the powder.
Allow the boots to dry after wiping them with a moist towel.
Apply a coat of leather conditioner to the boots to seal the deal.
Follow our guide to know Kiwi Conditioning Oil vs Mink Oil.
Method 3: Use Cornstarch
The method of using talcum powder is quite similar to this method; here, you just have to skip the hairspray.
Place a newspaper on the working top to avoid any mess.
Sprinkle a generous amount of cornstarch and gently rub it over the stain.
Leave the cornstarch on the boots for 30-40 minutes. Meanwhile, cornstarch will absorb all the oil from the boots.
Brush the boots thoroughly with a brush to remove the excess starch.
Keep the boots in fresh air to dry before you wear them.
Method 4: Use Acetone (Most Successful)
Soak cotton balls with acetone and rub the oil-stained area of the boots.
The oil residue will come off in the cotton balls as you rub. If the cotton balls get dirty, replace them with new ones.
Wipe off the acetone and the build-up with a clean cloth.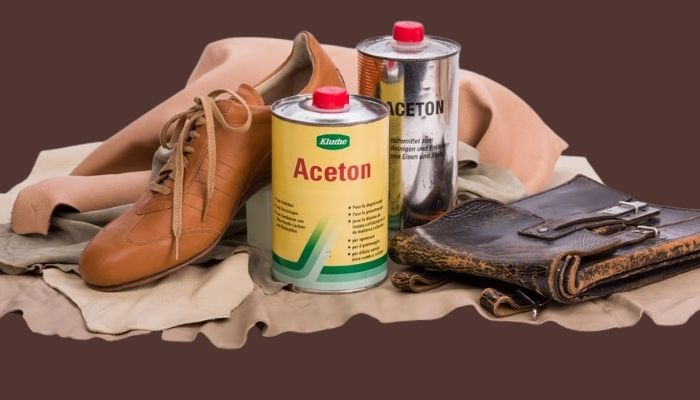 Sprinkle talcum powder or cornstarch on the spot and wait for 20-30 minutes.
Brush off the boots, including the corners, with a brush.
Clean the boots with soapy water and leave them to dry.
Wrap up the process by conditioning the boots.
Is Mink Oil Good For Leather Boots?
Mink oil is not only good but very good for leather boots. It softens the leather, removes dryness, and protects them from water and dirt. If you want to darken your light leather boots, mink oil can be handy. But you should use it in moderation for the best results.
That's not all! There are more advantages of using mink oil in leather boots.
Due to overuse, leather boots lose their natural oils. In that case, mink oil helps rejuvenate the moisture and keeps the leather soft and supple.
Mink oil fills the pores of the leather boots and acts as a barrier to protect them from water.
Applying mink oil also makes the boots healthy and long-lasting.
Now, let's look at the other side of the coin.
Mink oil has some cons too. Saturating too much mink oil on the leather boots frequently will over-soften the boots and gradually break apart.
So, put a little amount of mink oil on the leather boots once every two weeks, but no more than that.
Check out my new post Kiwi Conditioning Oil vs Mink Oil.
How To Apply Mink Oil To Leather Boots Properly?
To enjoy the full benefits of mink oil on your leather boots, you must use it correctly. A small blunder might lose you your lovely pair of boots.
Here are the steps to use mink oil in leather boots:
Applying mink oil on filthy leather boots is a huge no-no. So before you use mink oil, clean the boots first.
Remove all the dirt particles with a horsehair shoe brush.
Make soapy water by combining dish soap and water.
Dip a cloth in the soapy water and rub it all over the boots.
Wipe off the soap with a damp rag.
Leave the boots in the air until they are thoroughly dried. Make sure to not use any heating source for drying.
Pick a tiny amount of mink oil in a dry rag and start rubbing it in a small circular motion all over the boots.
Remember, in the case of mink oil, less is more. So, don't saturate your boots with mink oil on the first try.
Once the mink oil is absorbed into the boots, let them dry before wearing them.
Final Thoughts
Mink oil is an excellent product for your leather boots, so why overuse it and ruin the beauty of your boots?
And, unfortunately, if you have got oil stains on your boots, I hope this article will be helpful to you.
Do let me know which method worked best for you. Also, do share this article with your friends and family so that they can save their boots.
Till then, Ciao!