To protect boots from dirt or slush and retain their natural oils waterproofing the boot plays a key role. Waterproofing not only creates a shield for the shoes but also increases their lifespan.
There are tons of different waterproofing products in the market, and we often get into turmoil while selecting a suitable one. Before buying or using any waterproofing products, you should have proper knowledge about them.
We will discuss the two most popular Sno- Seal and mink oil products in today's article. Let's learn what differences and similarities they have, which one is better, and so on.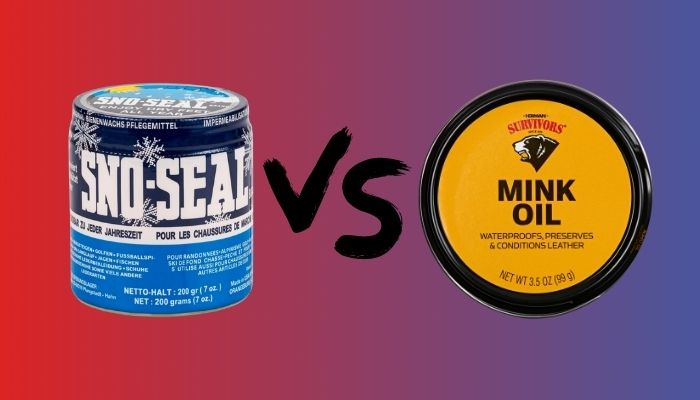 This article includes:
What is Sno-Seal?
What is mink oil?
Differences between Sno-Seal and mink oil
Which product is better, Sno-Seal, or mink oil?
Follow our guide to know Kiwi Conditioning Oil vs Mink Oil
What Is Sno-Seal?
Sno-Seal is a wax-like substance made with natural ingredients, of which beeswax is the key ingredient that makes the shoes waterproof by developing a coating to the exterior.
To prevent moisture or water from seeping into the boots in wet weather, waterproofing them with Sno-Seal is an excellent option. The Sno-Seal creates a layer to the shoes' outer surface, ensuring water doesn't penetrate the boots keeping your feet dry and crisp. Apart from beeswax, animal oils and mineral spirits are mixed with it to make the Sno-Seal. All the organic ingredients in Sno-Seal make the leather of the boots breathable.
Not only Sno-Seal waterproofs the boot but keep their soil and dirt free, also ensuring the shoes don't change their shape. The texture of the Sno-Seal is not greasy, yet it is smooth and easy to use.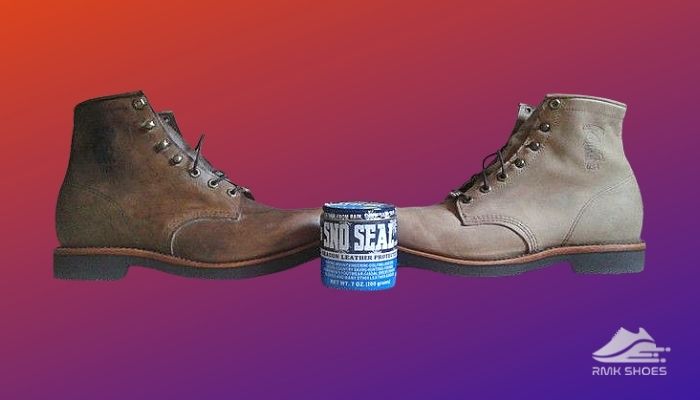 Usages of Sno-Seal are pretty simple, heat, melt the wax a bit, and thoroughly apply to the boots' surface. Wipe the extra product and let it sit for drying. How many times you will apply the Sno-Seal depends on much you wear the boots; if you wear too much, then use the waterproofer twice a year other than that use once a year.
Before you use the Sno-Seal all over the boots, make sure to do a patch test, Sno-Seal may darken the leather color. Keep in mind that Sno-Seal may damage the suede or nubuck leather as it affects the fiber.
But before that, go through our epic guide Sno-Seal vs. Mink Oil
What Is Mink Oil?
Mink oil- the name itself explains what it is. Mink oil is an oil that is extracted from the fat of the mink by some specific process. Mink oil works magically to soften and moisten the leather. After heavy wearing, boots tend to dry out. The mink's pure and natural oil is used to condition the leather to maintain its moisture and prevent excess drying and cracking.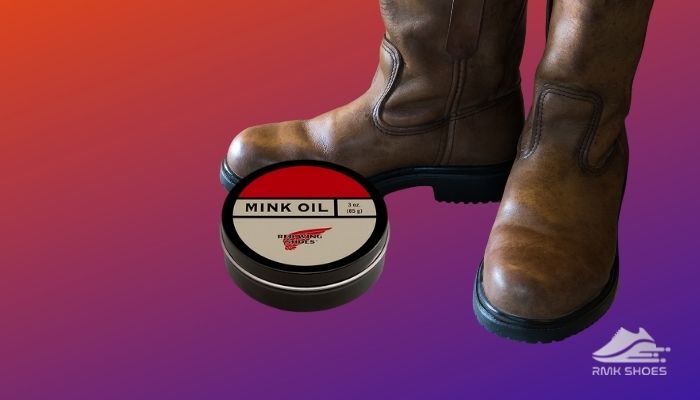 As well as keeping the moisture intact, mink oil creates a layer in the exterior of the boots, which makes them waterproof. All the natural ingredients in the mink oil, including lanolin, vitamin E, silicon, make sure the leather is soft and flexible and stops the drying boots. Silicone in mink oil gives the oil an extra smoothness, which makes the application a lot easy.
The only drawback of mink oil is that it can make the boots so much soft that it no longer supports your feet. Do a patch test, that is, apply the mink oil in a small area of the boots and check if it makes any discoloration or not. Do not use the mink oil on suede or nubuck leather. It may damage the nap of the boots.
Check out our separate post on How Often Should You Apply Mink Oil To Leather Boots
Difference Between Sno-Seal And Mink Oil
Sno-Seal is a non-oil product; rather, it is a wax, mainly beeswax, whereas mink oil is pure oil made from mink fat.
When applying Sno-Seal, you need to heat the beeswax as well the boots but when using mink oil you don't need to heat.
If you want to waterproof the boots specifically, use the Sno-Seal because the wax acts as a strong barrier preventing water from seeping through the boots keeping your feet dry. Whereas mink oil doesn't work great as a water repellent, it can make your boots waterproof for a short time but after a certain time, you will feel your feet are all wet. Mink oil is a good leather conditioner that keeps the boots soft and nourished. Also ensures the boots are not too dry.
Sno-Seal doesn't act as a softener; it just prevents the hardening of the leather. However, mink oil makes the stiff leather so soft that sometimes it doesn't support the feet.
Sno-Seal tends to dry out the leather over time, whereas mink oil is mainly used to regain the boots' natural oils, removing the dryness so that it doesn't get cracked.
Sno-Seal makes sure no moisture can seep through the boots whereas; mink oil ensures the boots are moisturized.
Do check our latest post on the how to Stretch Cowboy Boots
Which Product Is Better Sno-Seal Or Mink Oil?
Well, this question doesn't have an accurate answer because both of them work great on boots but depend on which purpose you are using for. Both of the products have their individual forte like if you want to make your boots fully water repellent then Sno-Seal is a great deal, whereas, if you want to remove the dryness from the boots and make it moisturized and soft in that case mink oil is the best option.
The beeswax and other components in the Sno-Seal work as a great waterproofer by providing a layer to the boot's surface which then acts as a barrier and repels the water making the boots waterproof prevents the feet to get soaked up.
If you want to make your boots look new and get that bling then you should use mink oil. Mink oil not only conditions the leather and provides nourishment to the boots but also makes your boots waterproof for a short period.
Do keep in mind, that both Sno-Seal and mink oil can darken the color of your leather. If you apply them on black or brown leather, you may not notice the change in color, but if your boot is other than black or brown color, you may see some visible changes in boot's color.
The boots are still breathable even after applying Sno-Seal or mink oil to the outer surface.
But before that, you check out how to Wear A Boot Knife With Cowboy Boots
Frequently Asked Questions
Can you use Sno-seal on suede? 
Sno-Seal is a natural wax mainly the beeswax which provides a shield to the boots making them waterproof. As it is all-natural it will not rot or break the leather or make the stitches lose. Sno-Seal darkens the leather, so it is suggested not to use them in suede or nubuck leather because somehow, the Sno-Seal affects the leather's fiber and changes the boot's look.
Is Sno-seal bad for leather?
Sno-Seal is not bad for leather, however; it makes the boots waterproof and long-lasting. The wax is oil-free and thus it is very dry. Sno-Seal doesn't soften the leather; it supplies enough lubrication so that the leather doesn't harden.
Does mink oil or Sno-Seal oil change the color of the leather?
Sno-Seal and mink oil can darken the color of your leather. If you apply them on black or brown leather, you may not notice the change in color, but if your boot is other than black or brown color, you may see some visible changes in boot's color.
Conclusion
Whatever product you are using, whether it is Sno-Seal or mink oil, always try to use them while your boots are new and unused. Now that you know what Sno-Seal and mink oil are and see the difference between them, it is totally up to which purpose you are using them.
Apart from waterproofing, it is also essential to take care of your boots and your feet. Waterproofing and proper maintenance not only protect your shoes but also increase their longevity so that you can wear shoes for decades.
We tried to include as much information about Sno-Seal and mink oil in this article. We hope you had a wholesome knowledge about them, and now you can differentiate between the products.