Mink oil is widely used to revive worn-out leather boots. And, rightly so! Because it's that effective. But, have you wondered, how often should it be used? 
If not, then you've landed in the right place. After countless hours of intense research and careful testing, I've compiled this ultimate guide to answer all your questions. 
Let's get to the point first; how often should you apply mink oil to leather boots?
You should apply mink oil to your leather boots once every two weeks. Anything more will cause the leather to react with oxygen and harden it. Mink oil darkens leather, while it's a steady process; an overdose will darken the leather faster into something appalling.
Leather boots are not just footwears, they're an emotion; and requires proper attention.
I've explained everything; from how to use mink oil (the right way) to ensuring proper maintenance. Read till the end to know it all. Your time won't be wasted!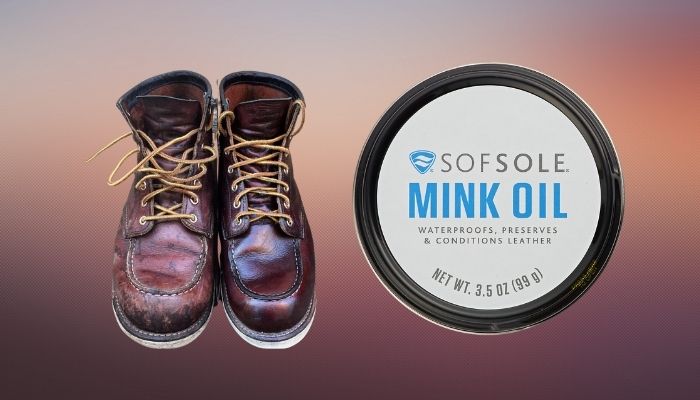 How Often Should You Apply Mink Oil To Leather Boots?-Answered
Mink oil is widely regarded as one of the best moisturizers fot leather bots. Not only does it bring back life to worn out boots but it also gives them a shine that lasts, and people take notice. Such is their impact.
Using them obviously help; it's a given. But, people tend to suffer when it comes to the limit of using them. This is when I come in, to rescue you.
It usually depends on the user and time the boots are being used, but if you want a standard parameter; then you should use mink on leather boots not more than once every two weeks.
The dose mentioned above applies for shining the boots. However, if you want to waterproof them with wax and mink oil; apply once a year. Or, you can apply the mixture twice (only if needed).
This potent oil restores moisture, nutrition, adds a beautiful shine; it saves the boots from completely drying out.
Check out our separate post: Mink Oil Ruined My Boots
How Should You Apply Mink Oil On Leather Boots?
Mink oil does what it does best; gives a new lease of life to worn-out boots. But have you wondered how to apply this life-saver?
If you're someone who doesn't know how to do it, then don't worry! To make your life easier, I've listed down the steps on how to apply mink oil. The steps are super easy to execute, and you need a bit of precision.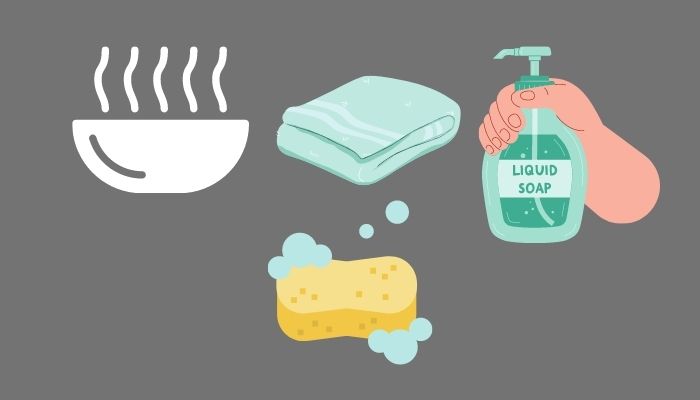 Let's have a look at the stuff (other than mink oil) you'll be needing.
Requirements:
Dry lint-free cloths

A bowl

Lukewarm water

Liquid soap (optional)

Leather polish (optional)

Sponge (optional)
Also, check out to know the differences between Sno-Seal vs. Mink Oil
Now that you know the requirements for the job, let's have a look at thesteps shall we?
Here are the steps to apply minkoil on leather boots:
First of all, remove any excess dirt or grease from the boots using the lint free cloth.

Take lukewarm water in the bowl, and dampen the cloth.

Take the cloth and move (it) circularly across the surface of your boots to remove any accumulated dirt. If there's excess dirt, make a solution of water and liquid soap instead then do the job cleaning your footwear.

Now, leave your boots under the fan overnight to let them dry properly.

Warm your boots with a dryer or any other way, this helps the material to absorb the oil more efficiently.

Similarly heat up the mink oil.

Now, take a cloth or a sponge and apply the oil.

Delicately wipe down the corners of your boots until it starts to seep into the material.

Subsequently, continue to apply the oil (one part at a time) until the entirety of the material is covered.

 Wipe down any excess oil that reaches the laces.

 Let the boots sit overnight.

 Finish the job with a leather polish for extra gloss (optional).

 If you aren't satisfied with the result, then repeat the process.
PS: Don't be put off by the number of steps. I've listed the whole process in such a way so that you can get the best result. Trust me, it's easier than you think.  
Follow our guide to know Kiwi Conditioning Oil vs Mink Oil
How long should boots sit after mink oil?
Now, this is a million-dollar question; I'm serious! People suffer in this part of the process (which is arguably the most important one). But, Don't word! I'm so you don't need to fear.
How long the boots should sit usually depends on the condition of the leather. The standard time is 12 hours.
If the condition of your boots is in critical condition, then you can leave them overnight for better results.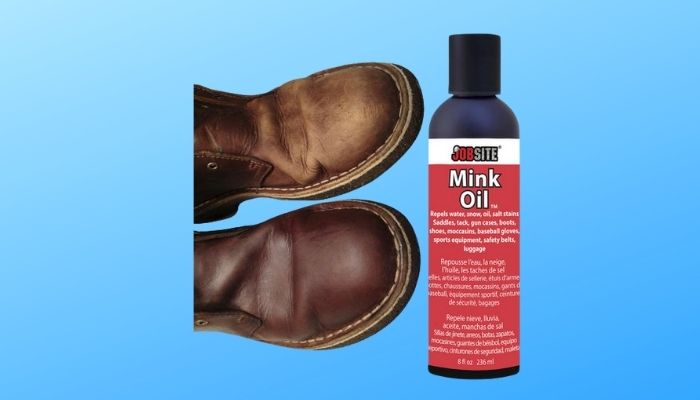 Later on, dry off the excess oil with a clean, dry cloth or a paper towel. If possible, work in a circular motion; this allows the oil to seep into the material and condition the leather fiber even better. It also brings the better and long-lasting shine.
How much time does the oil need to dry up?
One hour.
Go through our epic guide: Are Timberland Boots Good for Hiking
What Are The Advantages of Mink Oil on Leather Boots?
Just like everything else in this world, mink oil (too) has it's advantages and disadvantages. But, I'm going to tell you about the advantages in this segment of the article.
Here are the advantages of using mink oil on leather boots:
Conditioning
I think we all know it, but still! Mink oil has the ability to heal worn-out leather boots. Apply it to your dried-out boots and see the magic unfold in front of your eyes.
Waterproofing
Believe it or not, mink oil is also prevalent for waterproofing leather boots. Mink oil consists of the fatty layers of a mink's skin. Hence, it has the texture of wax, making it an eligible waterproofing agent.
To get a better result, use a mixture of wax and mink oil. Also, remember, buy the ones (mink oil) that come in the form of wax.
Protection
We all know; a coating of mink oil will easily see water. But what about other elements? No worries!
Mink oil is also used to ward off unwanted elements such as mud, mildew, mold, and salt. Amazing right?
Softening
Mink oil is popularly used as a leather softener. If you see your leather boots or products have hardened up, then apply a layer or two of mink oil. And, see how it softens up like a pillow.
Check out our separate post: Do Timberland Boots Run Big
Why Mink Oil Is Bad For Leather?
As I said earlier, everything has its pros and cons; it's no different when it comes to mink oil.
There's a saying; too much of anything is not good, and rightly so! Just like the positives you should be aware of the negatives too. So, what is it?
Using too much or too frequently will cause the leather in your boots to rot. 
If you apply too much of this oil, moisture will buildup within the material and cause it to decay. Other effects include the hardening of the leather. So, use it wisely.
Are There Any Alternatives To Mink Oil?
Mink oil is not the only moisturizer of leather boots. There are other materials that can be used to restore/soften your precious kicks. While some of them can be found in your home, you may need to spend some extra cash for others.
Here are the best alternatives to mink oil:
Leather conditioner

Neatsfoot oil

Coconut oil

Vegetable oil

Obenauf's oil ( for conditioning, waterproofing, and weatherproofing) 

Beeswax (same as Obenauf's oil)

Tartar cream
Also read, Can You Wear Leather Boots In The Rain
Key Takeaways
I've explained everything there is regarding mink oil and leather boots. For your convenience, I've made a summary of the main points.
Here they are:
Apply mink oil once every two weeks.

Mink oil can be used for

polishing

,

waterproofing

, and

conditioning

.

Mink oil darkens the leather.

Avoid using the oil on light-colored boots, as it will completely change the color.

Don't leave your boots (with mink oil on) for more than

twelve hours

. And a maximum of

twenty-four hours

for arid conditions.

Avoid using mink oil on new boots and suede boots.
Read more on how to Break-In Leather Boots
Parting Thoughts
With great power comes great responsibility, remember. Mink oil is a powerful footwear product; it has the ability to make or break your beloved boots. So, use it wisely.
I've mentioned everything in my repertoire on the usage of mink oil on leather boots. Do let me know if I've missed something important. I'd love to hear from you, too.
And, if you have any kind of queries, just drop them down in the comment section below. Take care of your boots and, most importantly, yourself.