If you are mesmerized by the beauty of the cowboy boots but still puzzled about the suitability of your feet, then you have landed in the right place.
With relentless investigation and checking a horde of people's reviews, I have gathered information on the good and bad sides of cowboy boots.
So, let's first talk about the main question, are cowboy boots bad for your feet?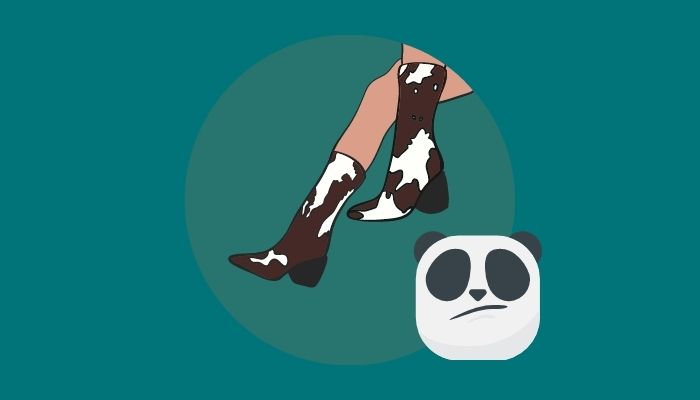 No, cowboy boots are not bad for your feet. Cowboy boots are as comfortable as any other footwear. But if you have any foot issues like bunions or hammertoes, you may find difficulties walking around in cowboy boots. In addition, an ill-fitted pair of cowboy boots can cause foot pain.
Let's dive into the writing and clear all your confusion.
Are Cowboy Boots Bad For Your Feet?
Before answering the question, let's take a glance at the history of cowboy boots.
Originally, cowboy boots were designed for riding only. At that time, cowboy boots were high-heeled, narrowed toes with a leather shaft.
All these features had several advantages, like high heels prevented slipping feet out of the saddle, and narrow toes made it easier for the feet to get on and off the stirrup.
But all these qualities of original cowboy boots made it quite uncomfortable to walk.
And that's when a myth started that cowboy boots are bad for the feet.
Check out our guide on how to Break-In Cowboy Boots.
But that's like ages from now.
Now with advanced technology, cowboy boot's comfort is also upgraded. The new type of cowboy boots is more flexible with wider toes and lower heels.
If your feet are completely healthy, I swear you will get the ultimate comfort in cowboy boots. But if you have any foot problems, then cowboy boots will not be a good choice. 
Unfortunately, if you have bunions or hammertoes, the narrow toes of cowboy boots will make the forefoot pain severe.
Additionally, if your cowboy boots are wrong-sized, this will hurt your feet too. Too big cowboy boots cause slippage, which forms painful swelling. And too tight boots irritate the entire feet.
So always go for the snug fit to enjoy the utmost comfort of cowboy boots.
Are Cowboy Boots Bad For Your Knees?
No, cowboy boots are not bad for your knees unless your knees have weak muscles. However, if the cowboy boots heel is more than 2 inches, there is a possibility they can injure your knees. It is proven with the increasing height of cowboy boots heels; knee pain becomes severe.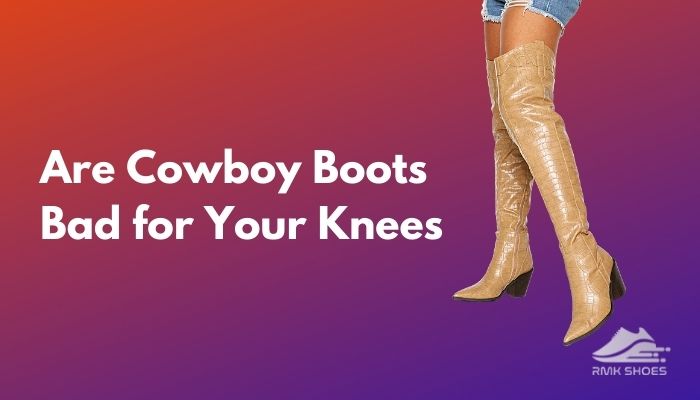 Cowboy boots come in three different types of heels. Each heel has different heights.
The high heel, standard heel, and low heel. Your knees will hurt or not depending on the type of heel you wear.
The standard or low heel has a heel height between 1-1.5 inches; these heels are best for walking or running. Your feet will remain relaxed on the standard and low heel boots no matter how long you walk.
You may also like to read: Wear Cowboy Boots Without Looking Country.
The 1-1.5 inches heels keep the knees stable and don't cause any discomfort. If you still have knee pain in these heels, you should immediately consult a doctor.
Whereas high heels that are above 2 inches affect the knees more. The more the compression pressure, the more painful your knees get.
Fashion heels have a height of 2.75 inches and more. Regularly wearing excessively high heels increases the pressure on knees and heels. Which in the long run crumble the knee joint, damage joint cartilage, and give rise to arthritis.
Your knees can also hurt if your cowboy boots are of the wrong fitting.
If your boots are very tight, your feet will not have enough space to bend at the ankle or calf, which causes muscular pain.
That's why I always recommend buying the correct size of cowboy boots.
Follow our guide on how to Walk In Cowboy Boots: Like A Pro.
Do Cowboy Boots Hurt Your Back?
Cowboy boots can hurt your back if you wear them for a long time.
The high heels of the cowboy boots are the main culprit for the back pain. The heels directly affect the ankle and arch of the foot. The higher the heels, the more it affects the back.
If you wear high heel cowboy boots regularly and for long hours, it is inevitable that in the long term, you will have severe back pain.
So try to wear cowboy boots with heels not more than 1.5 inches, and that is a squared-off shape. Heel caps made of wood or rigid material lack elasticity, and that's when your feet start aching and so your lower back.
Wear cowboy boots with rubber heel caps; this will render your feet with maximum stability and prevent slippage.
The icing on the cake will be if you put soft and cushioned liners inside your boots. The liners will keep your feet comfortable all day long.
Another reason for back pain is the lack of arch support. And arch support in boots is a must for people with low and high arches.
Luckily, cowboy boots are constructed with shanks to get better arch support.
But again, if you frequently wear excessively high heel cowboy boots, the shank will not be so helpful. You are bound to get severe back pain in the long run.
Are Cowboy Boots Bad for Plantar Fasciitis?
No, cowboy boots are not bad for plantar fasciitis. In fact, along with increasing mobility cowboy boots decreases inflammation and tension of the patient's tissue, called plantar fasciitis. Additionally, cowboy boots with a higher heel help those with plantar fasciitis.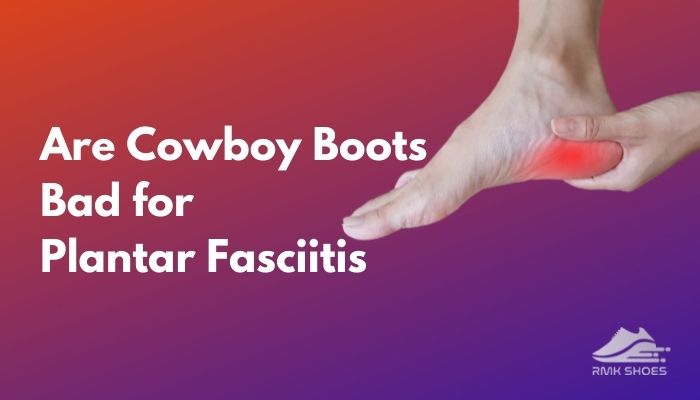 If you don't know what plantar fasciitis is, then let's get familiar with it first.
Plantar fasciitis is a severe and painful condition that spans over the bottom of the foot. The plantar fascia is a thick ligament that connects your heel to the forepart of your foot.
Read more on how to Care For Cowboy Boots: The Best Way
It helps in absorbing shock and provides arch support to the feet. When this thick ligament is damaged, excruciating pain takes place.
Some people discourage not wearing cowboy boots with plantar fasciitis.
But let's bust out the myth!
You don't have to stop wearing your favorite pair of cowboy boots, even if you have plantar fasciitis.
But there are few things which you should consider while wearing cowboy boots with plantar fasciitis.
Always choose cowboy boots that have a wide toe box. A narrow pointed toe may look stylish and fancy but will not be a good choice for plantar fasciitis.
Additionally, wear boots that give a minimal lift. Short heels are best for plantar fasciitis; they stabilize your feet and provide maximum arch support.
Till now, if you haven't bought cowboy boots thinking they are not suitable for plantar fasciitis, my friend quickly grab a beautiful pair of cowboy boots and rock the floor!
Also related to this guide Pack Cowboy Boots In A Suitcase: Easiest Ways.
Are Cowboy Boots Comfortable?
Many of you think cowboy boots are heavy, have stiff outer soles and long shafts, and might not be comfortable.
But trust me, cowboy boots are the most comfortable one among all types of boots.
The comfort of cowboy boots varies depending on their quality: the better quality, the better comfort. And top-notch cowboy boots are a bit expensive.
At first, cowboy boots may feel a bit hard.
But nothing to worry about.
The more you walk in the boots, they will break in and mold to the shape of your feet.
And once the cowboy boots break-in, no other boots can compete for the comfort of cowboys boots.
The height of cowboy boots also determines the comfort level. The standard and low heel boots are the most comfortable ones, and they are best for walking.
On the other hand, high heels look stylish, but they make the feet very uncomfortable and painful, which sometimes leads to back and knee pain.
Without special occasions, please try to avoid extra high heels.
The majority of people like cowboy boots for their easy slip-on feature. As the boots don't have any shoelaces, there is no risk of knotting.
Altogether, you can say cowboy boots have all the qualities to keep your feet relaxed and comfortable regardless of whatever ground you are walking on.
Conclusion
Your feet are one of the essential possessions of your body, and you must keep them healthy.
There is no chance that cowboy boots are bad for your feet; instead, they keep your feet protected from mud, water, and rocks.
Just make sure you get the correct fitting of cowboy boots, don't wear the same pair of boots every day, and most importantly, don't wear high heels regularly.
If you find this article helpful, then please leave your valuable opinion in the comment section.
Good luck!