Cowboy boots are essential for cowboys, but who said you could only wear cowboy boots for riding?
However, you can easily make a joke out of yourself if you don't match your cowboy boots with your outfit correctly.
So how to wear cowboy boots without looking like a countryman?
The answer is right in this article.
I have discussed quite a few outfits that you can wear with cowboy boots without even looking country.
So make sure you read the entire article and choose any of the styles you love, and rock the floor with your cowboy boots.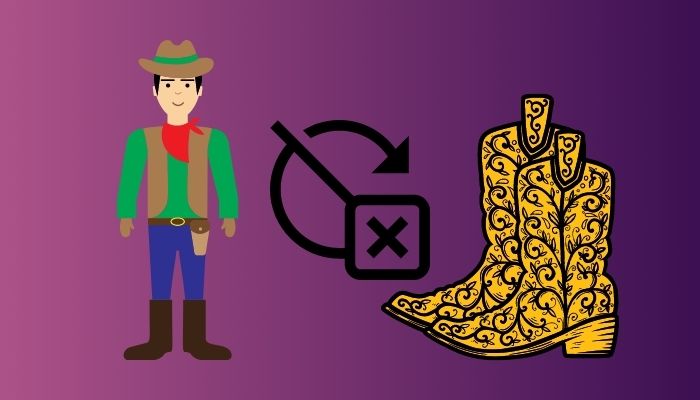 What Are The Types Of Cowboy Boots?
Not just one or two, there are many different types and styles of cowboy boots out there in the market. From long to short shaft, vintage to modern style, you can get all kinds of cowboy boots.
So first, let's look at various types of cowboy boots and get an overview of them:
The Classic Western Boots: The most highlighting part of a pair of classic western cowboy boots is their shaft. The boots have a shaft of 12 inches long which almost covers the kneecap of a person.
The Shortie Boots: These boots are short and comfortable. The shortie cowboy boots don't have a long shaft like the classic ones but still gives the boot a timeless look. Approximately, the shortie boots have a shaft length of 6-10 inches.
The Western Work Boots: To keep your feet comfortable all day long, western work boots are the best option. Unlike other boots, western work boots don't have a flat bottom; instead, they are raised with some flat heels.
The Roper Boots: Roper boots are an old version of classic boots. These boots have a shorter shaft, square and shorter heel with a round toe. The rubber shoal makes the boot extraordinarily comfortable to wear, which is why Roper boots are worn mainly by men for rodeo performance.
The Riding Boots: Their name justifies the purpose of the boots. These riding boots are specially designed for horse riding. Comparatively, riding boots have a very long shaft that prevents the saddle's leather from hurting the rider's leg.
The Buckaroo Boots: Buckaroo boots are mainly worn as fashionable boots. Buckaroo boot's excessive long shaft is what makes them the center of attention.
The Stockman Boots: The stockman boots are a mixture of western boots and western work boots. These boots are designed with rubber shoals and short heels, making them unique from other boots.
Check out our guide on how to Fit Cowboy Boots: Find Your Accurate Size.
How To Wear Cowboy Boots Without Looking Country?
You may have complete knowledge of different styles of cowboy boots, but you don't know which outfit complements and enhances the beauty of your cowboy boots. As a result, you end up dressed like you are going for a costume party.
To avoid this, you should have a good idea of which dresses to wear with cowboy boots.
So let's talk about how to wear cowboy boots without looking country:
Tops to wear with cowboy boots:
Collared shirt: A collared shirt can never go wrong with cowboy boots. You can pair your cowboy boots with a collared shirt along with jeans or trousers. The icing on the cake will be if you wear your boots with a solid color dress shirt.
Read more on how to Care For Cowboy Boots: The Best Way.
T-shirt: A plain t-shirt can match your cowboy boots perfectly. Grab your t-shirt that doesn't have any logos or design in it and pair it with your cowboy boots.
Denim Jacket: To add a wow factor to your attire, along with your solid color t-shirt, wear a denim jacket. This western look will not only make you stand out among all but also make you look very modern.
Sports Coat: For more of a smart look, match your cowboy boots with a nice sports coat. Pick any of your sports coats, underneath wear a black, white, or ash t-shirt, and you will see how your outfit itself turns into a fashion statement.
Also related to this guide Pack Cowboy Boots In A Suitcase: Easiest Ways
Pants to wear with cowboy boots:
Jeans: Own a pair of tight-fitted jeans? Then without a second thought, wear it with your cowboy boots.
Not the regular blue jeans, but try to wear any other dark color jeans with a boot-cut style. Also, never tuck your jeans into boots unless you are riding a horse.
Khakis: If you want a casual look, then khakis are to the rescue. Khakis have a wide range of color options; choose any of your choices and pair it with your cowboy boots.
Dress Trousers: Dress trousers, collared shirt, and cowboy boots, a perfect combination to be the centerpiece.
Follow our guide on how to Clean Cowboy Boots: The Step by Step Guide
Tips And Tricks
Knowing little tips and tricks to wear cowboy boots will prevent you from looking country and add elegance to your outfit. So let's see what the small hack you should follow is:
The first and foremost rule of wearing cowboy boots is confidence. As cowboy boots are a bit different and attractive from other boots, it is very important you carry the boots with confidence, keep your posture straight and walk with attitude.
Always choose the right size of cowboy boots. Too tight boots can swell your feet and sometimes even deform your toes. Additionally, too loose boots can cause difficulties while walking. So make sure your cowboy boots are snugly fitted.
Color combination is essential while choosing boots as well as outfits. Always pair your basic boots with a basic color dress and colorful and exotic boots with a loud colored dress. However, if you have good knowledge of colors, your can surely do experiments. Because sometimes vibrant boots create a fantastic contrast with your dress.
Never tuck your jeans inside the boots unless you go riding a horse. Additionally, don't wear extra long pants that cover the beautiful neck part of the boots.
If you have short legs, go for boots with heels and avoid flat heels. Also, don't wear knee-high boots; this will make you look shorter.
Frequently Asked Questions
What should you not wear with cowboy boots?
Streetwear and cowboy boots don't actually complement each other, so it's better to avoid this combination. Additionally, avoid wearing too many accessories, rather keep it simple because the cowboy boots should be the centerpiece.
Do you wear jeans inside or outside cowboy boots?
Don't tuck your jeans inside the cowboy boots unless you are riding a horse.
Is it ok to wear cowboy boots with shorts?
Yes, why not! You can pair your knee-high boots or ankle booties with shorts. This summer look will surely make you comfortable and trendy.
Can you wear cowboy boots without socks?
Yes, you can wear cowboy boots without socks, and there is no harm in it. However, as your feet sweat, the leather inside the boots will become dirty and smelly.
In a hurry? Check out my new post What Work Boots Are Made In The USA
Conclusion
Cowboy boots are still in fashion for their timeless look, so why ruin their beauty by pairing the boots with a mismatched dress.
Wearing cowboy boots without looking country is not a big deal at all; you just need a good idea of fashion and dressing. And most importantly, walk with grace and confidence.