When some of you just consider cowboy boots as a necessity, I(the biggest boot freak) take care of them like my baby. Don't expensive things require a bit more attention and pamper?
When you are spending an ample amount of money on your cowboy boots, you surely want them to last for a lifetime, and for this, proper caring is a must.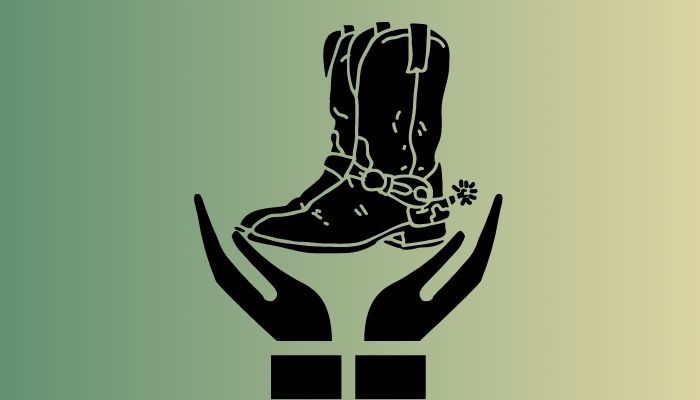 So here I am to talk about all the helpful tips you can follow to take care of your cowboy boots.
If you want to make your limited edition cowboy boots long-lasting, don't forget to read the entire article.
How to Take Care Of Cowboy Boots?
Cowboy boots are known for their eye-catching and unique designs. You can literally feel the richness in the boots when you touch them.
Additionally, the smooth leather and exotic skins of the boots indeed make them a high-maintenance boot.
Just like your skin needs proper cleaning to maintain a healthy glow, same as cowboy boots need a boot care routine that will make them last for decades.
The key rule of maintaining and extending the life of a pair of cowboy boots is to clean, condition, and polish them.
Maintaining and taking proper care of cowboy boots is not rocket science at all. All you have to know is the correct method and choose the right tools.
Follow our guide on how to Wear A Boot Knife With Cowboy Boot.
So let's talk about the ways that you can follow to take proper care of cowboy boots:
Clean The Boots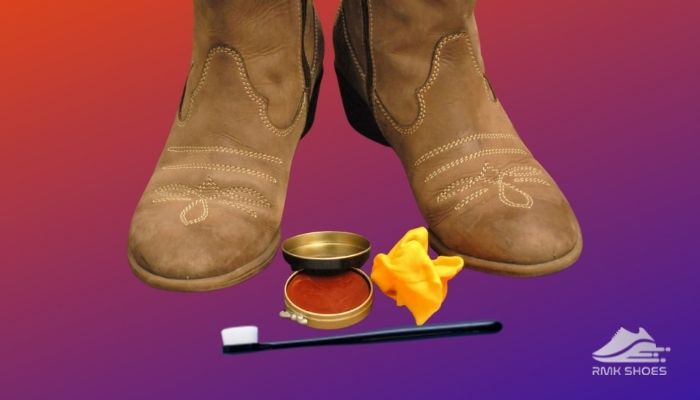 The only thing which can deteriorate the quality of cowboy boots is dirt. That's why cleaning plays a vital role in a cowboy boot care procedure.
Note that if you want to polish or condition your cowboy boots make sure the boots are clean. If you apply products on a dirty boot, you are doing nothing but ruining the boots.
Here are the steps that you should follow in cleaning the cowboy boots:
Things you'll need:
Soft-bristled toothbrush
Towel
A dry cloth
Leather cleaner
Damp a clean towel and wipe off the lower section of your boots; this will remove the excess dirt. You can also use a soft-bristled toothbrush to remove the stubborn dirt particles.
Once you are satisfied with the removal of dirt, let the boots sit to dry.
Now it's time to make your boots flawless with a leather cleaner. The leather cleaner works great in removing stains and spots.
Rub a thin layer of leather cleaner with a sponge on the boots and sit on the boots for a few minutes.
Once the boots are dry, then you can proceed to the next step.
Also, follow our guide on how to Waterproof Cowboy Boots.
Condition The Boots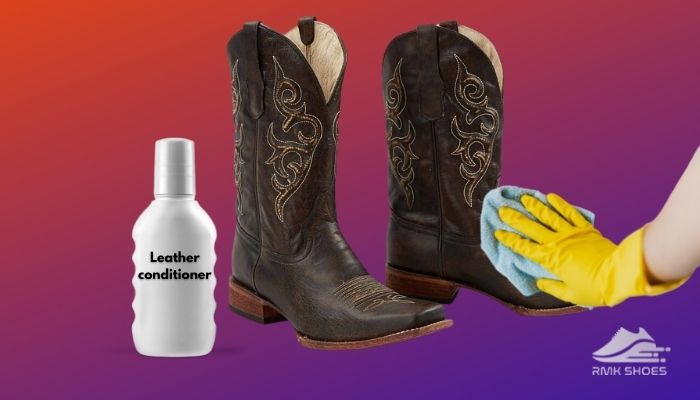 Cleaning the boots somewhat makes them a bit dry. To regain their moisture and make the boots supple, the conditioner works great.
Take a dime size conditioner on a dry cloth and start rubbing into the boots in a small circular motion.
Once you cover the entire boots with conditioner, give them some time to absorb the conditioner.
If you feel your boots are still dry at some places, you can reapply the conditioner on those areas, but make sure not to overuse them.
Check out our guide on how to Break-In Cowboy Boots.
Polish The Boots
It's time to regain the boot's lustrous shine. While purchasing boot polish, always choose polish according to your boot's material.
Apply a thin layer of polish on the areas of the boots where you want them to shine.
With a horsehair brush, buff out the polished areas to create a mirror shine.
How To Take Care For Distressed Leather Cowboy Boots?
Do you own a distressed pair of cowboy boots? Want to make them long-lasting?
Here I am to discuss the easy yet effective ways of taking care of distressed leather boots:
The rough, lived-in look of distressed leather cowboy boots is what makes them charismatic from a smooth pair of leather cowboy boots. And that's why distressed leather boots should be treated differently.
The polishing part should be omitted to maintain the aged and rustic look of distressed leather cowboy boots; besides that, the cleaning and moisturizing step are essential for caring for distressed leather.
Also, check out our epic guide on how to Restore Cowboy Boots.
Make The Boots Dirt-Free
Take a boot brush with soft bristles and give the boots a good scrub to remove all the dirt and grime.
To remove any mud from the boots, damp cloth and wipe them gently. Don't forget to clean the heels.
Keep the boots in an airy place for drying.
Condition The Boots
Buy a good-quality conditioner that is specially made for distressed leather boots.
Rub the conditioner evenly on the boots, give some time so that the boots absorb all the goodness of the conditioner.
You can also use mink oil as an alternative to a conditioner. But make sure you do a patch test before you apply any conditioner or oil on the boots.
Wa-lah! Your distressed leather cowboy boots are all cleaned and ready to rock the floor.
How To Take Care For Ariat Cowboy Boots?
Clean your Ariat cowboy boots with a clean rag to remove the dirt and mud. Next, condition the boots with Ariat leather conditioner, and once the boots get dry, polish them with Ariat polish. The waterproofing agents in Ariat polish make the boots very long-lasting and water-resistant.
If you want to add extra years to the life of Ariat cowboy boots, then follow the tips below:
Frequently clean, moisturize and polish the boots.
Don't wear the same pair of boots every day.
Keep your boots away from direct heat. Direct heat can crack the leather.
Use boot trees to keep the boot's shape intact.
Follow our guide on how to Walk In Cowboy Boots: Like A Pro.
How To Take Care For Snakeskin Cowboy Boots?
If you own an exotic pair of snakeskin cowboy boots and are searching for the easiest ways of taking care of them, then your search ends here!
Snakeskin cowboy boots carry a hefty price tag as they are very rare. These boots of exotic leather need special care for extended life.
Again the method is all the same cleaning, conditioning, and polishing. Rub your snakeskin boots with a damp cloth along the direction of the scales. Again, make sure not to lift the scales.
Dry the boots, and then use a conditioner that is specially made for snakeskin boots. Apply a thin coat of reptile conditioner on the boots with a soft cloth, dry them, and then buff them with a cloth.
If you want your snakeskin boots to have a lovely sheen, buy a polish that is snakeskin friendly. Apply the polish thoroughly and buff out the boots with a soft cloth.
Snakeskin cowboy boots need extra protection other than cleaning and polishing. Don't forget to use a water protectant product to protect your snakeskin cowboy boots from water damage.
Always keep the boots in a cool and airy place and avoid direct sunlight.
How To Take Care For Lizardskin Cowboy Boots?
With a soft cloth, gently wipe off the dirt and dust, be careful not to lift the scales. Next, condition the boots with a conditioner that is made for lizard skin. If you want to protect your boots from water, you can use a good water protectant product.
If you want to keep the sleek and luxurious appearance of your lizardskin cowboy boots intact for a long time then don't forget to take utmost care of them.
How To Take Care For Suede Cowboy Boots?
Suede is a delicate material; its biggest enemy is water. So cleaning suede cowboy boots is indeed a challenging task to do if you don't know the correct procedure.
Let's see what the steps that you can follow to take proper care of suede cowboy boots are: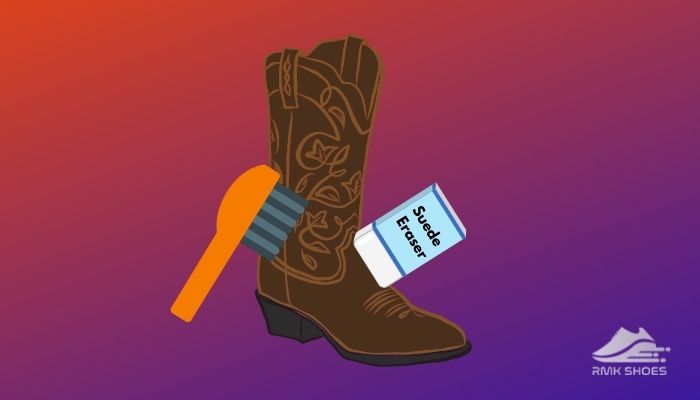 Things you'll need:
Suede cleaning brush, suede eraser
Suede cleaner
Suede conditioner
With a suede brush, scrub the surface of the boots to remove the excess dirt. If your suede boots have got mud stains, don't clean them while the mud is wet. Instead, give them enough time to dry and then take off the soil.
The seam and welt in the boots are the places where they get dirty quickly. So, with a suede eraser, gently scrub the nooks and crannies of the boots.
It's time to clean the boots with the suede cleaner, apply the cleaner on the boots and scrub the boots with the suede brush.
Wipe the boots to clean the excess product.
Don't forget to apply suede conditioner to keep the boots moisturized and soft.
How To Store Cowboy Boots?
Along with cleaning and maintaining, how you store the cowboy boots also plays an essential role in keeping the boots long-lasting. Additionally, the tall shaft and textures on shafts and spikes of the boots need to be appropriately stored, or else your cowboy boots can crack or break.
Here are things you should do to store your cowboy boots properly:
Keep the cowboy boots in a dry and well-ventilated place; this will prevent the boots from drying or cracking.
Use a boots rack to keep the boot's shape intact.
There are special boot boxes that are designed to store expensive cowboy boots. This storage box contains ventilation holes that keep keeps the boots fresh and well-ventilated.
Use boot trees to hold the shape of the cowboy boots vamp.
If you don't have access to boot trees or boot racks, you can stack some newspaper or bottles to keep the boots in shape.
Conclusion
Long story short, if you want your thousand-dollar cowboy boots to stay fresh and long-lasting, it is mandatory to take utmost care.
Not regularly, but clean the cowboy boots once in every month if you wear them frequently and 3-6 months if you wear them often.
So now that you know almost all the cleaning and maintaining tips of cowboy boots, choose any method according to your boot type and get on to work.