Cowboy boots are solely enough to make you the centerpiece of a gathering, thanks to their ageless and exotic design.
But these exact pairs of cowboy boots will no longer have that wow factor once they become old and scuffed up.
Thanks to the restoration process that can make your old, worn-out cowboy boots into a brand new pair.
But do you know how to restore cowboy boots?
If not, then give this article a read. Here you will find all the simple methods of restoring cowboy boots that too without any hassle.
So buckle up to read the entire writing and make your cowboy boots into a masterpiece!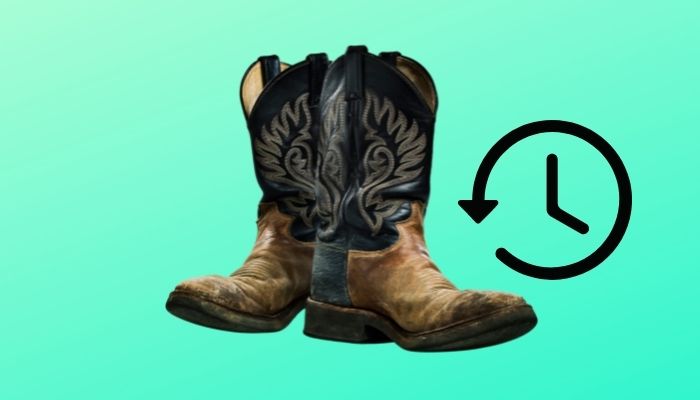 How To Restore Leather Cowboy Boots?
When you spend a handsome amount on your cowboy boots, you definitely don't want them to look haggard. No matter how branded or expensive your boots are, leather starts to degenerate gradually.
Cowboy boots last for years; after a particular time, they will look old and discolored, which is inevitable.
However, proper maintaining and restoring the cowboy boots can indeed bring them back to life.
Let's discuss what the methods you can do to restore cowboy boots are:
Method 1: Clean, condition, and polish
The restoration process of cowboy boots is nothing too fancy; it's the same as the cleaning process with conditioning and polishing in addition.
Even though your boots don't need any restoration, you must clean your cowboy boots often, as cleaning not only adds a shine to them but also extends the boots' life.
You may also like Are Cowboy Boots Supposed To Be Loose.
Step 1: Clean the boots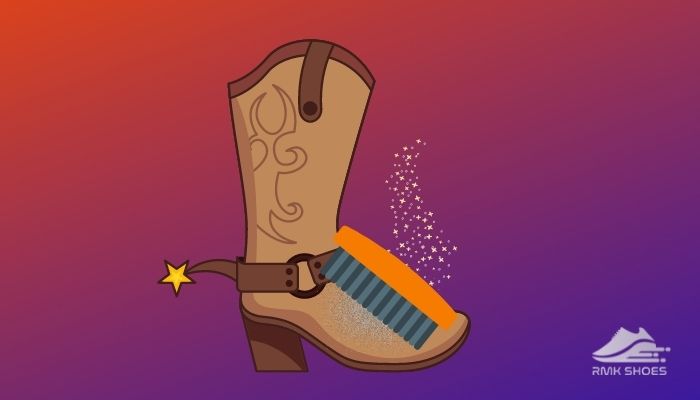 Start by brushing off the boots with a horsehair brush; if you don't have a horsehair brush, a toothbrush will also do the work. Brushing the boots will remove all the chunks of dirt or grimes.
If your boots are heavily dirty, damp the boots with warm water and gently brush off the soil. Don't forget the heel area; this is the area where your boots pick most of the dirt.
Let your boots completely dry before you proceed to the next step.
Clean suede cowboy boots
Suede is softer and thinner than leather, so their cleaning method is also different. Don't try to use the leather cleaning method for suede cowboy boots. I repeat, don't!
Water is the biggest rival of suede, so the less you use water on them, the better it is.
There is a special brush designed to brush suede boots, named suede brush. With that brush, remove all the soils from the boots.
If your boots are stained, you can run a suede eraser on them to remove the stubborn discoloration.
Lastly, clean the suede boots with a suede cleaner and give them a good scrub with the suede brush.
Also, check out our separate guide to know Can Snakes Bite Through Cowboy Boots.
Step 2: Condition the boots
Due to overwear, the leather of the boots loses its moisture. Conditioning is a must to revive their moisture.
Choose conditioner according to your boot type because leather and suede have different conditioners.
Take a dime size of conditioner on a rag and apply it to the exterior of your cowboy boots. Leave the conditioner on the boots for a couple of minutes or wait until the boots absorb all the goodness of the conditioner.
Don't use too much conditioner, as this can cause discoloration to the boots.
You can also use saddle soap to condition the boots, although saddle soap is all-natural but too much use spoils the finishing of the boots.
Finally, buff out your boots.
Once you condition the boots, you will see your boots become very supple and nourished. Additionally, conditioning the boots makes them waterproof.
Step 3: Polish the boots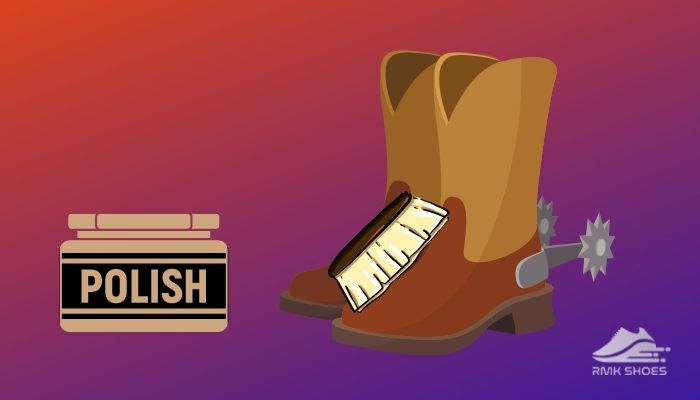 If you are restoring your suede cowboy boots, skip this part, but polishing is mandatory for leather boots.
With a shoe polish, polish your boots to regain their vibrant color and add a bling-bling shine on them.
Also, check out our separate post to know How Long Do Cowboy Boots Last.
Method 2: Dye the leather cowboy boots
If the vibrant color of your cowboy boots has been faded due to excessive wear, then try dyeing them out. Dyeing the boots can bring back their original color and make them look new.
Dye leather cowboy boots
Before you use any dyeing product, you have to make sure your boots are cleaned and conditioned.
When your boots were initially dyed, some kind of protective finish was used on the boots. So before you use any dye, you have to remove the coating so the dye can be absorbed in the boots.
To remove this, you can use a leather deglazer. With a wet cloth, rub the deglazer all over the boots. Now let the deglazer dry; it will take around 10-15 minutes to evaporate.
It's time to apply the dye. You can wear gloves to avoid mess.
Shake the bottle of the dye nicely and pour some dye into a disposable container.
With a sponge or brush, apply the dye to your boots and wait for 30 minutes to dry.  And then again, apply a second layer.
Once you are satisfied with the final color, allow your boots to dry, it may take 2-3 hours. The longer you dry the boots, the better it is.
And finally, polish your boots to add an excellent gloss to them.
While buying dye, make sure to choose the exact color of your boots.
Method 3: Use boot shapers or boot trees
I guess the most appealing feature of cowboy boots is their shape. The long shaft is what makes them unique from other boots. So it is important to restore the shape of the shaft and foot of your cowboy boots.
To keep the shape of the shaft intact, you can insert boot shapers inside them. And boot trees to reinstate the foot's shape.
How To Restore Cowboy Boots With Household Items?
Do you have a tight budget? Don't want to spend money on boot trees or dyes? Looking for quick hacks to restore cowboy boots with the items present in your house?
No worries! I have explained some methods that you can follow to restore your cowboy boots with household items. However, I would recommend not to use household items frequently to restore cowboy boots as this can deteriorate the quality of the boots.
Let's see how you can reinstate cowboy boots with household items:
Use olive oil: If your cowboy boots miss that excellent gloss, you can apply olive oil to them. Take a few drops of olive oil on a cloth and gently rub the boots.
Use lotion: Why do we use lotion on our skin? For moisturizing our skin, right. Similarly, you can apply lotion on the surface of your dry boots to make them soft.
Use vinegar: To bring back the softness of your cowboy boots, mix equal parts of vinegar and water in a bowl and with a cloth, apply the solution on your boots. With a towel, dry the boots.
Use steam: Steam is a fantastic way to remove the hardness of your boots and make them supple. Boil water in a kettle and let the hot steam go inside the boots.
Check out our separate post: Are Cowboy Boots Bad For Your Feet.
How To Maintain Cowboy Boots?
Prevention is better than cure, right? It's better to take care of and maintain your cowboy boots so that you don't have to restore them. Without maintenance, you can wear a pair of cowboy boots for 5 years maximum, and with proper care, you can wear them for at least 10 years.
So you decide, which is good, five years or ten years?
Here are the things you can do to maintain your cowboy boots:
Clean, condition, and polish are a must for your cowboy boots if you want them to look good and last long.
Waterproof your boots with a good water-repellant spray every month to protect them from damage.
Stuff the boots with newspaper or a boot tree when unused; this will keep the shape of the shaft and foot intact.
Take professionals' help and replace the soles and heels of the boots frequently.
Conclusion
Cowboy boots are specially made to last long, so why reduce their lifespan due to lack of care. And as I said earlier, sooner or later, cowboy boots will get old and discolored, but this doesn't mean you cannot wear them anymore.
You can rejuvenate and bring back the life of your cowboy boots by following any of the methods that I have explained above.
I hope this article was helpful to you. If yes, then let us know your experience in the comment section. We love to hear from our lovely readers.