As a cowboy boots freak, the most frequent question I have come across is how long-lasting cowboy boots are.
To answer all these questions accurately, I have done intense research on the lifespan of cowboy boots.
To begin with, let's discuss the actual question:
How long do cowboy boots last?
A pair of cowboy boots can last up to 10 years or more depending on the quality, stitching, maintenance, choosing for the right purpose, and how often you wear them. Whereas, low-quality or fake cowboy boots will hardly last for 2 weeks.
Go through the whole article to have a proper understanding of the lifecycle of cowboy boots.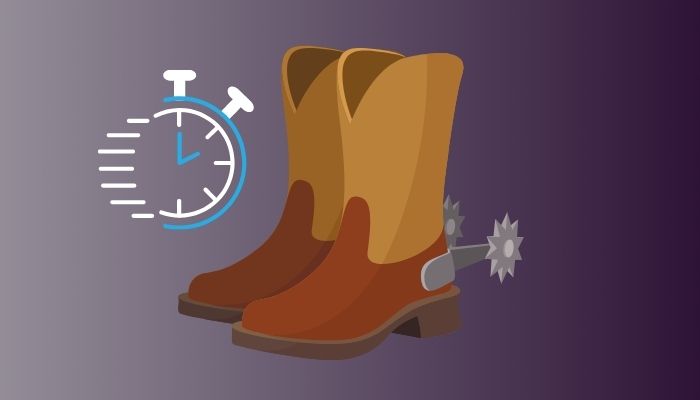 How Long Do Cowboy Boots Last?
No doubt, cowboy boots deserve a 10/10 for their look and sturdiness. But is the boot's longevity as good as its appearance?
Yes!
It is said that cowboy boots last for a lifetime. But in reality, the scenario is a bit different.
A pair of cowboy boot's longevity depends on a few things: maintenance, quality, proper storage, and how often you wear the boots.
Usually, good quality and adequately maintained cowboy boots would last a minimum of 10 years or more. But these 10 years can also become 1 year or even 1 week if your boots are not taken well care of!
You may also like to read: Can You Wear Cowboy Boots With A Suit
Factor that increase the lifespan of cowboy boots
Let's see the factors that can increase the lifespan of cowboy boots are:
Choose the Correct Cowboy Boots
A wrong choice of boots for specific work or place affects the boot's lifetime.
Suppose you are working on a farm or doing outdoor activities and wearing high heels and non-durable cowboy boots. What do you expect, will your boots last long?
No way!
These fancy cowboy boots are not sturdy at all. And they only look good when you enjoy a horse ride or attend a music fest.
Instead, you should wear western work boots that are highly durable with a rubber outsole and mainly made for heavy-duty outdoors.
So choose the cowboy boots for the right purpose, and you will notice your boots will also last long.
Follow our guide to know Can Cowboy Boots Be Resoled
Quality of the Cowboy Boots
The quality of your cowboy boots also determines how long the boots will last.
Many fraud sellers sell fake cowboy boots in the name of original leather cowboy boots. These replica boots will last you not more than 2 weeks.
So try to buy cowboy boots from trusted brands like Ariat, Lucchese, Laredo, Justin, and more. Their boot's price is a bit high but as it is said, the better the quality, the pricier it is.
Buying branded cowboy boots ensures the material is of top-notch quality, and without any doubt, these boots will last for a decade.
Check out our separate post: Why Are Cowboy Boots So Expensive
Take Care of the Cowboy Boots
If you want your cowboy boots to last for a long time, you must take utmost care of them. Many times, the boot's condition deteriorates within a very short time; this happens because due to lack of maintenance.
Proper care not only adds extra years to cowboy boots but also makes them look new.
A detailed guide to taking care of cowboy boots is explained in this article, so make sure to read it until the end.
How Long Do Rubber Sole Cowboy Boots Last?
A good pair of rubber sole cowboy boots last for 10-15 years. This period varies depending on the quality of the boots, how well the boots are taken care of and how frequently you wear them. In comparison with leather soles, rubber soles are way more durable which makes them last longer. 
Cowboy boots with rubber soles are very durable compared to other leather soles. This durable sole makes it very easy to stand in the boots for hours and work on the farm or heavy-duty outdoors.
As the sole is long-lasting, you don't need to resolve them every one or two years.
A rubber sole cowboy boot works outstanding on challenging surfaces. After every 4 to 5 years, you can change the sole.
Another advantage of rubber soles is that they are less affected by water. The rubber sole will not deteriorate when they are exposed to moisture.
Not to mention, the rubber sole provides maximum grip, which is much needed on the slick surface.
If you work on farms or construction sites wearing cowboy boots, then a rubber sole is the best option. It keeps your feet flexible and comfortable for a long time.
Check out our separate post to know Why Are Cowboy Boots Pointed
Are Cowboy Boots Durable? 
Yes, cowboy boots are very much durable. The durability of cowboy boots depends on the material and quality of the boots. The better the quality, the more durable the boots are. In particular, rubber sole cowboy boots are more sturdy and durable than leather soles.
Initially, cowboy boots were made for cowboys to keep their feet protected from external forces, and they can sit securely in the stirrups.
For this reason, cowboy boots are made with high durability.
However, there are different types of cowboy boots. You can't expect your fashionable cowboy boots to be as durable and sturdy as western work boots.
Additionally, the rubber sole and leather sole cowboy boots don't have the same amount of durability. Rubber sole has more ability to withstand pressure and damage, whereas the leather sole is not so durable.
Also read, Are Cowboy Boots Comfortable
How To Take Care Of Cowboy Boots
Proper care is the key rule of increasing the longevity of cowboy boots. No matter how expensive your cowboy boots are, lack of maintenance will degenerate their quality.
Though cowboy boots last for years but after a specific time, they will look old and discolored.
However, proper maintenance and taking care of the cowboy boots can bring them back to life and extend their lifespan.
Let's see how you can take proper care of cowboy boots:
Method 1: Clean, Condition, and Polish
The thumb rule to take care of cowboy boots is to clean, condition, and polish them.
Cleaning the cowboy boots not only makes them dirt-free but also increases the boot's life.
Step 1: Clean the Cowboy Boots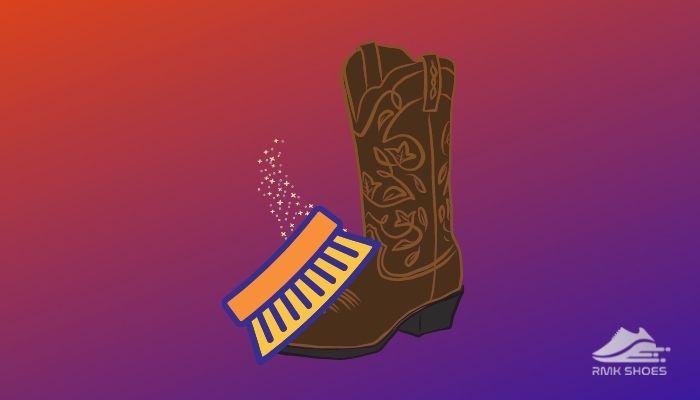 Start the cleaning process by brushing off the boots with a horsehair brush. If you don't find a horsehair brush, a soft-bristled toothbrush will also work.
Follow our guide on how to Wear A Boot Knife With Cowboy Boot
Brushing will remove all the chunks of dirt from the boots.
If your boots are filthy, damp the boots with warm water and gently brush off the soil.
Make sure to clean the heel; this is the area where your boots get dirty mostly.
Let your boots completely dry before you move to the next step.
Clean Suede Cowboy Boots
The cleaning technique of suede cowboy boots is a bit different as the suede is much softer and thinner than leather.
Using a leather cleaning method for suede cowboy boots can damage the boots, so make sure you know the cleaning procedure of suede boots first.
Start the cleaning process with a particular brush designed to brush suede boots, named suede brush. Give your suede cowboy boots a thorough brush and remove all the soils from the boots.
If your boots have discoloration, you can run a suede eraser on them to remove the stubborn stain.
Last but not the least, clean the suede boots with a suede cleaner and brush them nicely with a suede brush.
Remember, suede is terrifically allergic to water, so don't try to use water on the boots.
Also, follow our guide on how to Waterproof Cowboy Boots
Step 2: Condition the Boots
A dried-out leather cowboy boot is one of the reasons why cowboy boots don't last long.
It usually happens, due to overwear, the leather loses its moisture.
Conditioning the boots works excellent to bring back the moisture.
Choose conditioner according to your boot type because leather and suede have different conditioners.
Apply a little bit of conditioner on a cloth and rub it to the exterior of your cowboy boots.
Let the conditioner sit on the boots for a couple of minutes or wait until the boots absorb all the conditioner.
Always start with a bit of conditioner. If you need more, you can apply more. But if you use a lot of conditioner in the first place, this can cause discoloration to the boots.
And finally, buff out your cowboy boots.
Conditioning the cowboy boots makes them very soft and nourished, as well as waterproof.
Check out our guide on how to Break-In Cowboy Boots
Step 3: Polish the Boots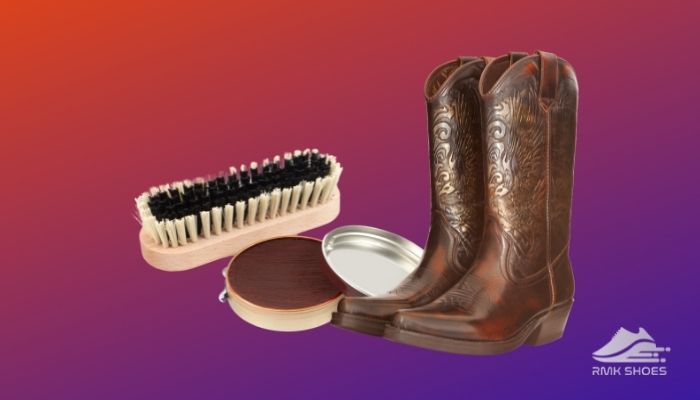 If your cowboy boots are made of suede, then you don't need to polish them.
But polishing is a must for leather cowboy boots! With shoe polish, polish your boots thoroughly.
After polishing, your leather cowboy boots will have a bling-bling shine on them.
Method 2: Dye the leather cowboy boots
After a specific time or due to excessive wear, cowboy boots tend to fade. In that case, dyeing the boots can bring back their original color and make them look brand new.
Also, check out our epic guide on how to Restore Cowboy Boots
Dye Leather Cowboy Boots
Make sure your boots are cleaned and conditioned before you use any dyeing product on the boots.
A particular type of protective finish was used on the boots when they were initially dyed.
Firstly you have to remove the coating so the boots can soak the dye quickly.
To remove this, you can use a leather deglazer.
Apply some leather deglazer on a wet cloth and rub it all over the boots.
Let the deglazer dry for 10-15 minutes. It's time to apply the dye. Give the bottle of dye a good shake and pour some dye into a disposable container.
Apply the dye with a sponge or brush to your boots and wait for 30 minutes. When the first layer gets dry, apply a second layer. Once you are satisfied with the final color, allow your boots to dry for 2-3 hours.
And once you are done, polish your boots to add an excellent shine to them.
You may also like to read: Wear Cowboy Boots Without Looking Country
Method 3: Use Boot Shapers or Boot Trees
The most eye-catching feature of cowboy boots is their tall shaft. Once the shaft loses its shape, the cowboy boots don't look beautiful anymore.
So it is important to keep the shape of the boot's shaft intact.
Boot shapers or boot trees work great in keeping the boots in shape.
However, boot trees and shapers are pretty expensive. If you want an alternative option, then newspapers and plastic bottles also serve the same purpose.
Stack some newspaper on the foot of the boot and a plastic bottle on the shaft. An inexpensive yet effective hack, isn't it?
Follow our guide on how to Walk In Cowboy Boots: Like A Pro
Conclusion
In conclusion, cowboy boots are hard-wearing and are built for challenging terrains.
You just need to take proper care of the cowboy boots to make them long-lasting.
If you don't own cowboy boots but are planning to buy one, then please go for a branded cowboy boots of good quality. Good quality and proper maintenance will make your cowboy boots last for a long, long time.
I hope this article contains all the answers you have been searching for. If this writing helped you in any way, then please let us know your experience in the comment section.