We men love to wear cowboy boots; they give you confidence and are a symbol of authority.
Thankfully, we live in a time where the popularity of these Western boots is sky-high. There are different variants of this fantastic footwear that you can pair with different attires to make things more interesting.
While jeans are (no doubt) are their best of friends, the question does arise:
can you wear cowboy boots with a suit?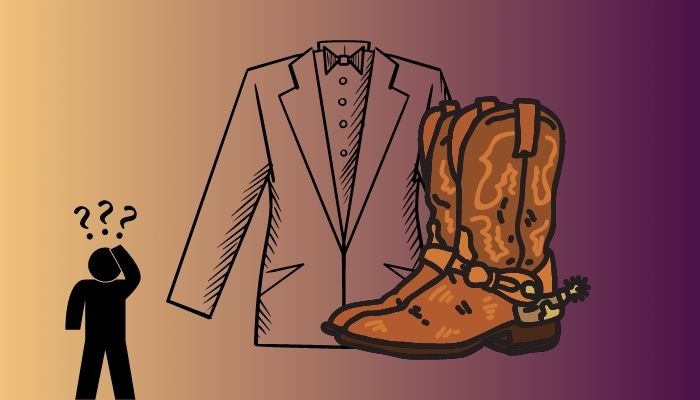 A big "yes", you can undoubtedly wear cowboy boots with a suit. This one-of-a-kind western boot boosts your confidence and oozes class. If worn correctly, you're bound to stand out. Mariachi bands and law enforcement such as the Texas Rangers wear cowboy boots with a suit.
I know you have a smile on your face, but it's not the end! You still need to know how to wear them ideally, what other outfits are suited with cowboy boots, and lot's more. Keep on reading to know it all.
Can You Wear Cowboy Boots With A Suit?-Answered
When the word suit comes to mind, we tend to picture ourselves in a classy outfit coupled with a pair of elegant yet nimble dress shoes. I think it's normal considering the fact, that's the norm.
But hey! Times have changed, humanity has evolved, so too has fashion. There was a time when wearing cowboy boots with a suit was considered a criminal offense. But, thanks to evolution, it's not anymore!
Now, you can wear cowboy boots without having to worry about anything else. You can wear them with a business suit or a slim suit; anything you want. But wait! There're some technical aspects of wearing these boots with a suit. You'll have to keep in mind: not all of them will be a good match.
Follow our guide to know Are Boot Trees Necessary For Cowboy Boots.
Distressed cowboy boots are not meant for this job, unfortunately. Their rugged appearance goes better with a western-style attire. It's mainly their texture that prevents them from doing this particular job.
Apart from the distressed ones, you get elegant yet classy cowboy boots as well. Their sleek glossy texture oozes a sense of luxury which truly complements a well-made suit.
Boots made from well-polished cowhide, caiman, or lizard are the perfect match. You can also go with leather boots that have a similar texture. It's their unique appearance that does the trick.
Furthermore, you can add shoes with leather soles to the list, too. They help to keep your foot firmly on the ground.
A pair of (gleaming) brown or black cowboy boots should be the ideal footwear of choice with this decorated dress.
Also, check out our separate post to know How Long Do Cowboy Boots Last.
How Should You Wear Suits With Cowboy Boots?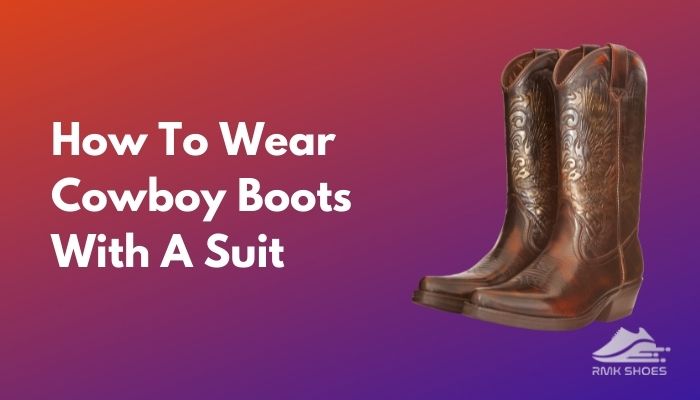 Congratulations on making it to the most crucial segment of this article! A good-looking pair of cowboy boots coupled with a classy suit won't make you fabulous in an instant! You've to know how to dress up appropriately.
So, how do you win this sartorial game? Precision; it's the key to getting everything right! For the best suits, you need the best cowboy boots. Once you have them, it's time for execution.
Read more on Why Do Cowboy Boots Have Heels.
Let's start with the material: to ace this game, you'll need boots made of genuine leather. Full-grain leather is the smart choice if you ask me. This particular variant contains the most natural properties of leather, which gives you total comfort and a sleek appearance.
An important aspect to keep in mind is the color of the leather. Avoid cowboy boots with bright colors such as yellow, red, or light blue. They don't sync well with suits at all.
Also, keep checking the heel height: you don't want them to be too high. The style has to be correct.
Now the looks, it's essential the ends of your trousers are wide enough to accommodate the shaft of your boots: the shaft has to be tucked inside your dress pants. Not the other way round!
Trust me; you don't want the V-shaped collar of your cowboy boots to be seen under the trouser of your suit; it kills the aesthetics.
Go for a cowboy boot that has a leather sole.
Other than cowboy boots, you can use dress boots to rock a well-made suit. There are many styles of boots that you can use to light up a suit; you'll get more (on this) as you proceed.
Is It OK To Wear Boots With A Suit?
Yes, it is perfectly ok to wear boots with a suit. But, keep in mind that not every professional will be allowed to do so or will be able to pull it off. And, the boot design has to be correct.
Some might have this restriction due to their dress codes. While, in other cases, this pairing is simply not required.
Let's say you've no particular obligation; then it's lovely to put in this combination. If otherwise, better not to. There are many different styles of western boots that go well with a suit, especially dress cowboy boots.
A good pair of dress cowboy boots or a shimmering black pair with close to zero intricate details are usually excellent.
My personal preference? It has to be sparkling black boots.
On the other hand, there are certain types you'd want to avoid. Boots with lots of sophisticated details, flashy colors, extravagant designs are not recommended. You should also avoid work boots.
The types mentioned above are more suited if you want to make a bold statement in a different outfit. Not in something as elegant and classy as suits.
What Should You Not Wear With Cowboy Boots?
There are many outfits yous should avoid when it comes to wearing cowboy boots. It's all about execution, I tell you.
If you want to wear cowboy boots, then you better do it right. It's like this, a cowboy hat will be spectacular with a specific pair, but it might be something opposite with a different pair.
One of the fundamentals to wear cowboy boots is well-fitted pants. Nice boot-cut jeans are the ultimate go-to option. You can also do with slacks or dress pants, but make sure they aren't tucked inside your boots. Anything otherwise will not be a good match.
There are quite a few styles which in no way should be worn with cowboy boots. For your convenience, I've listed them down.
Here are the dresses you shouldn't wear with cowboy boots:
Sports ware
Never even think of pairing cowboy boots with sportswear; they're like the opposite sides of a coin. Don't even pair them for experiment's sake too.
Street attire
This is another popular style that you should avoid with cowboy boots. Street wears match better with sneakers rather than western boots.
Unnecessary accessories
Accessories such as top-off leather belts or hats can be an actual stumbling block. Too many accessories take the spotlight away from your precious cowboy boots. Therefore, you always keep it clean and simple.
Fringe and Sequin attires
As tempting as it may sound, it's highly discouraged to wear cowboy boots with such clothing. The two of them just don't integrate well.
Overalls
Overalls are more suited with sneakers more than anything else. So, pairing them with cowboy boots may not be a good idea.
Casual Wear
It's another popular style that should be strictly avoided with cowboy boots. While some may argue otherwise, trust me, it won't make you stylish.
Check out our separate post to know Why Are Cowboy Boots Pointed.
Can You Wear Brown Cowboy Boots With A Black Suit?
No, you can't wear a brown pair of cowboy boots with a black suit, and vice versa. It's one combination that hardly comes up nicely. It's mainly the contrast that doesn't click.
According to the cowboy boot color matching rules for men, you should wear a pair of black cowboy boots with a black suit: it's the ultimate tried and tested formula.
Apart from black suits, you can wear charcoal, gray, and light gray suits with black western cowboy boots.
Can Cowboy Boots Be Professional?
Yes, you can wear cowboy boots professionally. There're many professionals (especially in Texas) that use cowboy boots while in their profession. They've integrated these shoes naturally without causing any sort of discomfort to their feet.
You'll be delighted to know, multiple former U.S presidents have rocked cowboy boots during their tenure. The likes of Bill Clinton, George Bush Jr have been pictured in cowboy boots with nice suits.
Here are some of the professions that use cowboy boots:
Texas Rangers
I guess it's no surprise, considering the place they hail from. This decorated law enforcement agency has cowboy boots as a part of its dress code. Apart from the boot, they also require a dress coat, dress shirt, a tie, and a cowboy hat.
Mariachi Bands
Mariachi bands include cowboy boots into their suit combination from time to time. They require a nice suit, along with well-crafted instruments. This particular music is highly appreciated in Mexico and Texas: it's a deeply respected profession in those parts of the world.
Retail Store Manager
Man! What's up with people in Texas and cowboy boots? They're everywhere, including the feet of retail store managers.
Electricians
Cowboy boots are prominent among electricians in the south, especially the ones with rubber soles. They work as insulation, which means no electric shock. You can find some of the best cowboy boots (with rubber soles) at Zappos.
In short, cowboy boots are embedded with the people's culture in the South, especially Texas. You'll see preachers from Baptists and Methodist churches in cowboy boots with a nice suit. You'll see many other professionals rocking in these western boots apart from the ones mentioned above.
Cowboys wearing cowboy boots is the most typical scenario over there in Texas.
What Boot Design Goes Best With A Suit?
Obviously, cowboy boots are included in this list. But, have you ever wondered what other style of boots can you wear with an elegant suit? Don't worry, and I've got your back! For your convenience, I've compiled this informative list.
Here are the boot designs that goes best with a suit:
Chelsea Boots
I love wearing business casual with Chelsea. One of my personal favorites, apart from suits they have the potential to light up any style of clothing: such is their charisma. RM Williams Boots are heads and shoulders above the rest in this case. The Cuban heel adds a different dimension.
Combat Boots
Don't be surprised; they make a super-effective combination with cowboy boots. Make the ends of your trousers a bit narrow so that the laces are visible. The appearance you'll get is beyond explosive.
Work Boot
Didn't see this one coming, did you?
Red Wings specializes in work boots; they work like a charm, especially in the winter.
They also ensure proper feet protection too.
Cowboy Boots
Last but certainly not least, you know the name. Make sure to go for the leather ones. Ariat boots company makes cowboy boots of the highest caliber. They ensure style and class.
Parting Thoughts
Leather cowboy boots with jeans have always been the perfect pair. Gone are the days when jeans were the only partners these bad boys had. But now, suits with cowboy boots are a real thing. And, it's big! People from all over the States love it.