Are the heels of cowboy boots designed as a fashion material or are there any other purpose?
Each and every feature of cowboy boots have a reason, and so are the heels.
And I am here with my long hours of research to answer all your questions regarding cowboy boot's heels.
That brings us to the main question, why do cowboy boots have heels?
Cowboy boots' heels make them easier to hook tightly to the stirrup of the saddle. In addition to that, they also reduce the chances of slipping cowboy's feet out of the stirrup while sitting on horseback. Additionally, the heels on cowboy boots improve the balance and stability of cowboys while riding.
Read till the end to know about the cowboy boot's heels in detail.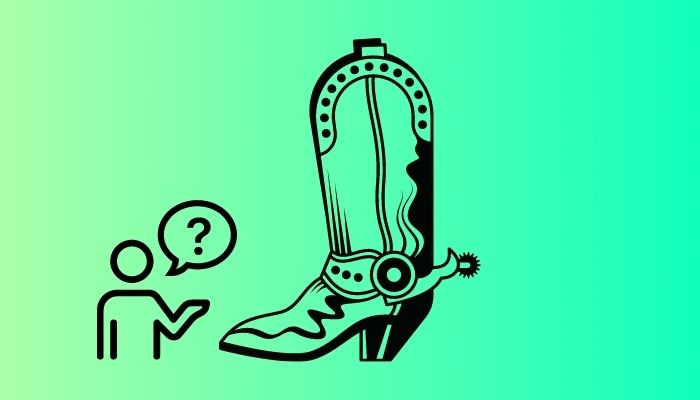 Why Do Cowboy Boots Have Heels?
Cowboy boots have been the dearest friend of cowboys for years, or you can say a true cowboy is incomplete without cowboy boots.
If you think cowboys wear cowboy boots only to give a rustic feel, you are wrong.
So let's first dig into the roots of cowboy boots.
Long back, farmers or cowboys used to wear plain boots for their work. But they wanted boots that are super sturdy and durable, that will keep their feet comfortable, and are also suitable for riding.
And that's when cowboy boots were born.
People were so satisfied with the cowboy boots that they became the go-to boots for their workplace.
Follow our guide on how to Clean Cowboy Boots: The Step by Step Guide
The specialties of cowboy boots are that, as they are made of cowhide, they make the boots extremely hard-wearing, durable, and surprisingly they are very affordable.
The most unique part of cowboy boots that startled everyone was the high heels that a typical pair of boots lacked.
If you are wondering, these high heels are only used to raise your heel a few inches, then you should know that every detail of cowboy boots bears significance.
The heels make the cowboy boots hook firmly to the stirrup of the saddle without any difficulty. Once the cowboy boots are tightly hooked to the stirrup, it makes sure the cowboy's feet don't slip out of the stirrup.
Not to mention, due to the high heels, cowboys have improved balance and stability while riding.
So thanks to the heels on cowboy boots that keep the feet safe and secure in the stirrups and prevent accidents.
Related guide: how to Shrink Cowboy Boots
How Many Types Of Heels On Cowboy Boots Are There?
To your amazement, not just one or two, but there are three different types of heels on cowboy boots. Each of the heels serves different purposes
You cannot just pick a random heel and wear them at any place. Instead, you should have proper knowledge of which type of heel suits your work.
For example, high heels for fashion or horse riding, low heels for walking, farming, and so on.
So let's learn about the types of heels on cowboy boots their purpose:
3 types of heels on cowboy boots-
High heel
Standard heel
Low heel
Follow our epic guide on how to Stretch Cowboy Boots
High heel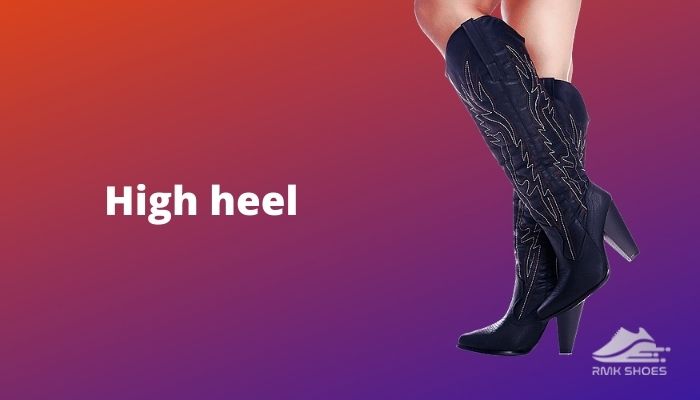 High heel cowboy boots serve as two in one boots; you can wear them for riding and also as fashion boots.
They are designed to opt for riding as it provides maximum balance and stability.
As the heels are high, it makes sure the cowboys' feet don't slip out of the stirrups. If you want to look swagger like true cowboys, then without any doubt, go for cowboy boots with high heels.
Additionally, the elegant and exotic design of high heel cowboy boots made them very popular among fashion boots.
These trendy high heel cowboy boots are solely enough to make a fashion statement and let you rock the floor!
However, fashion heels are not very flexible and are not suitable for long hours of walking.
If you want to attend a party or a music fest, then surely give the high heel cowboy boots a try.
You may also like Are Cowboy Boots Supposed To Be Loose
Standard heel
Standard heel cowboy boots are the perfect option for walking, running, and farming. With a heel height of 1.5 inches, flat and wide bottom makes them the most comfortable and go-to cowboy boots.
Despite walking for hours in boots, your feet won't get tired, and all these credits go to the flat and comfortable bottom.
However, standard heels are not suitable for riding. So don't expect a standard heel will work the same as a riding heel.
Follow our epic guide to know What to Do with Old Cowboy Boots
Low heel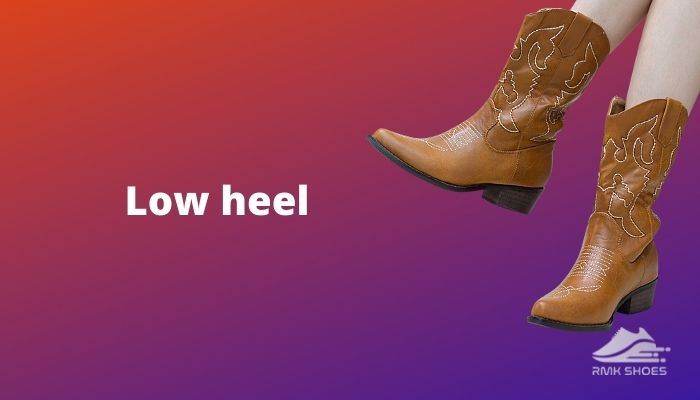 Low heel cowboy boots are another most comfortable boots and best for regular wear.
The heel height is only 1 inch; this makes the boots very flexible to wear.
The low heel is not very common in cowboy boots, but you can find it in roper boots. The Roper heel has a low and flat bottom, making them the best for running, walking, or outdoor activities.
Compared to other cowboy boots; Roper heels have a low shaft, making them easy to on and off.
As the Roper heel is very lightweight, you can wear them in your office or at a party. In Roper heel cowboy boots, I am sure you will be the start of the show.
Also, check out our separate guide to know Can Snakes Bite Through Cowboy Boots
How Tall Are Cowboy Boots Heels?
Cowboy boots come in 3 different heel types. Each heel has a different height.
The riding heel has a heel height of 2 inches; this raised heel helps the cowboy boots hook securely in the stirrups.
The high heel can vary from 2 to 3.5 inches. Most of the time, fashion heels have tall heels, as many girls like to match their outfits with high heel cowboy boots.
Walking heels like Rope cowboy boots have a 1-inch heel which is best suitable for everyday wearing.
And the standard heel is 1.5 inches which are again perfect for walking or running but not preferable for riding a horse.
Follow our guide to know Are Boot Trees Necessary For Cowboy Boots
Which Kind of Heel Should I Choose?
Which type of heel you should choose depends on where you are going and what you will do. Listen, every heel has merits and demerits, so choosing the correct heel for the right purpose is essential.
If you are going outdoor, farming, or riding, then definitely go for high heel cowboy boots. For walking or running, the standard heel is the ultimate pick.
Low-heel cowboy boots are not very available without the Roper boots. You can wear them for running and walking as they have a very flat and wide bottom.
Few people like to wear the Roper boots in the office for their minimal heel and elegant look.
Also, check out our separate post to know How Long Do Cowboy Boots Last
What is Used To Make Cowboy Heels?
Cowboy heels are made with different materials. Leather, synthetic, rubber are the primary materials that are used in cowboy heels.
Each material functions differently. For example, rubber heel caps are the most sturdy and stable compared to other heel materials.
On the other hand, if you want your heel to be super slip-resistant, go for a synthetic heel. Synthetic and rubber heels are anti-slip, durable, and stable compared to leather ones.
Leather heels are suitable for light activities like dancing. The slip heel and soles make leather heels ideal for dancing.
Check out our separate post: Are Cowboy Boots Bad For Your Feet
Can You Change The Heel On Cowboy Boots?
Of course, yes, you can change the heel on cowboy boots if they get damaged. Go to a professional and ask them to replace the damaged heel of your cowboy boots with a new one. If your heel is made of leather, then replace it with a new one every two years and 5 years for rubber heels.
This 2 or 5 years actually depends on how damaged your cowboy boots are.
If you wear your boots regularly, then a replacement will be needed early.  But if your boots are not damaged much, then you can easily spend 4-5 years without changing the heels.
Also, follow our guide to know Can Cowboy Boots Be Business Casual
Conclusion
Long story short, the primary purpose of heels on cowboy boots is to make cowboy boots easier to hook in the saddle's stirrup and provide balance and stability for cowboys.
Not just for riding but high heels in fashion boots are a treat to the eyes. The elevated heels give a very strut look and make you feel like a real cowboy.
And if you are not so fond of the high heel on cowboy boots, then there are other types of heels you can select according to your preference.
I hope this article answered all the questions that you have been searching for. If you have any queries then, please let us know in the comment section.
Best wishes!