Do you want to flaunt your stylish cowboy boots in meetings but are not sure whether they are business casual?
Relax! I was confused too.
And that made me do long hours of research until I typed the question for the last time.
Can cowboy boots be business casual?
Absolutely! You can wear cowboy boots as casual business attire. Now, cowboy boots are very popular as business attire for their stylish and assertive look. However, before you pair your cowboy boots with a business outfit, make sure your workplace is okay with this.
So don't forget to read till the end, to clear all your doubts.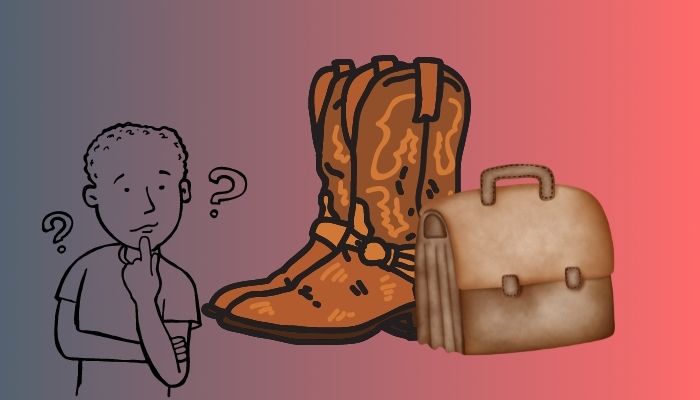 Can Cowboy Boots Be Business Casual?
It is already known that cowboy boots were initially made for horse riding only. But the modish and exotic style of cowboy boots has made them one of the best fashion boots of the 21st century.
But are cowboy boots appreciated as business casual?
Hella yes!
Gone are those days, when office uniforms used to be like black pants, a white shirt, and a formal pair of shoes.
But now, office uniforms or business casual attire are no longer plain and boring. Rather your outfit should be something that reflects your personality and confidence.
And cowboy boots with the right outfit are solely enough to bring you civility, confidence, and fashion in business.
However, you cannot just pair your cowboy boots with your business attire and walk into your office. Every workplace has dresscode, so make sure your office allows this type of dress-up.
See, everything looks good when you pair them the right way. So are the cowboy boots.
Before you walk into meetings, you should know what to wear with cowboy boots. Because lack of dressing knowledge can literally end up making a joke out yourself in the business culture.
So if you want to know which outfit perfectly goes with cowboy boots to have a business look, then keep reading.
Follow our guide on how to Walk In Cowboy Boots: Like A Pro
How To Wear Cowboy Boots to Have a Business Look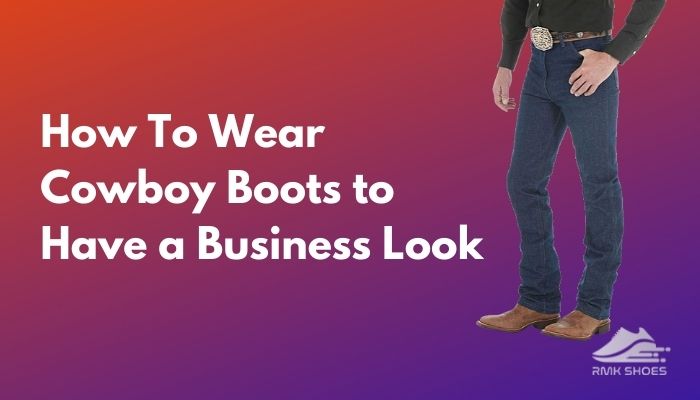 Cowboy boots are not something that you should wear daily in your workplace. As they don't fit in the family of formal shoes, it's better to wear them once in a while.
These days, you can wear anything and everything with cowboy boots for their wild and stylish look.
Cowboy boots are all alone a package, and to have a business look, your overall clothing should be subtle and not too loud.
Also, follow our guide on how to Fix Heel Slippage In Cowboy Boots: Simplest Solution
So let's see how you can wear cowboy boots to have a business look:
A Polo tee shirt or collared t-shirt looks great with any cowboy boots. Dress shirts with point collar, club collar, tab collar, and spread collar paired with cowboy boots give a slick and professional look. If your office allows polo-shirts then wear them with your cowboy boots for more of a sporty look. Avoid wearing too fancy or bright-colored shirts.
For more of a gentleman look, grab your white shirt and a pair of jeans. This combination with your cowboy boots can never go wrong, I betcha! Always choose dark colored jeans over light color as this gives a good contrast with cowboy boots. Also, boot-cut and close-fitted jeans are mostly preferable.
If you are more of a khaki or chinos person, then cowboy boot is for you. Pick black or brown cowboy boots and match them with khaki or chinos with straight legs. To get that business look, tuck your boots inside the pants.
Wear your cowboy boots with dress trousers to get a polite and optimal style. Dress trousers are best for summer as they are moisture-wicking and very comfortable. Choose black or brown cowboy boots for pairing with dress trousers.
To get that macho look in your business attire, combine your cowboy boots with a business suit. Exotic leather cowboy boots are the best match with the suit. Not only does it give a wild look, but they make you classy as well. Make sure to hide the cowboy boots under the pants. In addition, while selecting a color, match light-color suits with dark brown or light brown cowboy boots.
Polished leather cowboy boots are more preferable for business casual attires as this gives a more neat look.
Pick a proper or square-off design of black, burgundy, or brown cowboy boots to look more professional.
Check out our guide on how to Fit Cowboy Boots: Find Your Accurate Size
How To Wear Cowboy Boots In The Office Like a Pro
If you think that just wearing cowboy boots will make you classy among all your colleagues, you are wrong!
Just think, you are all suited booted, and you walk in the meeting with an improper gait. What impression does it give?
Not so positive, right?
So you have to know how to carry the cowboy boots well to become the show's highlight.
Let's see how you can wear cowboy boots in the office like a professional:
Cowboy boots need time to break in. And once the boots break in, the comfort level is unbeatable. So allow some time to under-go break-in before you wear the cowboy boots to the office.
Your cowboy boots should fit your feet like a glove, i.e., your boots should have a snug fit.
Choose exotic leather like lizard, crocodile, or caiman as this adds class and power.
High heels with narrow toe cowboy boots are most suitable for a business meeting.
Don't go for fancy and loud-color cowboy boots. Instead, choose black, brown, or even burgundy; these are the best shades to match a casual business outfit.
If you don't know which style of cowboy boots is suitable for business meetings, without a doubt, pick the Roper style.
Read more on how to Care For Cowboy Boots: The Best Way
Can You Wear Cowboy Boots To Wedding?
Of course, you can. When you can wear cowboy boots for business casual, so why not wear them to a wedding. Cowboy boots themselves are a total package and trendy as well, so wearing them to a wedding will surely make you stand out among the crowd.
See wedding is about fun, so why should there be boundaries in experimenting with your outfit. Choose any of your desired cowboy boots and match them with your dress.
But if the wedding has a particular theme, then try to avoid wearing cowboy boots as this may spoil the whole ambiance.
Also related to this guide Pack Cowboy Boots In A Suitcase: Easiest Ways
Conclusion
The main ingredient to pull off cowboy boots in business attire is confidence.  The more confident you are, the more sophisticated you will look.
Cowboy boots are all about fashion. So let's say goodbye to boring office uniforms and add a twist in your business attire with a pair of cowboy boots.
Was this article helpful to you? Let us know your opinion in the comment box.