Cowboy boots snatch away huge amounts of bucks from your wallet. But why are they so pricey?
Well, Don't worry. All your quest ends here.
With my extensive research in this article, I have pinpointed all the reasons why cowboy boots are so high-priced.
Which brings us to the actual question, why are cowboy boots so expensive?
Authentic leather, exquisite quality, and detailed design make cowboy boots expensive. Exotic leathers like alligator skin, lizard skin, or snakeskin cowboy boots are way more expensive than regular leather cowboy boots. Not to mention, faux leather cowboy boots are way more cheaper then a genuine pair.
Let's dive into the writing to know in detail.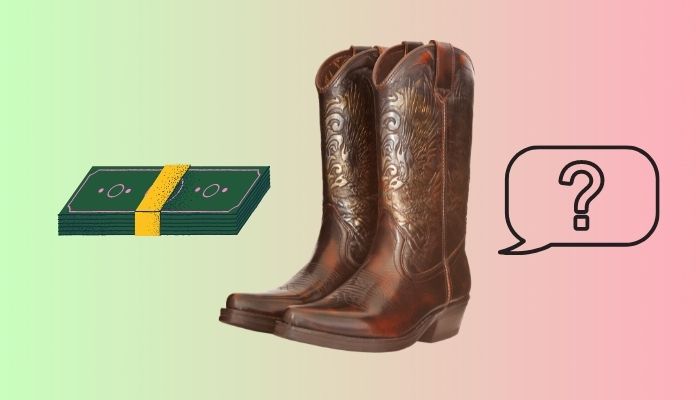 Also, check out our separate post on why are cowboy boots pointed.
Why Are Cowboy Boots Expensive?
If you think cowboy boots are expensive for their name value and popularity, then you are wrong.
Cowboy boots are pricey for their unique features.
While looking at the detailing and characteristics between a cowboy boot and a plain boot, you will understand the differences.
Cowboy boots are said to be a lifetime investment. That means a single pair of cowboy boots can be your reliable companion for more than 10 years. At the same time, a pair of sneakers will not even last you a year.
Looking to get a pair of cowboy boots but don't know whether they are comfortable or not? Quickly check out are cowboy boots comfortable.
So what makes the cowboy boots so durable?
It's the build quality.
And the better the quality, the pricier it gets!
If you are paying a healthy amount of money for a cowboy boot, you are actually investing in the quality.
Unlike typical boots, cowboy boots forte is they are made from genuine leather. And original leathers are hella expensive because their quality is top of the line.
And if you go for exotic leather like snakeskin or alligator, they can cost you plenty of pennies.
Look at the striking handcrafted design on your cowboy boots; these are the skills of the best craftsmanship.
It's actually the material, quality, design, and durability of cowboy boots that you are paying for.
Apart from all these, how, where, and what the cowboy is made of finally decides the actual cost of the cowboy boots.
I have explained all these in detail in the latter part of the article, so keep reading.
Follow our guide to know why do cowboy boots have heels.
Where Are Cowboy Boots Made?
Cowboy boots are made from Asia, America, and Europe mostly. And surprisingly, the price of cowboy boots varies from country to country. Each country has a different making process of cowboy boots and their qualities also differ from each other.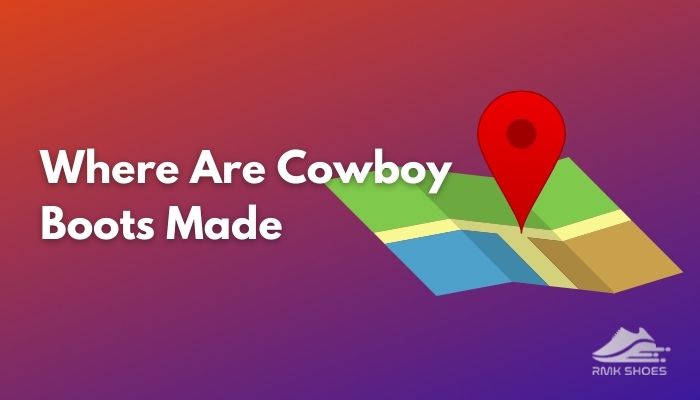 The cheapest cowboy boots are made in Asian countries like China and India.
Middle ranged cowboy boots are made in the Americas ( USA, Mexico, and Canada).
The most expensive cowboy boots are made in European countries like Spain and Italy.
Also, check out our separate post on are cowboy boots bad for your feet.
What are Cowboy Boots Made of?
Not just one, but there are different types of cowboy boots made from different leathers and exotic materials.
For basic cowboy boots, cowhide or bull hide leather are used as the material of the boots. These leathers are comparatively cheap.
And then comes the exotic skin cowboy boots for which they are widely famous.
Exotic skins cowboy boots like alligator, ostrich, lizard, snake, elephant, caiman, buffalo are very much limited, and you have to pay a hefty amount for that.
Cowboy boots have a long shaft of 11 to 13 inches; it requires a lot more leather. More leather means the cost is also high. And that's a major reason for cowboy boots being so expensive.
And on top of it, many cowboy boots have thick, heavy-duty leather outsoles. Leather outsoles are way more expensive than rubber outsoles.
Follow our ultimate guide to know how to stretch cowboy boots.
How are Cowboy Boots Made?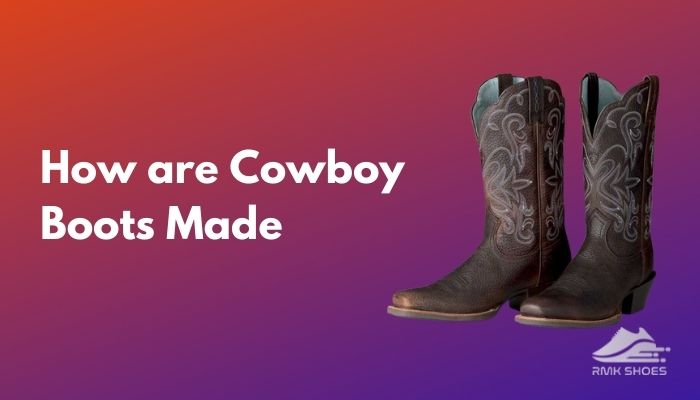 Cowboy boots are made in two types, machine-made cowboy boots, and hand-made cowboy boots.
And how the cowboy boots are made also determines the cost of the boots.
In Asia, cowboy boots are made by machine. With machines, a large number of cowboy boots can be produced per day without spending too much on labor.
Additionally, if you compare, the labor cost of Asia is much less than those of America and Europe. Thus the production cost is minimal in Asia, and so are their cowboy boots.
On the other hand, cowboy boots made in America are entirely not made by machine or hand.
Some parts of the boots are made by machine, and some are handmade.
And that's why the lost cost is more than in Asia.
Lastly, the reason why European cowboy boots are high-priced is that they are fully handmade.
It takes around 12-24 hours to make a single pair of cowboy boots by hand.
This increased hours of making the cowboy boots increase the labor cost too.
Moreover, every detail of cowboy boots is done very diligently. Because the small and sharp detailings are what cowboy boots are famous for.
Not to mention, the cowboy boots are made with the best craftsmanship so that there is no scope for complaints.
How Expensive are Cowboy Boots?
The price of cowboy boots can vary from $50-$5000. And needless to say with better price comes with better material, quality, craftsmanship etc.
For $50, you will get not-so-sturdy, faux leather and machine-made cowboy boots. And these $50 cowboy boots will last you hardly 1-2 years.
Whereas cowboy boots that are worth $1000 are made from genuine leather and handmade. The quality is top of the line, and these boots will last you for more than 10 years.
In short, you get what you pay for.
Good things always come at a good price.
What are The Most Expensive Cowboy Boots?
The most expensive cowboy boots in the world are the Jack Armstrong Cosmic cowboy boots worth $6 million. Jaw-dropping right?
Thinking about who would ever pay for cowboy boots with a price tag of $6 million, apparently, someone who has whopping money.
This is not just a pair of cowboy boots, but it is a piece of art renowned by an American arctic Jack Armstrong.
Armstrong made these legendary cowboy boots for his Cosmic X collection, where he produced only 100 pieces of cowboy boots, each worth $6 million.
The most exciting thing is when you look at the Cosmic cowboy boots, words appear depending on the angle you look at them.
Jack Armstrong also painted his own pristine 1968 Tony Lama boots that were considered legendary itself.
Frequently Asked Questions
Q: How long do cowboy boots last?
A pair of cowboy boots can last more than 10 years if you properly take care of and maintain them.
How long the cowboy boots will last also depends upon the quality of the boots. If your cowboy boots are made of fake leather, synthetic material, and plastic, they will not last for long.
Whereas 100% genuine leather and handmade cowboy boots are very much sturdy and can last a lifetime.
Also, the lasting time of cowboy boots depends on how frequent and on which surface you wear the cowboy boots.
Q: How much should I spend on cowboy boots?
It's better to avoid cheap cowboy boots and go for high-quality cowboy boots.
A good pair of cowboy boots starts from $200-$1000+ depending upon the brand, design, material, and so on. So buy according to your budget.
Conclusion
I know cowboy boots are costly but trust me, they are worth every penny. Try investing in a good pair of cowboy boots from a well-known brand and believe me you are all set for at least 10 years
I hope this article answered all your questions. If you find this writing helpful, then feel free to leave your opinion in the comment box.