If you are new to the world of boots, then you must know that the Clark bushacre has been popularized for its classic design and durability. Desert boots also took their place for their comforts and designs.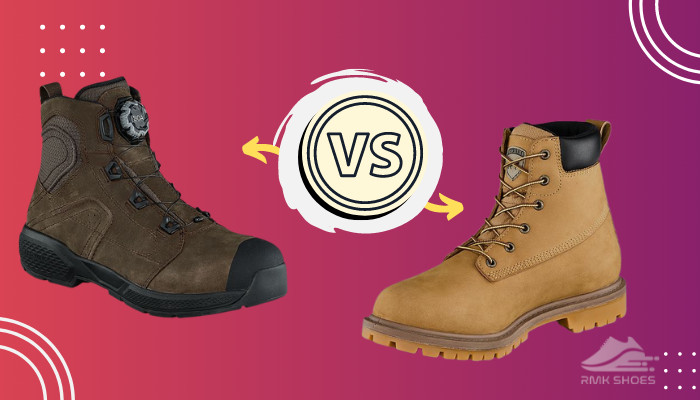 You may be confused between Clarks bushacre and desert boots which one will suit you best? Or which one will give you the most comfort? And what's the exact difference between Clarks bushacre and desert boot?
Well, I'm gonna discuss here all the important facts for you!
To know all the real facts and find out the best boots for you, keep reading this article till the end.
History Of Clarks Bushacre and Desert Boot
If you dive into the history of this footwear, you will see that both are from the chukka-style series. Clark's was founded as a brand in 1825 and became trustworthy just after then.
Nathan Clark was the founder of desert boot in 1941 When he was posted in Burma to save his country.
He was also searching for new shoes for his company and noticed that the men in the army were wearing creped sole boots, which are very tough footwear.  Among 22.000 styles of Clark's bushacre, desert boots became their signature product.
Also, check out our separate post on Geox Vs Clarks.
Clarks Bushacre Vs. Desert Boots: What Are The Differences Between Them?
They're from the same company but still have different styles, looks, and designs. They're also made of the same materials, but they've several differences in their specifications.
So let's get into the details which may lead you to the proper way!
Here are the main differences between Clarks Bushacre and Desert Boots:
Build
The main manufacturing difference between these two boots is sole types.
The Clark's bushacre is made from fabric and synthetics soles. The materials are slip resistant and flexible.
On the other hand, desert boots are made from crepe rubber sole, which is very comfortable and gets extraordinary griping services.
Sole
We already know there are two types of soles used to make these boots great and comfy.
Insoles
Both Clarks bushacre and desert boot have  Cushioned Insole inside, which makes these boots too comfortable for ankles. It feels like a pillow inside your shoes, and your feet can easily fit in the footbed.
Outsoles
As you detected, the main difference between these boots is the outsole.
Clarks bushacre has a rubber outsole that is non-slippery and weather friendly.
The Desert boot's outsole is made of crepe soles, making the boots more comfortable and perfect for long days.
Follow our epic guide on How To Clean Clarks Desert Boots.
Durability
Clarks bushacre has much more durability than a desert boot. If you think about durability as well as comforts, then you must go with Clark bushacre.
Well, It's a making process and the specific sole design which gets its best longevity.
Desert boot can be the most comfortable choice for you but still have some durability issues.
Actually, it's made from synthetic crepe sole, which is lightweight and less durable.
Having such durability issues, it provides a long day of comfortness, which is really amazing!
So, it's your turn to choose the best one for you!
Looks And Designs
Both boots have stylish and aesthetic outlooks. But bushacre outlooks may fit best with formal or classical outfits.
On the other hand, desert boot matches better with casual or normal outfits like tee-shirt or any kind of pants.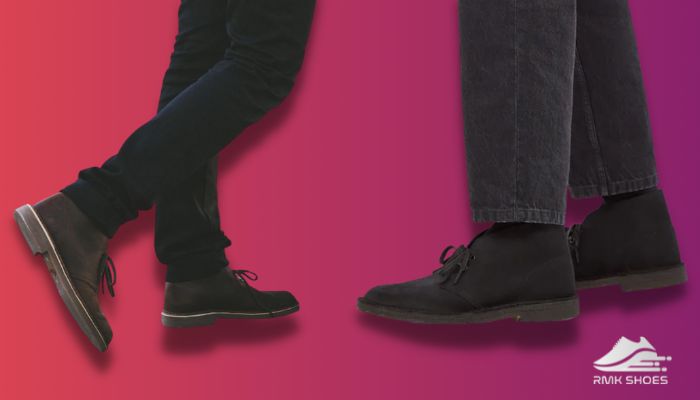 Also, their stitching styles and different types of lining on the top of the shoes have made their looks and designs different from other brands.
Price
To compare these two best boot prices, the desert boot is a little more expensive than the Clarks bushacre.
Both are made from suede leather but use different kinds of soles. So the price range has some neat variation.
Now, if you searching for the most comforts at an affordable price, you should go with Clarks bushacre. Cause it's cheaper than a desert boot.
On the contrary, if you have a budget for expensive boots, the desert boot will be highly recommended for you!
Check out our separate post on Are Clarks Wallabees Waterproof?
Clarks Bushacre Vs. Desert Boots: What Are The Main Similarities?
It's really important to make confident decisions while purchasing a pair of footwear. You should know the exact similarities and differences of the footwear you want to buy.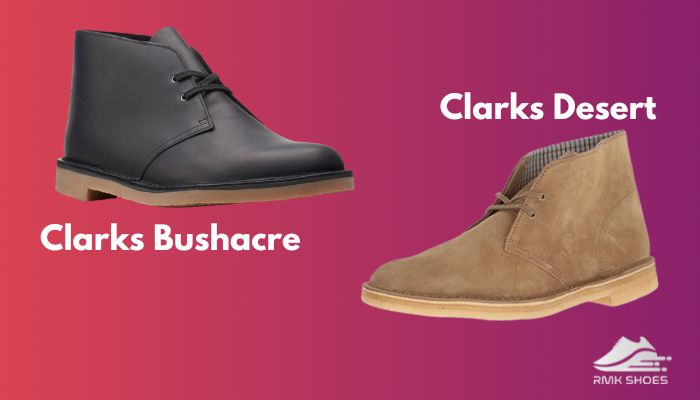 So it will be easier for you to find your desired ones!
Here are the similarities you might identify
Leather
Clarks bushacre and desert boot are both made from suede leather which is 100% natural.
Moreover, the leather is the best quality and waterproof, so they are highly sustainable for any kind of weather and environment.
Comforts
For comfort, you can choose both Clarks bushacre and desert boot.
But as we know, the Clarks bushacre has rubber soles on the outside, and they are harder than crepe soles.
So, it can be less comfortable than desert boots.
On the other side, desert boots are creped soles. That's why they add much softness and flexibility for walking longer hours without having much pressure and stress on your feet.
Lightweight
In reality, both boots are lightweight and easily bent.
But which one is the most lightweight?
Well, these boots are more lightweight and flexible for their making styles, materials, and soles.
So you can choose Clarks bushacre if you want to attend formal shows or gatherings.
Otherwise, you can choose desert boots without having any doubts, If you enjoy roaming around the city like me.
Also, check out our separate post on Timberland vs Carolina.
Fitness
Let's talk about fitness which is subjective for all types of shoes.
Usually, sellers suggest buying one or a half size bigger boots than your actual size. Cause it will help you to fit your feet in both Clarks bushacre and desert boot quait perfectly.
Maintenance
As they are made from natural leather, they are easy to maintain.
It's true that they get dirty too fast!  But if you are willing to keep them clean, you can follow the casual cleaning rules.
One more thing you should keep in mind is that desert boots get dirty faster than Clark's bushacre.
In that case, I have a quick tip for you to keep your boots clean easily. You can use beeswax to clean and make your boot's leather shiner.
What Is Clarks Bushacre?
Mainly Clark bushacre is made for formal occasions like office meetings or gatherings. so they are designed as a classic desirable shoe style that hits right at the ankle.
And they have their own eye lights for small lace-up detailing on the top of the shoe.
Clarks bushacre also has .75 inch platform for additional height and used rubber sole as material for better durability.
They are made from 100% leather and are very smooth and weather friendly. That means they can adapt to any weather without having any problems.
However, they have many colors in a wide range like black, light grey, white, dark brown, and many others.
So, you can easily pick your favorite color.
Follow our epic guide to know about Crocs LiteRide Vs Classic Crocs.
What Is Desert Boot?
If you are walking a lot in your everyday life, then desert boots can be a great choice.
Its crepe sole makes itself lightweight, flexible, and completely better than others. It also has a casual design, which means you can wear any casual outfits like a public gathering or any other random place you go.
Like Clarks bushacre,desert boots are also made from flexible leather. So, it keeps your feet more comfortable for a whole day.
Even when you are outside for a long time, these boots can save your feet from heating or sweating.
Pros and Cons At a Glance!
It's not always about the product qualifications; it also should have some particular outlines that may get you directly to the point.
However, I found some usual pros and cons of both. Now I'm gonna share with you.
Pros Clarks Bushacre
»

Great Longevity and rugged rubber sole.

»

Less expensive rather than other Clarks boots.

»

Combined lining covers the ankle nicely.

»

Gets less dirty everyday wearing.

»

Easy cleaning process.
Cons
»

Harder soles.

»

doesn't give proper heel support.

»

lack of color options right now.
Pros Of Desert boot
»

Comfortable to wear for a long time.

»

Fits almost in every outfit.

»

Protect feet from cold or hot weather.

»

With softer crepe soles, it gets better ankle support.

»

Varieties of colors are in stock.
Cons
»

A bit more expensive than others

»

Catches much dust

»

Less durable
Clarks Bushacre Vs. Desert Boots: Which One You Should Get?
Knowing all the facts and details, I can help you to discover your favorite pair of shoes. Although these boots have different styles and looks, still they're of the same origin.
Okay, If I were in your place and had to pick one of them, then I might choose desert boot.
I like to roam around the city without plans, so that dessert boot would be the best pick for me.
FAQ
Does Clarks Bushacre run big?
In most cases, Clarks bushacre doesn't run too big. But The other Clarks boots, such as Desert boots or Loafers, do run big in their own outlets.
Are Clark desert boots waterproof?
Clarks desert boots aren't completely waterproof as they are made from natural leather. And natural materials like leather can't be real waterproof at all.
Final Thoughts
In closing, I think you need to know the basic point of understanding which boots will suit your preferences most.
Well, all I researched is here for your benefit!
Now, you can explore your favorite ones by knowing from top to bottom about these boots.
I Hope this article will get you there perfectly.