Comfortable shoes are something that everyone loves and deserves – especially when it comes to everyday-wear shoes.
Now, when it comes to brands with high-quality, comfortable shoes that can be worn tirelessly, two quite famous brands are Clarks and Geox. But among these two, which one is the better brand?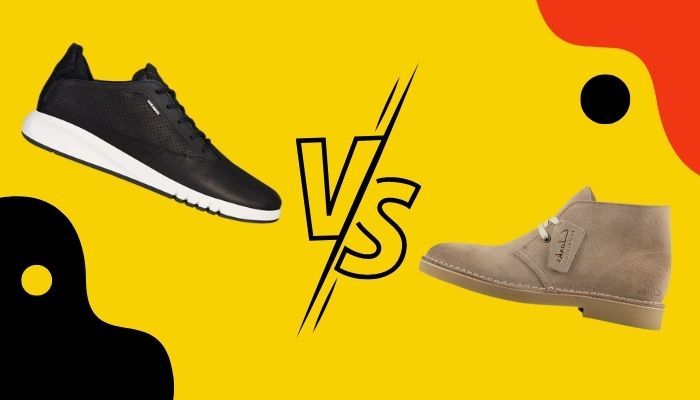 After carrying out thorough market research, I have the answer for you.
Clarks is a better brand for shoes than Geox. Clarks shoes are high-quality footwear, and they are pleasantly comfortable. Moreover, Clarks shoes run true to size and give utmost customer satisfaction. Geox is also a good brand, but they do not run true to size and are not as comfortable as Clarks.
Now that you know which one is the better brand for purchasing your precious shoes, keep reading till the end to know all the details regarding the shoes manufactured by these brands that will help you make an informed decision.
What Are The Similarities Between Geox And Clarks?
Before I dive into the differences and state which brand is superior and the better choice for you, you need to know what the similarities are between them.
Now, when it comes to similarities, there are a few and I will be elaborating on them for you, below.
Good Quality Shoes
Both Geox and Clarks produce high quality shoes that are comfortable to wear, breathable, and durable.
Geox uses good quality leather and textile to manufacture their shoes, creating a snug and comfortable footwear experience.
On the other hand, Clarks produce its shoes with high quality leather, crafted to perfection, producing premium quality shoes with utmost comfort and durability.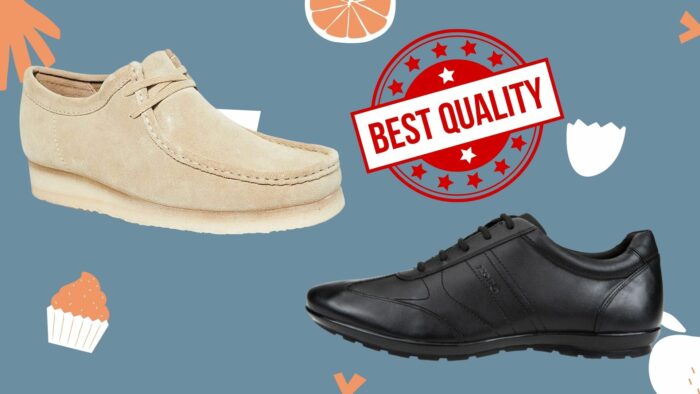 Clarks shoes are popular for their comfort because you can wear their shoes for the entire day without feeling discomfort.
Follow our guide to know how to Clean Clarks Desert Boots.
Breathable Shoes
Breathability is an important aspect of shoes that not many shoe manufacturers can get right.
However, both Geox and Clarks produce breathable shoes that allow air to pass through the material so that your feet do not get sweaty, stinky, and gross.
Shoes that are not breathable can cause discomfort along with various foot diseases, so being breathable is a plus point for both Geox and Clarks shoes.
Waterproof Shoes
Clarks and Geox shoes are generally waterproof, which is a huge benefit because getting your feet wet is so unpleasant.
Shoes manufactured by Clarks and Geox are waterproof, and as a result, they are less prone to getting damaged by exposure to water and other liquids. So, you can wear them even in rainy weather, without worrying about your shoes getting damaged in the puddles.
The Geox shoe includes a particular membrane that is both breathable and waterproof, in addition to having perforations in the rubber sole.
This is the GORE-TEX characteristic that contributes to the shoe being dry and unaffected by any water that may be present. This gives your feet some breathing room while at the same time preventing water from getting in between the toes and the shoe.
The membrane of the Clarks shoes was developed via extensive research and development and uses a special waterproof membrane called C-shell. This membrane helps to prevent water from entering the shoe while allowing heat to escape at the same time.
Follow our guide on Clark Desert Boot Sizing.
Durability
Shoes manufactured by Clarks and Geox are highly durable owing to the materials used to make them.
Shoes by both the brands, Clarks and Geox, are made using high quality, tough leather or suede. The materials used and the crafting process makes their shoes highly durable.
So, if you buy a pair of shoes from either brand, they will last you for a long time, giving you great service and experience.
Versatility
Clarks and Geox shoes come in different styles, covering both formal and casual designs.
The high versatility in their designs really focuses on the style game and gives the customers the best. Their shoes can be styled with any type of outfit, giving you a sleek and clean look.
You can don them for any occasion, whether it is a daytime event, nighttime event, a fancy party, or a casual hangout with friends and family.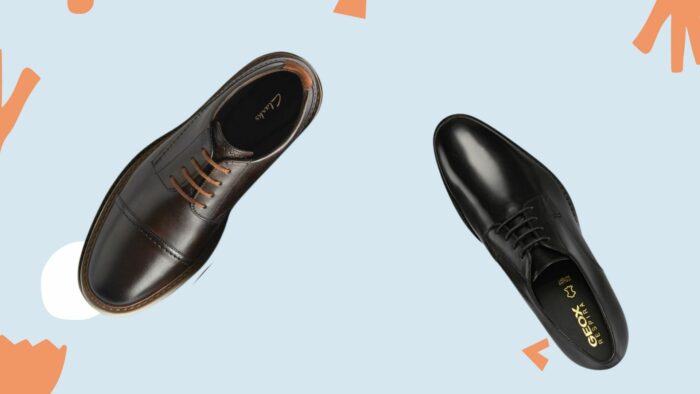 Follow our guide to know Can You Use Leather Shoe Polish On Black Suede Shoes.
What Are The Differences Between Geox And Clarks?
Now that you know the similarities between their shoes, let's focus on the differences in the shoes manufactured by Geox and Clarks as this will be the deciding factor in which brand you should opt for.
When it comes to differences, there are a few of them, but they are very telling and important. I have elaborated on them for you below.
They Have Different Footbed Technology
Footbed technology is a critical factor for shoes because they play a huge role in establishing comfort and ease in your shoes. So, the better the footbed and technology behind it, the better the ex[erience with the pair of shoes.
The footbed technology for Clarks and Geox shoes is very different.
Clarks shoes have a special high performing, long-lasting footbed technology called Ortholite. They provide excellent cushioning and make the footwear experience very pleasant.
On the other hand, Geox only has the perforated rubber sole that provides the comfort needed by the user.
So, overall, the footbed technology by Clarks is much more advanced and provides greater comfort as compared to Geox shoes.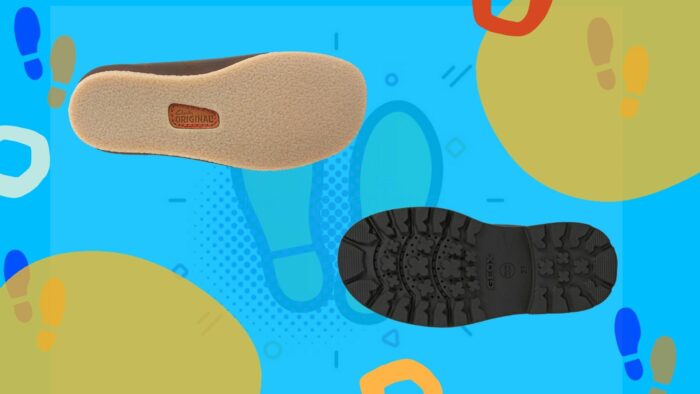 But before that, you check out how Red Wing vs Thursday Boots.
They Have Different Waterproof Technology
As I have mentioned before, shoes manufactured by Clarks and Geox both have waterproof technology which makes it very convenient to use these shoes, especially in rainy seasons.
However, the technology used to produce this waterproof feature is very different for both brands.
Clarks shoes have a Gore-Tex technology, wherein the material used to manufacture the shes, and the shoes themselves resist getting damaged by water and watery liquids and are deemed waterproof.
On the other hand, Geox shoes use a different technology where there is a special membrane in their perforated rubber soles, that makes them waterproof and prevents getting damaged by water.
The Sizing Of The Shoes Are Different
The sizing of larks and Geox shoes is also very different.
Clarks shoes are true to size, which means you only have to buy the size that you always wear without having to fuss about sizing up or down.
On the other hand, Geox shoes tend to run big. As a result, you will have to size down when purchasing a pair of Geox shoes.
So, if you are a size 11, you can buy a size 11 of Clarks shoes and be good to go with a great fit. However, with Geox, you will have to size down and get a size 10.5 to get the proper fit and comfort.
Also, check out our separate post on Can You Wax New Leather Boots.
Which One Is Better?
Owing to the importance of proper sizing and footbed technology, Clarks shoes are better than Geox shoes.
Now, I am not saying that Geox shoes are bad, but if I had to pick between these two brands, I would definitely opt for Clarks.
Clarks shoes have a better fit than Geox shoes as they run true to size. Plus, their shoes are much more comfortable, and comfort is very, very important when purchasing shoes.
So, even though both brands produce durable and comfortable shoes, Clarks shoes are better than Geox shoes.
Conclusion
Both Clarks and Geox produce good equity shoes that are comfortable, durable, and wearable for almost any occasion.
But when comparison comes into play, Clarks shoes take the trophy as they are better than Geox shoes in fit and comfort. You can wear them for longer periods without any discomfort whatsoever.
So, what choice did you make, Clarks or Geox?
I hope this article has been helpful for you and you can now make an informed decision about purchasing shoes.
If you have any feedback or queries, please let me know in the comments below.