If you are new to Clark Desert boots, the sizing can get a bit complicated. 
There are many questions I get regarding this:
Are Clark Desert Boots true to the size? Should you size up for the boots or should you size down? How should the fit be when you initially buy them?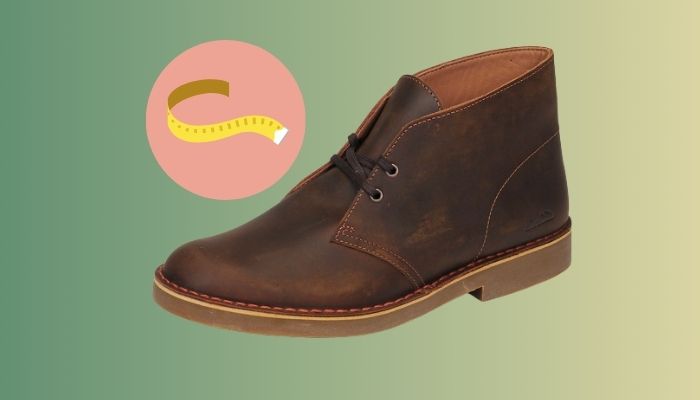 Well, don't worry because I have the answer to your question.
Clark Desert boots come in a range of different sizes. However, when it comes to sizing, the gist is quite simple: they are generally true-to-size. But it also depends on the shape of your feet. If you have wide feet, stick true to size, but if you have narrow feet, you need to get half a size down.
Now that you know the drill, let's dig deeper into the details so that you can get the best pair of Clark Desert Boots for yourself.
How To Pick The Right Size
Like I have already mentioned, Clark Desert boots come in varying styles and designs, and like you can probably guess, the sizing also varies a little for the different styles. 
Most Clark Desert boots run true-to-size, this means if you are a size 10, you can get yourself a size 10 and the fit will be perfect for you. However, this is not entirely true.
While some of the styles do fit true-to-size, it's not consistent for most of the styles.
Generally, to get the best size for you, you need to first take into consideration the shape of your feet. Yes, you read that right.
If you have wide feet, I recommend you stick true-to-size and get the size that you usually wear. 
Initially, the fit may be a little snug, but since these boots are made of leather – the fabric will stretch, opening up and giving more space for feet to feel comfy once you break in the boots.
You can wear them with a thin pair of socks and walk around until the leather stretches and molds around your feet. 
If you have narrow feet, the scenario is quite different. I would recommend that you get the boots half a size below what you usually wear.
Getting half a size down will give you a better fit overall, otherwise, there is a chance that the fit may not be as comfortable with much more room than needed. 
Remember that a snug fit is much better than a loose fit because the leather stretches and makes more room for your feet to fit comfortably in the boots once you break-in. 
However, if you are buying the boots in person, I highly recommend that you try them on and walk around to check whether the fit is comfortable before buying.
That pretty much sums it up, but when you are buying a new pair of Clarks Desert Boots, there are a few other factors that you might want to consider – I will be elaborating them for you below.
But before that, go through our epic guide how Should Tactical Boots Fit
The OutSole
People often confuse the Chukka boots and Desert boots, since they look almost the same.
In reality, they are not the exact same, however, the desert boots are a type of Chukka boots. The difference lies in the outsole. 
Desert boots are made with a crepe outsole while the Chukka boots can have both crepe soles or leather boots. 
The crepe outsole is quite soft compared to other types of soles. While the crepe sole is comfortable, it is much more prone to wearing away much faster. But don't worry, you can re-sole them.
Check out our separate post on why Do Logger Boots Have High Heels.
The Leather
Most desert boots you see are made of suede leather, which is the classic version of desert boots.
Nevertheless, they are also available in clean, smooth leather. 
While the smooth leather provides a more formal outlook, the suede fabric gives the boots a much more casual look.
Which material you opt for is totally dependent on the look and feel that you are looking forward to. However, you must know that the maintenance is quite different for the two types of fabric. 
Since most smooth leather boots have a protective layer of surfactants when they are made in the tannery, their maintenance is much simpler. All you have to do is air your smooth leather desert boots after taking them off, wipe them with a damp cloth to get rid of any possible stains.
In the case of suede desert boots, unfortunately, they are more prone to damage. They are much softer and less durable than the smooth leather.
For maintenance, there are many protective treatments available in the market particularly for suedes that can be applied over the material to protect it from external damage. 
The pricing also varies for the two materials. The suede desert boots are much more affordable than leather desert boots. But the plus side is that the leather desert boots, even though they are more expensive, are much more durable than the suede ones. 
So, when you are buying a new pair, make sure you take into consideration the fabric and choose whichever suits your needs the best.
Follow our other guide to know what are Tactical Research Boots.
Are The Clarks Desert Boots Worth It?
It is safe to say that the Desert boots are undoubtedly the most popular boots in the Clarks line up. 
They have been selling these desert boots for years, and they just do not seem to go out of style any time soon. 
You can use them for a variety to looks, pairing them with trousers, denims, or chinos will give you a casual yet stylish look if that's what you are looking for. People even wear them with shorts sometimes, and if you like that look – go for it!
The Clarks desert boots help complete your outfit giving it a slick and clean silhouette whether you are wearing it with a t-shirt, a shirt, or even a jumper. 
To add to the style, these boots are also very comfortable. Given the soles are made of crepe, the soft and sponginess of the fabric give a comfortable cushioning for your feet.
The longevity of these boots is not too shabby either. However, it largely depends on how much you are wearing it. 
Since they are quite comfortable, people often wear them on a regular basis. The crepe sole is quite susceptible to damage, so if you wear them nonstop, the soles will wear out and the boots will last you around to one and a half years approximately.
However, if you are not wearing them as often, then these boots can last up to three to five years depending on how well you take care of them.
So, I would definitely vouch for these Clarks desert boots and say that they are a good choice.
Check out my new post on why do Special Forces Wear Hiking Boots.
Conclusion
The Clarks desert boots are an excellent choice of boots, and sizing them may seem tricky, but is much simpler than it seems. 
Size down if you have normal to narrow feet, and stay true to your size if you have broad feet because you always want to opt for a snug fit rather than a loose fit.
If worn right, they can source up your outfit and give you a clean look.
I hope this article has been helpful for you. If you have any queries or feedback, do leave them in the comments below.