If you want to know every detail about Tactical Research Boots, then you've landed in the right place.
After scouring the internet for countless hours and talking with some high-level executives, I've compiled this article just to clear your confusion.
So, what exactly are tactical research boots?
Tactical research is an exclusive line of tactical, combat, police, and flight boots. They're sturdy and are versatile enough to be used in all branches of the military and different law enforcement. They ensure the overall protection of your legs in all conditions.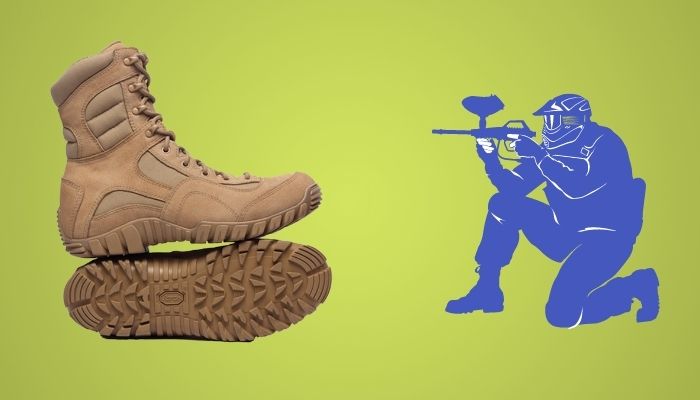 It's a patchy topic, therefore I'd urge you to read the full post thoroughly. And, I can assure you, there won't be any confusion by the end.
What Are Tactical Research Boots?-Answered 
If I'm frankly speaking, I had a hard time grasping all the facts in the beginning. But continuous persistence finally allowed me to digest all the gospel and information regarding this topic.
The Tactical Research is a unique line of boots that covers the military, airforce, police, and different law enforcement. This line of boots from Belleville was launched in 2009 and has seen tremendous success.
In simpler terms, the Tactical Research line has different boots for the military, the police, the airforce, etc. This line from Belleville makes boots according to the needs of the organization.
Check out our separate post: Tactical Boots VS Work Boots Are Tactical Boots Good Work Boots
Belleville has been in this industry for over a century now; with time their quality, materials, technology has improved accordingly. And, it's no surprise this line of boots is equipped with numerous state-of-the-art technologies.
You do get comfort, but the functionality of this line of boots is second to none.
They're equipped with orthopedic-grade insoles, moisture-wicking technology, ankle support, and many valuable innovations that'll keep your feet and legs well protected.
Some variations of the boots provide improved stability and agility in any condition across any terrain. All thanks to the waterproof materials, combative treads. Also, the semi-rigid heel cups do an excellent job stabilizing the ankle and the feet.
In short, no matter which force or (law enforcing) organization you belong to; the Tactical Research line has a pair of boots for you.
Also read, Are 5.11 Tactical Boots Any Good
Tactical Research For Quick Reaction Force (QFR)
The Quick Reaction Force (QFR) immediately comes to the fray when Tactical Research Boots are spoken.
Remember I told you, this line has boots for everyone? Well, the ones made for the QFR has gained the most prominence. Some even think Tactical Research Boots were made for the QFR exclusively.
But, can you blame them? The kicks made for QFRs of different organizations are unique and distinct, mainly used for fast rope inserts and stealth infills.
When the mission gets tough, even split second matters a lot. But not to worry as these bad boys were tailor-made for speed and agility, and this is the reason QFRs of the military, Police, and other law enforcements love them.
Also related to this guide Are Tactical Boots Good For Snow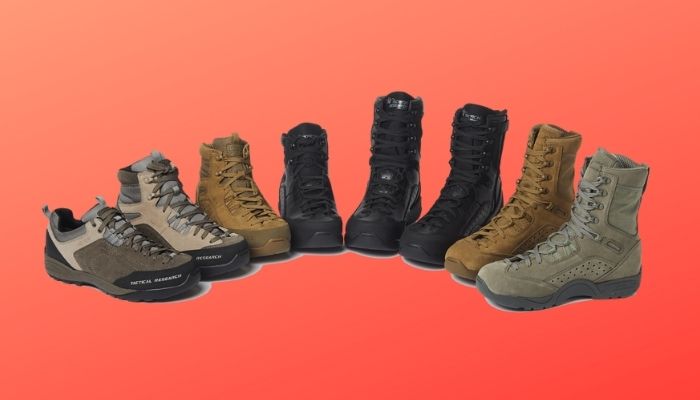 They also come with a lace-to-toe closure system for a custom fit. A medial side rappelling overlay for better climbing. And and low profile soling system for better performance in multiple environments.
You can also choose from multiple colors and designs, all according to your taste.
With them at your feet, all the infill and exfils become a lot easier and more manageable.
Made up of 100% cattle hide and a combination nylon fabric, durability won't be an issue. They're highly cushioned and ensure proper shock absorption during brisk movements.
Read more on How Should Tactical Boots Fit
Benefits Of TheTactical Research Quick Reaction Force Series
You can say this series from the Tactical Research line has gained the most popularity. I've already mentioned them just above. Now I'll tell you all about their benefits explicitly.
Here are the benefits of the Tactical Research quick force reaction series:
RAKKASAN rubber outsole, with multi-direction treads for enhanced slip-resistivity and grip on multiple terrains.
They consist of 100% cattle hide combined with nylon fabric for enhanced durability.
They're equipped with Extreme lace-to-toe closure for a better fit.
They're made using lightweight materials, which enables you to make ultra-quick movements.
They come with dual-density molded inserts with high rebound memory foam. The inserts are removable.
They are embedded with heel cup stabilizers.
They are equipped with super-mesh linings that are extra breathable and moisture-wicking linings.
Related contents you should read What Tactical Boots Do Navy SEALs Wear
What Are The Most Popular Tactical Research Boots?
So, the most popular series from the Tactical Research line of boots are ones for the Quick Reaction Force (QFR). But what about individual models? There are a couple of models from this line that has gained quite a reputation.
As always, I'm going to share my insights as to why these guys became so popular. So let's begin, shall we?
One of the most popular and highly rated boots from the Tactical Research line is the  8" Mini-Mil Minimalist Boots. Why are they so popular?
For starters, these boots were designed keeping the conditioned athlete in mind. It means they were made for the cadets that are currently receiving their training in minimalist athletic footwear.
Follow our guide on How Much Taller Do Tactical Boots Make You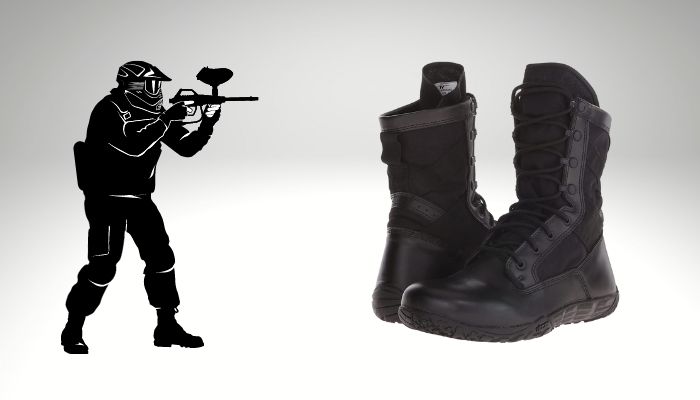 They are extremely breathable; the wight is like a feather (less than 2 lbs). And most importantly, they're equipped with quick-drying technology.
Another popular model is the MAXX 6" Side Zip Boot. Let's start with the material first; it consists of cattle hide leather combined with Destination P Mesh for ultra breathability and durability.
It also offers shock absorption of the highest order, support of the highest order, and most importantly, cushioning of the highest order. It's premium!
You may also like to read: Can You Use Tactical Boots For Hiking
What's The Basic Anatomy Of A Tactical Boot?
Everything in this world has anatomy. I know there are different tactical boots, so which of the anatomy am I going to disclose?
Well, I'm going to tell you about the anatomy of the most basic form of a tactical boot, and I'll tell you what the parts that make a basic tactical boot are.
Here is the basic anatomy of a tactical boot:
Upper: The material that covers your entire foot.
Collar: The inside back portion of the footwear provides support and stability around the ankle.
Eyelets: The holes into which the laces are inserted.
Tongue: It's the middle part of the boots (between the eyelets). It prevents unwanted elements from entering your foot. Tactical boots have reinforced tongues.
Toe Cap: Simply put, it's either the steel toe or the composite toe.
Insole: When you put on your boots, the surface your feet stand on is the insole. It can be removable or fixed.
Outsole: It's the part of the boot/footwear that makes contact with the ground.
Treads: These are the deep dents and patterns in a sole made of rubber. They're responsible for traction and stability.
Toe Rand: It's an extra layer of protection that wraps over the exterior of the boot's toe.
Check out our separate post to know Do Tactical Boots Good For Motorcycle
Conclusion
The Tactical Research is an exclusive line of boots made for the military, police, and different law enforcement agencies by Belleville. This unique line of boots was launched in 2009. They're made using materials of the highest quality and are equipped with advanced technologies to make treacherous missions more easy.
Be it in infils or exfils or fast rope inserts, with these boots covering your feet, you'll have the edge over your enemies.
No matter the law enforcement agencies you are in, there's a pair of boots for you. And you can rest assured, you won't be disappointed.
This was all from me today, I hope you've had your answer. Do let me know incase I missed anything. It's a wrap.