As a hardcore motorcyclist, I'm always looking at different footwear for their suitability with my bike. Then I stumbled across the tactical boots.
I did all kinds of research and the result left me overwhelmed. In this article, I'm going to tell you all about my findings. Quick hint; You'll love it.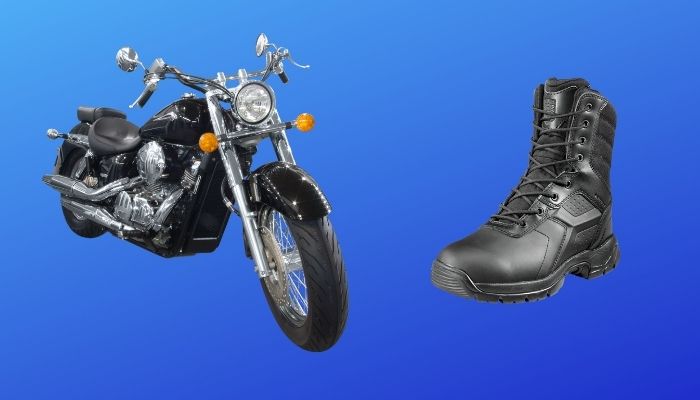 To answer your question; do tactical boots good for motorcycles?
A giant yes, tactical boots are very good for motorcycles, and they give the riding boots a good run for their money. They have sturdy constructions, good ankle support, and slip-resistant outsoles. Also, you get reinforced heel and toe. In short, they provide the required protection.
This is just a small summary of the benefits of using tactical boots for motorcycles. Keep on reading to know them all.
Are Tactical Boots Good For Motorcycle Riding?-Answered
When we hear the name "Tactical Boots" we generally assume about the military wearing them on battlefields or on different terrains while on their mission.
But, for riding motorcycles? While it may sound farfetched for some, it actually makes great sense. Tactical boots with all their features can be a real asset for riders.
You can say, this footwear is a toned-down version of the real thing (actual riding boots). But, one thing you must keep in mind is the fact that not all of them are up for the task. Then which ones? You'll find that out as you keep on reading.
Tactical boots provide you with comfort, ankle support (very significant), protection against abrasion, and of course the soles.
This footwear usually has shaft heights of 6-8 inches, which is excellent for protection against engine heat. It also keeps your ankle in a balanced position which ensures a comfy and smooth ride.
Some even come with a strengthened toe and heel, which adds an extra layer of protection.
Tactical boots are made using materials of the highest order, it means you get proper breathability and state-of-the-art durability.
You'll also love fact that most tactical boots are either water-resistant (to a great extent) or fully waterproof. You won't have to worry about wet feet.
Comfort is not even an issue, you'll get that in abundance as military personnel really need it.
What about the outsoles, you ask? Well, they come with slip-resistant outsoles. You won't have to fear about your foot slipping on steel footpegs or while shifting gears.
It's true they won't give you the same level of protection as actual riding boots, but nonetheless, they're an excellent choice. The lackings are very minimum.
Also read, what are Tactical Research Boots.
Which Tactical Boots Good For Motorcycle?
As I mentioned earlier, not all Tactical boots will be suitable for riding a motorcycle. They need to have certain features. And, what are they? Don't worry! For your convenience, I've listed them down. You're welcome!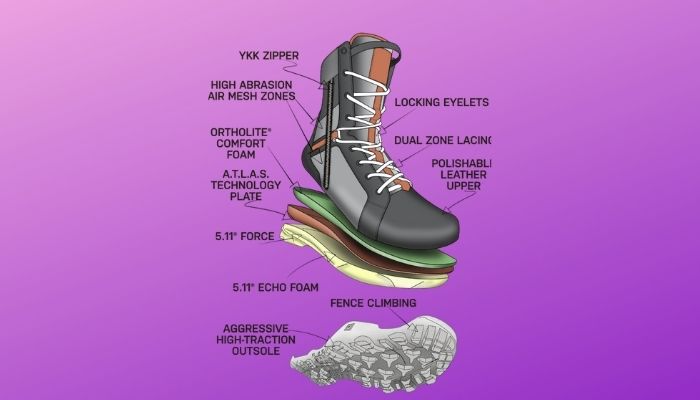 Here are the features tactical boots for motorcycles should have: 
Material
Let's start with the foundation first. Tactical boots are made using different materials depending on the use. Some are made of leather with a compelling mixture of mesh linings. Then there're the ones made of synthetic, while others have a greater degree of mesh.
I'd suggest going for the ones made of leather and mesh linings. In them, you get the best of both worlds; sturdiness and breathability.
Check out our separate post: Tactical Boots VS Work Boots Are Tactical Boots Good Work Boots.
Ankle Protection/Support
Ankle support is of paramount importance when it comes to riding. Look for tactical boots with a minimum shaft height of 6 inches, I'd recommend 8 inches. That way, you're legs don't have any sort of heat, especially from the engine.
In the unlikely scenario, where you face an accident; your ankles will be protected. Also, you'll have a better overall balance.
Comfort
What good is a pair of footwear, if it's uncomfortable? Tactical boots usually come with good paddings. Then again, some have less while others have more; it's depending on the need. Go for ones that have more paddings. I'm sure you know what that does.
Also read, Are 5.11 Tactical Boots Any Good.
Closure
The closure is a vital part of wearing any kind of boots. Your fit depends on it. A loosely fit might result in something unwanted. Tactical boots with a combination of laces and a side zipper are ideal for riding motorcycles.
Reinforced Heel And Toe
Reinforced heel and toe is basically an anti-abrasion strategy. Also, it adds an extra layer of protection. And, if you want more, go for the ones with steel or composite toe.
Protection Against External Elements
See if the tongue of your boots leaves any gap once laced. If it does, then it's a red signal. The tongue ensures no dirt or debris enters your foot, for that, there should be zero gaps. So make sure the tongue is sturdy yet comfy and leaves no gaps.
The rest of your foot should be covered, due to the high shaft and reinforced heel and toe.
Waterproofing
While on a ride, you never know when water or any form of liquid might hit you. Even the rain can start to pour out of the blue! I've faced similar situations. Therefore, make sure your tactical boots are waterproof. Because, trust me, a pair of thoroughly drenched boots is like carrying two boulders on both feet.
Insulation (optional)
If you're thinking about the colder temperatures as well, then you better get well-insulated boots. You don't want to freeze your feet now, do you?
Read more on How Should Tactical Boots Fit.
Tactical Boots VS Riding Boots
Tactical boots are just toned-down versions of actual riding boots! Remember? I said it earlier. And also, the difference is quite minimal.
There are two significant differences between a pair of tactical boots and riding boots. The differences lie in the molded ankle protection and built-in shift pads.
The molded ankle protection is a technology embedded in riding to prevent the twisting of the ankle whenever there's an accident. It also prevents your ankles from getting crushed in case your bike falls over your legs.
Tactical boots usually come with high and sturdy shafts; therefore, you aren't completely vulnerable. But yes, it does make a slight difference since they, too, are safety boots.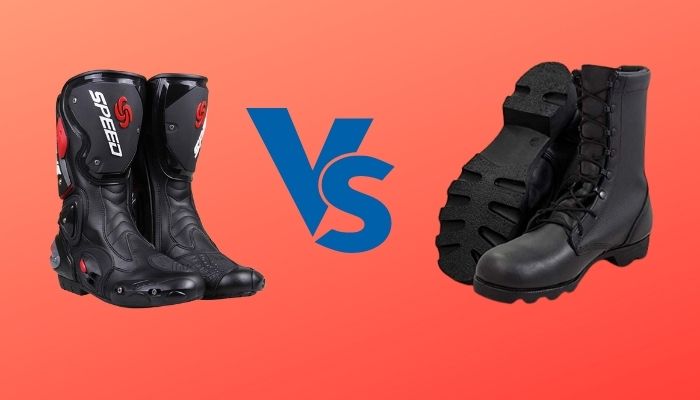 As for the built-in shaft pads, I don't think it's a major issue. Tactical boots are sturdy, to begin with, so you won't feel the difference that greatly.
But, if you want to do something about it, then you can cover your gear shifter with an after-market pad or cover. Also, you can use a protective gear shifter pad for your boots. Problem solved!
Other than these two features, pretty much everything's similar; starting from the sturdy built to the slip-resistant outsoles.
Related content you should read What Tactical Boots Do Navy SEALs Wear.
Do Tactical Boots Good For Motorcycles-Pros And Cons
It's that segment of the article where I tell you the good and bad sides of our topic. I've scrutinized tactical boots from every angle possible and made this explicit list.
Here are the pros and cons of tactical boots for riding motorcycles:
Pros
»

Super comfortable

»

Boast reinforced heel and toe

»

Offer adequate ankle protection

»

Sturdy construction

»

Posses slip-resistant outsoles

»

Waterproof

»

Highly durable
Cons
»

Lacks molded ankle protection technology

»

Do not come with built-in shift pads

»

Laces could get tangled to different parts of the engine
Can You Wear Normal Boots On A Motorcycle?
Yes, you can wear normal boots on a motorcycle. But, only if you're doing it occasionally. If you're a regular rider then normal boots are not recommended since they lack many safety features. Normal boots won't protect you the same way as actual riding boots.
Riding a motorcycle has its perks as well as downsides. The main downside is the time when you face an accident (God forbid). You see, when you have an accident on a motorcycle, the impact falls directly on your body; especially your legs.
And the ankle is a sensitive area. If anything bad happens, you know how things can be. Actual riding boots come with proper ankle protection, which prevents your ankle from twisting or getting crushed.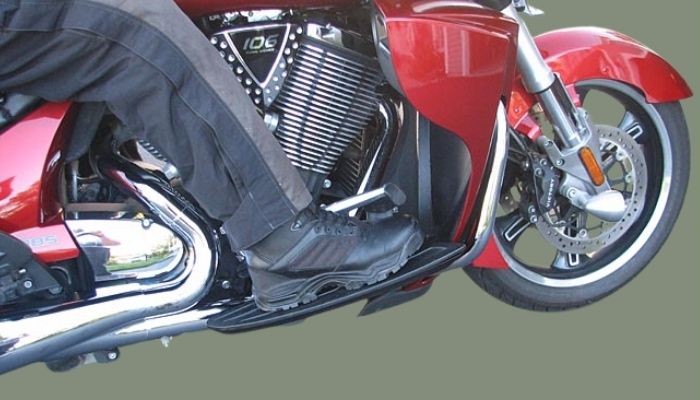 Also, they come with reinforced heel and toe and have sturdy builts to ensure complete foot protection. You won't find these features in a pair of regular boots.
So yeah, if you want to wear normal boots on a motorcycle, you shouldn't do it regularly. Trust me, I'm speaking from experience.
Riding Away
Tactical boots make an excellent choice for riding motorcycles. Apart from two features, they pretty much have it all.
You get comfort, protection, durability, and many more. Most importantly, you get style with safety and protection. If you're careful enough, you won't feel the difference between a pair of tactical boots and actual riding boots.
I hope you have your answers. Do let me know if I've missed anything important. And don't forget to share this guide with your friend looking for similar answers. It's a wrap from me. Stay safe and ride safe.