Tactical boots have become very popular due to their versatility. But, do they make good work boots? This is exactly what we're going to find out.
After endless hours of non-stop research and careful testing for months, I've compiled this ultimate guide just for you.
So, Are tactical boots good work boots?
A big yes, tactical boots are more than good for work, and they pretty much have the same dynamics. Work boots were designed for the safety of the workers, and tactical boots were made for the safety of the soldiers. So, the element of security is there. But, it may vary to a little extent.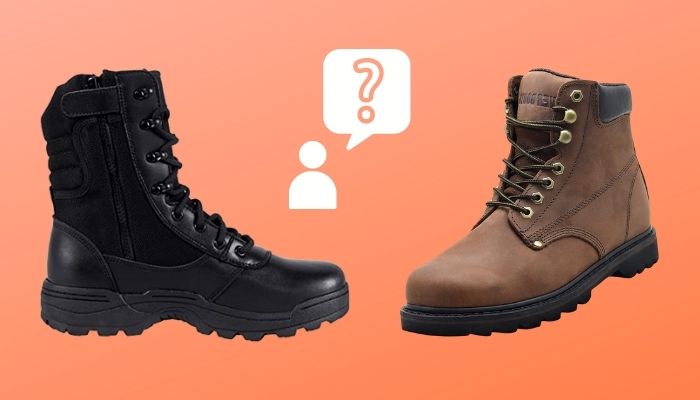 This should bring a smile to your face. But, there's more which I think you should know. Therefore, I'd urge you to read the entire post.
Are Tactical Boots Good Work Boots?| Answered
Tactical boots nowadays are quite in demand. They offer pretty much everything you could want from a pair of boots.
They offer style, comfort, safety, and mobility. Apart from these traits, there are many things in their locker that make them attractive among boot lovers.
And, if you're wondering if they're safe for work then yes! They make good workboots. It's not only the safety factor, they're a complete package.
You should keep in mind that not all tactical boots are made the same way or have the same features. So, that means not all of them are up for the task. To ensure, your tactical boots are work-friendly you've to get the right ones.
Tactical boots are made using different high quality materials, leather, Polyurethane, mesh you name it; they come in all sorts of materials that too of the highest caliber. But, you must know which material is suited yo your work enviornment.
Also read, Are 5.11 Tactical Boots Any Good
They usually come with reinforced ankle and toe. High padded collars. Be it 6-inch or 8-inch you'll get adequate ankle protection. Some even come with steel or composite toe.
Tactical boots are made using breathable materials, on top of that they come with vents to add an extra degree of breathability.
Sturdy rubber soles come as a standard with tactical boots so, there's enough traction and protection from an electric zap. To make things more interesting, you get tactical boots with vibram soles.
Vibram soles are resistant to industrial substance and slip. They last longer and are waterproof (ofcourse!)
Also, nowadays many tactical boots come with ASTM standards for working safety. They'll protect your feet from hard impacts and collisions.
Comfort is not even an issue, you'll get that in abundance. In short, tactical boots have all it takes to be work boots, but you've find the right one.
Also related to this guide Are Tactical Boots Good For Snow
Tactical Boots VS Work Boots| Key Differences
By now, you can assume tactical boots and work boots have quite the similarities. But, they aren't the carbon copy of each other, and share quite a few differences. Am I gonna disclose them? Ofcourse!
I've made a list of the key differences below so that you can make a better purchasing decision.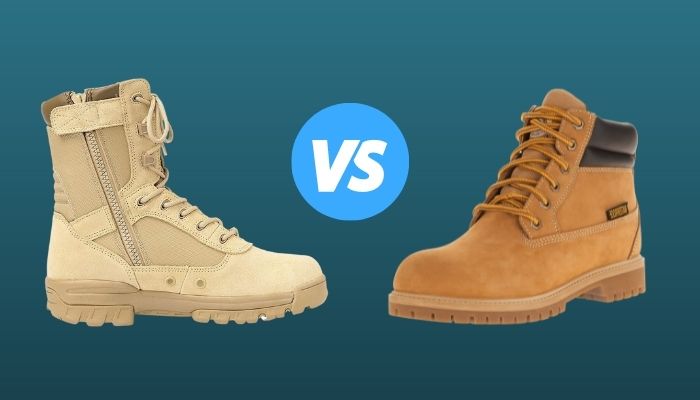 Here are the key differences between tactical boots and work boots:
Material: Let's start with base then shall we? Work boots are primarily made high quality leather which can last years if taken care of properly. On the other hand, Tacticals boots are made using more diverse materials such as full-grain leather, synthetic, suede, nubuck, mesh, etc.
Read more on How Should Tactical Boots Fit
Construction: In terms of construction, both of them are quite similar. Tall shafts with lacing system. Work boots have steel toe as a standard while it may not be the case with tactical boots. Beside, you can get tactical boots with shorter shafts. While both of them comes with a protective shank. The ones in tactical boots are a bit softer.
Safety: Tactical boots usually come with reinforced toes and heels. While work boots have steel toe as standard. And, as I just the shank on work boots are a bit harder. While both comes with punctureproof soles. But, work boots get the nod in terms of pure safety.
Breathability: Both ofthem are made using breathable materials but tacticals boots come with vents for extra breathability.
Cushioning: Work boots are made sturdier due to safety reasons and they come with a steel toe, which might make you feel uncomfy. On the other hand, tactical boots have a less sturdy construction and have padding throughout them. Plus, the inclusion of a midsole makes them extra comfortable.
Cost: If you consider the overall scenario, then work boots are more expensive than tactical boots. It's mainly due the different safety features and material. Workboots are mainly made of 100% leather whereas you'll get tactical boots in mesh, suede, fabric and other affordable materials.
Soles: Work boots come with punctureproof soles that are anti-slip and resistant to industrial substance. You do get punctureproof soles as standard in tactical boots,but not all of them are resistant to industrial substance. The ones with vibram soles are!
Related contents you should read What Tactical Boots Do Navy SEALs Wear
Flexibility: Tactical boots were made keeping the soldires in mind. They need to make quick-brisk movements as a result, flexibility is a must. It's not the case with work boots. Due to their extra sturdy construction, they're less flexible.
Weight: Work boots come with steel toe, steel shank and other safety features. As a result they're comparatively heavier than tactical boots. The material plays a part too as tactical boots are made using lighter materials.
Durability: In terms of durability the fight between the two go down to the wire. Both of them are made to withstand the roughest of use. However, work boots are mostly made of leather and have an extra sturdy construction as a result the work boots edges this one.
Height: The tactical boots edges the work boots in this department. Work boots generally come in shorter shafts compared to tactical boots.
Follow our guide on How Much Taller Do Tactical Boots Make You
What Makes A Boot Tactical?
Now this is one important information which I think everyone should know. When your hear the word "tactical boots", do they sound like any other regular boots?
No! Right? It sounds like something fascinating and uncommon. For a boot to be tactical there are certain criteria it must meet. And what are they?
For a boot to be considered tactical it must ensure safety, flexibility, lightweight, and must ensure proper cushioning. And the boots we call tactical, meet all the above mentioned criteria.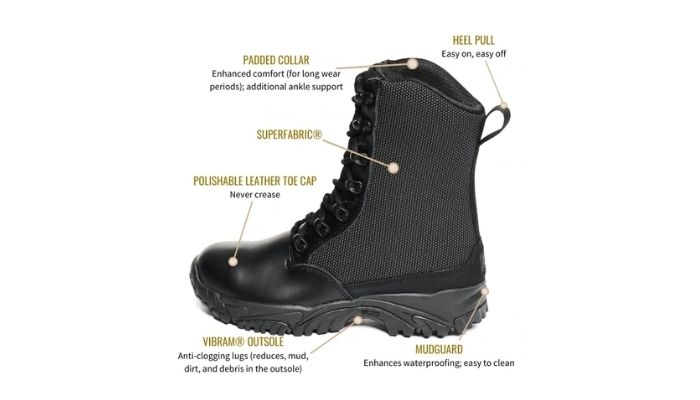 They come with reinforced heel and toe; also steel toes in some cases. They've well reinforced tongue, and midsoles for extra comfort. The paddings through the boots are a given.
By now, I think you should know tactical boots are quite flexible; this is for the soldiers' advantage. If you find any boots with all the above mentioned features you can consider them as tactical boots.
You may also like to read: Can You Use Tactical Boots For Hiking
What Features Should You Look For In Tactical Work Boots?
As I mentioned earlier, not all tactical boots are good enough to be considered as work boots. There are certain aspects they must meet for them to be considered work-suitable boots.
Here are the features you should have in your tactical work boots:
Proper Protection: The first and most important feature of a pair of work boots is proper protection. I know tactical boots offer that, but the degree of safety varies. So, get the ones which will offer protection according to your need; as they come in all shapes and sizes.
Breathabilty: Another important factor is breathability. I'm sure you don't want internal heating and sweat while you're at work. Tactical boots are usually breathable so it shouldn't be an issue.
Waterproofing: You never know when you might have a water spill, you may also need to work in water laden areas. Therefore, your tactical work boots must be waterproof. If you're used to wet soggy feet then I've nothing to say.
ASTM Certification: A very crucial factor indeed! For a pair of boots to be certified "work boots" they must have ASTM certification. If your boots are ASTM certified then it means your feet are safe from all sorts of danger that you may encounter during work. Thankfully, there are ASTM certified tactical boots available for work safety.
Cushioning: To work properly you need to feel the right type of comfort, especially your feet. It's a good thing almost all tactical boots are well-cushioned.
Durability: One of the most attractive aspects of work boots are their durability. Yes, tactical boots are durable but it varies from one pair to another. So, get the ones that lasts the extra mile.
Check out our separate post to know Do Tactical Boots Good For Motorcycle
Tactical Boots As Work Boots| Positives And Negatives
Every single thing in this world has its positives and negatives and the tacticals boots as work boots are no exceptions. Below I've made a list of the pros and cons of this decorated footwear.
Here are the positives and negatives of tactical boots as work boots:
| | |
| --- | --- |
| Positives | Negatives |
| Offers adequate protection | Generally doesn't come with steel toe |
| Breathable | Not all of them are suitable |
| Comfortable | |
| Costs less compared to work boots  | |
| They have higher insulation | |
Also read, what are Tactical Research Boots
Tactical Boots VS Work Boots| Who Can Use Them?
Both of them are generally for two different reasons so I thought why not look at the users of these two fantastic boots
| | |
| --- | --- |
| Tactical Boots Users | Work Boots Users |
| Military Personel | Mechanic |
| Hikers | Goldsmith |
| Motorcyclists | Gardener  |
| Hunters | Electrician |
| Explorers | Chemical Workers |
| Trekkers | Consruction Workers |
| | Industrial Workers |
You may also like Are Tactical Boots Slip-Resistant
Conclusion
You can indeed use tactical boots as work boots. Tactical boots have quite a few aspects in common that allows you to do so. But, keep in mind not all of them are upfor the task. You must get the ones that suits your needs. Therefore, good research is necessary. You've to know your work and footwear well, only then you'll find a good harmony.
I sincerely hope you've no more confusions left. And if you do, don't forget to ask me down in the comment section below. It's a wrap for today. Work safely and good luck.